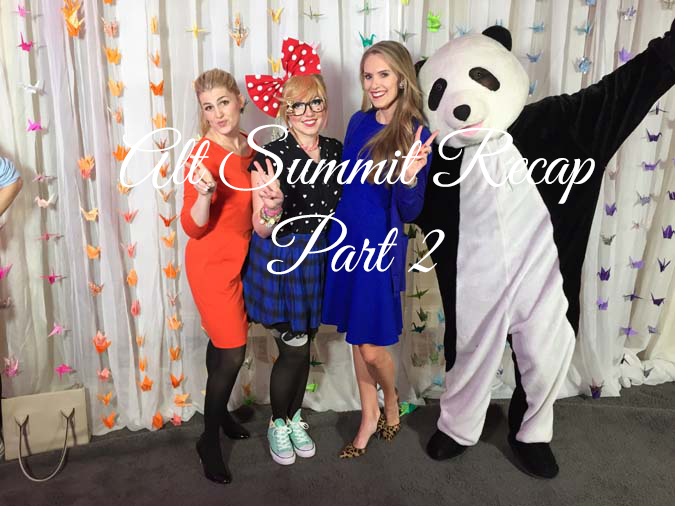 Oh man, there were so many things that I learned at Alt
Summit that I had to break it up into two posts. You can see Part 1 here. Read that first if you haven't already.


Are you ready for some more gems?
1)

How to build relationships with brands when you
are a relatively small brand –
Alix Adams of A Ruffled Life gave this
roundtable and did an excellent job. I am still relatively new to this blogging
thing and have started recently working with some great brands, but I need all
of the tips that I can get to grow. Her main points were:
–
Don't be afraid to approach people. You're not
going to get collaboration unless you ask for it.
–
When emailing, always compliment their brand
first. Say something specific that you love about them.
–
Keep your pitch simple and short.
–
When you get the collaboration, find out about
their budget. Don't lowball yourself. Make them throw out the first numbers.
–
After you get the relationship, go above and
beyond. She always throws in something extra, like an extra Instagram post for
example.
–
She recommends reading the book, "Girl Boss." I
have heard so many good things about this book and am going to buy it myself!
–
When to work for free? When you're starting out
and need the exposure. As you gain readership, you will be able to ask for more
in terms of compensation.
–
Approach every job like it's an experiment. Make
it fun!
–
Be okay with hearing, "no." Stay positive and
move on!
2) 6 steps to writing a good pitch – Sara Schmutz
of Confetti Sunshine
–
Get the right contact. Call, go into the store
if it's local, get on LinkedIn.
–
At the beginning of the email, ask a question
and then answer it. For example, "wouldn't it be great if your cupcake shop
could gain exposure to a lot of local companies? I can help you do that by
providing your cupcakes at my networking event."
–
Explain what you will offer them and incorporate
the product
–
Set your requirements – what is your budget?
–
Set a timeline to follow up. "If I don't hear
from you in two days, I will reach out again."
–
Put your phone number in the email because
oftentimes they will prefer to talk over the phone.
–
Be confident in what you have to offer!
3) Tiffany Han describes herself as a business
coach for the highly-creative woman and if I ever need a business coach, I will
100% be reaching out to her. She was so empowering and I left feeling so much
more confident than when I sat down. Some of the key tips in her round table
were:
–
Find the people that support your dreams and be
accountable to them
–
Find you WHY. Why are you passionate about your
blog, your business, etc?
–
It will be uncomfortable at first. Starting my
blog was super uncomfortable for me! It's hard putting yourself out there. That's
the time to be brave! Take action and work hard.
–
Focus on your CONTENT. Don't get too preoccupied
with design, font, etc. Worry about the content first.
–
Start TODAY. Nothing happens until you start!
–
Figure out 3 brand words and stick to that. Make
them something you are passionate about and believe in! Come up with a mission statement.
–
Write down revenue/readership/number goals for
the next year and track yourself each month.
–
Take yourself seriously and OWN it!
–
Fear will not go away, do it anyway.
–
Market to the people who are interested in what
you do. I care about those people who get just as excited about a great deal or
delicious recipe as I do. If someone isn't interested in those things, they are
not my person and that's okay!
–
When you are taking risks and reaching higher,
you are going to get rejected.
The FOUR main things that REALLY stood out to me were these
two points:
–
In school, you pass with a 60% which is a D. In
your blog or business, you can't expect to get 100% all of the time! Don't put
unrealistic expectations on yourself. Every time you fail, you learn and grow.
–
Don't check your email in bed when you get up in
the morning. I am SO guilty of this. My alarm goes off and I immediately get to
work. Give yourself some time before you jump into the day. Be gentle with
yourself. Your email can wait. Start a morning tradition that makes you excited
to get up in the morning!
–
ONLY LOOK AT YOUR EMAIL WHEN YOU CAN RESPOND! I
used to look at my email on my phone in line at the store or in a place where I
couldn't immediately respond and it would stress me out because I would be thinking
about it! Check your email when you can respond right then and it will cause a
lot less anxiety.
–
Everything will teach you a lesson if you don't
let it break you. Try to look for the learning and growth in a situation and
you will be all the better for it.
I hope that was helpful! I learned SO much and I really appreciate
the people who shared their knowledge with me. We're all learning and growing
together. If you're wanting to start a blog, start a business, etc….take the first step today and do it! The only one stopping you is yourself. We're all here to cheer you on!
Some of the below photos were taken by me, and some were by
Justin Hackworth or Brooke Dennis for Alt Summit. You can tell which ones are which thanks to my high-quality iPhone 5 camera 😉