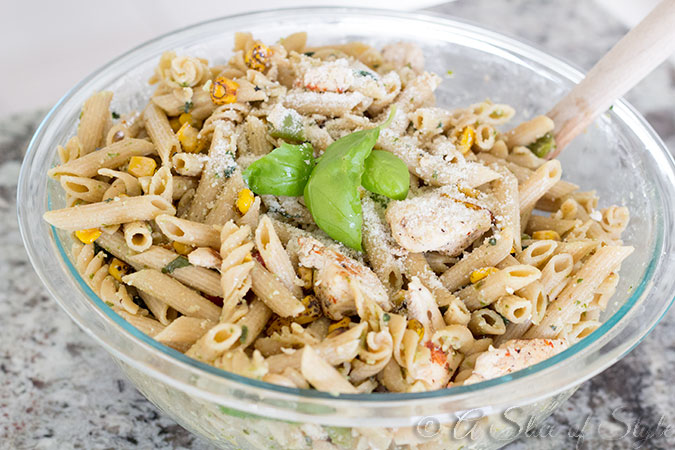 Ty (my husband) and I came home from a scooter ride all over town on Monday evening and wanted something fresh and summery. I'm not sure if "summery" is a word, but that just happened so let's go with it. We had been planting our garden, mowing the grass and weeding all day so we decided a nice leisurely scooter ride in this gorgeous weather would do the trick for a little relaxation and it did.
Anyway, we got home and I think it should be mentioned that I am kind of proud of the fact that I am growing my own basil. It makes me feel like I have a green thumb and that I am contributing to something growing and thriving which is awesome. It's kind of hard to describe. You try growing some basil and then come back here and try to explain it for me.
When we got home I threw together this pesto pasta and we both really liked it! I didn't list the amounts of each ingredient because honestly, not matter what amount of each ingredient you throw in it's going to be delicious. If you love pesto, add a lot. If you love chicken, add a lot of that too. Customize it how you want it!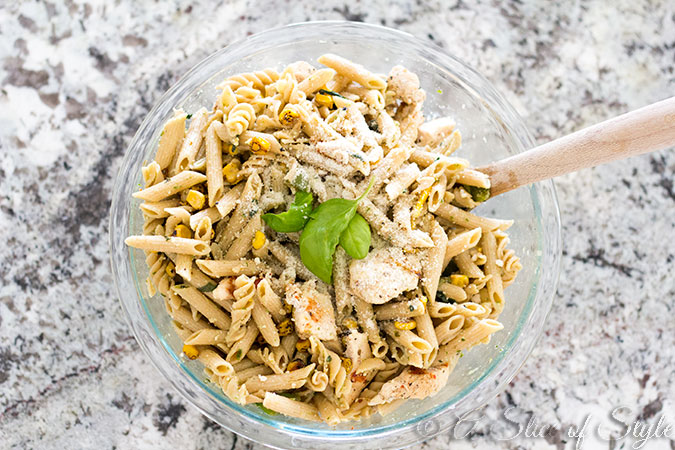 I made a stop at Trader Joe's last Saturday and stocked up on some of my favorite things to make easy dinners like this one.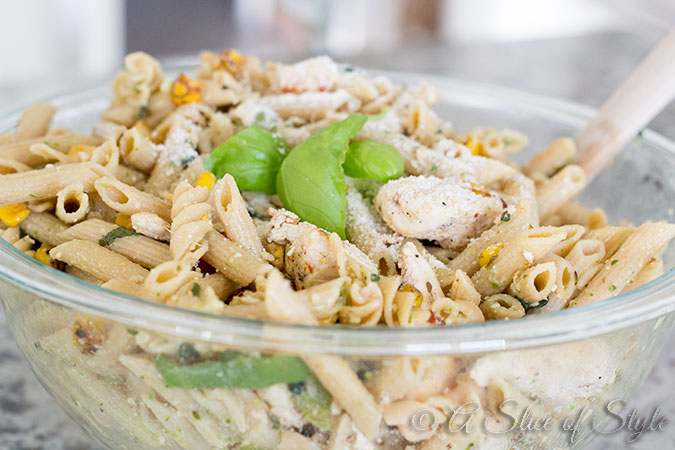 Pesto Pasta Summer Salad
Printable recipe
Ingredients
Grilled chicken, I like to grill mine with Trader's Joe's Everyday Seasoning
Grilled green, red and yellow peppers – Trader Joe's has a bag of all 3 chopped and frozen
Roasted corn – Trader Joe's has a frozen bag
Fresh basil – chopped
Pesto
Parmesan cheese
Whole wheat pasta
Directions
1. Cook pasta then drain and run with cold water.
2. Grill chicken and cut into pieces in one pan, and grill peppers and corn in another pan.
3. Toss chicken, pasta, corn, peppers, chopped basil, pesto and parmesan cheese in a large bowl.
4. Serve immediately. Store leftovers in fridge. May be served cold or heated up in the microwave later and served warm. Enjoy!