This bread is sweet and bright, bursting with cherry and almond flavor!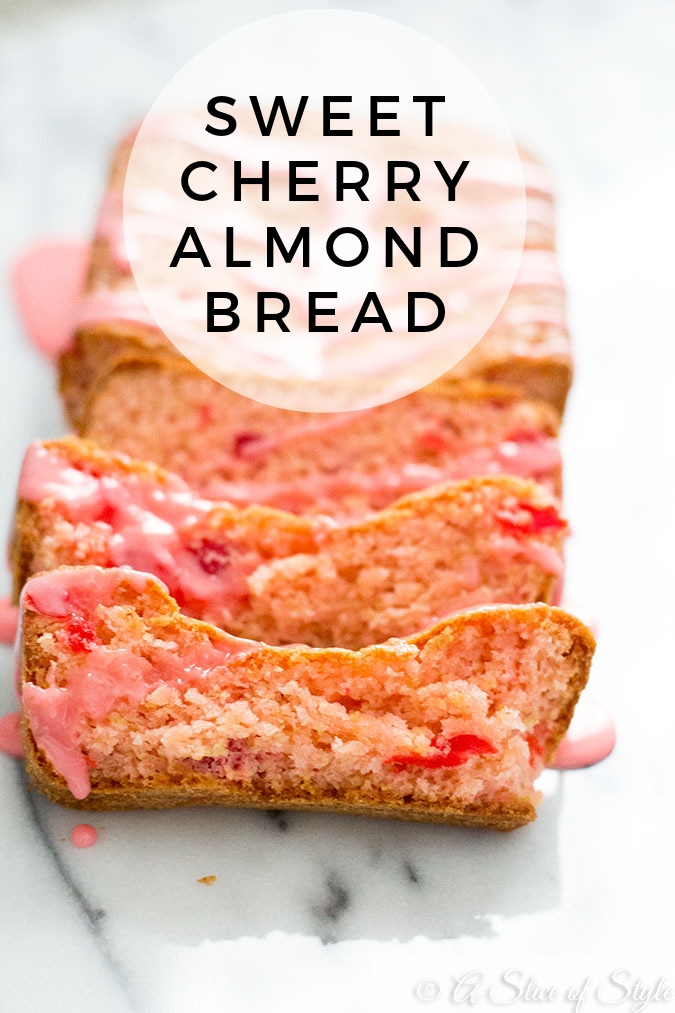 The moment I saw this recipe, I knew I had to try it. Cherry + almond? Yes, please. It's so sweet and soft and I could eat it for breakfast, lunch and dinner. But I won't. At least while someone's looking.
The only thing I would change about this recipe based on my experience in making it is I would put the batter into one 8 x 4 inch loaf pan instead of one because I think my loaves came out a little too short.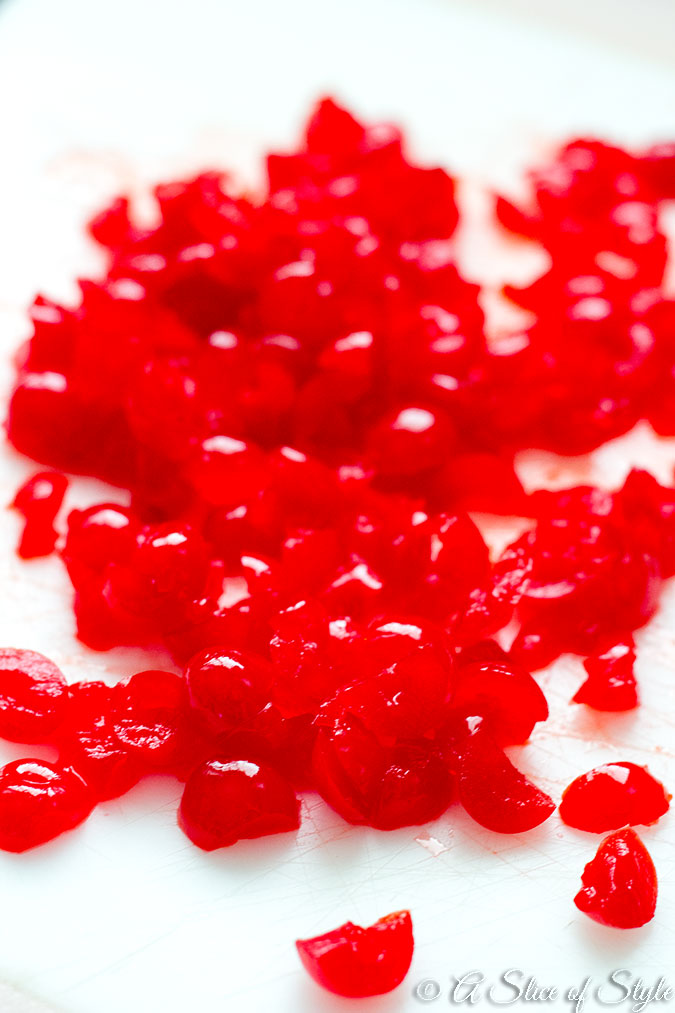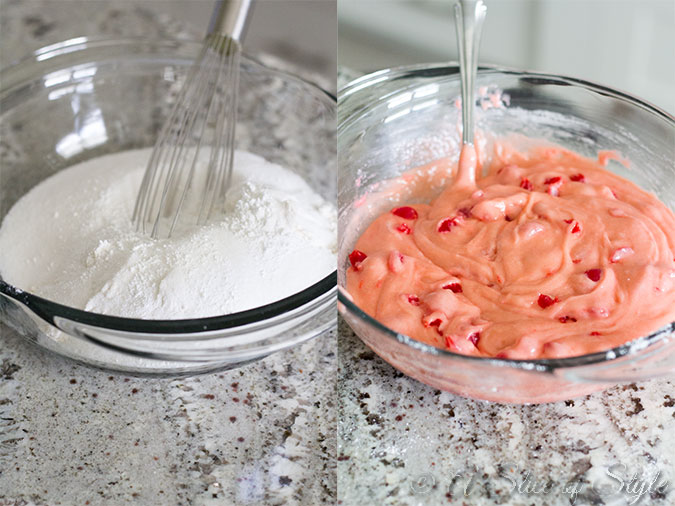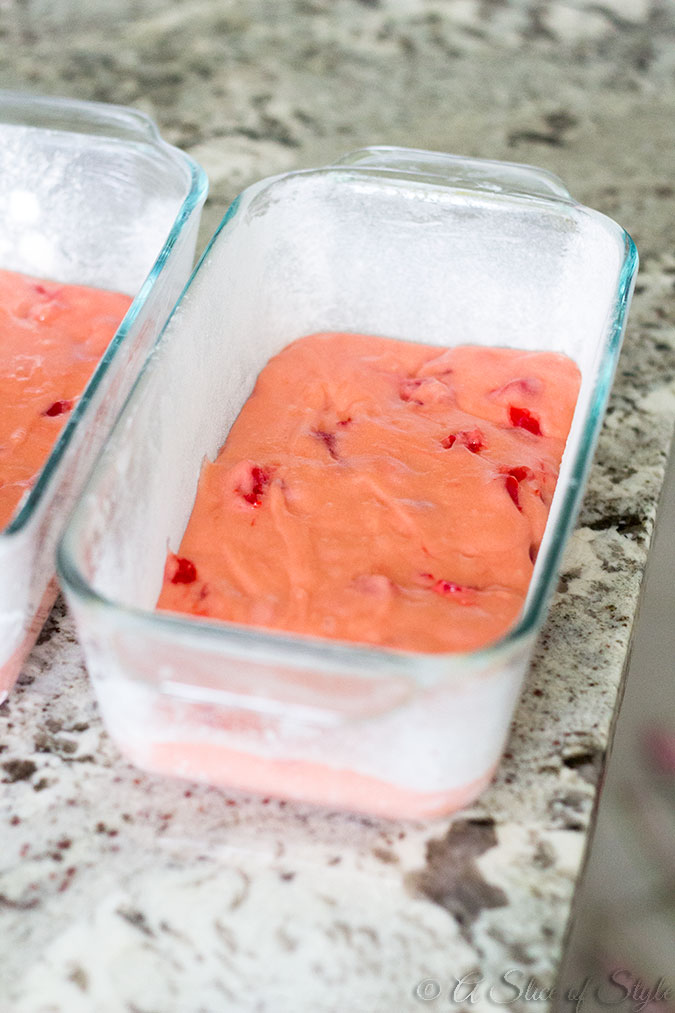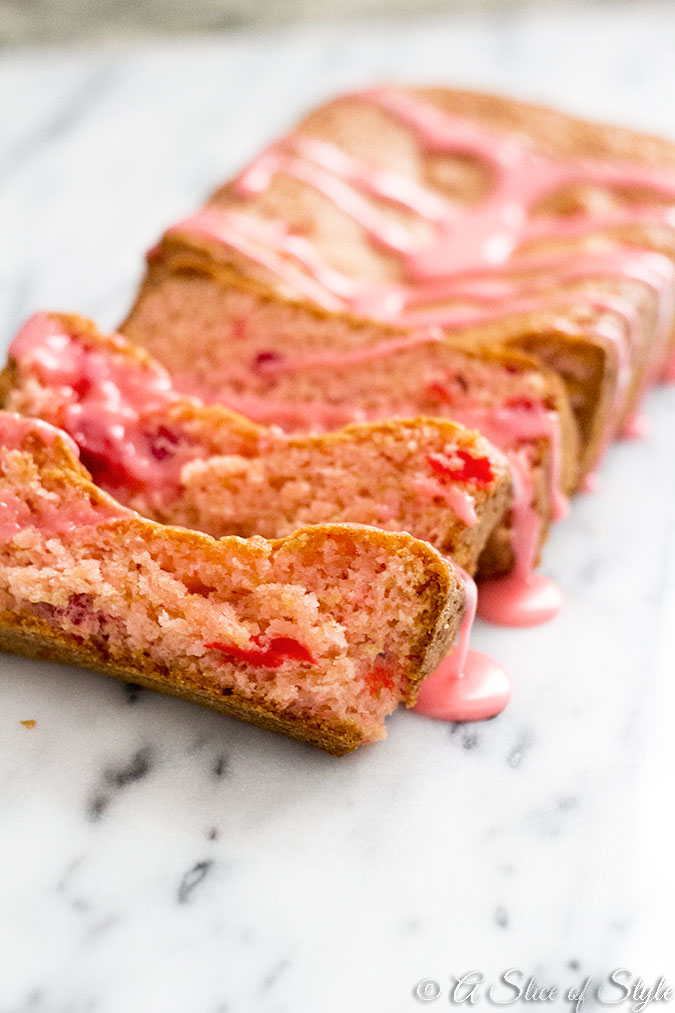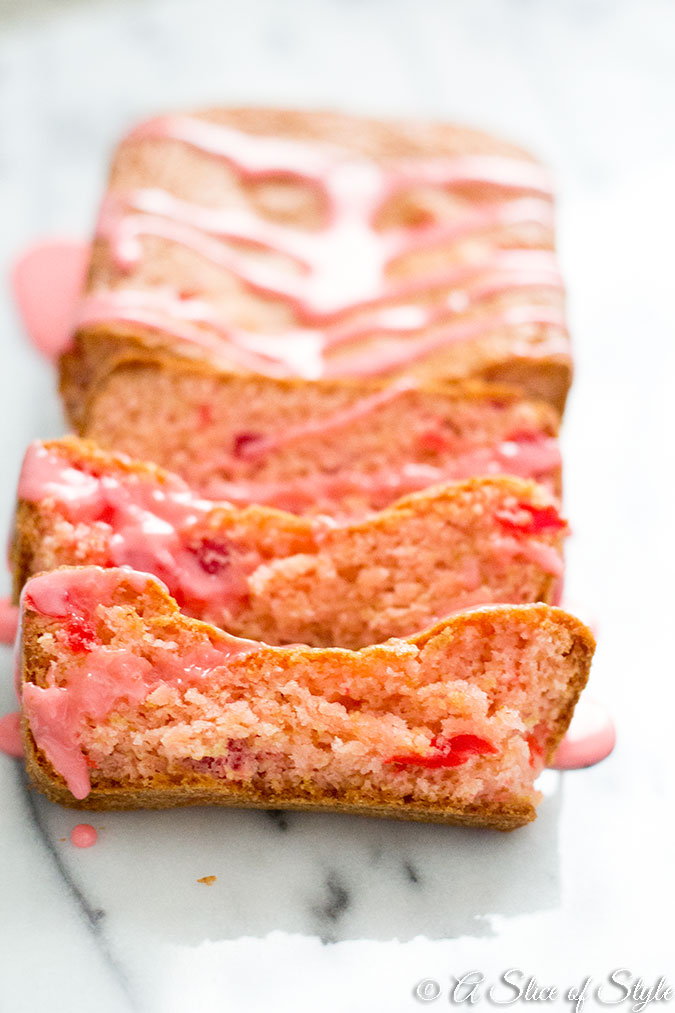 Sweet Cherry Almond Bread
Ingredients
Cherry Bread:
One 10-ounce jar maraschino cherries, divided
2 tablespoons all-purpose flour
1 3/4 cup all-purpose flour
1 cup granulated sugar
2 teaspoons baking powder
pinch salt, optional and to taste
2 large eggs
1/2 cup canola or vegetable oil
cherry juice, reserve 1/4 cup
1 teaspoon almond extract
1 teaspoon vanilla extract

Cherry-Almond Glaze:
1/4 cup reserved cherry juice
1 teaspoon almond extract
about 1 1/2 cups+ confectioners' sugar
Directions 
Preheat oven to 350F. Lightly grease and flour one 8×4-inch loaf pan and set aside. 

Cherry Bread – Remove cherries from jar and place on a cutting board. Roughly chop them.

Sprinkle with 2 tablespoons flour (prevents them from sinking during baking) and toss to coat evenly; set cutting board aside. Set jar with the cherry juice aside.

In a large mixing bowl, add 1 3/4 cups flour, sugar, baking powder, optional salt, and whisk to combine; set aside.

In a small mixing bowl or glass measuring cup, combine eggs, oil, all the cherry juice from the jar except 1/4 cup to be reserved for the glaze, almond extract, vanilla extract, and whisk to combine.

Pour wet mixture over dry ingredients and stir to combine; don't overmix. Batter will be very thick.

Lightly fold in the chopped cherries.

Turn batter out into the prepared pans, smoothing the tops lightly with a spatula. Strategically place a few cherries on top for visual appeal.

Bake for about 40 minutes, or until bread is domed, set, springy to the touch, and a toothpick inserted in the center comes out clean, or with a few moist crumbs, but no batter. Allow bread to cool in pan on top of a wire rack for about 15 minutes before removing and allowing to finish cooling completely on rack. While bread cools, make the glaze.

Cherry-Almond Glaze – In a medium bowl, combine 1/4 cup reserved cherry juice, almond extract, about 1 cup confectioners' sugar, and whisk to combine until smooth and satiny. Add sugar until desired consistency is reached. Glaze the bread prior to serving. After the photos were done, I glazed much more liberally, spreading the glaze like butter on the interior of the slices. Bread will keep airtight at room temp for up to 5 days or in the freezer for up to 6 months. Do not glaze bread until ready to serve if you plan on storing long-term.

Enjoy!
If you're a Utah local, tune into Good Things Utah on Monday from 9-10 am where I'll be demonstrating my Almond Coconut KIND Bar Copycat recipe!