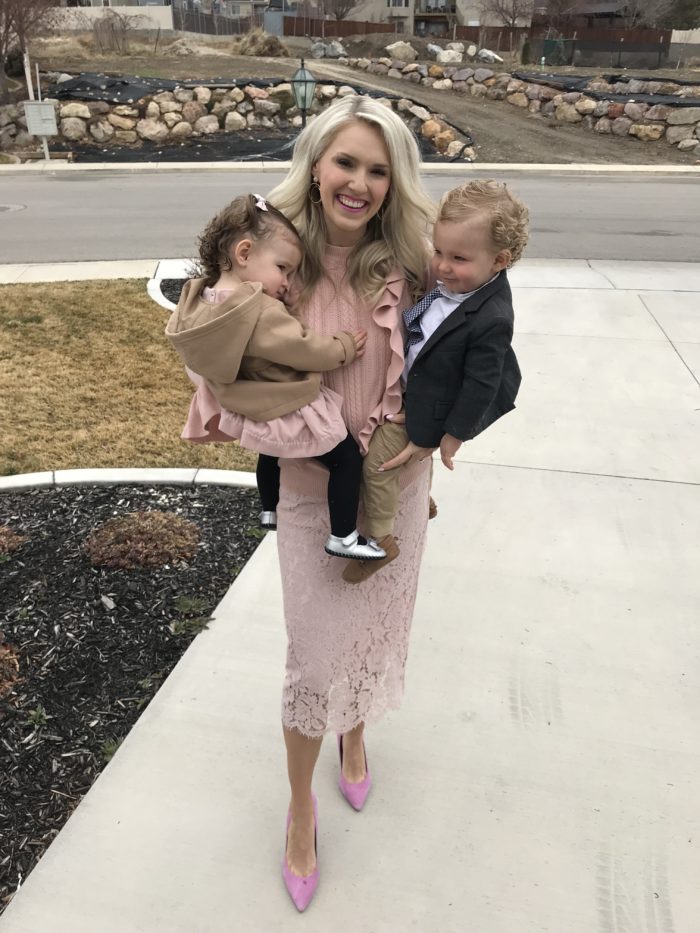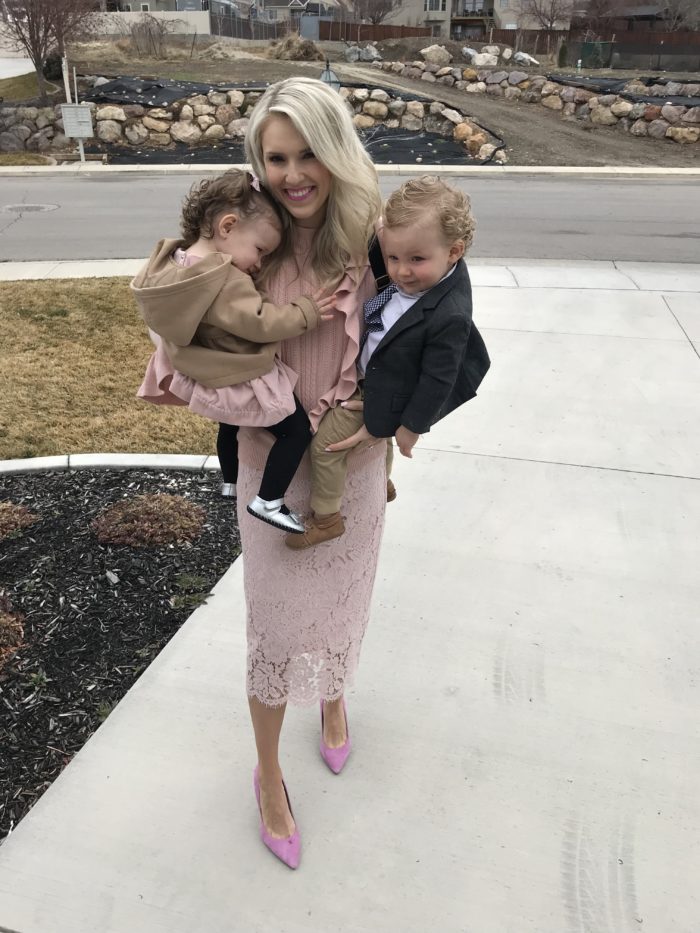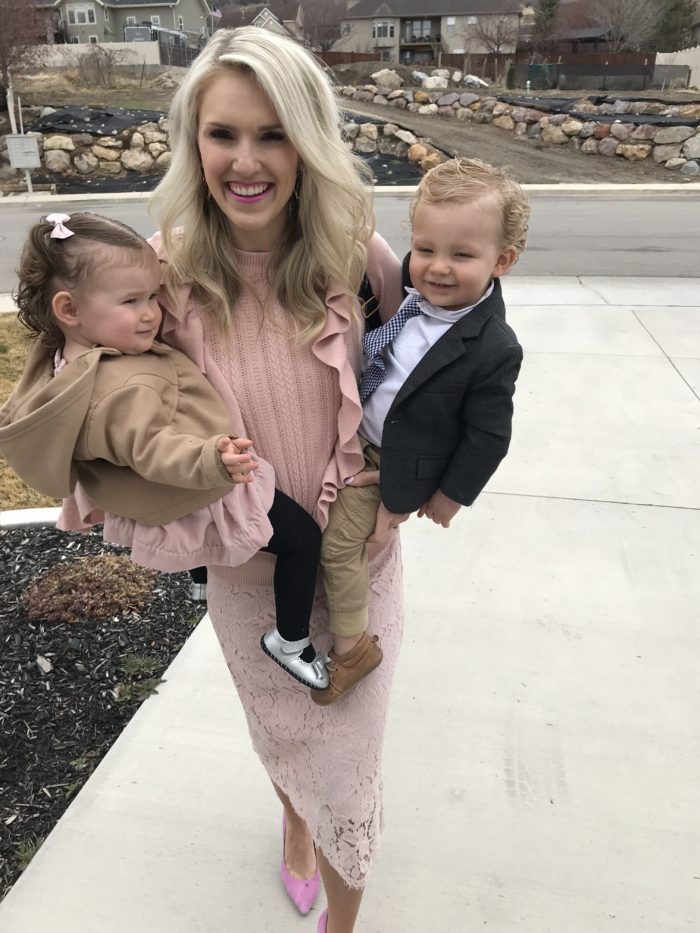 Top | Similar skirt | Shoes

It's my 31st birthday today!! I get really excited for my birthday every year. I have never been the person who shies away from people knowing it's her birthday. I'm the one that reminds you a week before you don't forget to say, "happy birthday!" when you see me. I think it's fun! Life is hard, so birthdays are a fun way to forget it all for a day and just celebrate that you have breathed and learned and grown for a whole year. 365 days of miracles!
---
31 Things I've Learned in 31 Years
---
Life is hard about 95% of the time. It sucks. It's not fun. It's heartbreaking. This is NORMAL. Everyone feels this way a lot of the time. The trick is to start each day with gratitude for the good parts of life and remind yourself of those things over and over and over again throughout the day.
Relationships are life's #1 gift. Put your family first.
You can learn SO much from kids. Be in the MOMENT. Be PRESENT! When you get excited, scream with delight! Smile and laugh! Don't care about who's watching.
You're never going to feel like you have completed your to-do list. It's never ending. Enjoy each day despite it not getting done. You'll remember the small joys you had in life rather than the to-do list you checked off.
I've heard people say that nothing tastes as good as skinny feels, which is completely untrue, because they have obviously never tasted the chocolate chip cookies from The Chocolate.
No one else can give you self-esteem and self-worth except for the knowledge that you have that you are a daughter or son of God. That makes you good enough, worthy enough, and capable of doing great, big, powerful things in this world for good.
If you think of your spouse before yourself, and they do the same, you'll both be happy. Tyler and I make sure that we let the other do things that bring them joy. He loves snowmobiling, so when he goes, I don't nag him about when he's going to be home. He knows I love going to dinner with my girlfriends every now and then, so he encourages me to "stay out until midnight and don't worry about a thing!" I don't ever stay out that late (mama needs her sleep), but my mind is at peace knowing that he has my best interests at heart.
Winter sucks. There are things that make it better, like skiing, but it mostly just sucks.
Being pregnant is horribly, terribly hard even if you are so incredibly grateful for it and have gone through years of infertility to get there. It's hard, but most things that are worthwhile are.
Sunshine on your face is one of the best things in the whole wide world.
No one can really take care of you but you…because you are you.No one can read your mind. If you need to go to the gym to feed your body and soul every day, communicate to the people that will help you make it happen. You are the boss of you, and that includes self care.
God made your body, and when you constantly talk negatively about it, it's an insult to Him. He made you perfect. Period.
Cell phones can suck the life out of you and it's your job to plug it in and step away every now and then.
Mistakes and successes are really just the same thing. They are experiences that you can learn from.
Take time each day to feed your soul. I listened to this talk yesterday and it uplifted me and gave me peace.
Warm showers and warm baths are one of the best things in life.
And so is candy. I don't discriminate. I pretty much like it all.
Oh, and so when your husband does the dishes and cleans the house while you write 31 things you have learned in life in 31 years. That's what's happening now. I'll do pretty much anything to not have to clean my house, and my birthday is probably one of the best excuses I have. You need to milk it, people. You only get one birthday each year. Capitalize.
Don't get desperate and drink a sugar free Red Bull at 11 am on Wednesday because you're so sick of being exhausted all of the time. You might not be able to sleep that night…
Small acts of kindness can literally change the world. A smile, a nice compliment from a stranger, an invite.
Get 8 hours of sleep each night. Somehow the sun shines brighter and the birds chirp on days when you are well rested.
Read good books.
Remember that you are in control of your life. You are powerful. Always. Remind yourself daily. Ask yourself "why NOT me?" Someone has to do that amazing thing that you have wanted to do. Why couldn't it be you?
Even though it sucks so bad and makes you want to die a little because you are so exhausted that you just want to collapse, clean up your house before you go to bed because waking up to a clean house in the morning will give you LIFE. Obviously have your spouse help you. Ain't nobody doing that alone.
Exercise and push your body, even if you don't feel like it. You'll always feel better when you are done with your workout than you did before you started. Endorphins are real.
Your babies will grow so, so fast. There will be really hard days, and more easy ones. Remind yourself in the hard days that that they will go so quickly. Try to memorize how it feels to hold their little bodies against yours.
You don't need a hundred friends, you just need one really good one.
Stop beating yourself up over not being perfect, making stupid mistakes, and not measuring up. You're doing great. Forgive yourself and move forward because sinking low doesn't help you or anyone else around you. Keep trying and talk positively to yourself.
Forgive others. You are not perfect, and neither is anyone else. Most people are just trying their best and they make mistakes.
You're never too old to try something new or pick up a new hobby that you have always wanted to try. The only limitations you have are those that you put on yourself.
God is real, God is invested in your life, and God answer prayers. I know this for certain.
You can read my blog post on 30 Things I Learned in 30 Years here. I haven't read it in a year since I wrote it so it will be interesting to see if anything is the same!
---
I love you all and really appreciate connecting with you in this space. Thank for being here and thank you for your positive influence in this world! xo Jenica