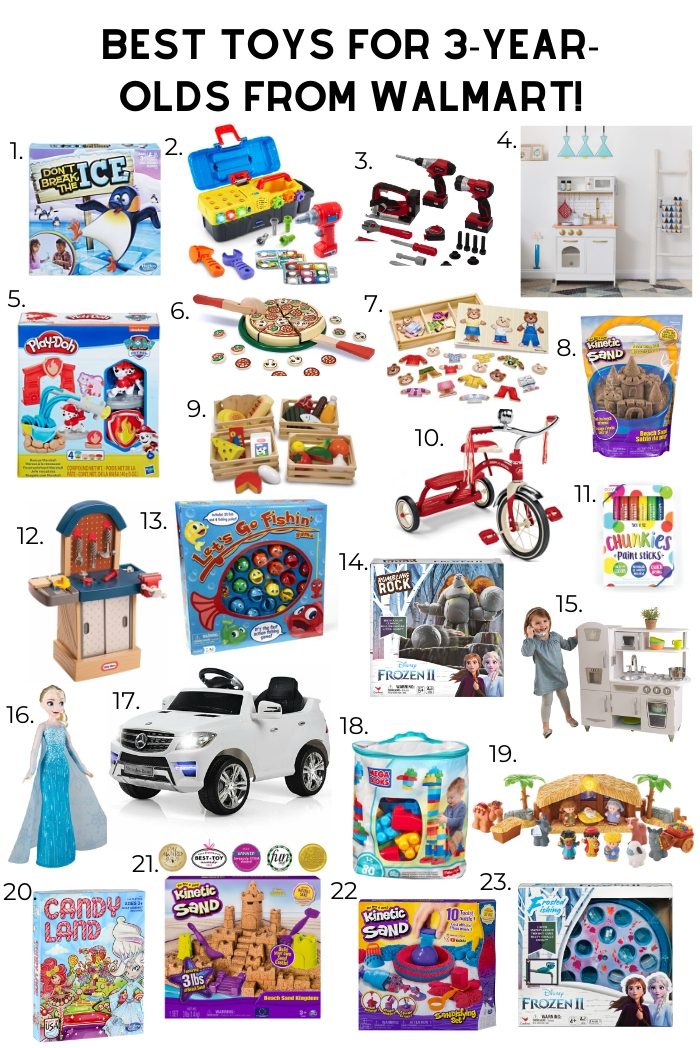 SHOP THESE BEST TOYS FOR 3 YEAR OLDS FROM WALMART:
This game is a classic and simple enough for toddlers to enjoy!
This tool box has a working drill and will honestly provide hours of entertainment!
This along with the tool box would be the perfect gift for any toddler.
4. Play Kitchen
How cute is this little modern play kitchen?! I love that it doesn't take up very much space!
This Play Doh set would make any Paw Patrol loving toddler SO happy!
This pizza set would be so fun to gift with the play kitchen.
7. Mix and Match Bear Dress Up
I feel like this would be the perfect activity to bring to church to keep the kids happy!
8. Kinetic Sand
My kids LOVE this stuff! It doesn't dry out and it's so fun to play with. I won't lie… I love it too!
9. Pretend Food
Another great food set to gift with the play kitchen 🙂
How cute is this tricycle?! It has hundreds of amazing reviews too.
These are easy for a 3-year-old to color with because of the thick size. Perfect!
Such a cute little play workshop!!
I love that my kids are getting to the age where we can play games like this together. This one is simple and easy to learn!
14. Frozen 2 Rumbling Rock Game
Any other Frozen 2 lovers out there??
This play kitchen is adorable as well! This one is a little bit bigger but has more features!
16. Elsa Doll
This Elsa doll is the perfect size and so detailed! Any Frozen-loving kids in your life will love this one.
17. Remote Control Rideable Car
Okay honestly I might try to ride in this myself… But really though, it looks so realistic and you can connect it to your iPhone and play music! So fun!!
18. Mega Bloks Set
This is an 80 count block set so your kids will be building for hours!
This beautiful 12-figure Nativity set will help you teach your littles about the story of Christmas!
20. Candy Land
This game is such a classic. I know my kids will love all the fun candy-themed characters!
21. Kinetic Sand – Beach Sand Kingdom
We can't get enough of this Kinetic Sand. This is such a fun Beach Kingdom set!
22. Kinetic Sand – Sandisfying Set
This set comes will all sorts of fun tools for the kids to get creative with their sand!
23. Frozen 2 Frosted Fishing Game
Another fun game perfect for any kid who loves fishing and Frozen!
Loving these WALMART TOYS FOR 3 YEAR OLDS? Click here now for more awesome gift ideas!