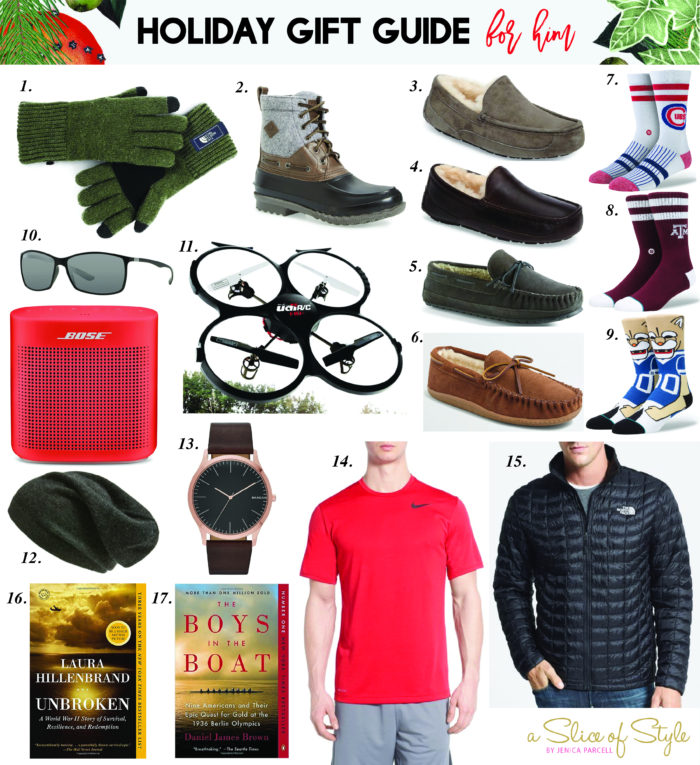 I don't normally love shopping for men as much as I love shopping for women but I had a really fun time putting this gift guide together! I added gifts that either Tyler already has and absolutely loves or that he wants. Have fun shopping!
1. E-tip Gloves – if you live in a chilly place like we do, this is a must! It's nice because you don't have to take off the gloves to use your phone.
2. Waterproof Boots – Tyler was just saying the other day how he doesn't like that his feet are so cold in the winter. I like these because they are still stylish but also waterproof!
3. UGG Suede Slippers – I have these in the women's version and I wear them literally every day. I get home and immediately switch into these cozy shoes. I always wear them to my parents or in-laws on Sundays too, when I'm in my sweats, because they have hard soles. Anyone that buys them LOVES them!
4. UGG Leather Slippers – The leather version. They are really durable!
5. Nordstrom Slippers – These come in 4 colors and are a really great price point. They have awesome reviews! I may have purchased these for someone on my list this year…
6. J. Crew Shearling Moccs – I also have these in the girl version and LOVE them. They are a really great price right now at at only $29.50, reg. $59.50!
7. Stance CUBS socks – My sister bought these for her boyfriend after the Cubs won and basically made his week. These are great for any Cubs fans! They also have many other sports teams options.
8. Stance College socks – They have lots of socks to choose from many universities. Tyler LOVES fun socks, so choose your man's school and I think he'll love it too!
9. Stance BYU socks – Okay, I had to point out these socks in particular because it's my alma mater and I think they're cute.
10. Ray Ban sunglasses – Hands down Tyler's favorite sunglasses of all time. He loves them because they are SO LIGHTWEIGHT.
11. Drone – Tyler has been wanting one of these for months. This is a cool gift!
12. Cashmere beanie – I love wearing beanies in the winter but I HATE when my forehead gets itchy! This cashmere option is affordable and super soft.
13. Jorn Leather Strap Watch – I love the classic look of this watch.
14. Nike workout shirt – Hands down Tyler's favorite shirt to work out in. It comes in lots of colors!
15. North Face coat – Tyler loves this coat because it's really lightweight but also very warm. He has had one of these coats for as long as I have known him. It's classic and classy!
16. The Boys in the Boat book – Everyone that has read this has loved it. Definitely a great book for a guy who likes to read.
17. Unbroken book – Forever and always my favorite book I have ever read. A million times better than the movie. It really makes you appreciate your life! Tyler loved it too, and he doesn't love reading much. Seriously, this is incredible.
Bonus: Bose bluetooth speaker  – Tyler and I use this every single day and love it. It has incredible sound and is very portable!