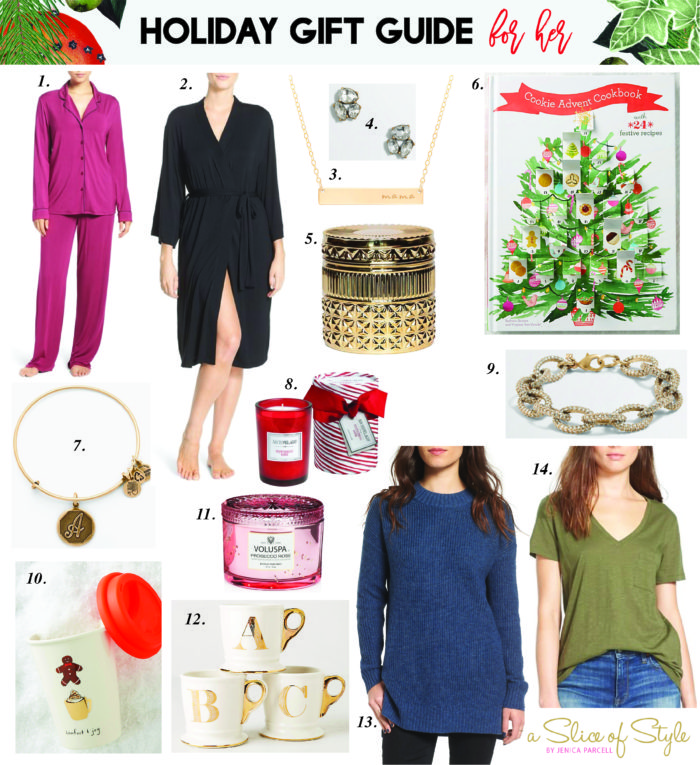 I LOVE Christmas and I LOVE shopping for gifts! I'm not going to beat around the bush though, shopping for women is so much more fun to me than shopping for the guys. All I have to do is think, "what is something that I would want to receive as a gift?" Then I buy it (and maybe add an extra one for me sometimes…oops). These are my favorite gift ideas for the ladies on your list this year!
1. Nordstrom Moonlight Pajamas – Is it okay to live in pajamas? They are the same material as this robe, and I am not joking when I say that it is the most comfortable, softest material I have ever tried on. I'm in love!
2. Nordstrom Moonlight Jersey Robe – I've posted about this before, and I won't stop posting about it until they no longer sell them (which will probably be never because that's how much everyone loves them). Every single person that has bought this based on my suggestion has loved it! They are on sale for 40% off!!
3. Mama Necklace – I received this necklace before I knew I was pregnant, while I was doing IVF. I saved it until the day I found out I was pregnant, and put it on then. I'm going to give this to Goldie on the day when she has her first baby. Yes, I'm getting choked up just thinking about it!
4. J. Crew Earrings – These are the perfect size and sparkle to add to literally any outfit. I love wearing mine with a button up plaid shirt, or to church with a dress! They are 50% off!
5. Capri Blue Candle – I'm so into candles that can double as home decor. This adds the perfect bright splash of gold to a bedroom, living room…you name it. Plus, it smells AMAZING!
6. Cookie Advent Calendar – This is a great gift to give in the beginning of December so they can enjoy it all month long! And think how sweet you were to think of them 🙂 You are on top of the gift giving, sister!
7. Alex and Ani bracelet – This is a closet staple. I especially love it because it fits around anyone's wrist, you can shape it to fit perfectly. My mom, sister and I wear ours ALL  the time!
8. Peppermint Candle – I love the smell of peppermint during Christmas, I think it makes your home feel even more festive. This comes in the cutest box to give, you won't even need to wrap it!
9. Gold chain bracelet – This is one of those closet staples that I LOVE. I have had one for several years and J. Crew keeps selling it because that's just how good it is. It goes with anything, and it's 50% off!
10. Merry Travel Mug – Okay, really?! How cute is this? I have this thing for cute drinkware. It literally makes me SO happy when I am drinking out of a cute mug. I think this would be so cute to give to someone so they can drink their warm drinks and feel cozy all winter long!
11. Voluspa Candle – It smells like roses. Yes, please. Obviously, candles are one of my favorite gifts to give because it's one size fits all and they're SO pretty, they last a long time, and they're great home decor. I also love this one!
12. Gold Monogram Mug – These would be perfect to give filled with candle and wrapped with cellophane and tied with a bow. I also really love these gold monogrammed mugs too!
13. Ribbed Mock Neck Pullover – I am literally obsessed with this sweater. I have it in two colors and I am trying really hard to not buy it in all 5! It's big and loose (but not too loose) and so cozy. You can see it on me here (I'm wearing a small).
14. Madewell Whisper Cotton V-neck tee – Literally my favorite v-neck tee of all time. I am OBSESSED. I think it's so hard to find the perfect tee with the perfect length, thickness, and slouchy-but-not-too-slouchy fit.
Okay…time to get shopping! And you might want to throw in a few things for other people too 😉