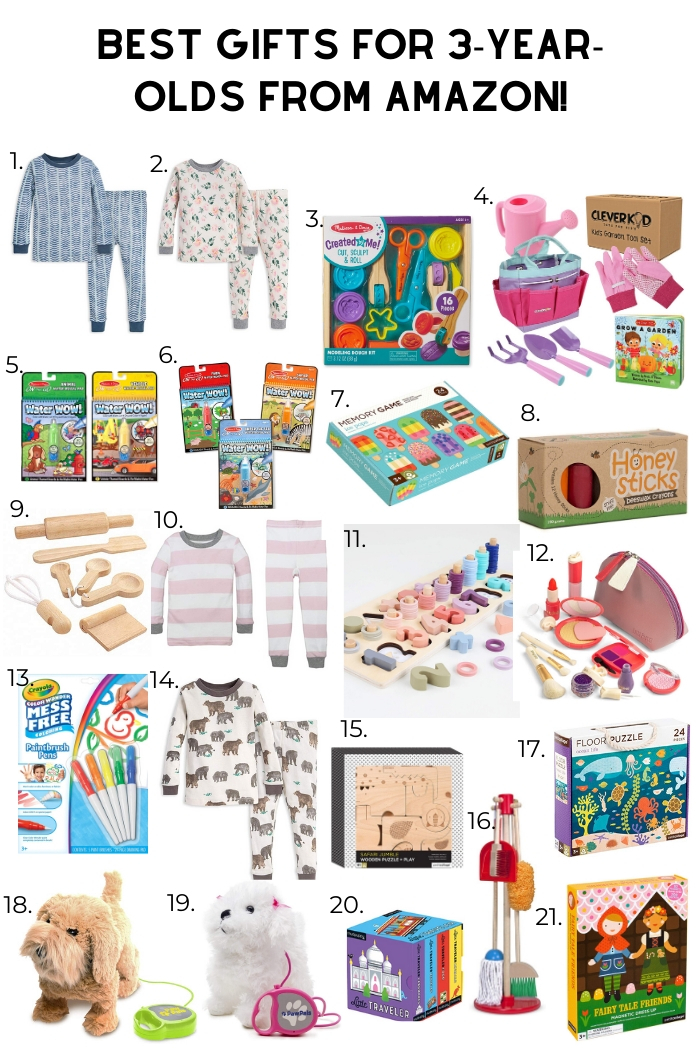 1. Burt's Bees Boy Pajama Set – Blue
There are so many color and pattern options for these pajama sets and they are a great price!
2. Burt's Bees Girl Pajama Set – Floral
Another cute set of the PJs… they are 100% organic cotton and great for sensitive skin.
3. Cut, Sculpt, and Roll Set with Modeling Dough
This is such a fun set to help your littles get creative!
Do you have kids who love to dig outside and "help" with yard work? 🙂 This is the perfect gift!
5. Reusable Water Reveal Activity Pads 2 Pack
I'm a big fan of these because they don't leave a mess. They are reusable too!
6. Water Reveal Activity Pads 3 Pack
These are the same as above, but these ones are themed – farm, sarafi, and under the sea!
This fun matching game promotes memory skills! Made with recycled paper and non-toxic inks 🙂
8. 100% Natural Beeswax Crayons
These crayons are non-toxic, safe, durable, and come in 12 fun colors!
9. Pretend Wooden Baking Utensils
Encourage creative play in the toy kitchen with this wooden baking set!
10. Burt's Bees Girl Pajama Set – Stripes
Did I mention this pajama set has hundreds of 5 star ratings??
11. Wooden Counting/Shape Stacker
Kids can practice their colors, shapes, and counting all with one set!
A mess-free and safe play make up set!
13. Mess Free Paintbrush Pens and Paper
Honestly anything toy that starts with "mess free" is a win for me! The colors only show up on the paper. Let the kids get creative with colors without worrying about the colors getting on everything else!
14. Burt's Bees Boy Pajama Set – Bears
I love this bear pattern! Also, apparently this set won an award for being the softest and snuggliest PJs? Do they come in adult sizes??
15. Wooden Safari Jumble Puzzle
This puzzle would be fun for kids at all different stages of development!
Another great gift for your little helpers!
This floor puzzle has large pieces so it's easier for little hands!
18. Walking and Barking Puppy Dog Toy – Brown
A great alternative to a real puppy if you ask me. It walks, yaps, and wags its tail like a real dog!
19. Walking and Barking Puppy Dog Toy – White
This is the same dog in a different color! It comes with a remote control leash 🙂
20. The Little Traveler Board Book Set
I love board book sets, and this one is great because you can have fun looking at the pictures while also teaching them about foods, landmarks, animals, and vehicles around the world!
21. Fairy Tale Magnetic Dress Up
This magnetic fairytale dress up set will keep Goldie entertained for hours. This kind of activity is great for imaginative play!
Loving these AMAZON GIFTS FOR 3 YEAR OLDS? Click here now for more awesome gift ideas!