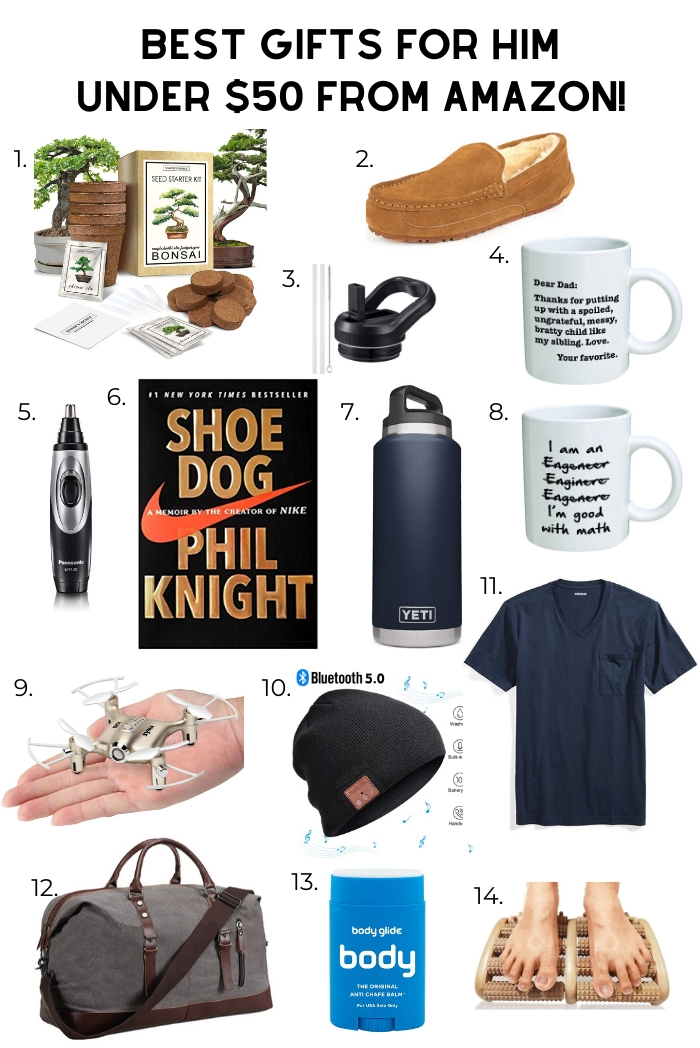 I think that women are extremely easy to shop for, but it's hard to find good gifts for your man! These are unique and creative gift ideas for men that I think you'll love! The 2-day shipping helps those of you are looking at this last minute. We've all been there.
best gifts for him under $50 from amazon
This looks fun and cool as a unique gift! I like gifts that keep on giving and he'll think of you every time he sees this in his office!
Tyler loves slippers, and these ones have amazing reviews! They come in lots of colors!
Tyler loves his YETI (#7 below) and he bought this cap. He carries it with him everywhere.
This is a hilarious gift to give from a child to a dad!
Okay YOU GUYS!! I use this on my nose hairs at least once a month. It keeps me in check, and your man probably needs one too.
Tyler and I both loved this book!
The YETI that Tyler has and loves. Keep that man hydrated, people.
If the man you're giving to happens to be an engineer, this is hilarious. I love funny gifts!
When I asked Tyler what gifts he would recommend, this was his number one recommendation!
I think this is so cool!
Tyler loves this v-neck and it's so affordable. True to size!
I think this is the nicest and most classy looking duffle bag! I love it!
If your man works out a lot or runs a lot, this is a great gift idea. It has a TON of amazing reviews.
I think I want this for me. Buy it for him then tell him you can share…