Thank you to Walmart for partnering with me on this Thanksgiving favorites post!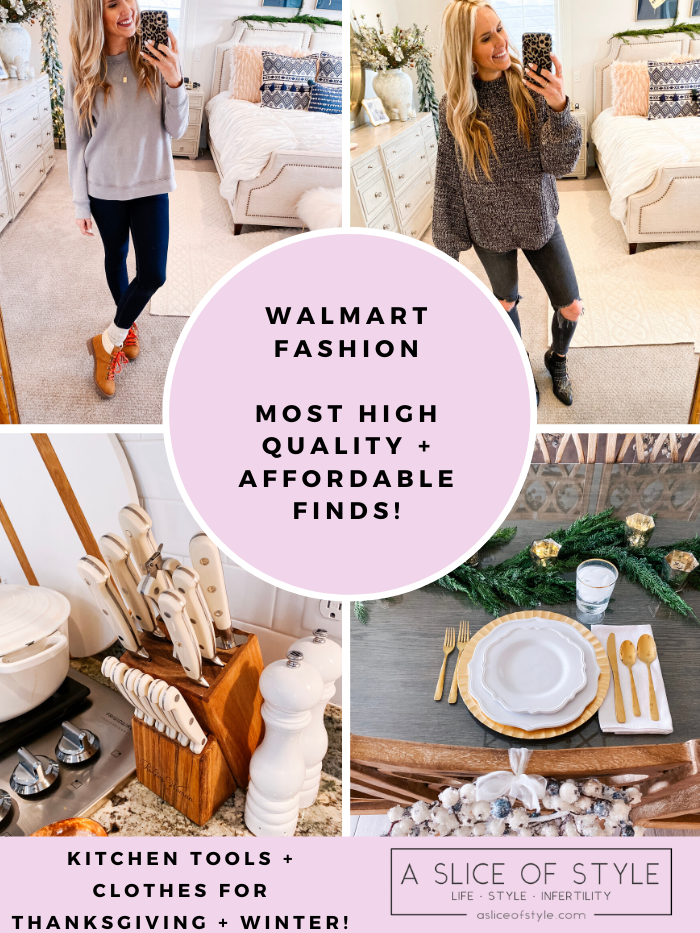 SHP MY THANKSGIVING FAVORITES FROM WALMART:

Walmart Fashion is one of my absolute top picks for the very best HIGH QUALITY finds!! You guys are loving them too, and it's so much fun for me to find the very best. The quality stops me in my tracks and I can't believe that the prices aren't at least 5 times more than what they actually are! I picked my favorite Walmart Fashion items for you to wear during the holidays, including Thanksgiving. I LOVE that when you spend $35 or more, you get free 2-day shipping. You don't even have to pay a subscription fee! It's so nice and such a great way to easily shop for the items that you need for the holidays. I think it's even easier than driving to the store with Harris and Goldie! Their free 2-day shipping saves me money and a million headaches because taking two toddlers into a store is pretty much always a bad idea. Just saying. You can shop the latest items from Walmart Fashion HERE! They always have awesome curated picks of what is new and trending.
shop my top Walmart Fashion picks for thanksgiving!

Let's be real. You're going to wear these Walmart Fashion clothes more than just on Thankgiving but I just wanted to help you find some easy, comfortable and super affordable outfits to wear on Turkey Day so you can focus on the baking and the eating. If you follow me on Instagram, you know that I am 110% OBSESSED with this thick and cozy cardigan that's only $22.98!!! I will never get over how thick, warm and amazing it is at such a great price. You will be super cozy warm and COMFY! Here is the plaid version that I also have. I'm wearing a small and I literally have it in every single color. Also these snakeskin booties are what dreams are made of because they are so comfy, affordable and don't squeeze your toes. They are true to size!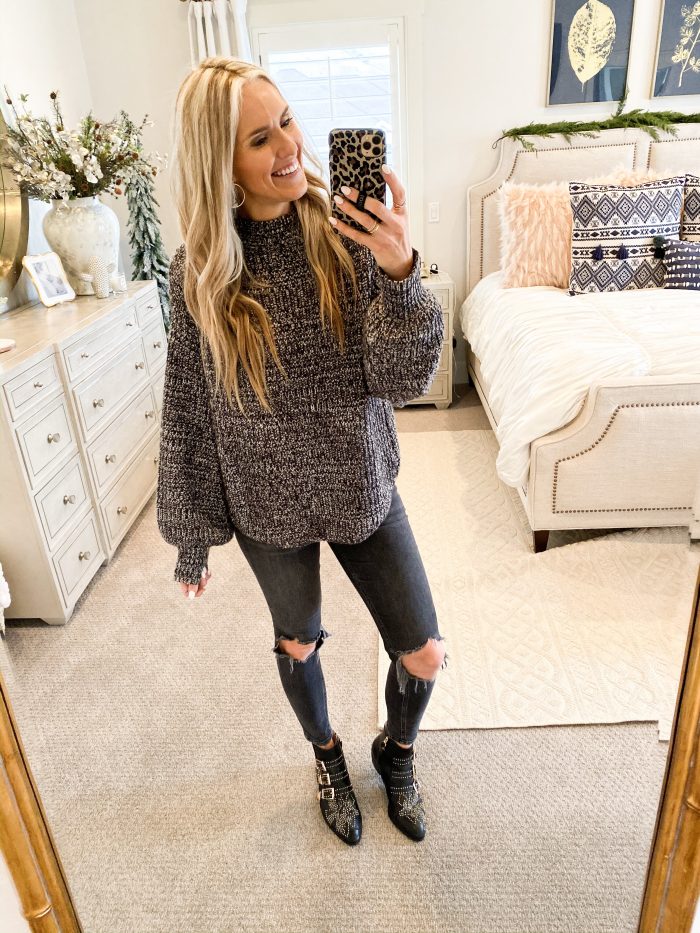 This sweater might be the warmest I've ever had in my entire life! It's so thick and cozy and warm, and I love the sleeve length. It's so soft that I could sleep in it and comes in 4 colors. I'm wearing a small!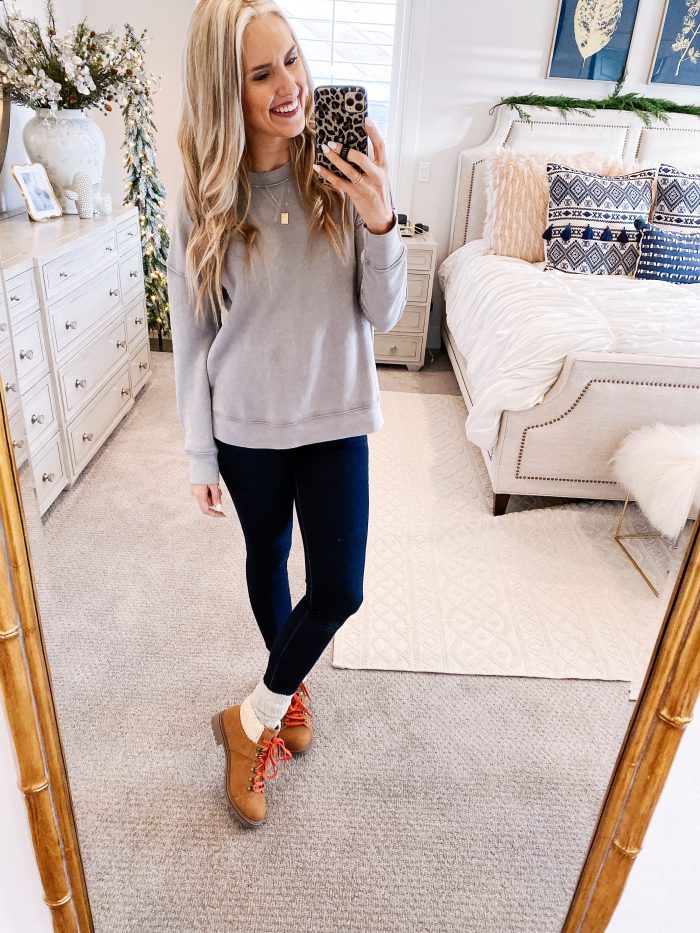 These jeans are so stretchy and I LOVE the high waist! How did we ever do low waisted pants?! I have no idea! And they are ON SALE FOR $12.86!! They are true to size although when you take them out of the package they look small. I also love these boots that are perfect for all winter long! They are great to layer with high socks and look awesome with leggings too. They are true to size. This sweatshirt is only $10.88 and comes in multiple colors! A few of the colors are sold out but it just so happens that all of my favorites are still in stock. I sized up one size to a medium and it fits perfectly. I love how lightweight it is!
walmart kitchen items for THANKSGIVING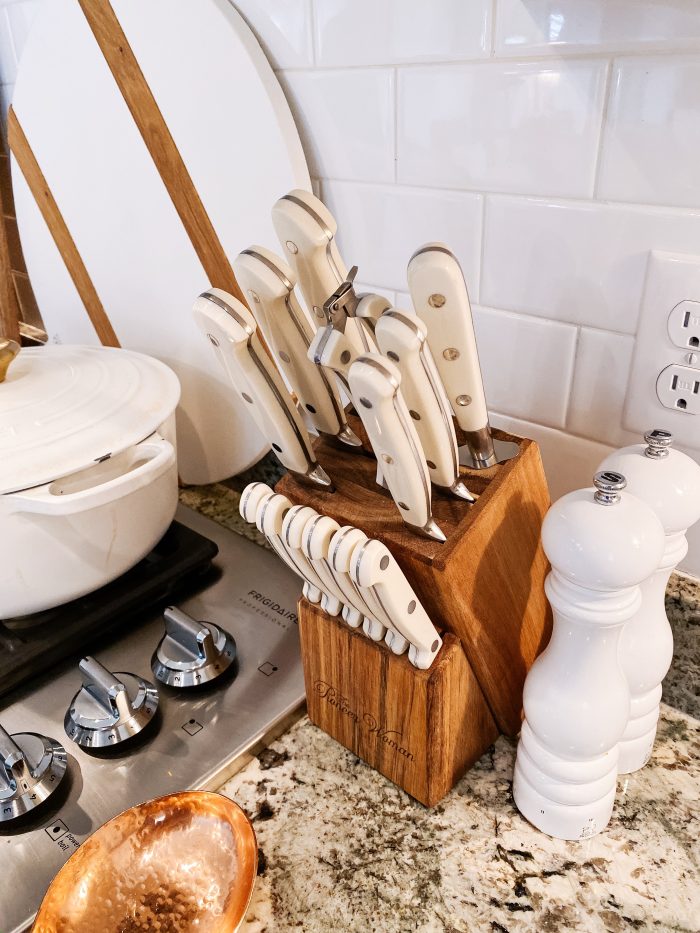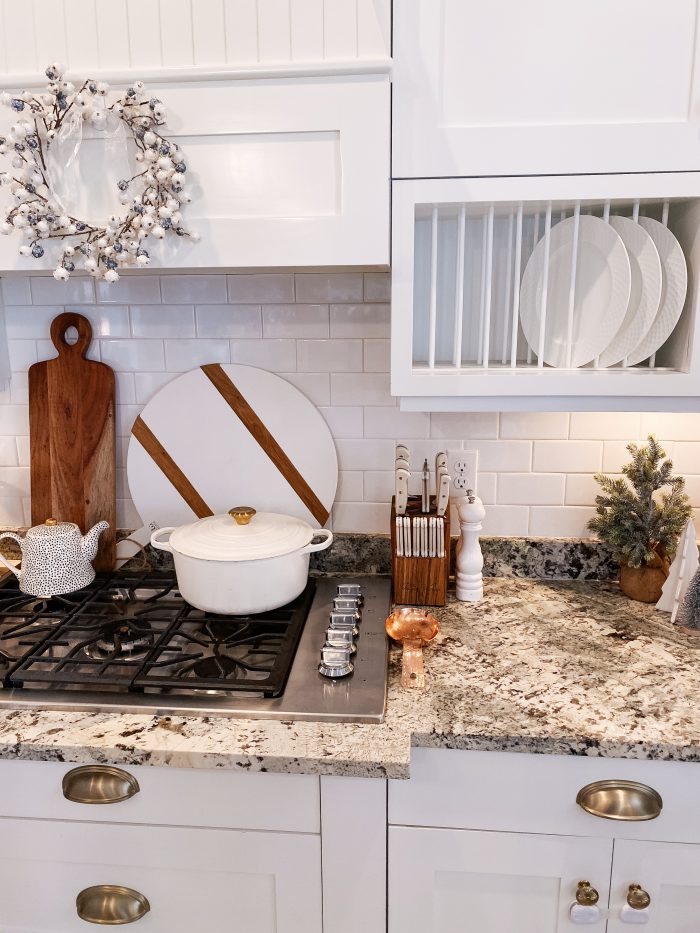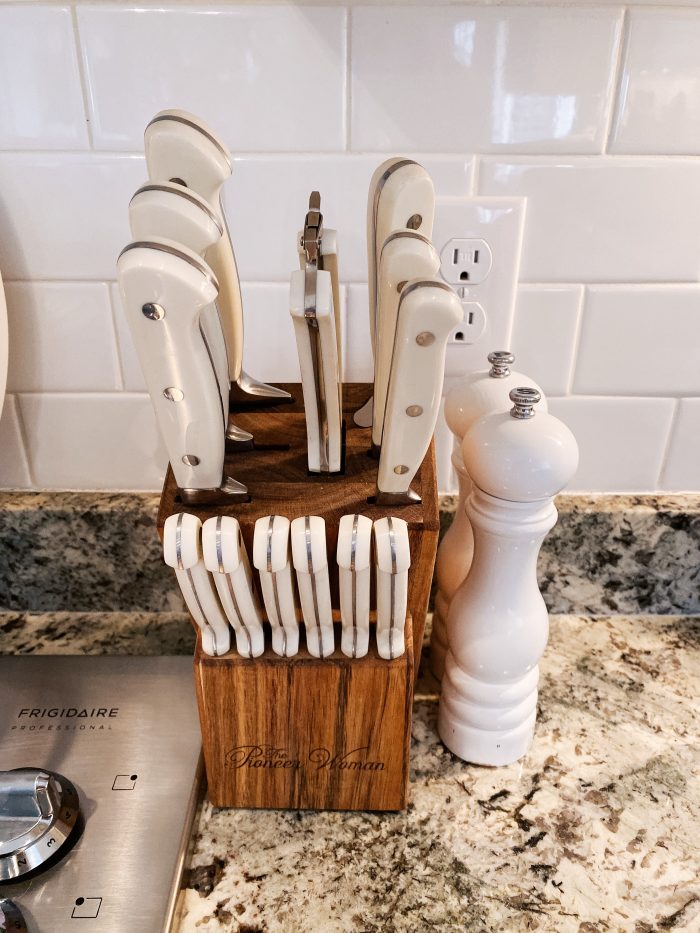 How incredible are these white knives that look so pretty sitting on my counter?! They are also on sale! They look so much better than the other knives I had on my counter and they are really high quality and so affordable! They come in lots of different colors. I love them!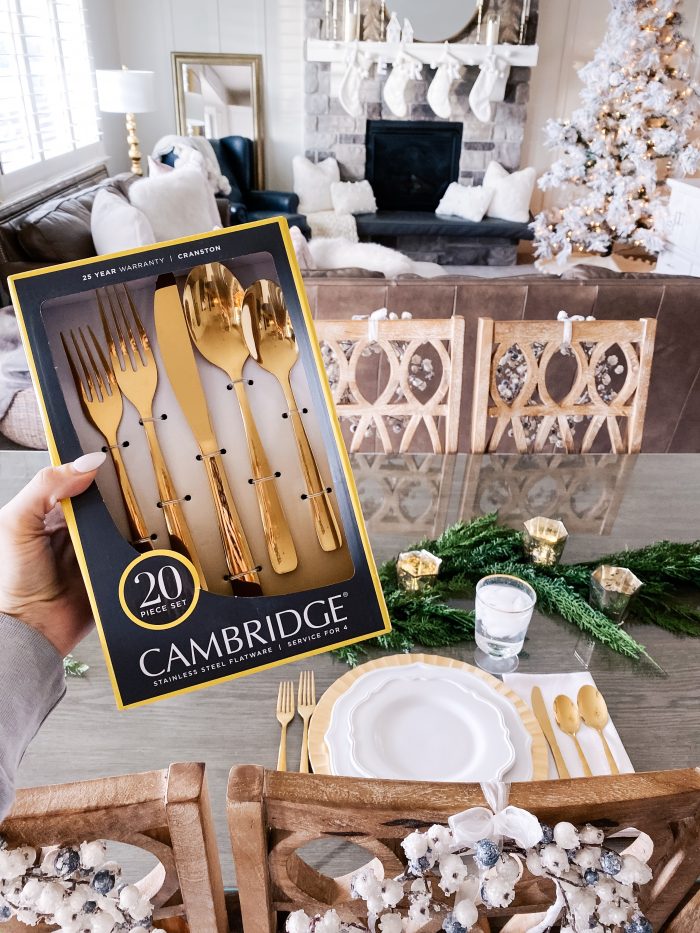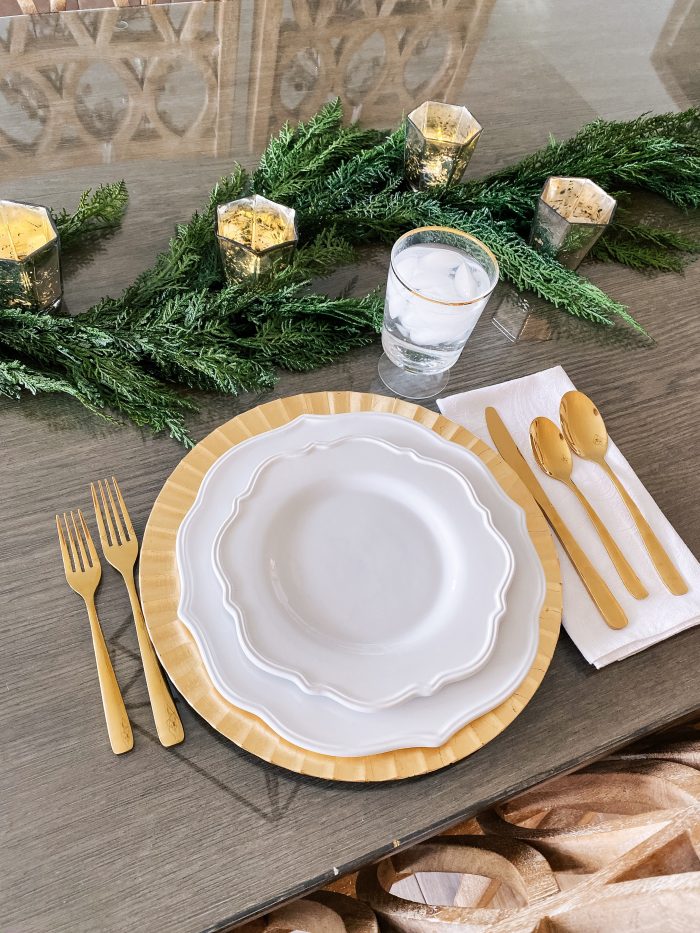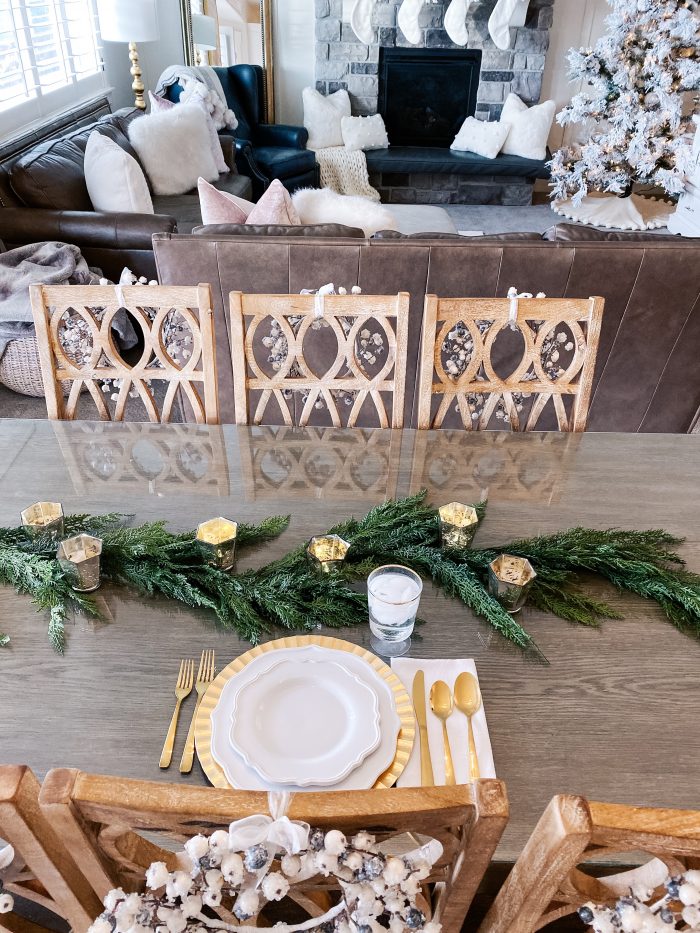 SHOP MY FAVORITE THANKSGIVING HOME DECOR FROM WALMART:

These are a few items I snagged for Thanksgiving from Walmart that I'll be able to use over and over again! We are hosting at our house this year, and I've been wanting a set of gold flatware for literally years but they are always so expensive. I finally found an affordable set of gold flatware that has incredible reviews!! I'm so happy about it!!! It was the missing piece to the Thanksgiving table I have planned. FINALLY AN AFFORDABLE SET!! You can shop more kitchenware items from Walmart HERE.
Happy Thanksgiving, my friends!