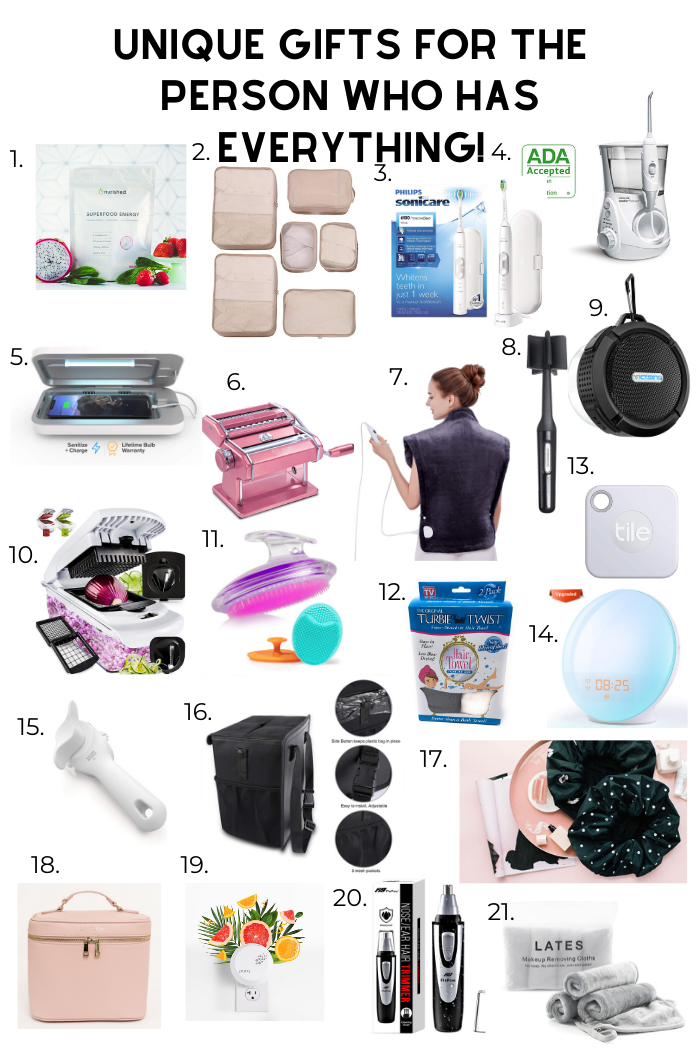 SHOP THESE UNIQUE GIFTS FOR THE PERSON WHO HAS EVERYTHING:
I have been loving this Superfood Energy mix because it gives me energy without any added sugars or artificial ingredients! The only ingredients are grapes, beet juice, vitamin B12, and 100mg caffeine. Did I mention it tastes amazing too?! Yes please! Use code JENICA10 for 10% off the whole site! Harris LOVES their kid's chocolate milk too and it's a million times healthier than regular chocolate milk with spinach, vitamins and probiotics!
These make packing SO much easier! They keep your luggage tidy and clean. All 6 pieces weigh less than 1 lb. so you don't have to worry about added weight!
This toothbrush is so worth it! It has a pressure sensor that pulses to alert you when you're brushing too hard. There are 3 modes: Clean, White, and Gum Care. It's literally the best!
Tyler and I have been using this for the past few months and we absolutely LOVE it! It's shocking how well it works. We brush our teeth first and then use this after and we always get more stuff out of our teeth!
Have you ever thought about all the germs on your phone?! This will sanitize your phone, killing 99.9% of all bacteria and germs!
This pasta machine can do it all! It's easy to use and produces amazing results. And it's cute… that's always a plus right?? My kids LOVE making homemade pasta with me so it's such a fun activity for us!
This wearable heating pad honestly sounds like a dream. It can help with joint and muscle pain/stiffness. You can adjust the temperature to whatever is most comfortable for you!
This is a simple, inexpensive gift that everyone needs in their kitchen!! It is BPA free, heat resistant, easy to use, easy to clean… sign me up! I used it for cooking ground beef the other day and it saved SO much time and made it so much easier in separating and cooking the meat!
I am SO EXCITED about this bluetooth speaker! Tyler and I love listening to music and podcasts but they are too hard to hear when the shower is on. Bingo! Here is our resolution! I'm giving this to him for Christmas!
This will make chopping vegetables SO much easier. It saves so much time…and probably saves a lot of fingers too!
These will help prevent ingrown hairs and razor bumps! Made for any skin type, too. They have amazing reviews!
A towel made specifically for your hair! It keeps your hair dry and in place so you don't have to walk around with wet hair or spend time blow trying.
This is a great gift for someone who loses things/forgets where they set them down (so probably all of us). You can use your phone to make your Tile ring when you misplace your things within 200 feet Bluetooth range. You do need to have Alexa in order for this to work!
This alarm clock does it all…sunrise/sunset simulation, snooze function, 7 color atmosphere lamp, 7 nature sounds, and FM radio. Such a great gift!
Another simple and inexpensive gift for anyone who likes to spend time in the kitchen. It's easier, safer, and more sanitary than a traditional can opener!
We all know how easy it is for trash to pile up in the car. Especially with kids! This trash bin has a lid so the car stays looking (and smelling) nice and clean!
I have been using this for the past 6 months and I don't know how I ever lived without it! It helps keep my hair completely dry in the shower so I don't have to wash it quite as often.
This is the best make up organizer I've ever had! It's very high quality and comes in so many beautiful colors.
This will make your home smell AMAZING and it's so easy to control from your home! They even have the famous Capri Blue scent that I love so much! Use code sliceofstyle15 for 15% off!
This is a must for everyone. So painless and easy to use! It has so many good reviews too!
A reusable make up cloth that only requires water?! Where has this been all my life? I can't go back. I use it every day!
I've had these for a couple of months and they are great because they dry the laundry much faster!
Loving these unique gift ideas? Click here now for more awesome gift guides!!