Tons of incredible stores are having EARLY Black Friday deals! These are some of my favorites I've found!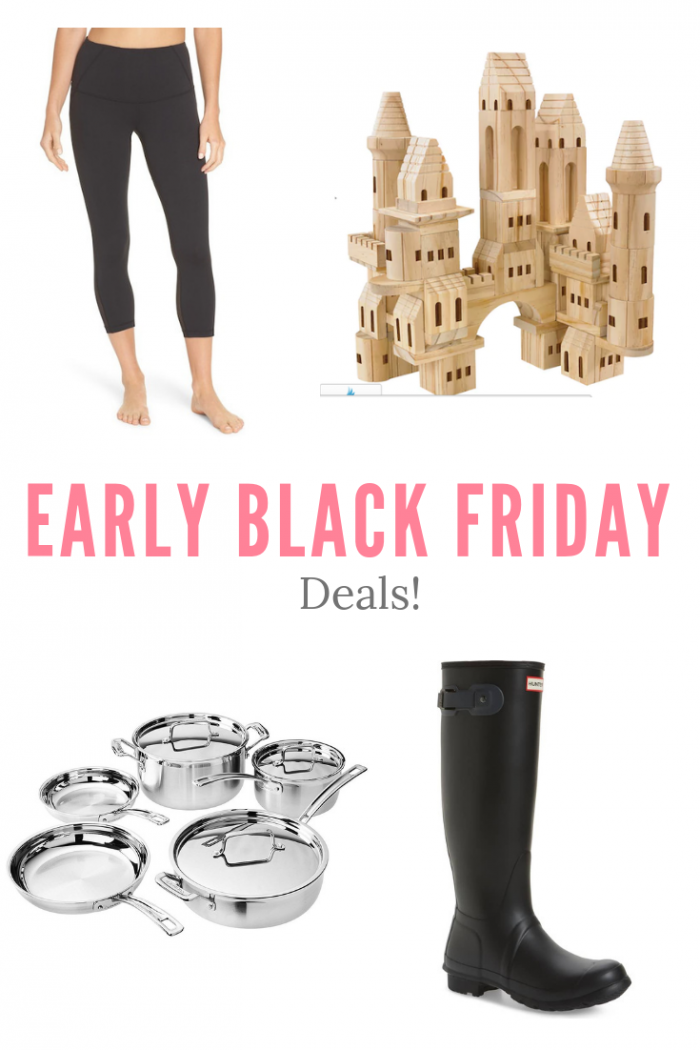 Early Black Friday Deals:
Amazon is FULL of deals every day. If you are a fan of Amazon Prime day, they have deals going on just like that! They have different "deals of the day" including this Cusinart pan set for 50% off! They also have lightening deals where they are only available for a certain amount of time and can sell out. The toys section is unreal! Hurry though and check back on the lightening deals because some of the things I snagged are already gone. New items are added daily!
Target has different early Black Friday deals popping up every day! Today you can get up to 25% off home items.
Walmart has lots of deals going on every day and they have released their Black Friday Preview so you can start prepping for what you want to snag that day!
Nordstrom has their Fall Sale going on, and it is so good my friends! Click HERE to see a round-up of my favorite items!
I've recently started shopping more at Nordstrom Rack and am blown away by some of the awesome clothes and early Black Friday deals they have! UGG boots are up to 40% off! I love leggings in the winter, and these are a great price!
Gap, Banana Republic, and Old Navy are having their huge Family Event Sales! Use code STYLE and save 40% and get free shipping on orders 25+. At Gap you can also get an additional 10% off using code BEST. There are some exclusions.
The Disney Store just started their big sale yesterday and different things are being added up until the 2oth. They just started a deal where you get an ADDITIONAL 20% off toys! Run! If you've got a Prince or Princess at home you'll want to shop by category for toys and merchandise from their favorite movies!
ASOS has 30% off Dresses and jumpsuits!
Cents of Style is one of my favorite shops (they're the ones with the magical Tig sweater!) They are having a 2 tees for $25 deal today with code TUESDAYTEES
Pottery Barn has extended their buy more save more sale! You can get up to 30% off!
Kohl's is having a three-day sale featuring 50% off specials! You can shop by category! This FAO Schwarz 75-Piece Wood Castle Blocks set is under $20! They also have amazing shirts and bottoms in the Women's section for under $10! You can stack discounts on top of that 50% off with your Kohl's charge!
Up to 60% off H&M!