Stock photos can get a little boring so I photographed some of the pieces I'm currently loving that are on sale at the Nordstrom Anniversary sale and elsewhere so you can see how they look like on a normal person without Photoshop. You need these!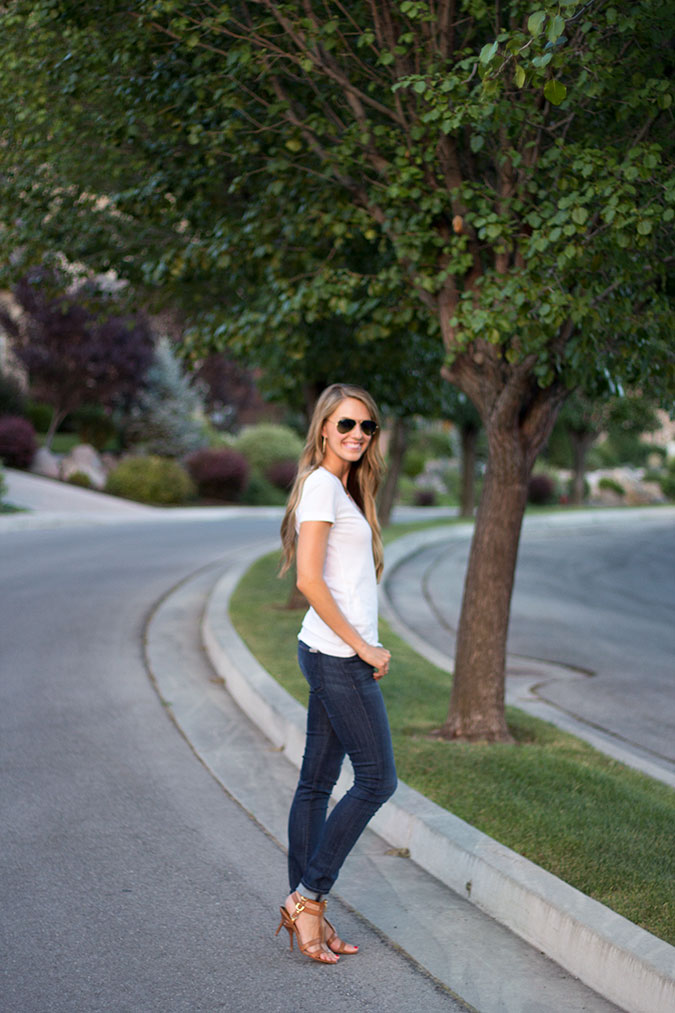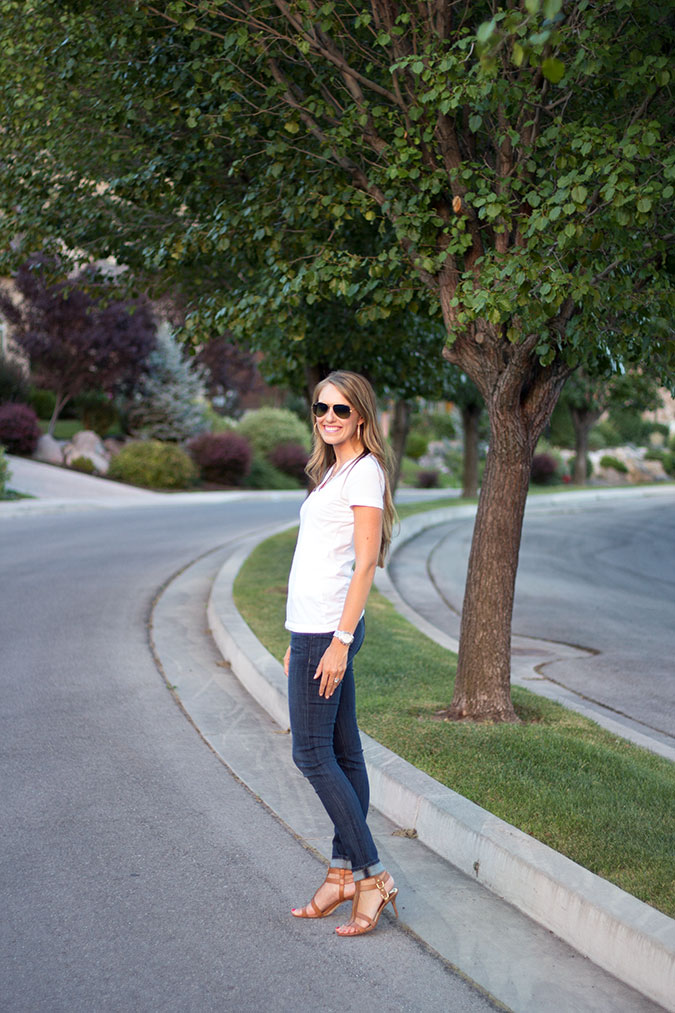 Jeans: Hudson Jeans – these jeans are SO comfortable. They have the perfect amount of stretch that will allow you to get a few wears after each wash without stretching out at all. I've said it before and I'll say it again; I will wear a $10 t-shirt any day but designer jeans make all the difference and are SO worth it. These are on sale right now for $119 but will go up to $189 on August 4th. I purchased a size down from what I normally wear.
Shirt: Target – see, I told I love me a good $10 t-shirt 🙂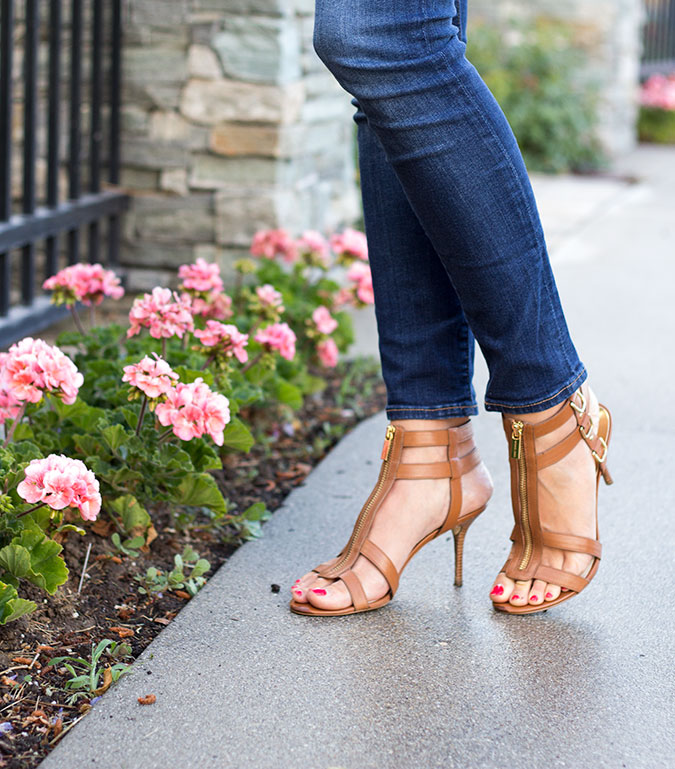 Shoes: Michael Kors via Nordstrom. I LOVE these sandals. I bought them on sale and then they went on an additional sale a few weeks later. I hate when that happens! Right now the tan is sold out but I love the black ones. They are the perfect height. I have worn them several times and always get compliments, and one of the most common compliments is, "those are perfect height heel!" I have worn them to church with dresses and skirts or with jeans.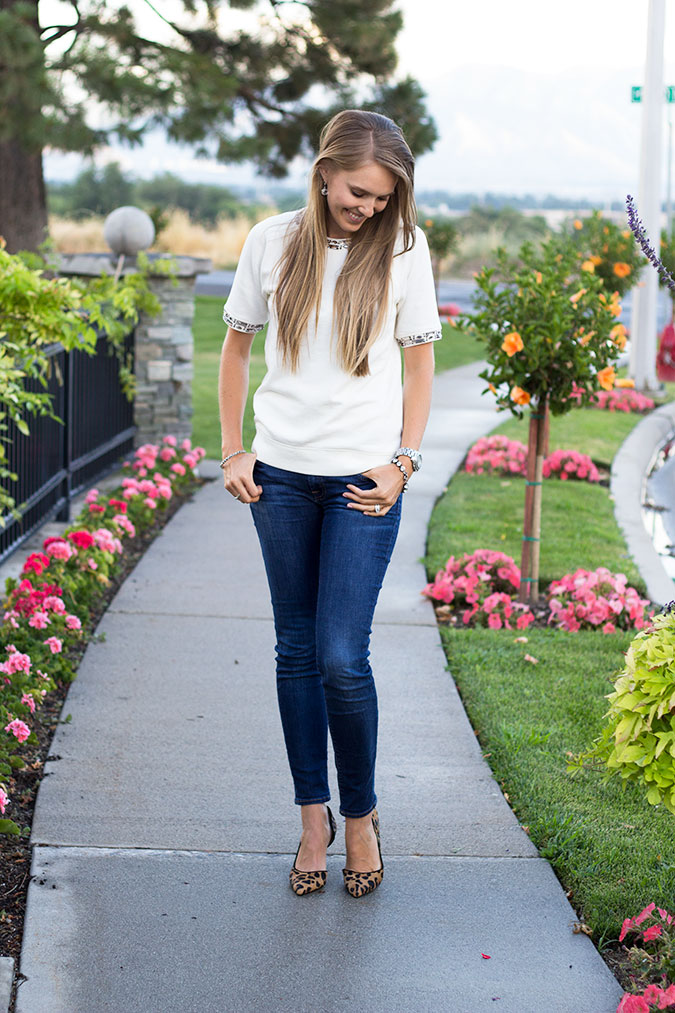 Shirt: J Crew Factory – This shirt is on sale for half at at $39.50. I bought it about 3 weeks ago and I'm kind of embarrassed to say how many times I have worn it. No joke – at least 5 times! It's perfect to dress up or down. It's hand down my new favorite shirt. It's thick sweater material will be perfect to transition to Fall.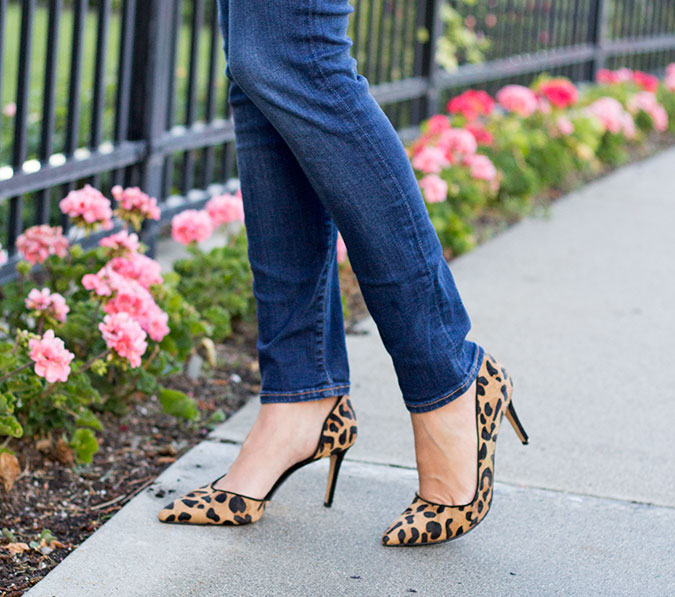 Shoes: Nordstrom – these calf hair pointy toe shoes currently on the Nordstrom sale are my favorite buy. They are SO PRETTY! These I also wear with jeans and skirts. They look way more expensive than they are, they are comfortable, and just look at them. Leopard is my favorite. Can you tell? They are true to size.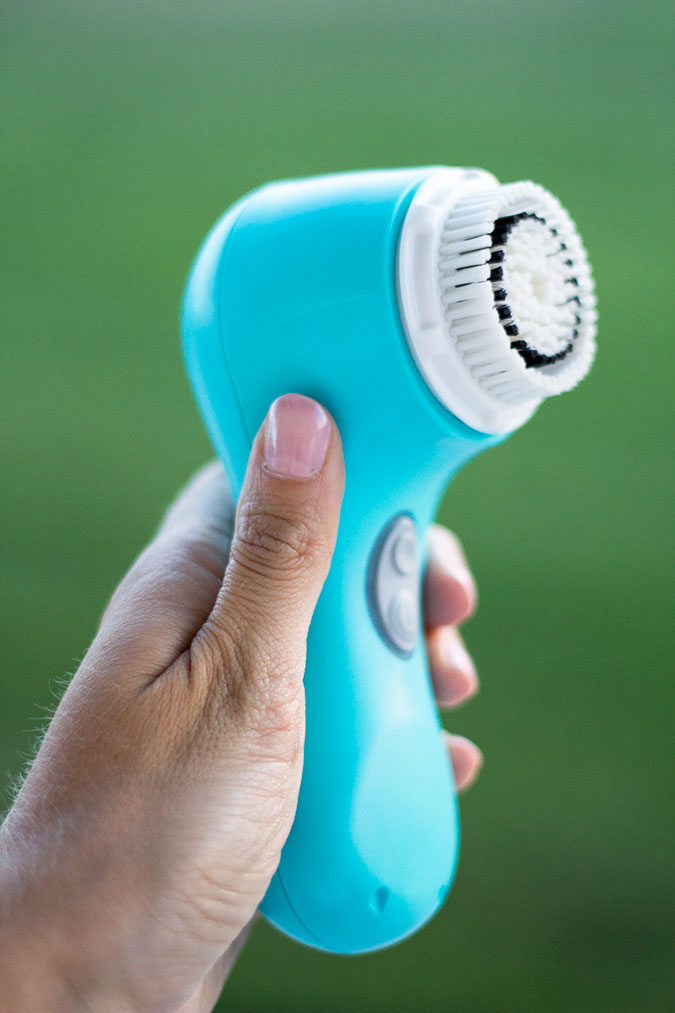 Clarisonic: Nordstrom – I have always heard great things about the Clarisonic. In fact, last year when I was shopping with my friend in Texas at the Anniversary Sale (Hi Ashley!) she was so surprised that I didn't already have one. I knew they were going on sale so I waited until this year to buy to and I've been using it for a week. I seriously can't believe how much it has changed my skin already. My skin is smoother and looks so much healthier. It cleans your skin 6x better than hand washing which means that the products you put on your face after are actually going to work on your good, clean skin instead of wasting it on your dead skin. I would hands down get this while it's on sale because the price goes up after the sale on August 4th.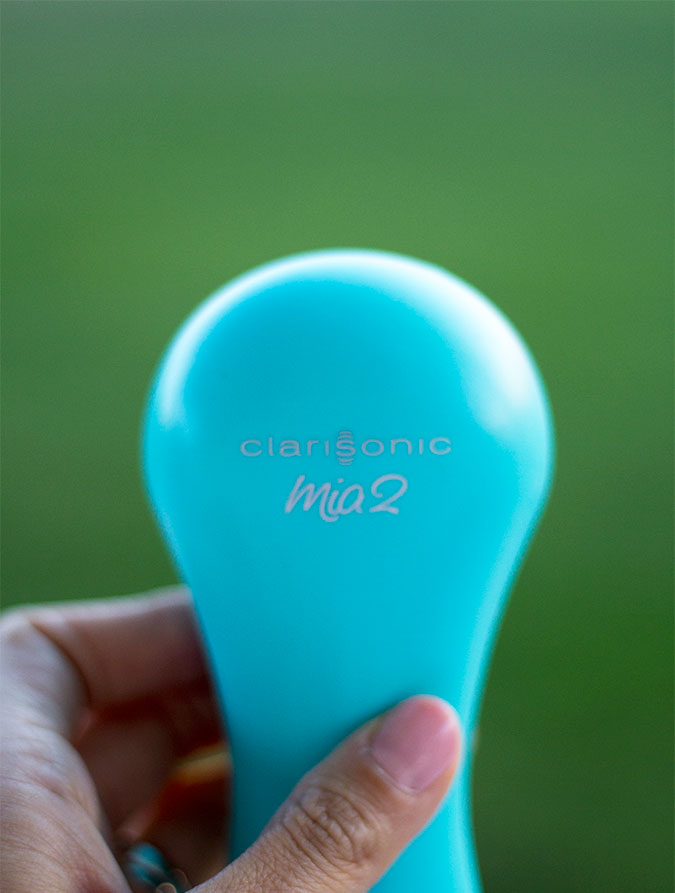 Voluspa Candles: Nordstrom – my sister-in-law Rachel gave me one of the these beauties a few months ago and got my totally hooked. They are the most delicious candles, but even more than that, they are so pretty to decorate your home with! I have one sitting in my entryway along with the other things to decorate my entryway table and it's so pretty. These are normally $16 each and right now you can get 3 of their most popular fragrances for $29 which means $9.66 each. These are a perfect, easy gift so now is the time to stock up! I love stocking up on gifts that are a good deal so that I have one when I need it at home. In fact, I have gift closet that I keep all of my finds in. It's so convenient! My favorite two fragrances are included, Pink Citron and

Saijo Persimmon.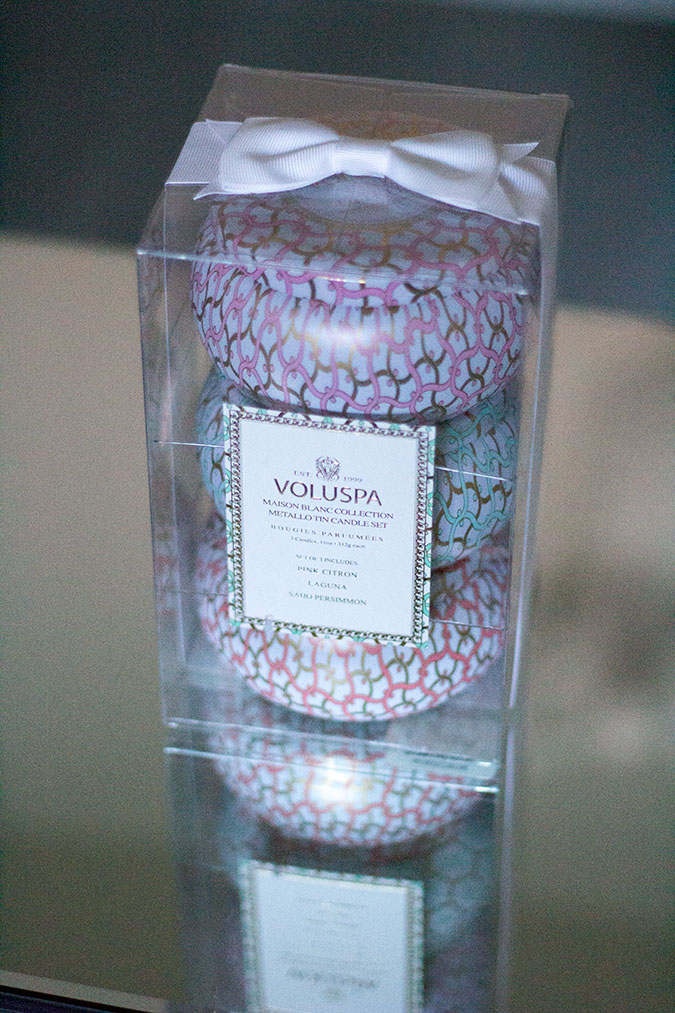 Have a great day and thank you so much for visiting my little space on the Web!