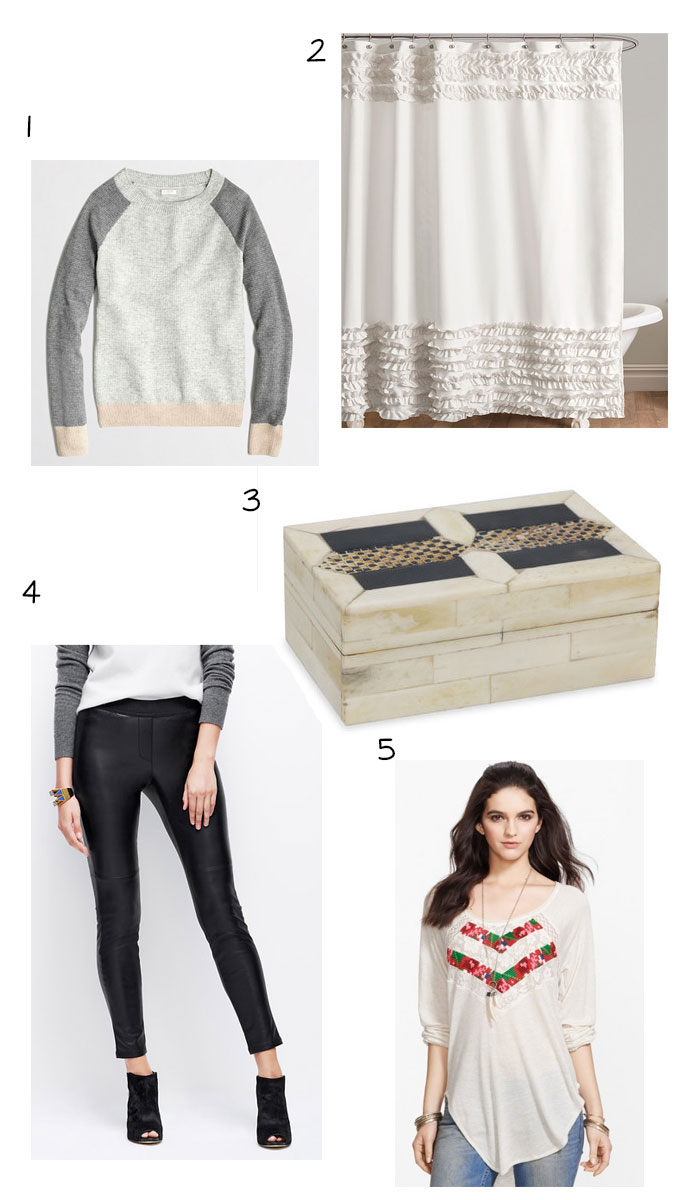 Happy Friday!!! I woke up even earlier this morning than I normally do because there was a thunder storm outside. I figured I may as well start blogging earlier than normal as well because I couldn't sleep anyway. I got up and went to my office. My router is having issues so the internet wouldn't work on my computer. Luckily I brought my work computer so I went downstairs to use that and IT WOULDN'T work either. I had to reboot it and it's been as slow as molasses. What's a girl gotta do to do get a break around here?! Needless to say, this post today is the result of a marathon of patience. I should stop telling people that I don't have patience because I keep getting tested 😉
I found a few great sales today so I rounded them up for you:
1. J. Crew Factory – 30-40% off all sweaters for men, women and kids, online only. I'm loving this waffle sweater in colorblock. $84.50 $49.50
2. Zulily – Up to 65% off bathroom accessories and decor. This white ruffle shower curtain needs to find it's home in my guest bathroom. $130 $39.99
3. Gilt – They have coolest home accents on sale right now. I love this box. It would look really cool sitting on a coffee table or bookshelf. $40 $16
4. Ann Taylor – 40% off sweaters and pants. I have wanted some leather pants for a long time now. Don't you think I would be a good biker chick? Me too. For reals though, these faux leather leggings would be so cute with a chunky sweater when the weather starts to cool down a little. I love these too.
$98
$58.80
5. Nordstrom Rack – Did you know that Nordstrom Rack is now online? If you didn't you're welcome! They even have 90-day returns. Now we just need to get Home Goods on board and we will be golden. I love this high-low Free People tee and I'm loving loose tops for Fall. $108 $32.40
I hope you have a great weekend, and if there is anything that you would like me to hunt for on sale, please let me know!