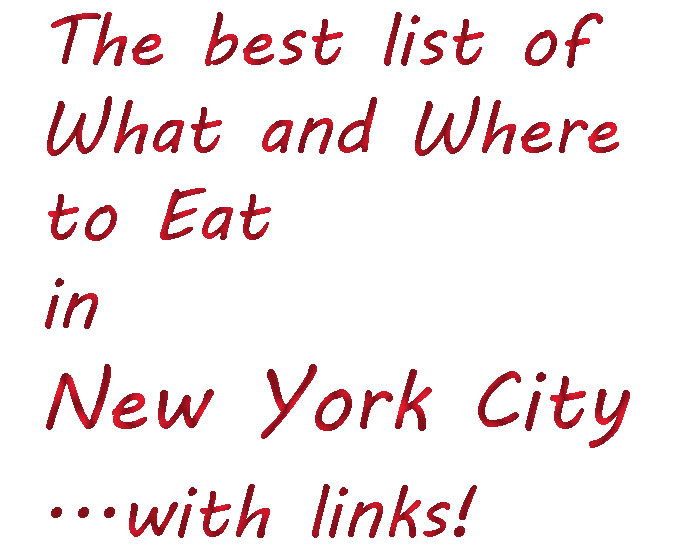 We just got back from the Big Apple, and one of the things I did before I left was get all of the advice I could from friends about where to eat.
That's the most important thing, right?
These people included those who live there or visit often.
Thanks to tips from Mairin, Lindsey, Brittany and Sommer, I have compiled this list for you! I wasn't disappointed with one thing I tried. In fact, I want to go back and just eat my way through the city. With all of the walking I'm almost positive I wouldn't gain a pound. Almost.
And without further adieu, what to eat in New York City:
Crif Dogs – (from Lindsey) Lower East Side – has a secret telephone booth bar but go to the one in Brooklyn; it's better. And I get the good morning dog with cream cheese. Their corn dogs are amazing too.
Shake Shack – their cheeseburger was REALLY good, and so were their shakes. We got the strawberry shake. They make their shakes with custard.
Cafe Lalo – Tiramisu and other amazing desserts
Patsy's Pizza – I've heard both the vodka pasta and white pizza are the best
Empanada Mama in Hell's kitchen – get the Hawaiian Empanada and the guacamole
Brunch at Sugar and Plumm – get the pulled pork waffles
The Halal Guys on 53rd and 6th Ave – mixed platter over rice (chicken and lamb); food cart
Grom – gelato
Rice to Riches in Soho – lots of different flavors of rice pudding
Laduree – amazing macaroons. I first tried these in Paris and fell in love with the almond flavor
PJ Clark's – one of Frank Sinatra's favorite hangouts with a lot of history
Georgetown Cupcakes – cupcakes
Sprinkles – cupcakes
Baked by Melissa – mini cupcakes (if you are watching your figure…)
Magnolia Bakery – famous for their banana pudding
Norma's – at Le Parker Meridien Hotel. A LOT of people have told me about their brunch. It's pricey, but it supposedly will change your life.
Burger Joint – Also at Le Parker Meridien Hotel. Really good cheeseburgers.
Carnegie Deli – Famous for their cheesecake and pastrami sandwiches. I actually got an omelet while there which was good too, but I would suggest just sticking with what they are famous for. And if you get the pastrami sandwich, you might want to share with like 3 people because there is SO much meat
Henry's End – my friend Adam's and old manager's favorite steak ever
Au Bon Pain Bakery – hands down the BEST almond croissant that I have ever had. And lucky for you, it's not just a NYC place
La Maison du Chocolat – in Rockefeller center has perfect macaroons. Imported from Paris.
Jacque Torres – Hot chocolate is like drinking chocolate chips. There is one at Rockefeller Center.
Serendipity 3 – Frozen hot chocolate. Probably the most famous dessert of all time.
Dylan's Candy Bar – I was like a little kid…in a candy store…in this place…it is SO much fun! It has 3 floors of candy and fun decorations. I felt like I was in Willy Wonka and Chocolate Factory. Dreams do come true!!! I had started to lose hope.
Listed below are my friend Mairin's recommendations and I simply copied and pasted them from her email because my commentary couldn't possibly be more entertaining than hers was. If you aren't convinced after reading this list of her favorite places, I'll take you there myself (just kidding):
Chikalicious – This is my FAVORITE dessert place in New York. Oh my gosh. It is a hole in the wall. It is really not cute. But everything I have had from there is absolutely the bomb. Get the eclair ice cream sandwich. Doused in chocolate sauce.
Levain – These are the most astonishing cookies you will ever see or eat. I like to get one chocolate chip walnut and one peanut butter chocolate, and alternate bites. They originally started making these guys to replenish calories after doing triathalons, so they were trying to pack as many calories into one thing as poss. I think they are easily 1,000 each.
DOUGHNUT PLANT – This one is important. These doughnuts are unlike anything you have tasted. You have to get the Tres Leches. There are pockets of moisture within. I don't even know how they do it. The Blackout (chocolate) and Carrot Cake are similar ideas, with the moisture inside, the blackout with chocolate pudding basically, and carrot cake with cream cheese frosting-ish stuff.
Dough – I just tried this, they are larger, yeast doughnuts and they are GOOD. But this is out in Brooklyn and I don't know if you want to trek to where this place is. Seriously in the middle of nowhere.
Dominique Ansel – Get a cronut if you can (they only make 350 per day), but even if you can't, go get like five DKAs. I kind of think they are better than the cronut.
Sugar Sweet Sunshine Bakery – They have all this pudding. It is to die for. It is like cookies or cake or something of that nature layered with pudding and whipped cream and stuff. They have probably ten different kinds, but I prefer the chocolate chip.
The Little Pie Company – They just have all these mini delicious pies. Also close to Times Square so that could be convenient if you are going to a show or staying around there.
Max Brenner – The restaurant is basically made of chocolate. Everything is good here but don't even think about ordering real food.
Crumbs – This is really the only place to go for cupcakes. they are gigantic, they have filling in the middle, they have toppings on top, and most importantly, the cake is always moist. My favorite is Sea Salt Caramel. It is a chocolate cupcake, the filling is actual caramel (not frosting), so it makes the cake like a molten lava kind of, then it is topped with chocolate frosting and sea salt. The bomb. (I got the Squiggle and it was hands down my favorite cupcake that I ever did taste).
Momofuku Milk Bar – Another place where basically everything is good. I am partial to the crack pie.
A Salt and Battery – You can get a deep fried Mars Bar here. Enough said.
The Meatball Shop – Get a Heroe, with whatever kind of balls you want, covered in mozzarella, and PARMESAN CREAM SAUCE (this is crucial). I also like to get an extra side of parmesan cream to dip my sandwich in.
This wallpaper has to have flavor, like in Willy Wonka, right?
I am convinced that the reason why all people of NYC aren't obese is because they walk around so much. I want to move there just so I can try everything!

Are there any restaurants that I missed?