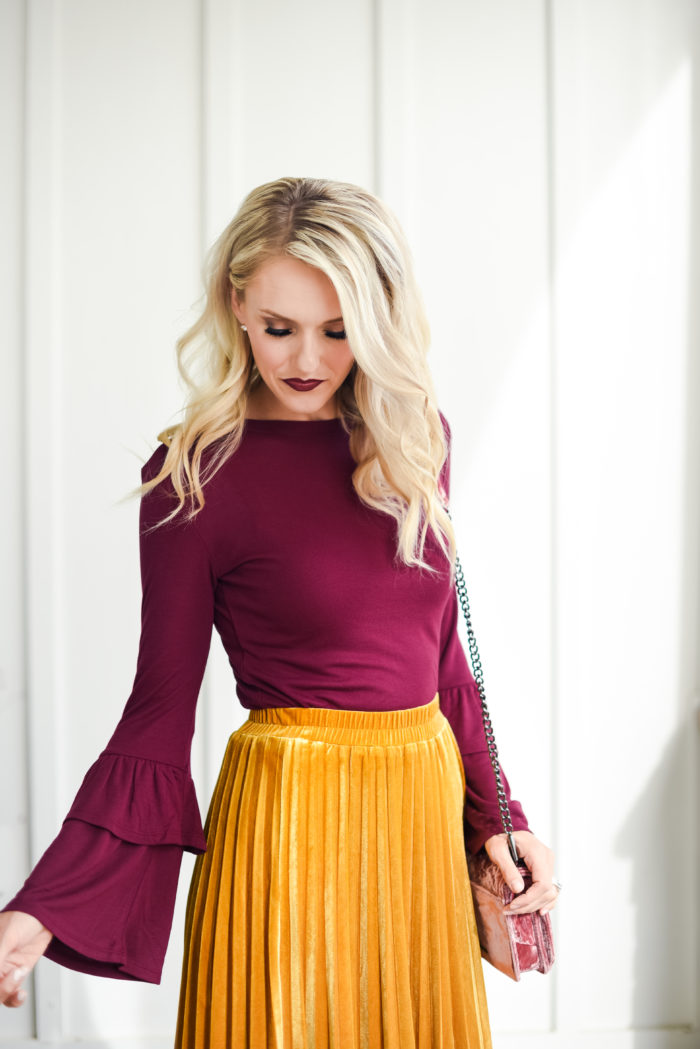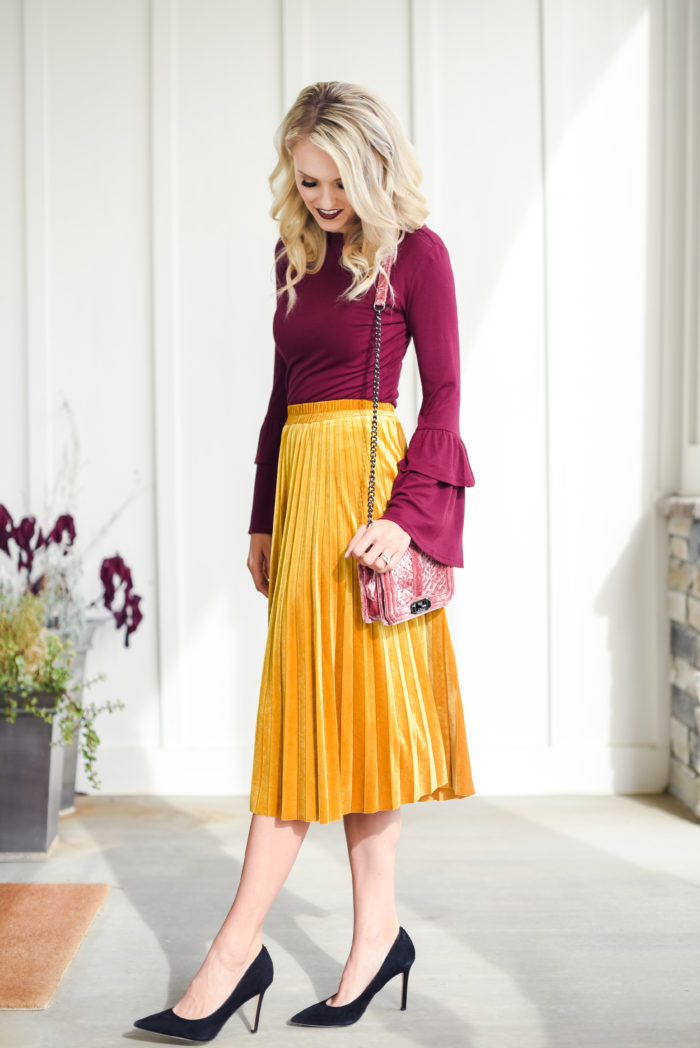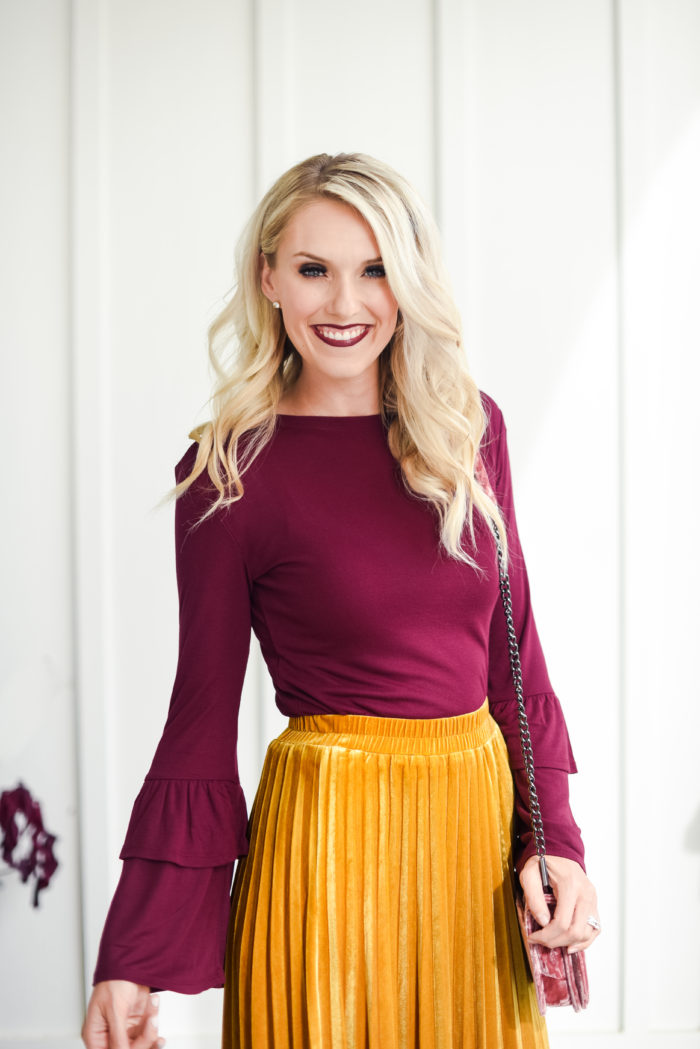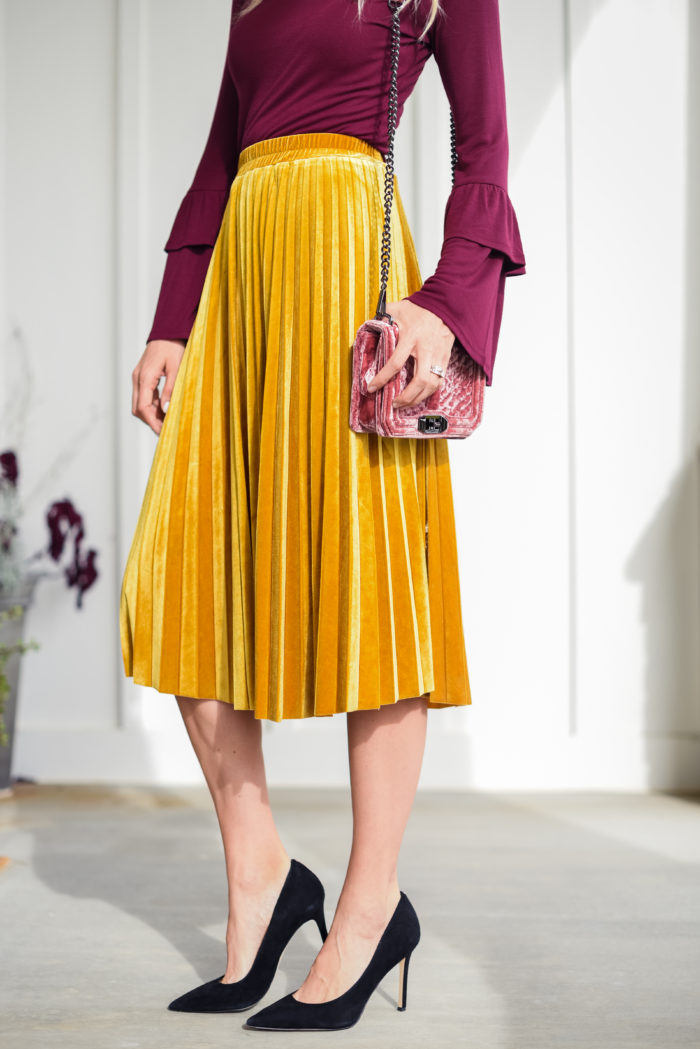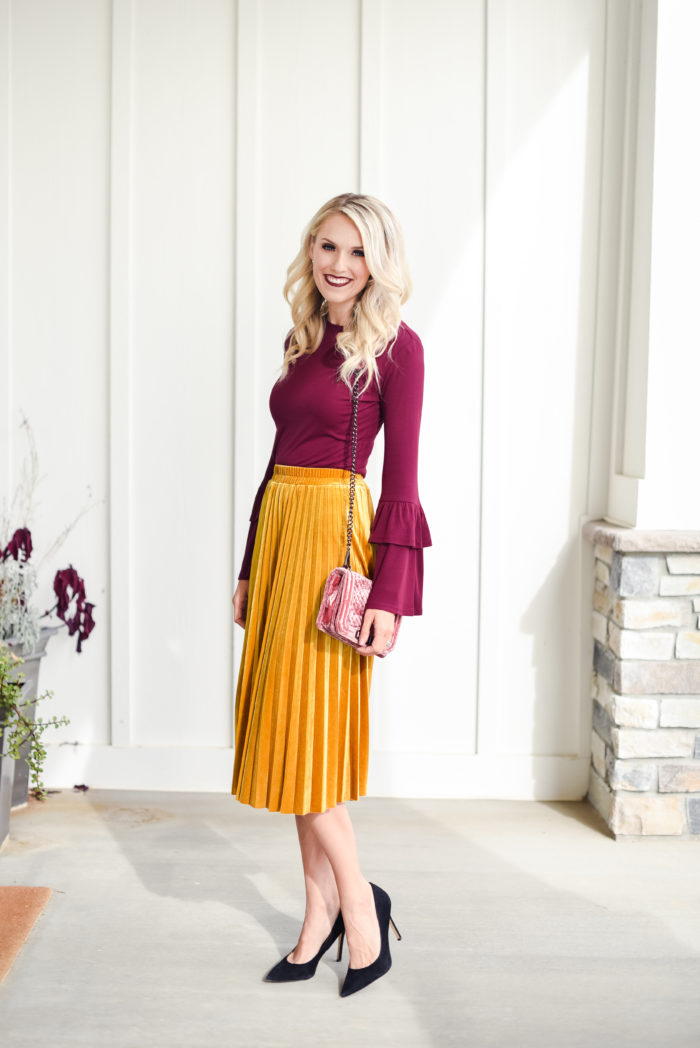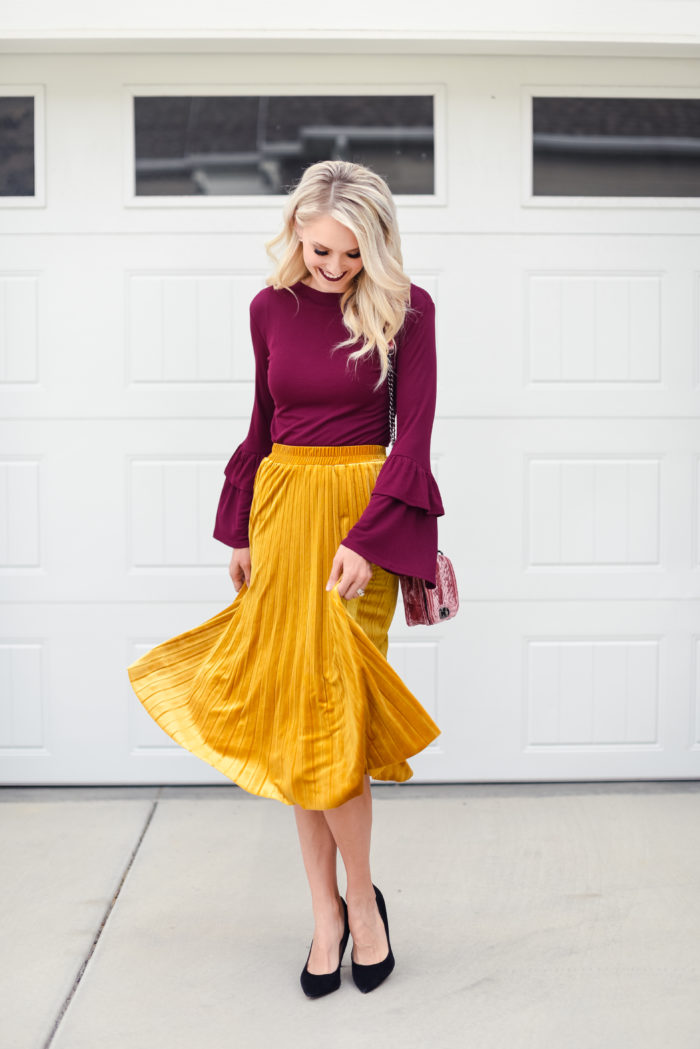 Top: Nordstrom (wearing size small) | Skirt: Nordstrom (sold out, similar here, here and here) | Pumps: Nordstrom (black suede, true to size) | Bag: Nordstrom | Lipstick: Bobbi Brown, color blackberry) | Earrings: Nordstrom (I literally wear these every single day)
Despite the fact that I've started dreading church a little bit each week and feel that workout clothes might be a better option (hi, twins! Insert picture of me sweating in high heels here), I do look forward to dressing up. It's my one time in the week that I get to go all out with my hair, makeup, heels, skirt, cute top, jewelry…you get the point. It's fun! Granted, I only wear it for an hour and then come home and change back into my comfies, but it's about the way it makes me feel. If you don't have a place to dress up, find a place to dress up. Maybe a fancy date with your spouse? Girl, it's worth it.
Nordstrom is hands-down my favorite place to shop. They have everything, from my favorite bras and the most comfortable shoes, to laid-back casual outfits and dressy skirts and tops. I always shop Nordstrom first before anywhere else.
I love this gorgeous yellow skirt, but it's unfortunately out of stock. BOO!! Apparently other people loved it as well. Go figure. I looked up similar options, however, and I thought this skirt OR this skirt would look really pretty with this outfit too. You could wear everything else exactly the same but just swap out the skirt. And look at this skirt!! Are you kidding me?! I like pairing the same color on top at bottom for a more dramatic look. And we aren't lacking in drama around here these days (hi again, twins).
I really love this top because I've paired it with so many skirts in my closet and it looks cute with a ton of them, plus it can be worn with jeans as well. I love a team player that is good at every position. I have had these pumps for almost a year and they are still the most comfortable pointy-toe pumps that I own. They run exactly true to size for me. They are a little pricey, but I truly believe that a good quality shoe is worth the investment because I don't want my feet aching, and I've realized the importance of taking care of our feet even more since I broke my toe. I mean, your feet are the foundation of your life. But seriously. Also, a black pointy-toe pump elongates your legs, looks so sexy with a skirt or jeans, and isn't planning to go out of style any time soon. I'm just saying.
And now let's talk about this purse. I had my eye on this purse for a while before I got it. "Should I get it? Should I not get it?" I mean, look at it. How could I not get it? It's so versatile that I even wore it with a sweatshirt and sneakers the other day. It was the diamond of that outfit, for sure.
Head back here on Wednesday for a post on my favorite casual clothing pieces that I'm loving right now, perfect for as we start transitioning to fall. These are the items that I wear every single day as a mama! I love you guys and I hope you have a great day!!

This post is brought to you by Nordstrom, a brand that I love and shop at a lot!