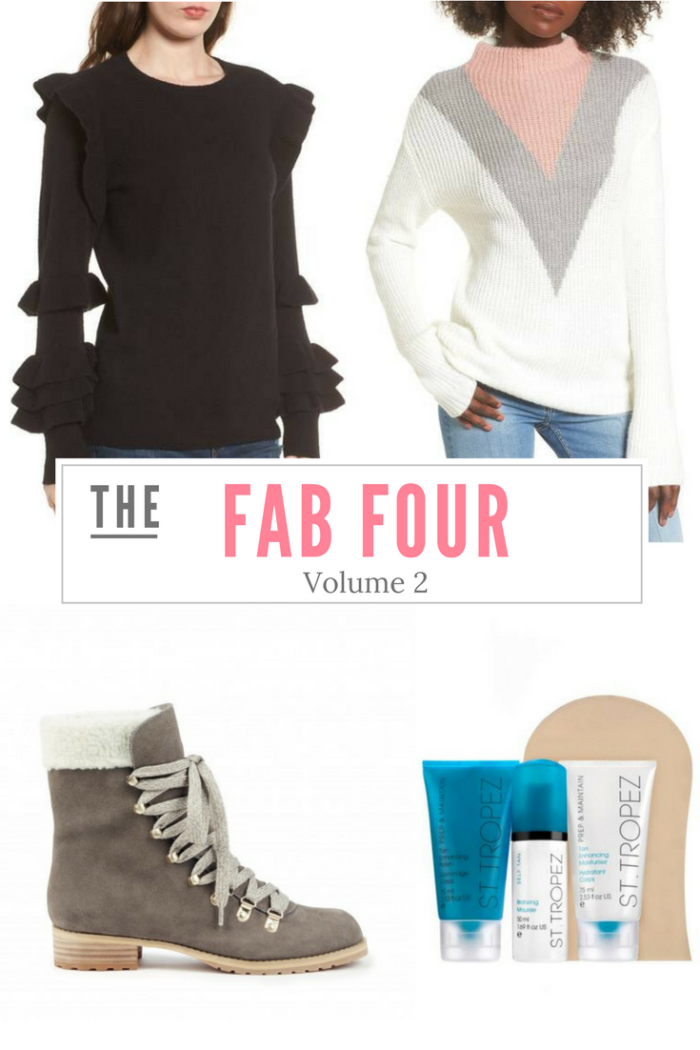 I am excited to continue my "Fab Four" Series! You'll see a new volume that will include products I'm absolutely loving every Thursday! Without further adieu…my Fab Four – Volume 2!
1. Ruffle Sleeve Sweater – THIS SWEATER! It has pretty much everything I love in life. Okay, not in life, maybe I'm getting ahead of myself, but I fell in love when I saw it. It's black, goes with jeans, black denim or a skirt, and it has the coolest ruffles. LOVE it.
2. Tri-Color Sweater – If you can't tell, I'm loving big, comfy sweaters lately. They are easy to throw on with jeans or black denim (like my favorite pair that are just like designer for $45!)
3. Cold Weather Bootie – These boots are super cool and are unlike other shoes that I normally wear. They are really, really comfortable and run true to size. They are on sale, too!!
4. Self Tanner – My favorite self tanner of all time. It's easy to use, doesn't smell bad (in fact, the in shower exfoliator that it comes with before you use it smells SO good that I want to wear it in a perfume). No streaking, super natural looking, and you only need to use it once a week. I LOVE IT!