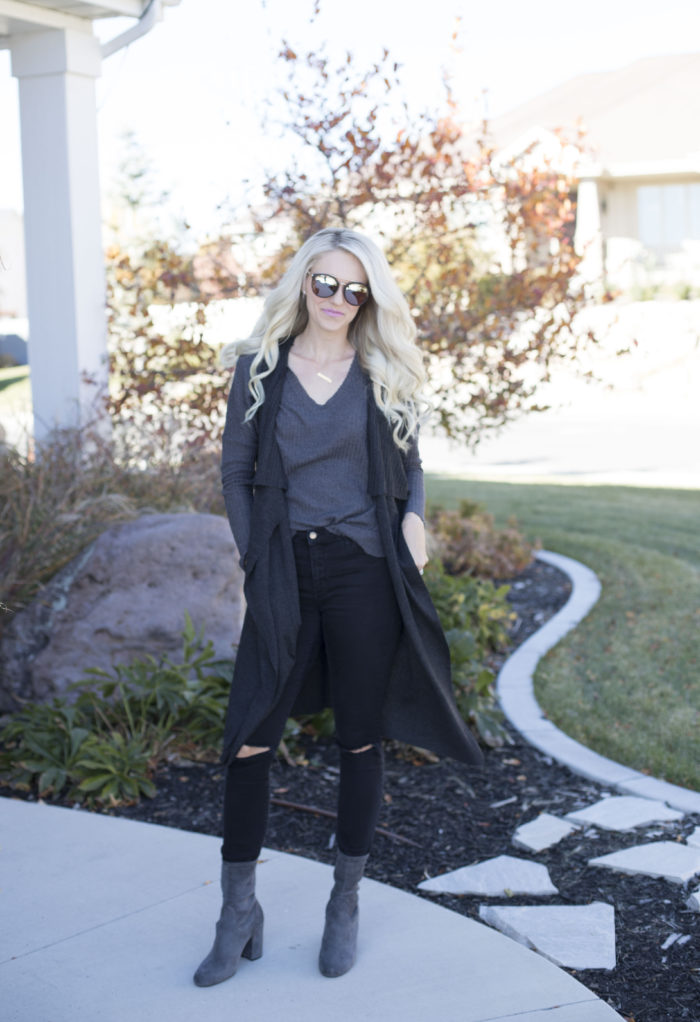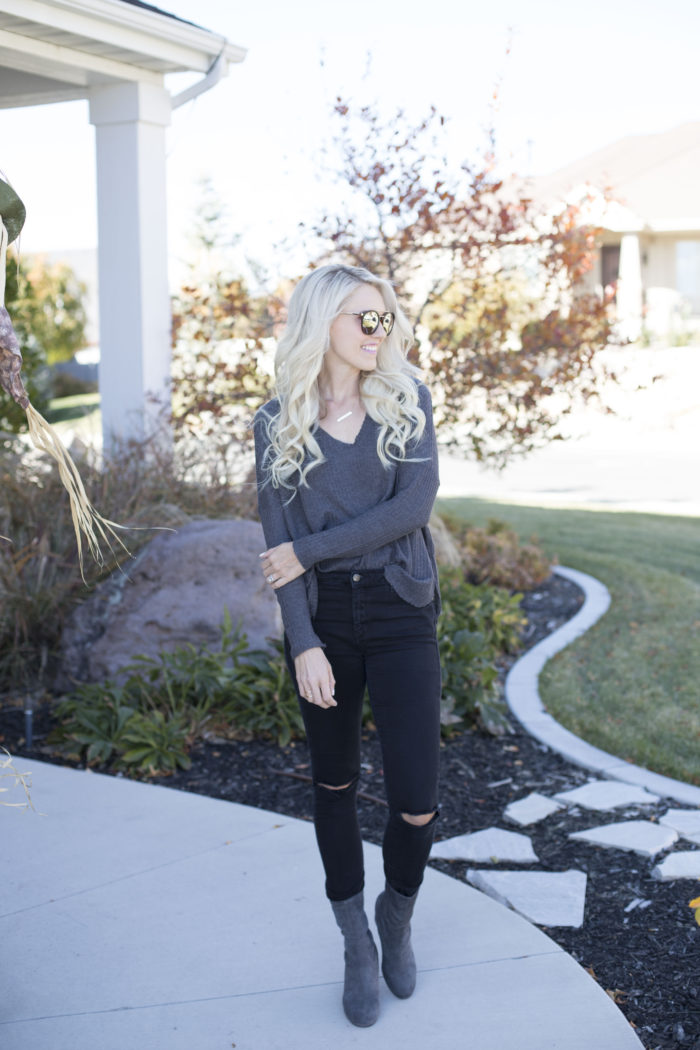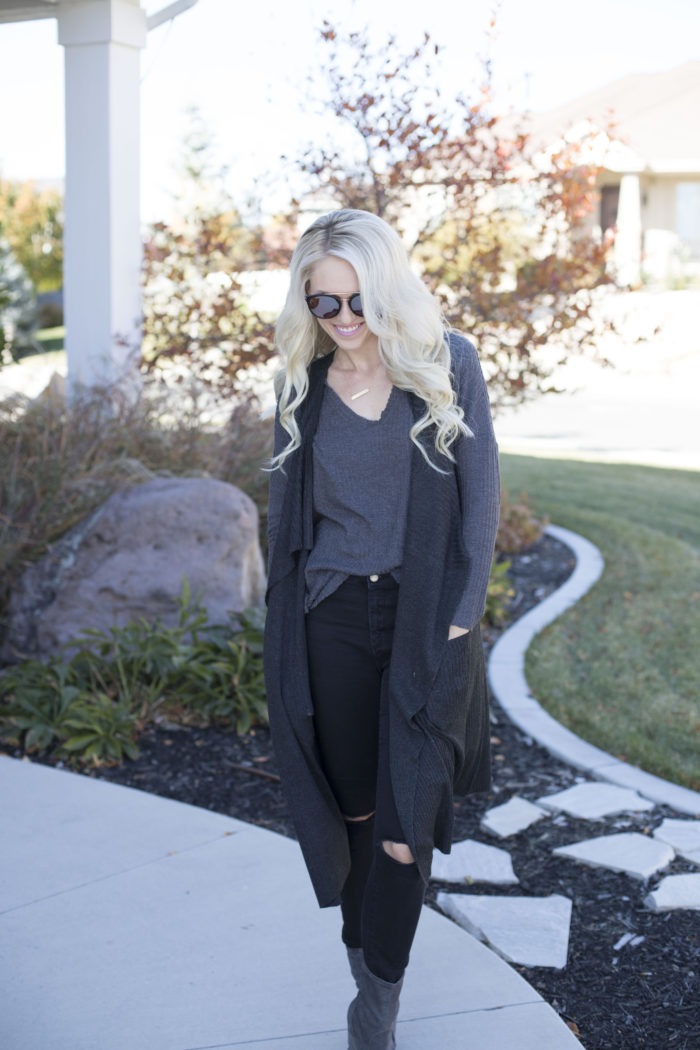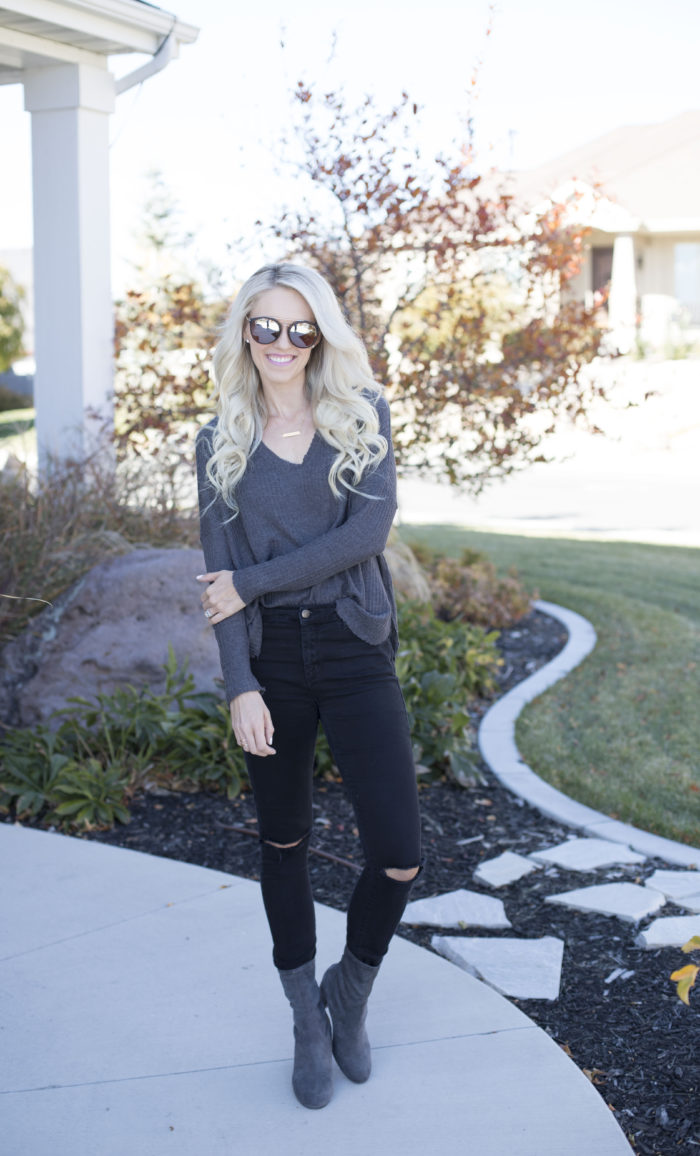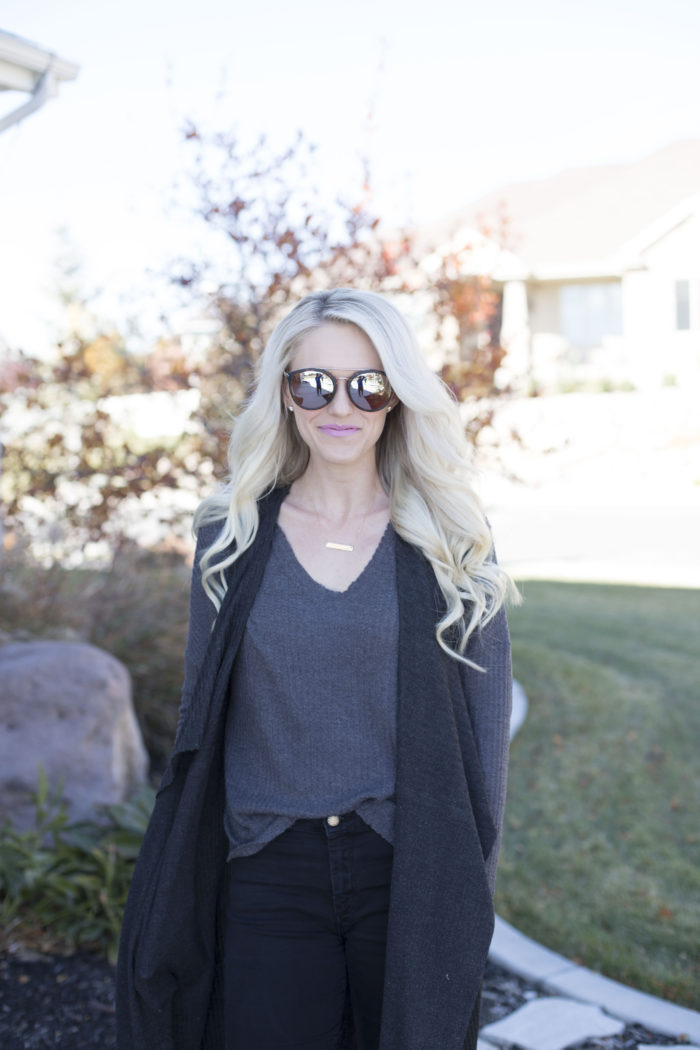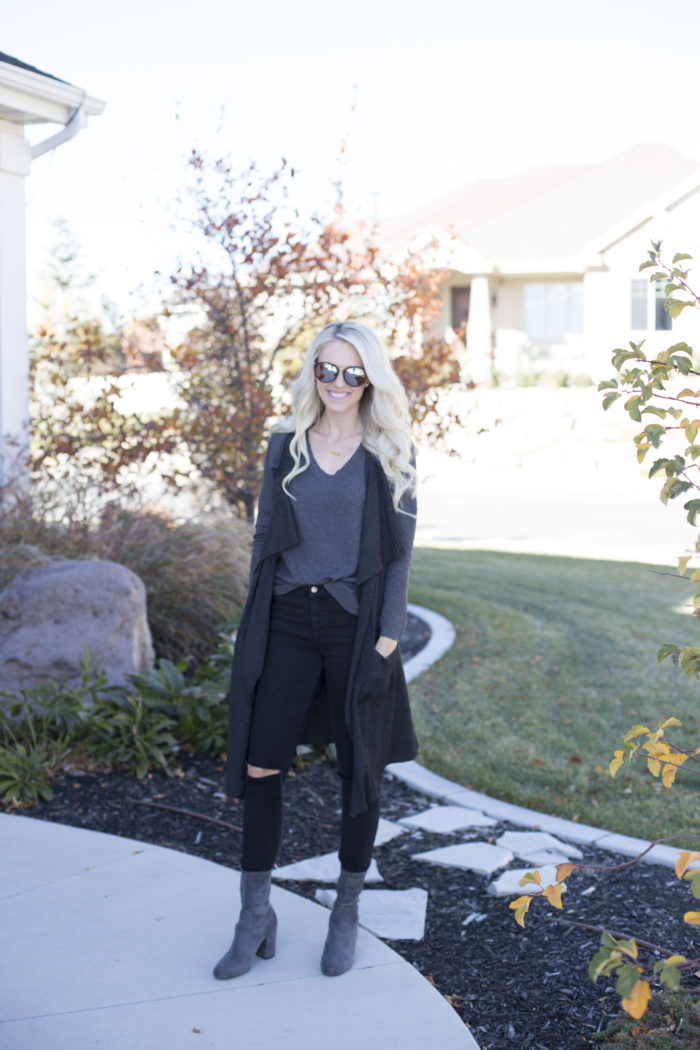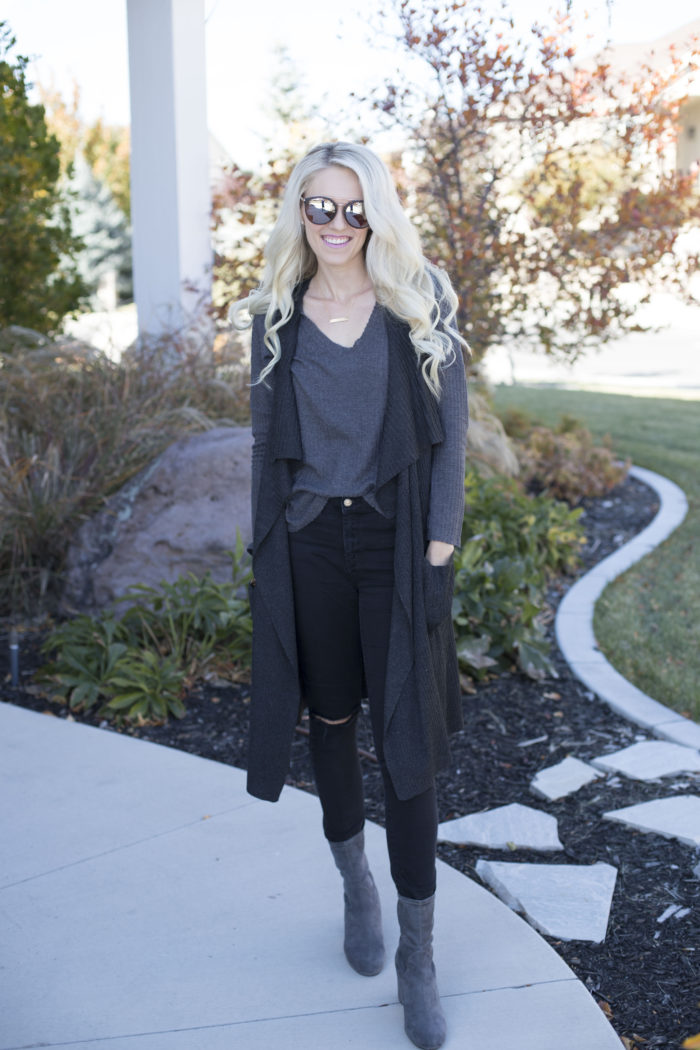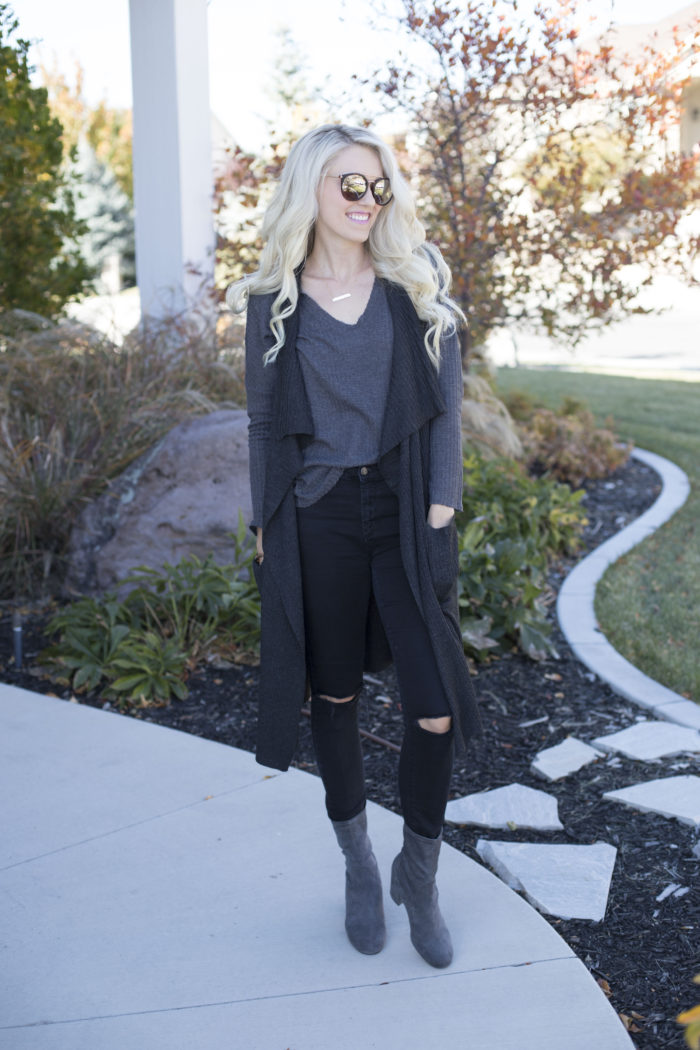 Top | Cardigan | Jeans (on sale!) | Sunglasses (only $12!) | Booties | Lipstick (color is Snob)
As you guys know by now, I gravitate toward comfortable basics that look pulled together. I love neutrals because they're classy. Say hello to my new friends, this relaxed knit waffle top and this open drape sleeveless cardigan. I loved them when I saw them online, but online shopping can be a little risky if you don't have a raving review from someone you trust. This is where I come in; always honest about the items I love and I would never recommend something that I don't genuinely love. When I got them in the mail, you know there was little grin on my face when they were even better than I had hoped.
Another thing you can pretty much guarantee around here is that I'm going to try to my very, very hardest to get you guys a good deal on the items that I love, and I did it! Use code OCTOBERSTYLE at checkout to get this top for only $22.95, reg. $32.95 and this cardigan only $29.95, reg. $39.95!!! That's $10 off EACH item! 
Why do I love this top? Because it's really soft and has a broken-in feeling even though it's brand new. It's perfect for layering, for sleeping in (yes…I don't want to take it off, or for tucking into some high-waisted jeans. I got the white color, too. You're going to want to get at least two. Take it from someone you can trust. It runs true to size and I'm wearing a small for reference. Anddddd why do I love this cardigan? It's one of those pieces of clothing that can be layered with with so many items. I'm going to layer it over a chambray shirt next. It just makes you feel cool. Is that weird to admit? Throw on some booties and you kind of just feel really, really cool and relaxed. That's enough reason for me 🙂 It also runs true to size and I'm wearing a small for reference.
I hope you have a fabulous Monday! I'm going to try to look up some new recipes this week. If you have any Fall must-makes, please let me know! I made this last night and we really liked it.