I personally think that women are EXTREMELY easy to shop for. You can buy us jewelry, perfume, makeup, clothes…honestly anything I would be happy with! Men on the other hand are a little bit harder. I feel like what my husband would really love is a 4-wheeler. That's just a little out of my "Christmas budget" range this year. Shopping time for Christmas is getting down to crunch time so I wanted to give you a good idea of something that my husband recently got and LOVES. Meet the Bose
SoundLink® Color Bluetooth® Speaker.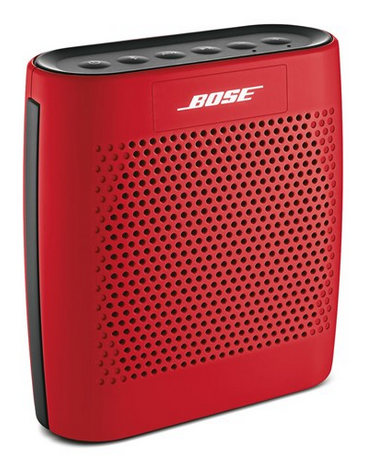 It connects to your devices wirelessly through Bluetooth, is small and compact so it's easy to take anywhere, and it has incredible sound. My husband is a sound snob (not saying that's a bad thing, honestly), and he expects speakers to have incredible sound if he's going to buy them. We both can't believe what great sound these speakers have! We listen to it in our bathroom when we are getting ready in the morning. We paired both of our phones with it so all we have to do is start playing music on our phones and it will automatically connect for us when we hit "play" on our songs. We also took it outside with us a couple weeks ago when we put up our Christmas lights. The sound carried perfectly all around our house and we were able to jam out to our favorite Christmas songs.