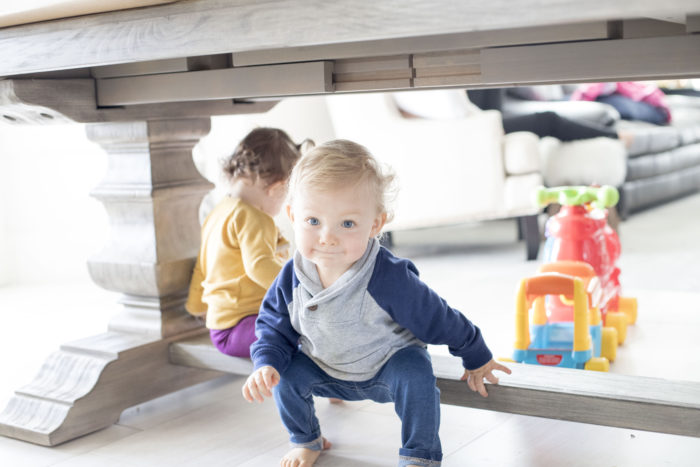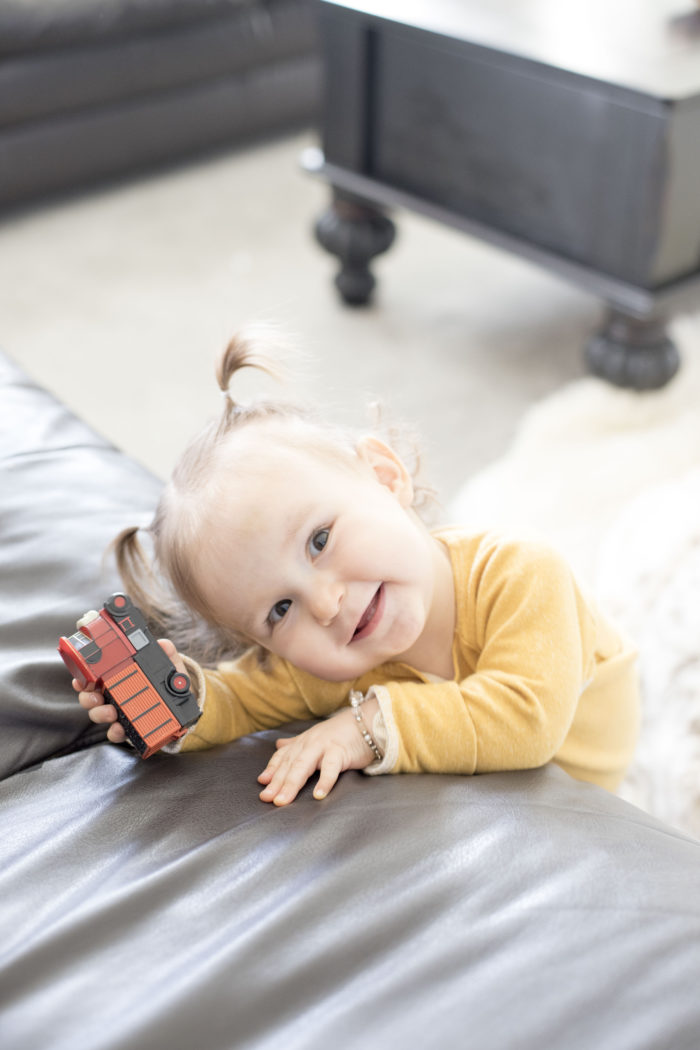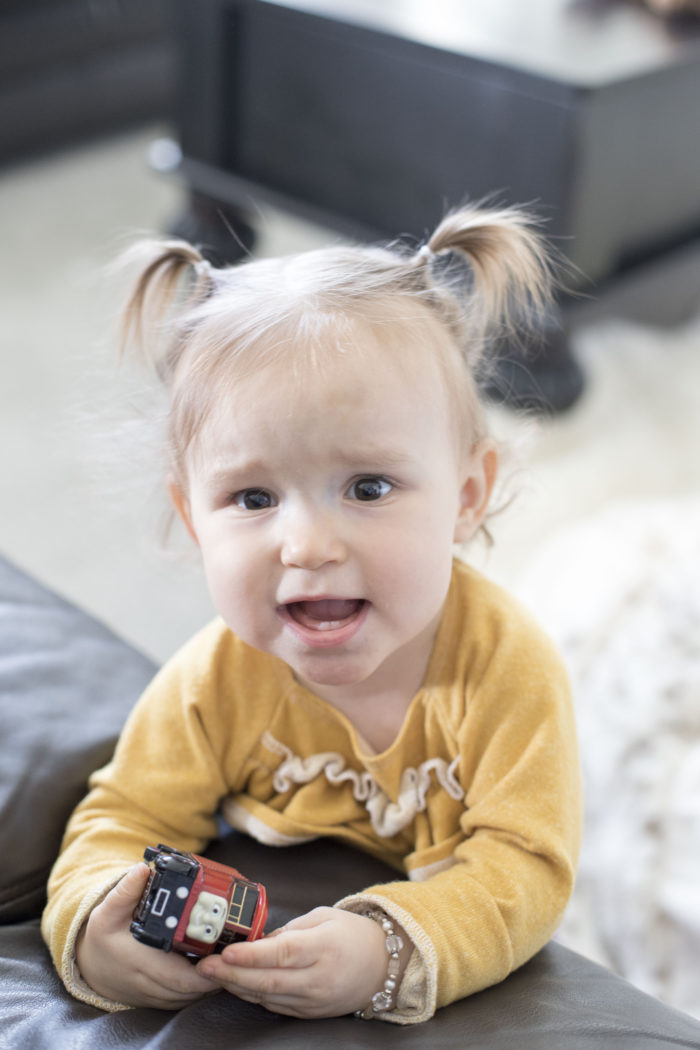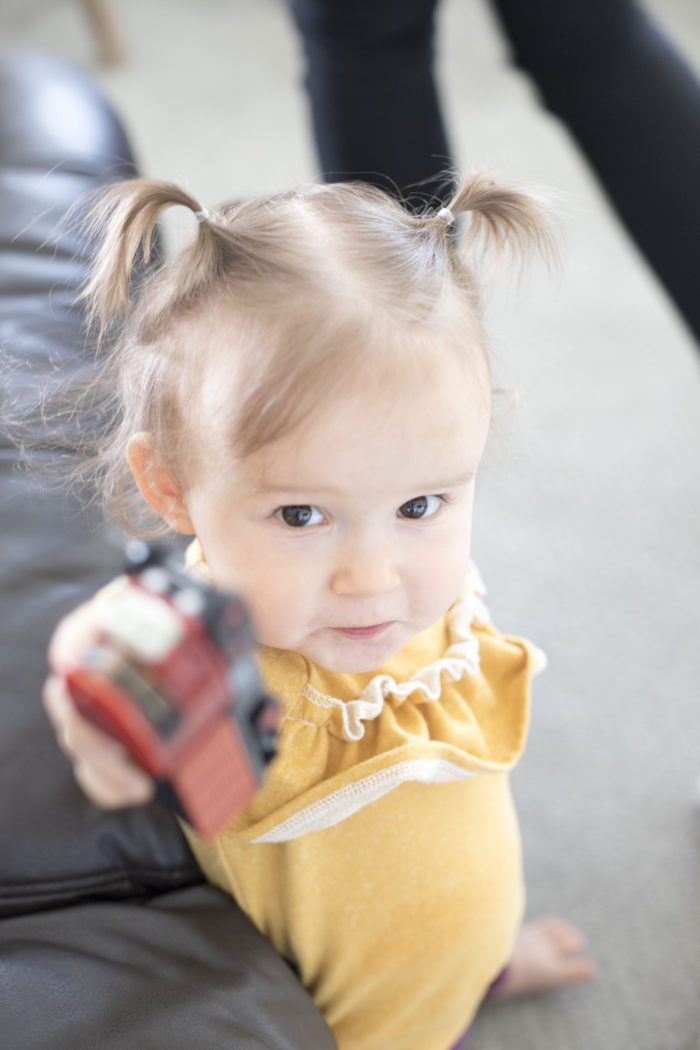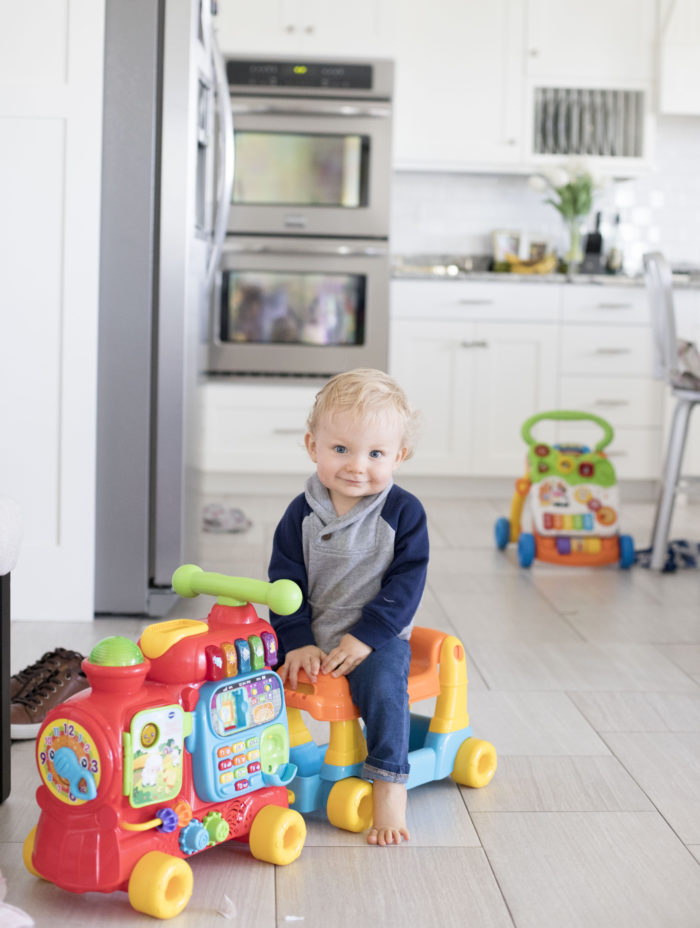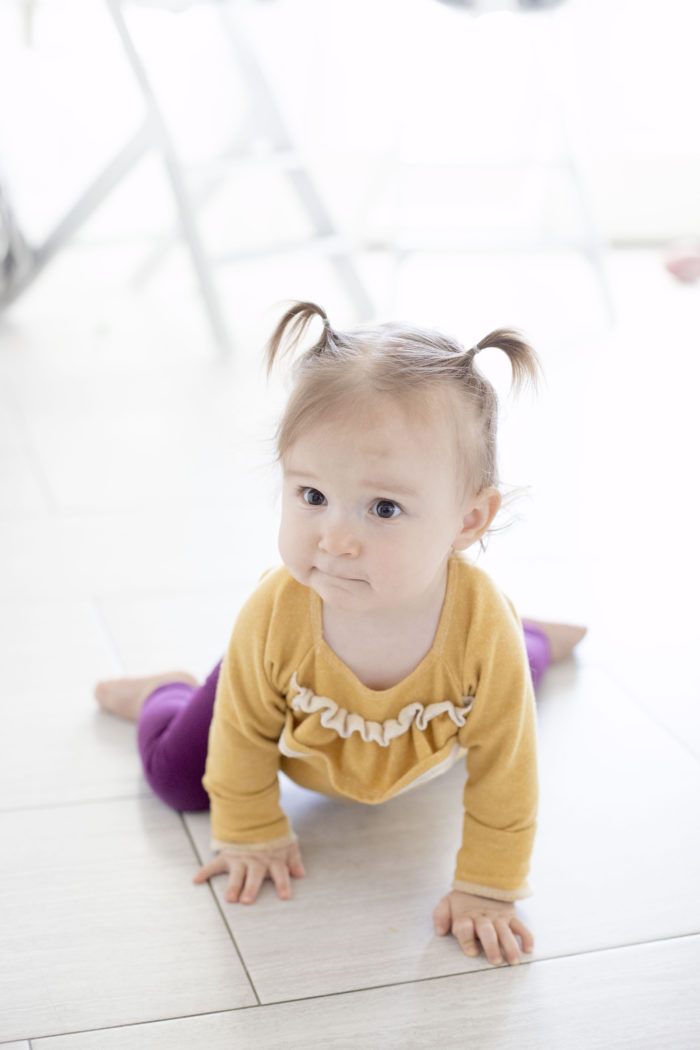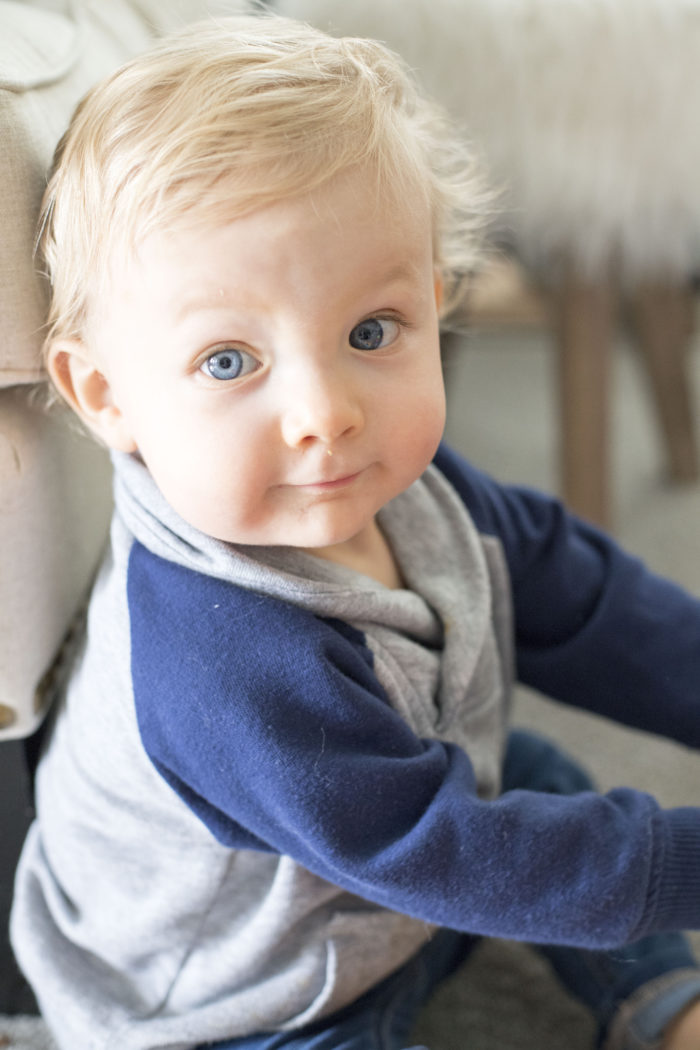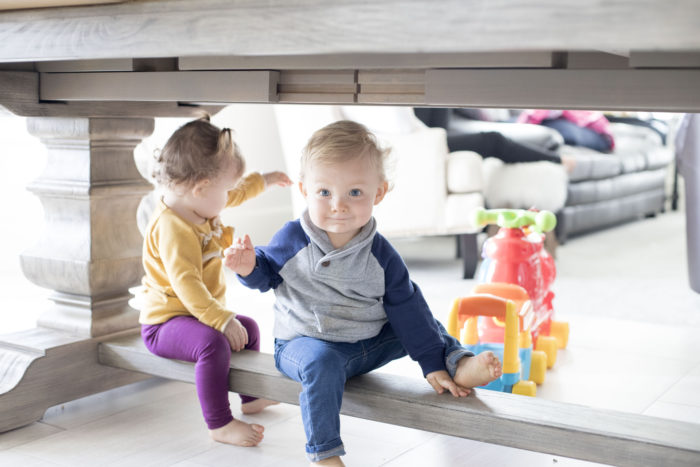 Harris' train | Kitchen table (on sale!) | Goldie's hoodie
I get asked a lot about what it's like to have twins, and I LOVE connecting with you mama's who are expecting twins. I also love connecting with you mama's period. Or if you're not a mom. All of you! This is what keeps me doing what I'm doing. I love building this incredible community of support along with you. Thanks for being here!! I mean that.
Being a mother is the most incredible journey and I love it. It's hard and easy all at once! It's always so nice to see someone who has gone through what you are about to experience, so this post is especially for those women who are expecting twins and want to know a little bit of what to expect. Luckily for me, I'm a realist by nature so I knew that being a mother would be difficult so I haven't had many surprises. It was the incredible and intense JOY that I didn't expect!!
The Hardest Part About Having Twins:
When they are sick…you'll want to grow ten new arms because you can't POSSIBLY do it all. Well, actually, having twins even on an easy day will make you want to grow ten new arms but it's absolute insanity when both of your babies are sick at the same time. About a month ago, poor Harris and Goldie both got the flu. At one point, Harris threw up and had a blow out at the exact same time (ooooh I felt so bad for my sweet boy), so I stripped down his clothes to get him cleaned up. My boy was crying and I was trying to get him cleaned up and back in warm, clean clothes as quickly as possible. I turned around and Goldie is trying to play in his mess on the ground. I ran Harris over to the living room to put on his diaper then literally ran back into the kitchen while yelling, "nooooooo Goldie!! Don't play in that!" I called Tyler after this fiasco and just started crying. It was so overwhelming! The next day, I noticed some poop on the ground. I had just changed both Harris and Goldie's diapers so I was confused. I cleaned it up then noticed another spot on the ground…and then a nice smear on the toy train that Goldie had been sitting on. She had a blow out just after I had changed her diaper so I took off her diaper and as I was cleaning her up, I turned around and Harris was eating her poop. He got mad at me when I leaped up to stop him. Whew!!! So…these examples give you an example of my need for 10 arms and one of the most difficult parts of being a mother to twins.
Truly for me, the physical part of being a mother is the hardest part right now. Getting out the door is a full on workout. I am literally sweating after I get all of our stuff packed up, run it out to the car, come back in and pick up Harris, run out to the car and buckle him in and give him a toy to play with, run back in the house and pick up Goldie, run back out and make sure Harris is okay then buckle up Goldie and give her a toy. Then I run around to hop in the car and I am breathing hard and sweating most of the time.
Keeping my house clean. It has never has been so messy in my entire life!! The speed with which the twins can destroy my bathroom as I take the quickest showers of my life is impressive. I'm not even mad. They have skill.
The Best Part About Having Twins:
Their relationship!! Oh my goodness; the older they get, the more they interact and love each other and I can't even believe how sweet they are with each other. A couple nights ago, Goldie started throwing her food off of her high chair because she was done eating. I looked at her and said, "Goldie, no no no." She looked up at me and started repeating me saying, "no no no" in her tiny baby voice and Harris was laughing his head off. He thought the whole situation was beyond hysterical and I don't think I have ever heard him laugh so deeply and long. Yesterday morning when Tyler was taking a shower and I was at the gym, Harris would bend down to grab a Cheerio out of the bowl and then stand up to eat it. Goldie wanted to do the same thing, so she stood up but her coordination isn't as good as Harris' yet so she couldn't figure out how to bend down and pick up a Cheerio from the bowl and then stand back up to eat it. Harris saw that she was struggling and while Goldie was standing, he bent down to pick up a Cheerio and hand it to her!!! Sometimes they will steal toys from each other, but sometimes they share, too. My favorite thing is when one of the babies has something that the other one finds interesting, and they hand it to the other baby. It's so sweet. I like to play music while they eat, and when I turn it on, they both start swaying side to side in their high chairs and looking at each other and smiling. I was changing Goldie's diaper tonight and Harris came over and put his forehead to her forehead. It was so sweet! He started pushing too hard so she didn't like it, but he was just showing her that he loved her. They are each other's best friend and it makes me so happy!
We knew we wanted to have at least 2 children, so it's nice that we had an instant family! The pregnancy was so incredibly difficult but I think it was worth it!
My two buddies that I get to hang out with all day. YES, they are an unbelievable amount of work, but they are hilarious and so cute! We have a lot of fun and I treasure getting to take care of them and help them grow up.