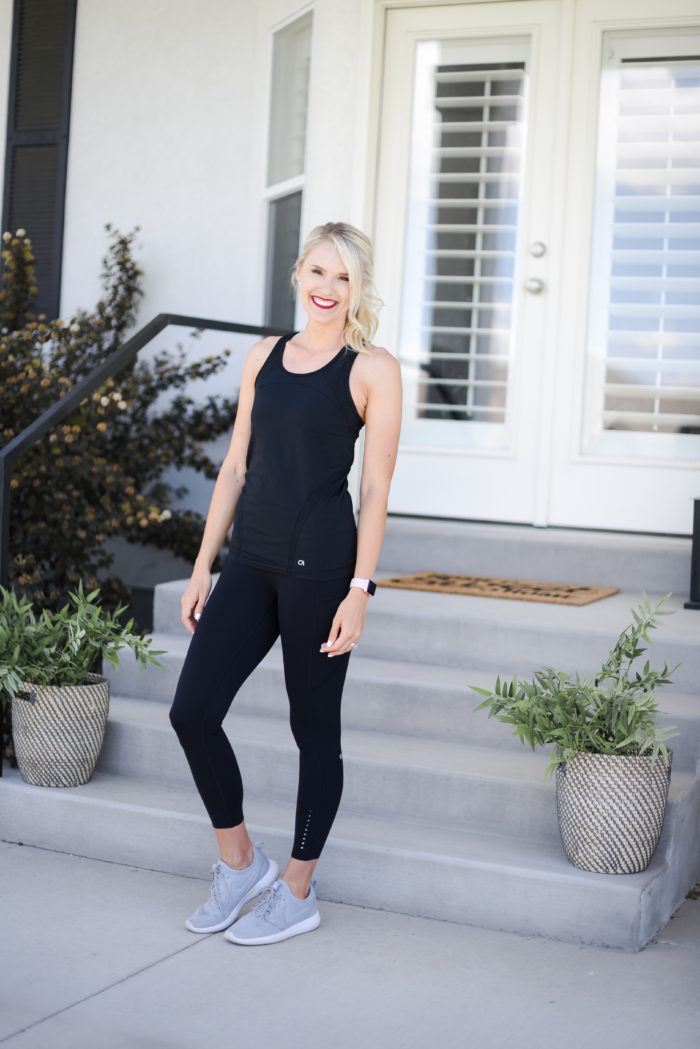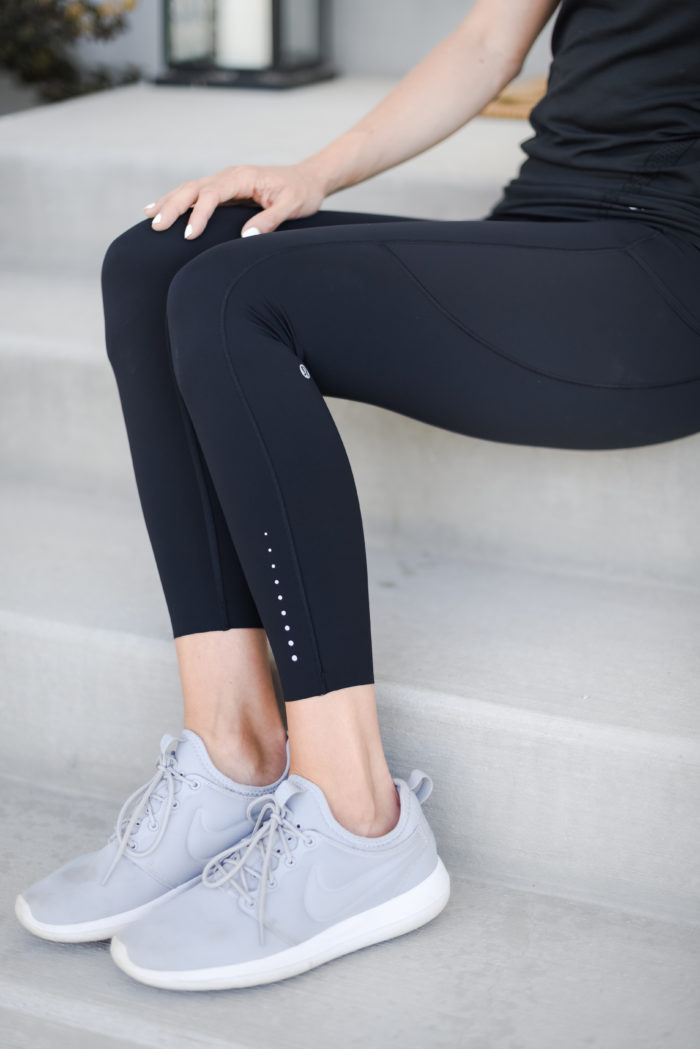 SHOP MY ATHLEISURE LOOK: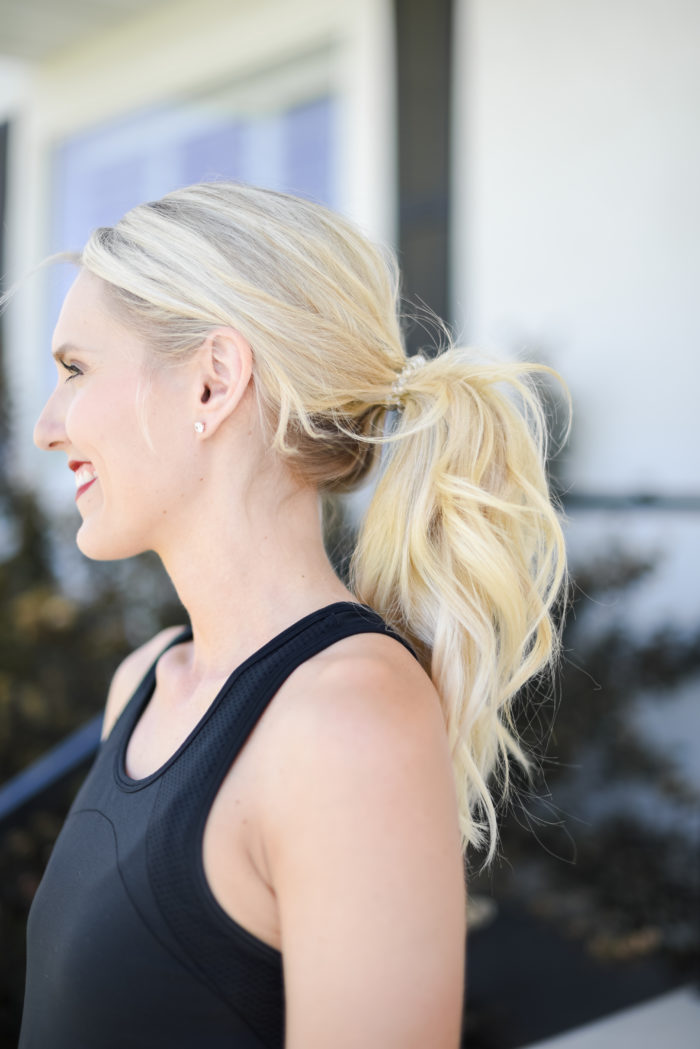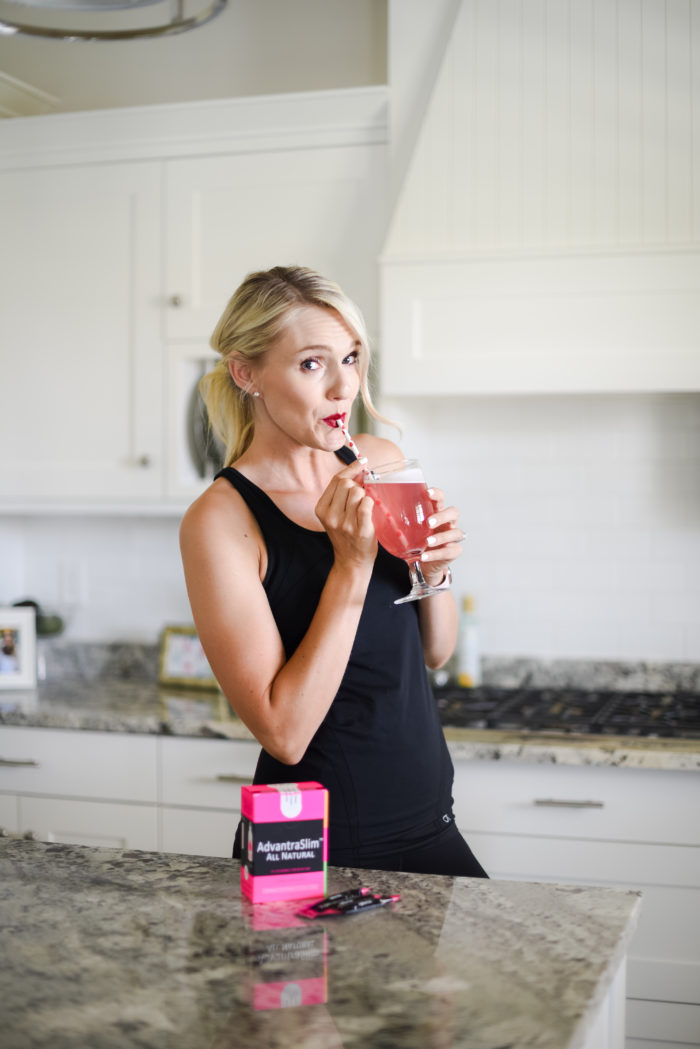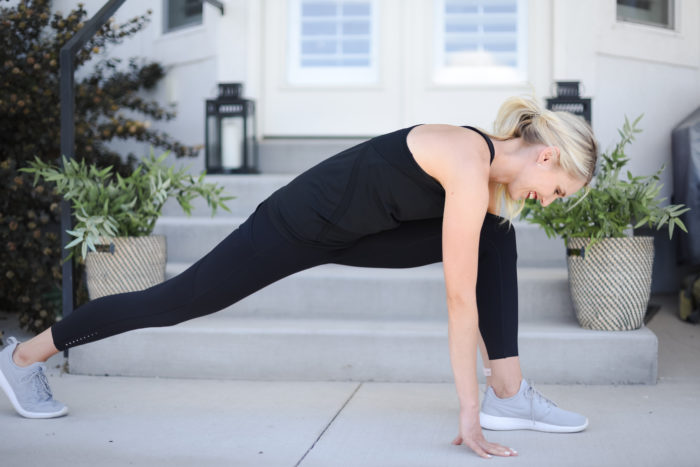 SHOP MY ATHLEISURE LOOK:
Workout top: GAP | Workout pants: Lululemon | Shoes: Nike (on sale in lots of colors!) | Hair tie: Invisibobble (no creases in your hair!!)| Earrings: Nordstrom (I wear these every day, even to work out!)
This post on how to lose wieght after having twins has been a LONG time coming.
The twins are 11-months-old, and to be completely honest, I thought I would have been back to my pre-baby body months ago. That was before I had the twins. After delivering them on July 13, 2016 last year, I knew I had a long road of ahead of me in getting back into shape. One of the questions I get a lot from you guys is how I have lost weight since I had the babies, Here's my story, and I hope to give you some tips that will make the road back to your healthy body an easier one!
I have always had to watch my weight my entire life. I was never the kid that could eat cookies and cake and not have to worry about gaining weight. My metabolism has always been a challenge, which I actually consider a blessing because I had to learn how to eat healthy from a young age which set me into good habits for my life. I danced in high school where I grew up in Texas, then when I moved to Utah to attend BYU, I started working out at the gym and found that to be a good way to stay fit. I always thought that when I got pregnant eventually, I work out and stay really fit during pregnancy. Then….I got pregnant with twins. That was a game changer.
I had bleeding when I was 13-weeks pregnant, so much so that I thought I was having a miscarriage. I found out why here, and needed to take my pregnancy more easy. I tried to work out once after the 4 weeks was over, but I felt so sick and so completely exhausted that I listened to my body and knew that I needed to rest. I found out I had preeclampsia (check out my unreal CANKLES!) so my doctor induced me at 32 weeks.
After I delivered the babies, my body was a wreck. I had been on magnesium to help prevent seizures due to the preeclampsia in the hospital which gives you flu-like symptoms. I was still completely and totally swollen, I had been stitched up "down there" and I could literally hardly walk because my thighs were so huge with swelling. On the night I got home, I made Tyler sit on a chair next to the shower because I didn't want to be alone while I took my first shower in 3 days and I bawled like a baby. I caught a glimpse of myself in the mirror before I stepped into the shower and I didn't even recognize myself. All of the emotions, hormones, major lack of sleep and pain of the last few days caught up to me and I let it all out. I was scared that my body would never be the same.
A few days later, my body was still retaining a major amount of water. My doctor didn't want to give me a diuretic because it interferes with breastfeeding, but the water was staying put. I was huge and still so incredibly uncomfortable. He put me on a diuretic and after a few weeks of waking up at night in pools of sweat where my sheets, body and hair were literally drenched in sweat, the water finally went away and I could a resemblance of my old ankles. I was still 30 pounds overweight and I felt so skinny!! Looking back, I don't think I look that thin, but I guess the benefit of gaining so much weight and then losing some of it is that you actually feel really good about yourself at first!
So…I still had 30 pounds of weight to lose. This was hard, because I was breastfeeding at first and I didn't want to restrict too many calories because making enough milk for two babies was already hard enough. I was taking supplements and doing everything I could to keep up my supply, but I had to supplement the babies with formulas since they were preemie babies, so I was pumping, breastfeeding and bottle feeding around the clock and it started to take it's toll. I was feeling like I was going crazy and I was exhausted. I went to the doctor to get my hormones check to make sure everything was going great, and the blood work came back that I had a "raging case of mono" as she called it. HUH?!
After I stopped breastfeeding, I started to focus on losing the weight more. Here's how I did it!
HOW TO LOSE WEIGHT AFTER HAVING TWINS – THE TOOLS:
HOW TO LOSE WEIGHT AFTER HAVING TWINS – THE MOTIVATION:
Losing weight is hard and it sucks. Period. You're probably laughing right now, but that's the best way to describe it! Here's how I stayed motivated:When I would reach certain weight loss goals, I would reward myself with something that wasn't food. Something that I wanted, but normally wouldn't buy. Hello, Lululemon. Their pants are ridiculously expensive, but they are unreal comfortable and last for years. Fast & Free 7/8 TightIf you don't have a pair of the , you're missing out. Oh, my. They hold you in, are so cute, and hug you like you should be hugged. I also LOVE this pair. If your budget is smaller right now, try this pair from Old Navy. I have worn these for years and have been amazed the high quality for such a great price.  This workout tank top from the GAP is my favorite top to workout in. Find something that you love and work towards it, then reward yourself when you reach those goals! It helps keep you motivated when you're feeling like it's too hard (which will be a lot…because it is really hard.)
SHOP MY WORKOUT ESSENTIALS:

Have a buddy that you're accountable to, someone that you really care about not disappointing or who may be on a weight-    loss journey as well. For me, this was Dan Wilcox for the last 5 pounds. I wanted to prove to him and myself that I could follow the plan that he gave me. For me, it was best not have a family member be this person for me, because family members will love you no matter what. I needed someone who was going to be kind but expect results from me!
Put up a quote that keeps you motivated or hang up a pair of pants or a swimming suit that you can see every day that you don't fit in now, but that you want to fit in. I kept envisioning myself in a swimming suit for summer and wanting to feel confident and have my only thoughts be about having a fun with my kids and family in the sun, not about feeling self-conscious about my body. Buy something, like a swimming suit, in the size that you want to be! Look at it every single day. Here are some of my absolute favorites:
SHOP MY FAVORITE SWIMWEAR:

HOW TO LOSE WEIGHT AFTER HAVING TWINS – THINGS TO REMEMBER:
The most important thing to remember is that this is a process and that being consistent is KEY. I'm an impatient person. It gets so hard when you don't see immediate results, but remember that they will come if you stay on track. Also give yourself some grace and remember that you're not going to do this perfectly. You're a human and you can eat a cookie and then go right back to eating right and not feel terrible! It's all about making positive changes and small improvements.
You got this, sis. If I can do it, you can do it. It may have taken me a year, but I finally feel like my body has recovered and I really appreciate how much it has gone through to get my sweet babies here. It's a gift and I'm so amazed at all that my body does! Eat right and get fit because you love your body. When you appreciate it and love it, it's easier to take care of it and find an inner happiness.
Women are strong, amazing creatures. I love you, friends!

Photos by Caitlin Nicole Photography