To my beautiful child,
I am feeling ONE BILLION times better today. Like, seriously. I don't think I have ever felt so horrible in my entire life as I did on Thursday night and Friday morning of last week. I am starting to feel like myself again today because my body is starting to feel relatively normal and my tummy is deflating. I can't even tell you how good that feels. I can walk without hunching over!
We got a call from our embryologist (who is so incredibly kind) on Saturday and he told us that he was able to freeze 3 more embryos that reached the proper stage of maturity. This means we have 9 total!! This makes us so happy and relieved for the future. It would nice to never have to do the egg retrieval again. The embryologist emailed us a photo of the new embryos and he said, "cute little things!" It made me smile. There are good people in this world.
Can I just tell you how grateful I am for your dad? You're so lucky that you get him. He's going to make you laugh when you feel like crying. He's going to jump on the bed with you. He's going to come up with fun ideas and be the one that you play with. He's going to come up with funny songs that will make you smile. He's going to make your eyes sparkle with the way he sees the world. That's what he is to me. I was thinking as we were lying in bed on Saturday morning about how special family is. I was thinking how sweet it will be to have a baby with the one that I love most.
I woke up this morning feeling blue. I didn't feel like getting out of bed. Honestly, most of the time I have been positive and truly happy throughout this process. I am so grateful for my wonderful life and all of my experiences. This morning I was feeling down though. I was thinking how sad it was that so many good people want to start their families and it's just so hard. The waiting room at the fertility center was packed on Friday. I was thinking that something that should be so natural…well…isn't. I dragged myself out of bed and tried to think about what would make me happy and I decided that what would make me happy would be to do something for someone else and stop focusing on myself. It's amazing that when you focus on others, it also lifts you up. So, technically, focusing on others is selfish because it makes you feel so good 😉 I made a yummy dinner for your dad tonight. Tri-tip french dip sandwiches, Asian salad and raspberries. Also, I feel like I still need to do some other good deeds because I benefited by eating this delicious meal myself….so…woops? I'm excited to see his happy face when he gets home to try it. I finally have enough energy again so I'm going to come up with some good things to do this week to keep the focus outward.
When I opened my inbox earlier today, I saw the nicest email from someone who reads this blog. It was exactly what I needed to hear to encourage me. It made my eyes misty because I know it was an answer to the question in my heart this morning as I woke up. My Heavenly Father loves me. Here is what the email said (I asked her if I could share it):
"I just wanted to let you know that I've been following your story for a
little while now and I feel so inspired by you. We tried for 3 years to
get pregnant and after 3 failed IUI's, we finally got pregnant with
boy/girl twins from a frozen embryo transfer (we never tried a fresh
transfer by recommendation from our doctor) and now they're almost 7
months old! So though our journeys are different and stories are not the
same, I so relate to you and am having major flashbacks to when I was
doing all of my shots and medicines. You seem so positive on your
Instagram but I know you have your share of really hard days too. I'm
just here to tell you that there's light at the end of the tunnel. I'm
sure you've had so many people tell you their success stories, but I was
feeling impressed to write you and add my own. One day you'll have your
baby (or babies maybe!) and all of this will seem so far behind you. I
have a picture of ALL of my shots/pills/patches/creams- literally
everything I ever took as a part of this and I saw it the other day and
was surprised at how much there was. It seems like a lifetime ago
already.
Also wanted to share this quote with you from Joseph F. Smith-
"Everywhere in nature we are taught the lessons of patience and waiting.
We want things a long time before we get them, and the fact that we
want them a long time makes them all the more precious when they come."
And I truly believe that. I'm not a perfect mother by any means, but I
do believe I'm a better mother than I would have been, had I not
experienced this trial. I spent many exhausting nights reminding myself
of that with two little newborns- that I spent a lot of time on my
knees praying and pleading for little ones to keep me up all night, and
it made me so grateful to have them and made the lack of sleep a little
more bearable.
Anyway. Didn't mean to ramble so much. I admire you and I pray that
everything will fall into place for this to be your successful round of
IVF. That will be one very loved baby whenever he or she makes their
arrival :)"
I am so incredibly grateful for those people that act on the impressions that they have. If she hadn't, I wouldn't have heard what I needed to hear from her. I love that she said that when we want something for so long, the waiting makes it so much more precious. You are so precious to me, little one. I haven't even seen you and you are precious to me.
I'm also so very grateful for people who pray for me. I always had a testimony that prayer really works, because I've felt the strength and peace that comes from prayers when I pray for myself. I've often heard people say that they can "feel" the prayers of others but to be honest, I'm not sure if I actually believed them. I thought it was a nice thing to say to thank people for praying for them. Now I know what it means to feel others' prayers in my life. My burden is lifted by those prayers.
My last thought for you is how tough circumstances really strengthen your self confidence. I have always thought that I have a low pain threshold and that I'm a bit of a baby when it comes to pain. Guess what? I'm not a baby!! I can't be when I give myself this many shots and feel so horribly for this long. I can't be when my tummy feels like it's about to pop and I can hardly breathe, but I move forward anyway. I'm tough and I fight like a girl. I can do hard things.
I know that I'm going through all of this for many reasons, and for learning many things. I love you for that. Thank you for helping me to be better.
You're worth it.
Here are our weekly Parcell Sunday Selfies 🙂 Your dad wanted to sit on a rock in front of our house for our first family photo with you (hopefully you are one of those embryos!) He thought it seemed more family-photo-like. He makes me laugh so hard.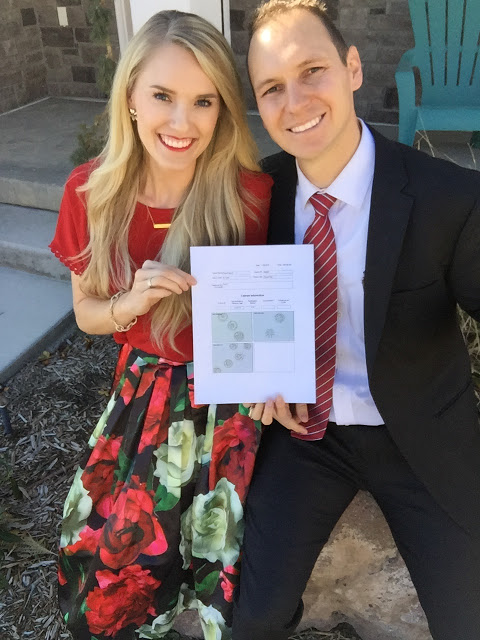 This is your dad being your dad…farting right before the picture was taken. World's best farter or world's best father?