To my beautiful child,



It has been quite the rough week; let's just start there. So, as you know, I had the egg retrieval on Sunday. Tuesday was really bad and I woke up at 3:45 am in

excruciating

pain in my back and abdomen. I woke up your dad and he got me some Tylenol and turned my heating pad back on. I couldn't go back to sleep for 3 hours. When I woke up, I decided not to go to work because I felt terrible. I got a call from my IVF coordinator at around 11:30 am and she asked about the neupogen that the doctor had wanted to put in my uterus before the transfer. It helps the strengthen the

uterus before transfer and he had told me right from the start that we were going to use it, along with the human growth hormone and getting the polyps out of my uterus this round as a different path than my other rounds. Long story short, she forgot to order it and couldn't get it until the following day and there wasn't very good communication because I was left feeling confused and upset. This is my third round and I want to optimize our chances of success. We all make mistakes and luckily it didn't affect this round because we are waiting. She has been great with everything else though and was very kind throughout the mix-up.
Dr. Foulk called me and told me his concerns about the OHHS (Ovarian Hyperstimumation Syndrome) and
I went in on Wednesday and he did an ultrasound and there was TONS of fluid in my abdomen. Way more than in my bladder lol. No wonder I looked pregnant.
My ovaries were the size of kiwis and they should be the size of walnuts. One thing that cracked me up was when he doing the ultrasound and he pushed down on my bladder and it was bouncing up and down and he said, "look, it's saying hi." Hello to you too, bladder. I found out that it's not safe at all to do the embryo transfer right now because my abdomen would fill with way more fluid and I could end up in a lot of pain and on bedrest. This happened to my friend with her son and she basically didn't leave her parent's recliner for 3 months because she had to sleep sitting up so she could breathe (the liquid presses against your lungs) and they had to drain 10 liters of fluid over the course of that time.There is too much liquid around my uterus which is not a good environment for embryos to grow as well.
As I was walking last night, I had to sit several times because I thought I was going to black out. I felt really weak. My mom and I were together last night because your dad took a day trip with your grandpa and Uncle Drew. Looking back on it, I probably should have stayed home but my symptoms worsened a lot in the evening after I was already with my mom. Earlier in the day yesterday, I had to call in and ask if I could take anything or do anything to really lessen my symptoms because I was so uncomfortable. The nurse was really sweet and said she would talk to the doctor and call me back. After two hours of not hearing back, I called to leave a message. Two hours later, I was a bit upset and went down to the office. They also hadn't called me on Wednesday about how many embryos were looking good so I wanted to get that information. They told me that 15 were looking pretty good at that point. They gave me this container to pee in to help measure my fluid output vs input. When I got home, I could hardly talk without gasping for breath after each sentence. My belly was HUGE. I couldn't walk without hunching over a bit. Your dad took care of me and tucked me into bed. I woke up sitting up this morning. I think I couldn't breathe and my body started to panic so it instinctively just sat up.
This morning I had an appointment at 8:45 am. I felt absolutely horrible, honestly. I have never felt like that before and it was kind of scary. I felt really out of it, my muscles would start to cramp and I felt like I had worked out for 5 hour straight because I was so drained. My favorite tech Ashley walked in and gave me the biggest hug. She is so caring and loving!! I felt so cared for by her. She has such a kind heart. I told her how I was feeling and she helped me to lay back because she could tell I couldn't breathe very well since I kept breathing in so deep. Dr. Foulk then came in with my IVF coordinator and got my feedback about how things had been. They were really nice and receptive to my feedback on how the week had gone. A nurse then hooked up the IV and left the room for a little bit and I just started sobbing for a minute. It's okay to not be tough all of the time 🙂 It feels good to let it out. Everything just gets overwhelming sometimes.
They moved me into one of the doctor's offices on the couch (super funny, but definitely more comfortable). The nurses were so sweet. One of my favorite nurses, Danica, brought me in water and kept asking me if I needed anything. She is doing IVF too and has her trigger shot tonight so she's only a week behind me. Ashley checked on me a few times. Your dad was in a meeting in Salt Lake and said that he would drive to come be with me but I told him it was fine since I was just laying there anyway and he couldn't do anything, plus my mom wasn't working so she said she would come be with me. After about 30 minutes on the IV, I really started to feel better. It was amazing how quickly it worked. I went to the bathroom and had a nice, long peeeee. That is totally TMI, but guess what? No shame! Those are the kinds of things you celebrate when you've had issues all week. My mom brought me Chik-fil-A, because that's what I requested. Nom nom nom.
Danica helped walk me into the procedure room, and told me to go to the bathroom again. I couldn't, but while in there, my IV started filling with blood. She said that's normal if the bag isn't raised. I went into the procedure room (luckily my mom could hang out there with me the whole time), got undressed from the waste down, and chatted with my mom and Ashley for a bit. They checked my blood pressure and heartbeat, and Chelsee (my IVF coordinator) came in to give me the medicine to help during the procedure. It is good stuff. Totally relaxes you and everything in the world is good again 🙂 Danica and Dr. Foulk cleaned out my you-know-what in what Danica called the "master douche" ha ha ha (I'm so mature…) and then he stuck in the needle through my you-know-what and started draining the fluid out. They got a little over 1 liter. Fun times. Seriously though, the pressure relieved was immediate and with a lot of the fluid gone, and with the IV, I was feeling like a new woman. I kind of wanted to lay there on the table for a while because I felt so good, but they needed the room so I started getting ready after about 5 minutes. Ammon, the embryologist, came in and gave me my embryo report. He is SO nice and I think he is awesome. Every time I see him, he is so positive. You can tell he really likes what he does. His job is to make babies for a living. Um….cool. He showed me that we have 3 really amazing embryos, and 2 others that look pretty good too. I just got a call from him as I was typing this and he said that another embryo progressed enough to where they were able to freeze 6. They have different grades (AA, AB, BB) but he said that it doesn't give any of them less of a chance to turn into a baby if the grade isn't quite as good at this point. I do have one that is positively perfect though. If that's the embryo that takes, I think I might have to name you Mary Poppins. I don't care of you're a boy.
Ammon is so kind, and when I was there today, he opened the window so I could see back in to the lab and it's so cool! They wash the sperm, then use the magnifying glass to look at the egg and sperm and in our case, use a process called ICSI to inject each sperm into each egg. I saw the little incubator things where the embryos are growing. It's kind of sad how many people need this service. I was thinking about that when I was sitting in the waiting room this morning. That office has A LOT of people that go through it. There are so many couples that want to grow their families. On Wednesday, family picture day, I pretended for a minute that my big belly actually had a baby in it. It's so sad to type that out loud! It felt good to pretend for a minute.
What are the next steps for us? I'm going to call my IVF coordinator on the first day of my next cycle and go in and check the size of my ovaries and the amount of liquid in my abdomen. If the ovaries are small again, we will move forward with an embryo transfer in December. If they are still too big, we will wait to transfer in January. He said my symptoms will get worse this weekend (5th-8th days are the worse – the 5th day is today) so he said to watch my symptoms and I might have to get the fluid drained again.
I think this is the safest way to move forward and it will be good to have my body heal before we do the transfer because it's not worth the risk of feeling as horrible as I've been feeling for my entire first trimester. I seriously can't even imagine how that would be. I feel at peace with the way things are progressing, and I truly feel it is in big part due to so many people's prayers and support. Our family, friends, and people I have never met have been unbelievably kind and encouraging. My heart is full and I'm not sad about having to wait, I'm just glad we are taking the safest route to grow our family. And I'm also SO GLAD that I'm feeling a lot better at this point!! That was ROUGH. I feel, like, super tough now though 🙂 I can do hard things!!
Now I'm going to rest at home tonight.
You're worth it.
xo

Mom
After family pictures on Wednesday night. Wednesday was pretty much the only day I felt relatively fine this entire week…well played planning family pics that night!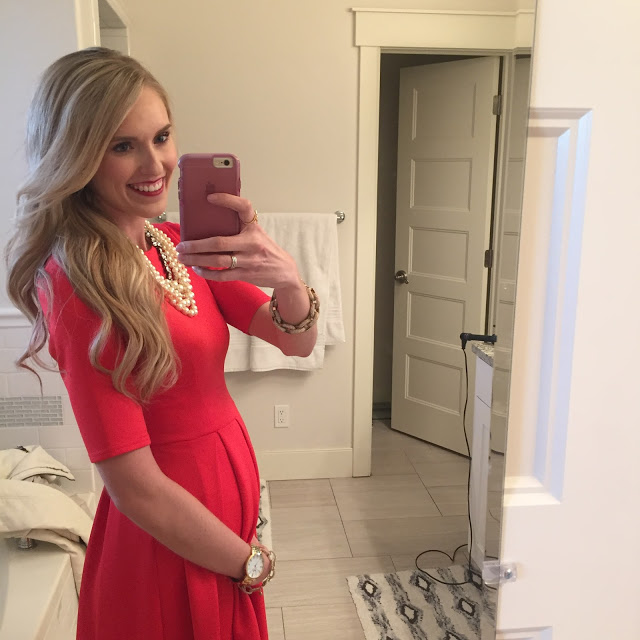 The sweetest face you ever did see. Hers, not mine. Obviously. My niece Isla is what dreams are made of!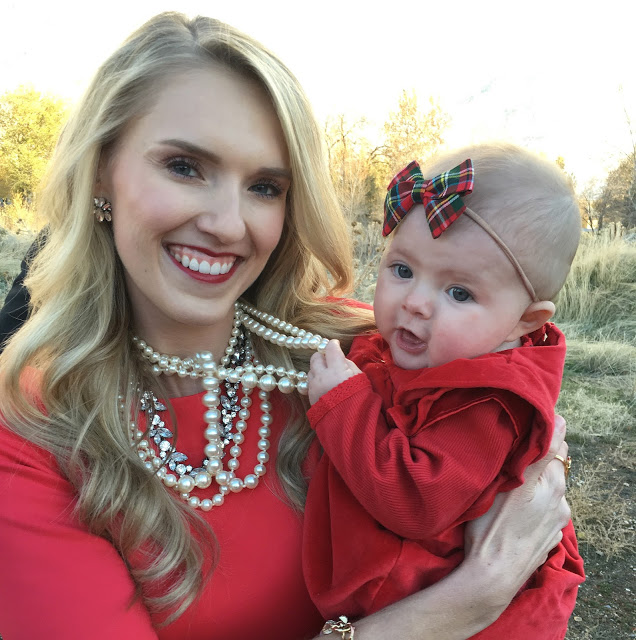 This darling guy heating up pasta sauce for my dinner one night this week. I think it's so cute watching him cook because he doesn't love it, but he does it for me.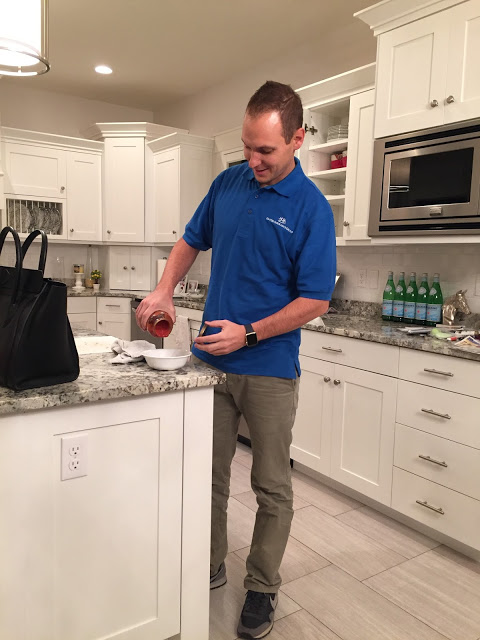 I just had to document this because he seriously cracks me up. I asked him how many servings of veggies he had that day (cause I ask things that…what?! I care about his health!) and I asked him to get us some carrots or something. He wasn't answering the question…and it made me laugh because he slid down on the couch, hid under a blanket, and I could see candy cane Christmas sock poking out from under his pants. I sure love that man.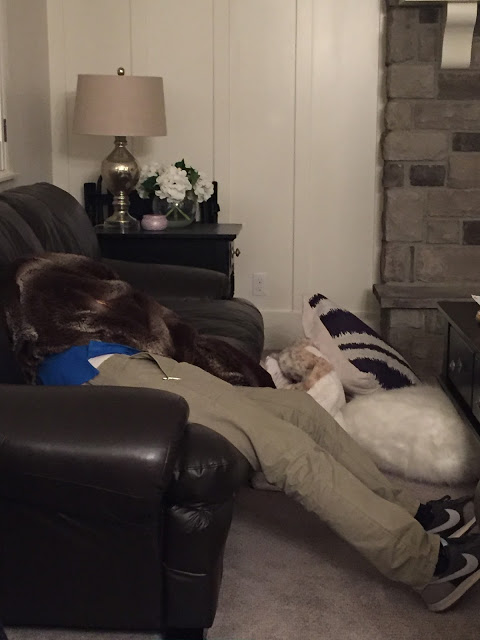 Feeling super positive about my tummy bloat yesterday…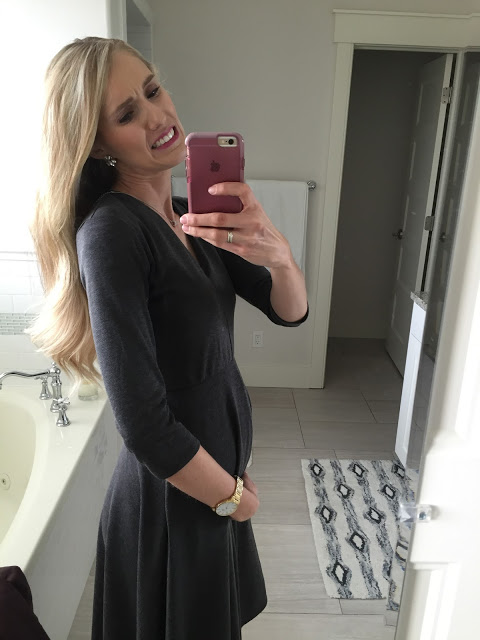 Yep…more fluid!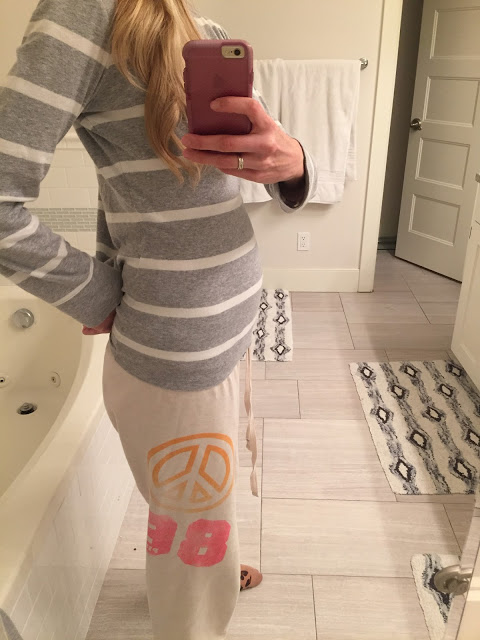 "No ma'am, I'm not pregnant…" I was practicing how I would say it if someone asked.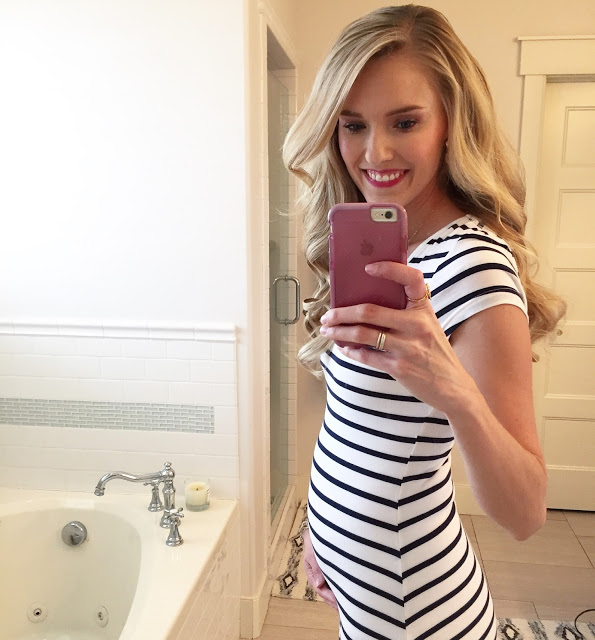 NOT a happy camper this morning. Clearly. I don't need to tell you that after watch my video. Yikes!!
Feeling SO MUCH BETTER after starting my IV. Thanks for the Chik-fil-A, mom. Everyone knows Chik-fil-A heals things…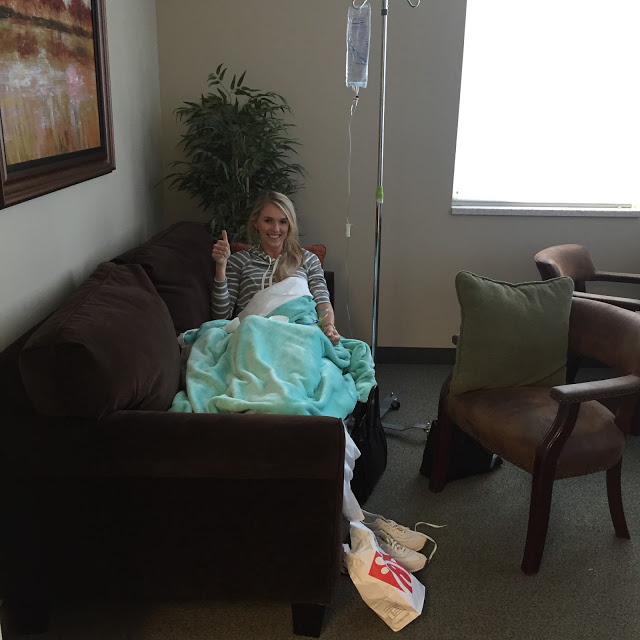 Mom and I with an update after the IV started! I'm clearly feeling better in this video.
Waiting for the procedure to start. My mom brought me these cute socks that I gave my grandma when she was going through her cancer treatments. I texted her and asked her to bring me socks because my feet were cold, and she was at her dad's house so she found these. It made me happy. Grandma was keeping my feet warm and she was there with me.