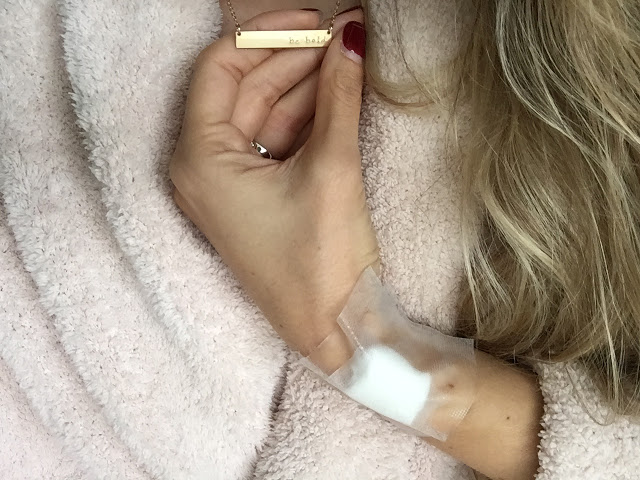 I have worn this "be bold" Made by Mary necklace every single day during this IVF round. This photo was taken after the surgery to remove the polyps in my uterus. I decided that I wanted a mantra this round to help keep me strong and focused. "Bold" means, "showing an ability to take risks; confident and courageous." Every time I look at my necklace or feel the weight of it around my neck, I am reminded of the end goal that I can do it.

My sweet friend Mary has the most beautiful jewelry shop called Made by Mary. I wanted to let you know about it because she is having her biggest sale of the year today!! It's her "Black Friday" sale.
Here are the details on the Made by Mary Sale:
25% off 

10am -11am

– use code BLACKFRIDAY25
20% off 

11am -1pm

– use code BLACKFRIDAY20
15% off remainder of the day – use code

BLACKFRIDAY15
Her jewelry is 14K gold filled which means it is very high quality. I absolutely love it! This would be the PERFECT gift for Christmas.
Here are some of my absolute favorite Made by Mary pieces:
Mama necklace (can also spell momma, grandma, etc) – starting at only $36 if you get the 25% discount! This one is so special. It would be an amazing gift for any mom, including new mamas!