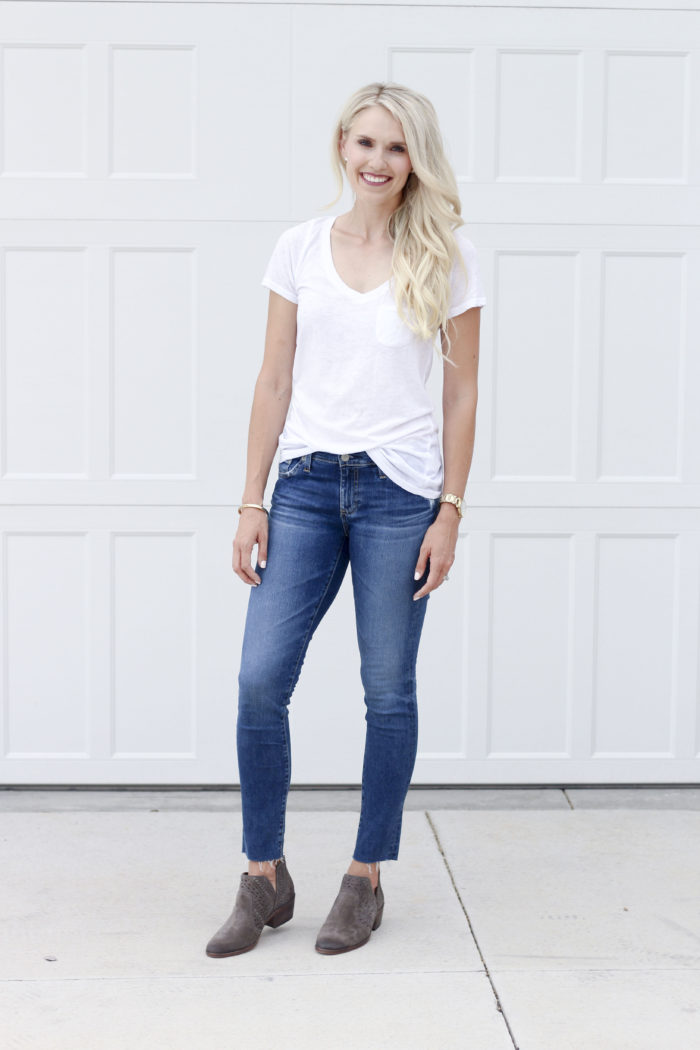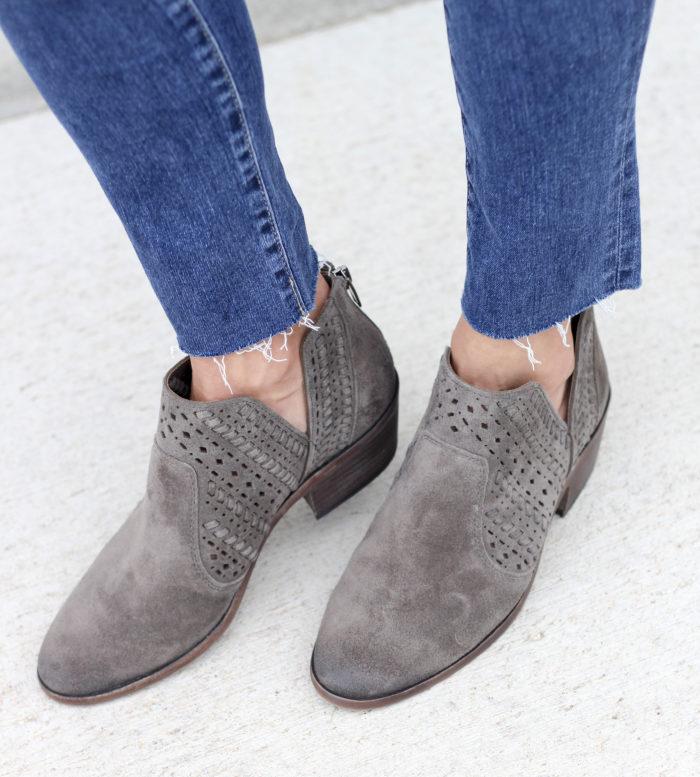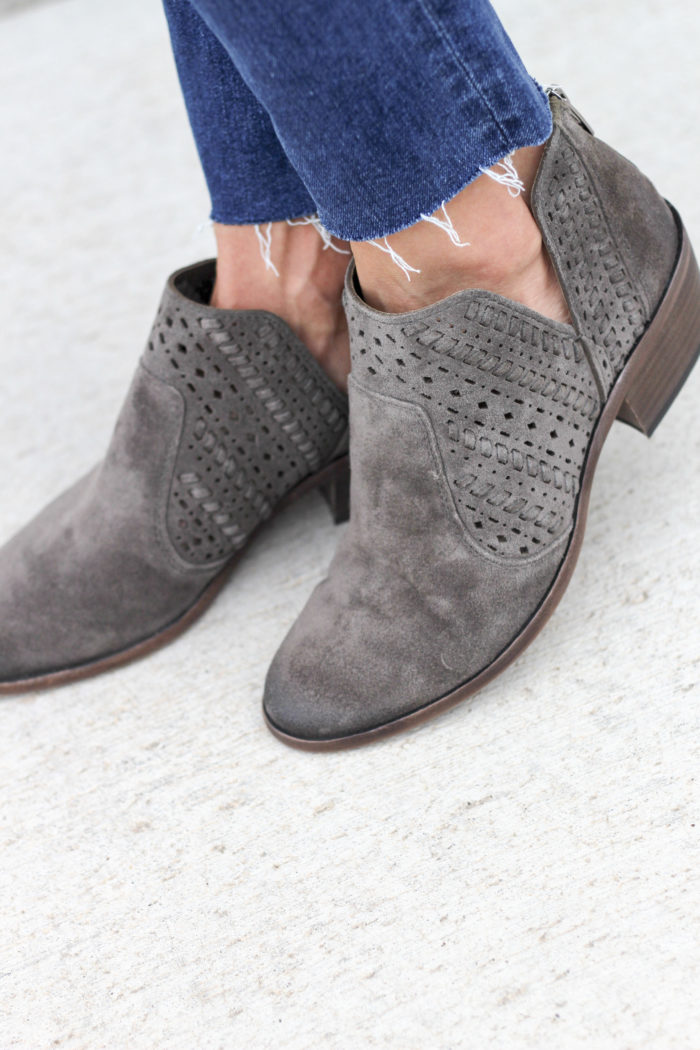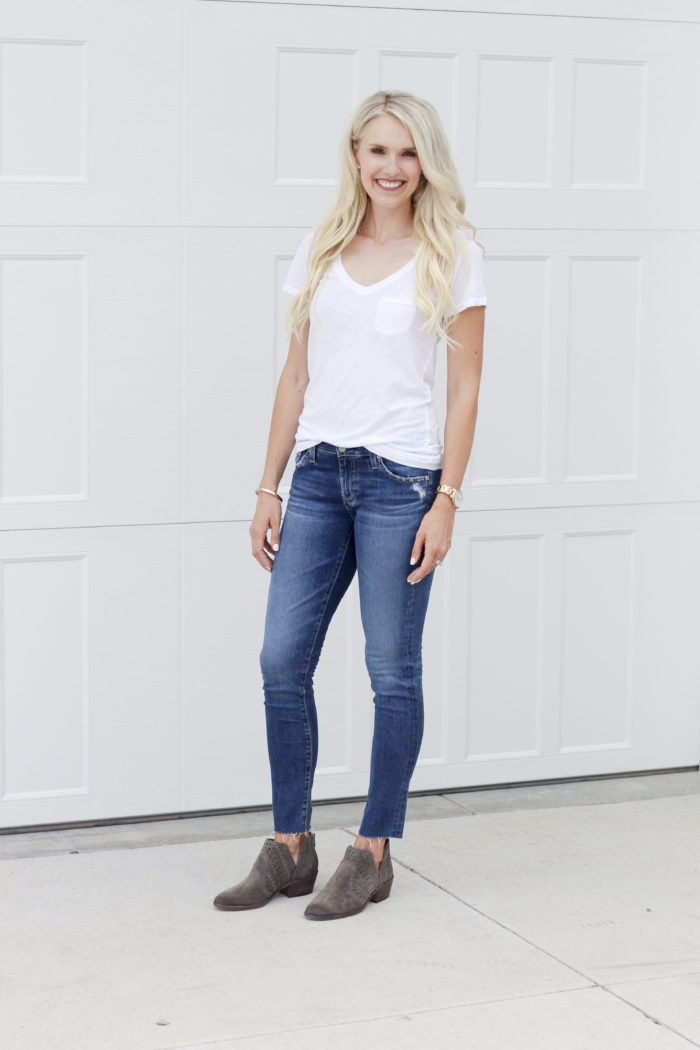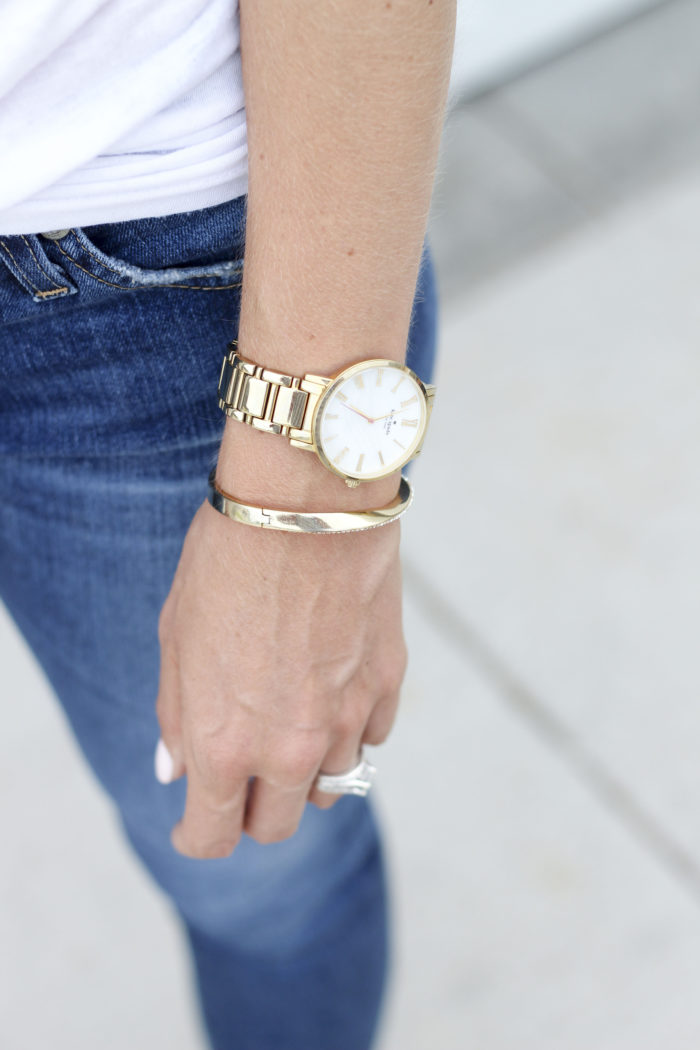 Jeans (true to size) | Booties (order 1/2 size down – I'm wearing  the color "new tornado") | Tee (only $15.90! – I'm wearing an XS) | Bracelet | Earrings (I LOVE these and wear them every single day) | Watch (similar and on sale here)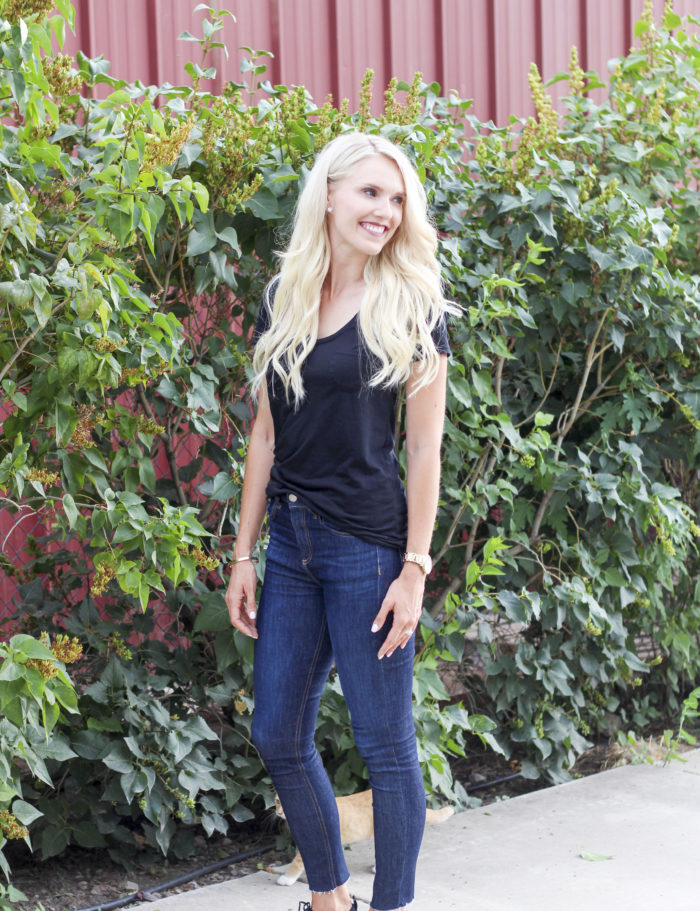 Tee (Same as above in white and only $15.90! – I'm wearing an XS) | Jeans (order one size DOWN) | Bracelet | Earrings (I LOVE these and wear them every single day) | Watch (similar and on sale here)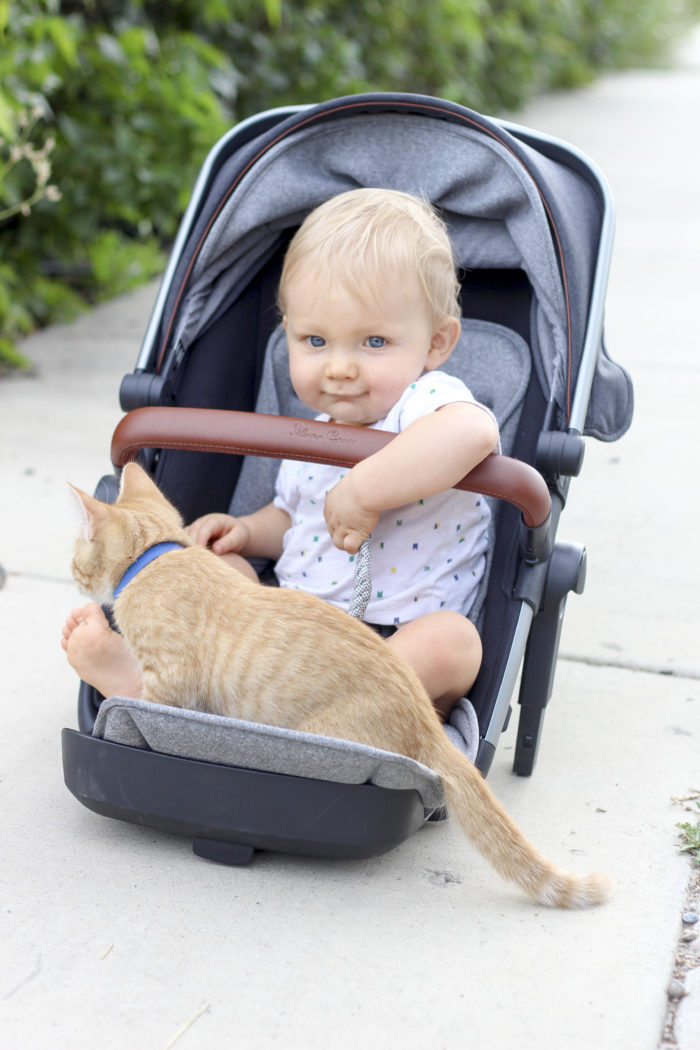 We brought Harris with us when I took these photos and he wanted to see our neighbor's kitten so we took his seat out of his stroller and the kitten jumped right on!!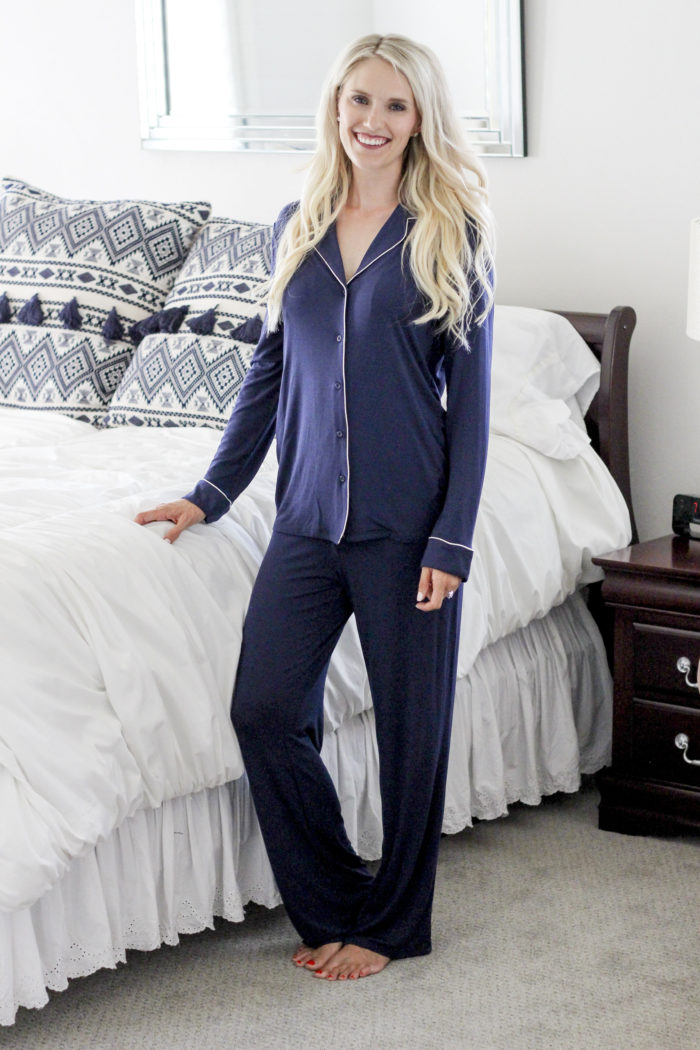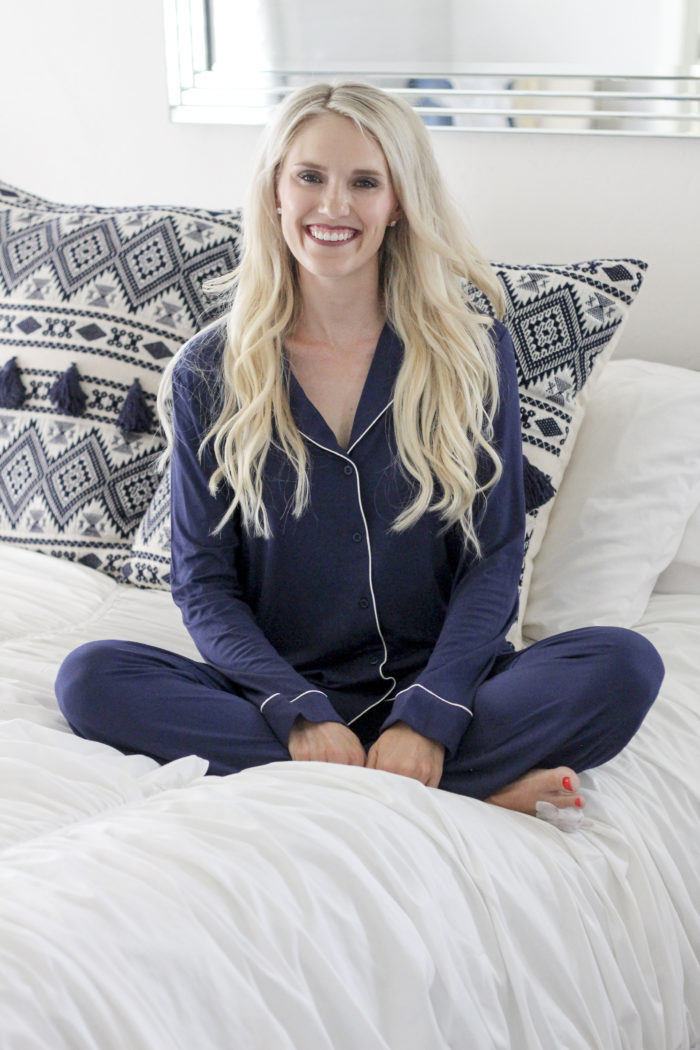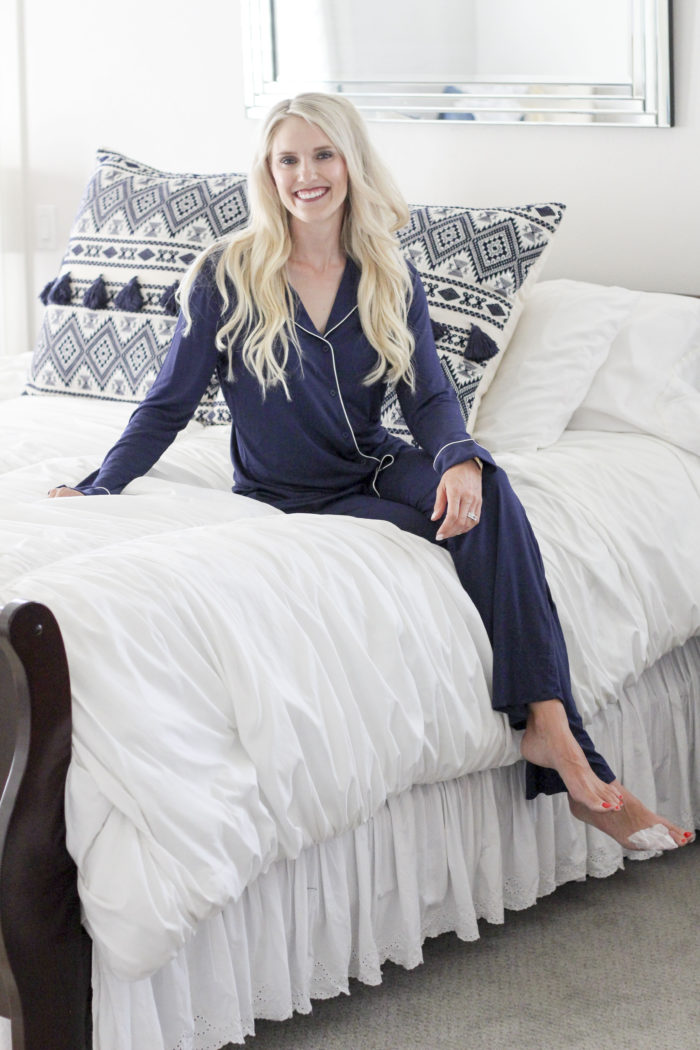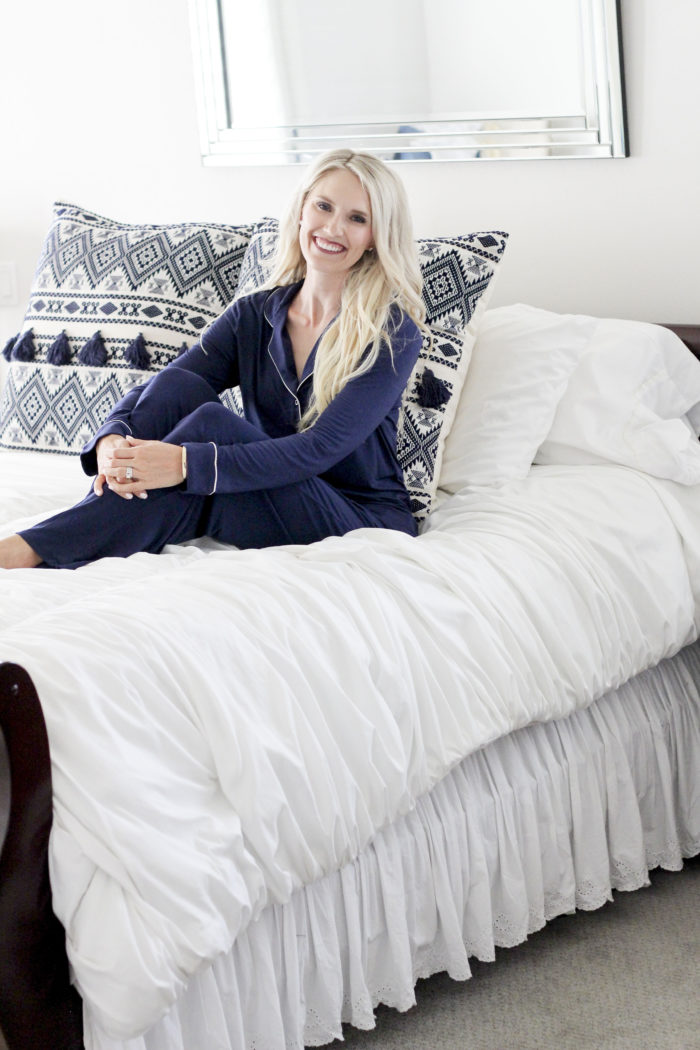 Pajamas (most comfortable you will ever wear. I don't take that statement lightly! I'm wearing a size small and they are slightly big so it depends on how loose you want them) | Earrings (I LOVE these and wear them every single day)
______________________________________________
There are 4 things that I always buy at the Nordstrom Anniversary Sale every year without fail and that I look forward to buying each year. These are items that are really great deals, and that you save a significant amount of money in buying now rather than waiting or buying at any other time during the year! Without further adieu, friends, here goes!
1. Jeans – When I say that I never buy designer denim anytime other than the Nordstrom Anniversary Sale, I literally never buy it ANY other time. I buy a few new pair every year that last me a really long time, and when I need some updated designer denim again, I buy them during the next Nordstrom Anniversary sale! If you were to buy one pair, get this pair and order 1 size down. I am wearing a 26 and I never wear a 26. You SAVE $66.10 by getting them now before the sale ends! You can also order them online here to ensure that you get your size, and then choose pick up in store if you have one that is local. I bought this pair as well (they run true to size) and absolutely love them. I have worn both of these back and forth for the last week and half since I got them! If you are looking for a pair of black denim with ripped knees, I love this brand and if you don't want ripped knees, this is a great pair.

2. Boots and booties – This is another way that you can save a lot of money by buying now instead of waiting for the fall or winter. I always get a couple new pair of boots and booties; this year it was this pair (order 1/2 size DOWN – I got a 9), and this pair (order 1/2 size UP – I got a 10). You can see how versatile these suede booties are in this post where I styled them 3 completely different ways. You can scroll through the widget below to see my absolute favorite boots and booties of the sale:

3. Pajamas – This is something that I just started buying last year at the Nordstrom Anniversary sale and will be a new tradition for me because of these pajamas right here! They are soft. And when I say soft, I mean soft. They are literally the coziest pajamas of all time. I'm wearing a size small in the picture above and they are a little loose on me, so you can use that information to determine what size you want to get. You save $22.10 by getting these pajamas now, so while it's not as significant as my number 1 and number 2 picks above, these need to be in your life so you should buy them now to save 🙂 Also, if you don't have a Barefoot Dreams robe…oh my gosh. You will thank me later. It's like wrapping yourself in the warmest, coziest hug out there. I got your back, girl. If you need a more lightweight option for summer, this jersey robe is perfect and so comfortable.

4. Gifts – I always, always stock up on gifts during the Nordstrom Anniversary sale. These candles are my favorite gift to have on hand because individually, they are regularly $16 but in this 3-pack they are only $9.83 each in this pack! I always get at least 2 packs. It has been so nice to have these really beautiful candles on hand to give friends for their birthdays or a little pick-me-up. I also love giving my friends and family either these earrings or these earrings (depending on what size I think they would like). I love that it's a one-size-fits-all type of gift because you can buy a few while they are on a really good deal right now to have on hand even if you don't know exactly whose lucky hands they will end up in. I also got several of these bracelets because I know many of my friends and family who will love them. Right now is the time to think about Christmas and upcoming birthdays. Honestly, I almost always have all of my Christmas shopping done before December is even close because of this sale! These are my favorite gifts to give:

This post is brought to you by Nordstrom