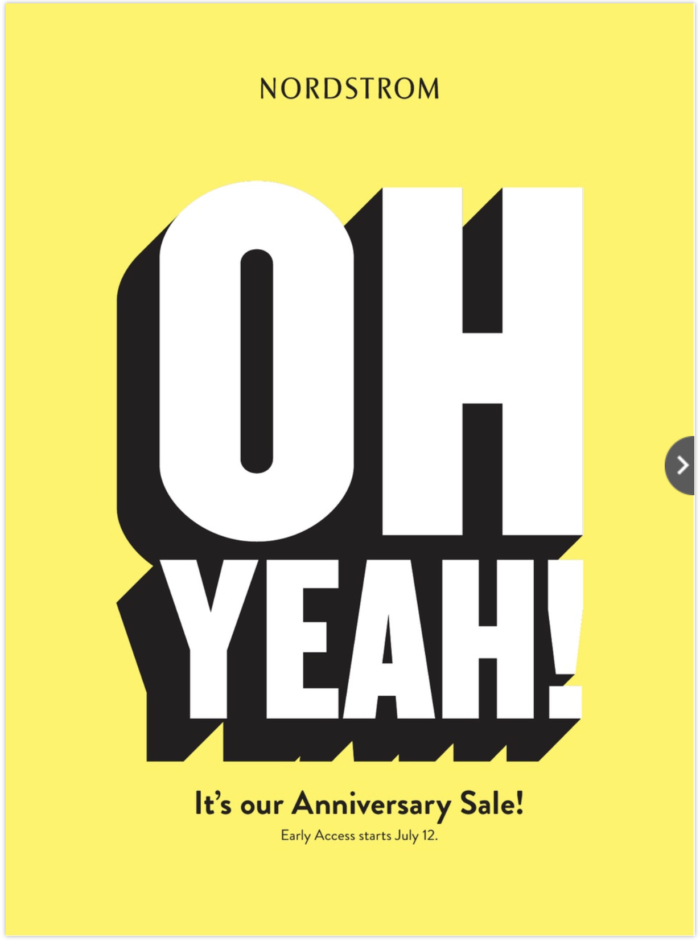 My FAVORITE sale of the entire year is almost here and I want you to know everything about it so you can take full advantage and get everything you want before it sells out! The Nordstrom Anniversary sale is the "opposite sale", if you will. Nordstrom teams up with incredible brands to bring great, brand new items to you at a discount before the price goes up LATER.
---
HOW TO SHOP FIRST
---
Early access to the Nordstrom Anniversary Sale begins on July 12th, which is next Thursday. You need to be a Nordstrom card member in order to shop early access before the sale goes live to the public on July 20th. Before the sale goes live to the public, some most popular items sell out. You can apply here for either the Retail Card, or a Nordstrom Visa card if that makes sense for you.
---
HOW I'LL HELP YOU FIND THE BEST OF THE SALE!
---
Check back here bright and early on July 12th for all the best of the sale (I'm waking up before the crack of dawn to scour the site) AND I'm going to head into Nordstrom at 7 am on July 12th, so be sure to check my Instagram for all of the sizing info you'll need! Ordering online is hard because I'm an XS in one item, and a M in another depending on the specific items, so I'll let you know how sizing runs.
---
THE FOUR THINGS I ALWAYS BUY DURING THE SALE
---
Jeans – When I say that I never buy designer denim anytime other than the Nordstrom Anniversary Sale, I literally never buy it ANY other time. I buy a few new pair every year that last me a really long time, and when I need some updated designer denim again, I buy them during the next Nordstrom Anniversary sale! I will buy other denim that is less expensive and not designer throughout the year, but this is really the only time I buy designer denim. I bought this pair last year (there will be one similar this year) as well as this pair that I have LOVED.
Boots and booties – This is another way that you can save a lot of money by buying now instead of waiting for the fall or winter. I always get a couple new pair of boots and booties that are marked down significantly. Last year I got this pair and this pair.
Pajamas – This is something that I just started buying two years ago at the Nordstrom Anniversary sale and will be a new tradition for me because of these pajamas right here! They are soft. And when I say soft, I mean soft. They are literally the coziest pajamas of all time. They always go on sale during the Nordstrom Anniversary Sale. Also, if you don't have a Barefoot Dreams robe…oh my gosh. You will thank me later. It's like wrapping yourself in the warmest, coziest hug out there. I got your back, girl. If you need a more lightweight option for summer, this jersey robe is perfect and so comfortable. I anticipate both robes going on sale!
Gifts – I always, always stock up on gifts during the Nordstrom Anniversary sale. These candles are my favorite gift to have on hand because individually, they are regularly $16 but in this 3-pack they are only $9.83 each in this pack when the sale starts! I always get at least 2 packs. It has been so nice to have these really beautiful candles on hand to give friends for their birthdays or a little pick-me-up.
CLICK HERE TO LOOK AT THE CATALOG! 
---
You can check out this post from last year to get an idea of what to expect, and links at the bottom to all of the posts that I did. I can't wait to shop with you!!!