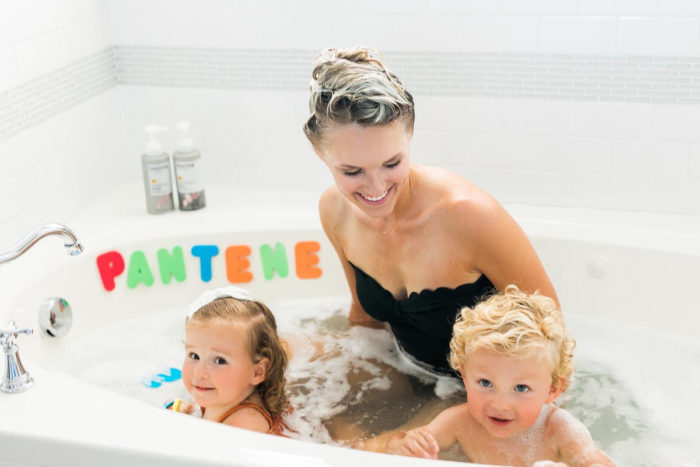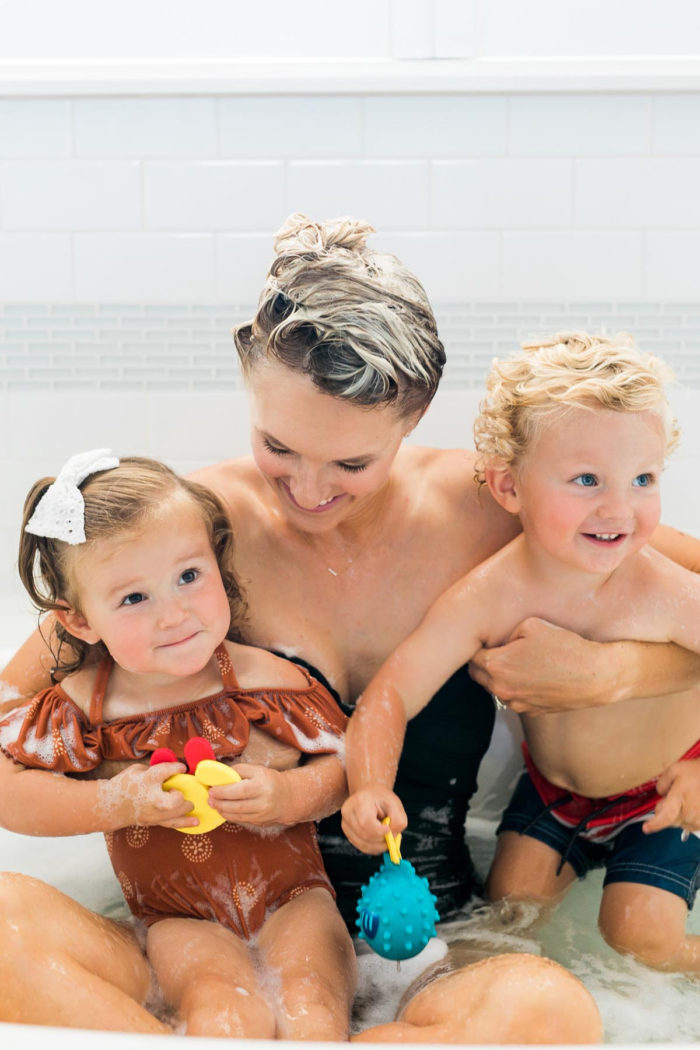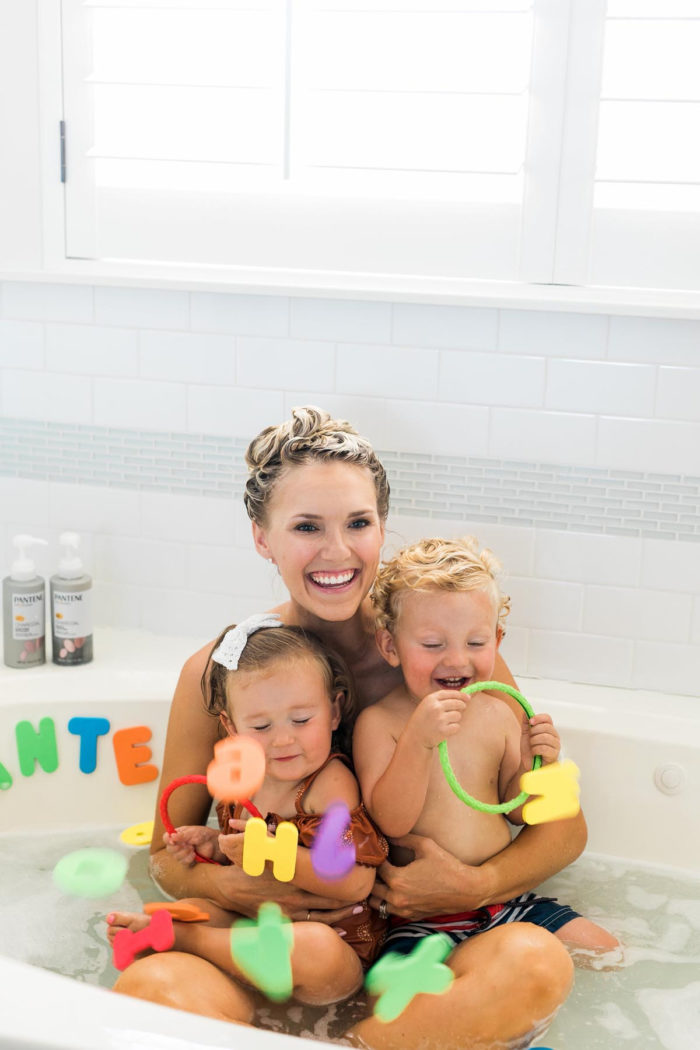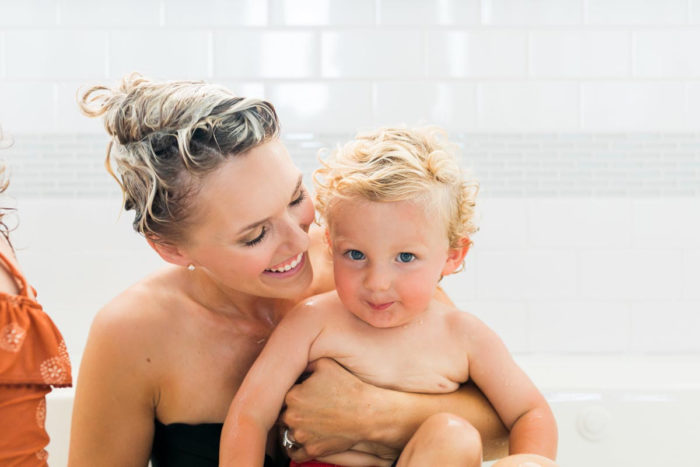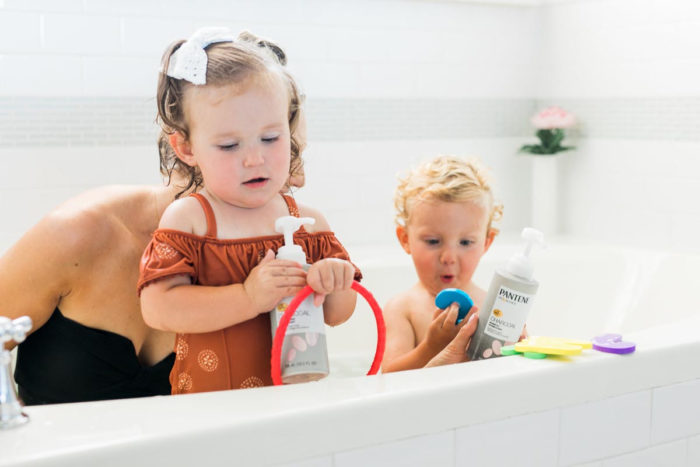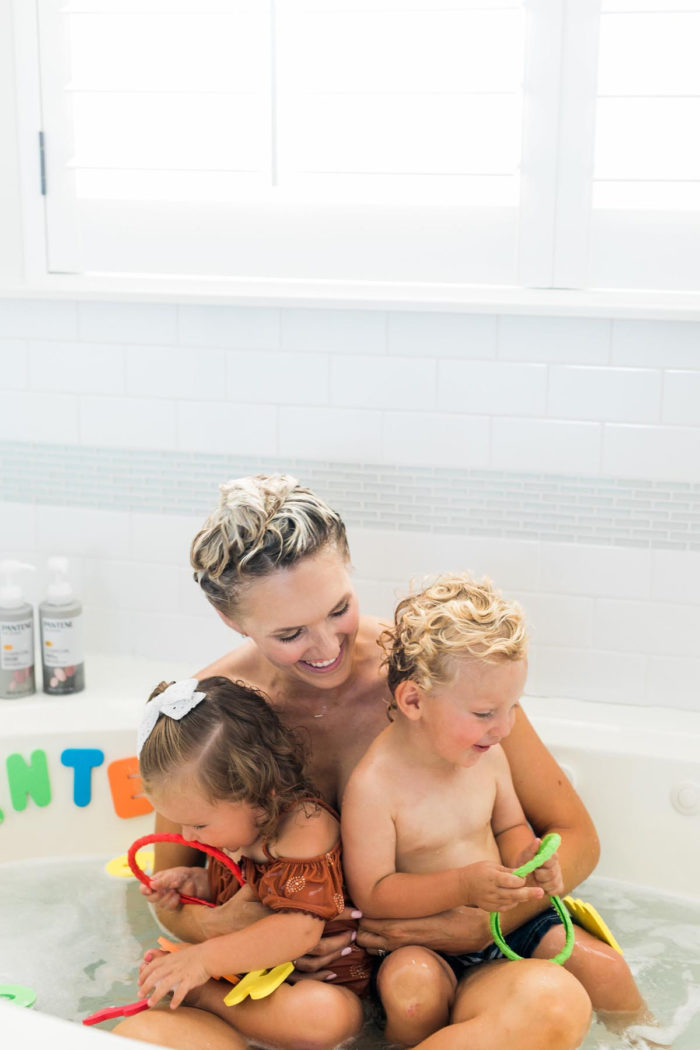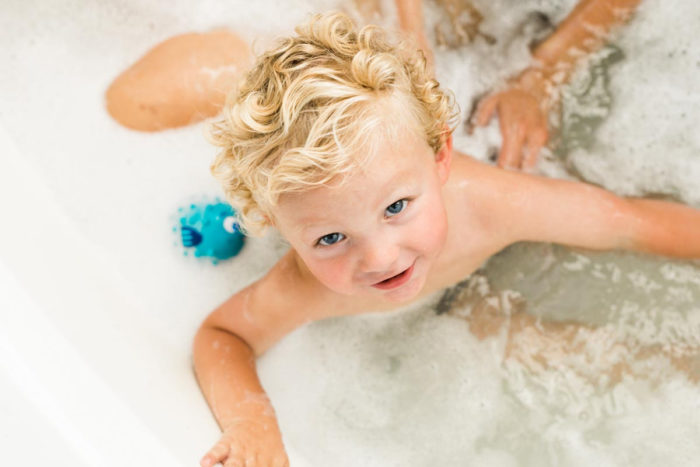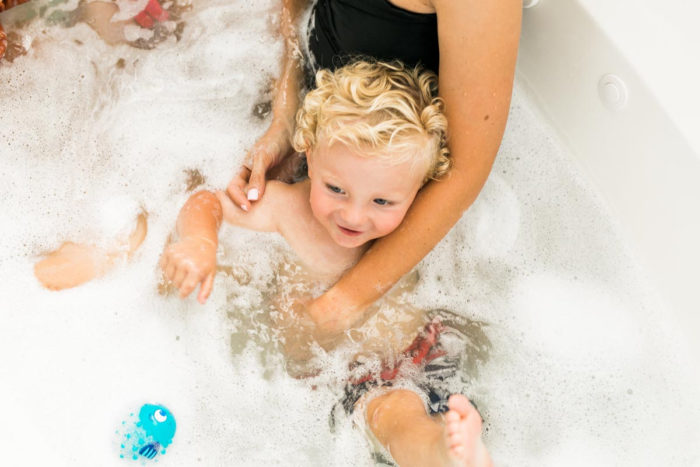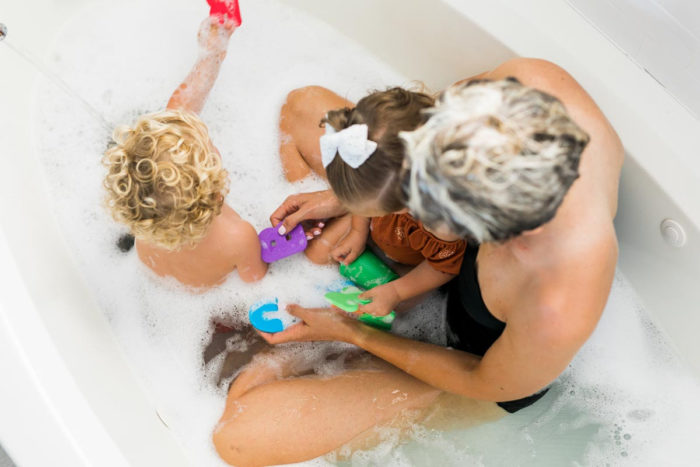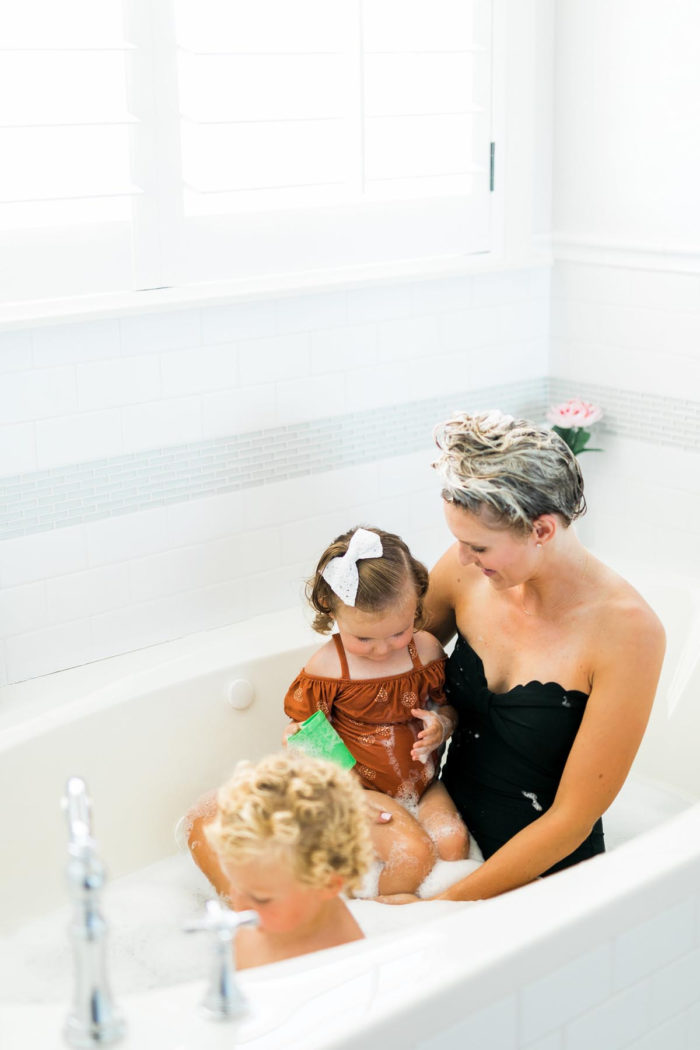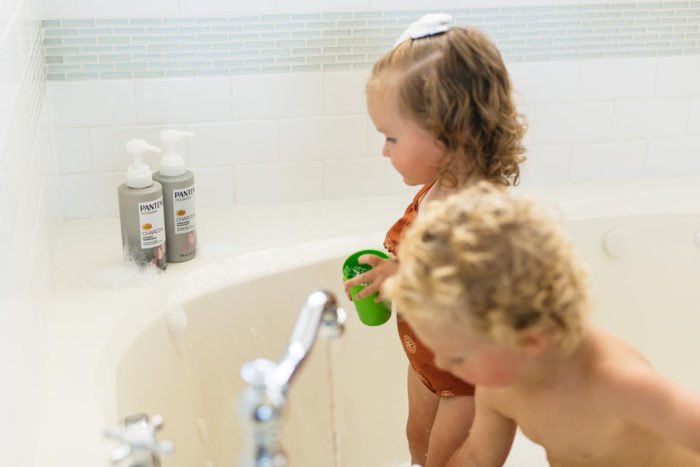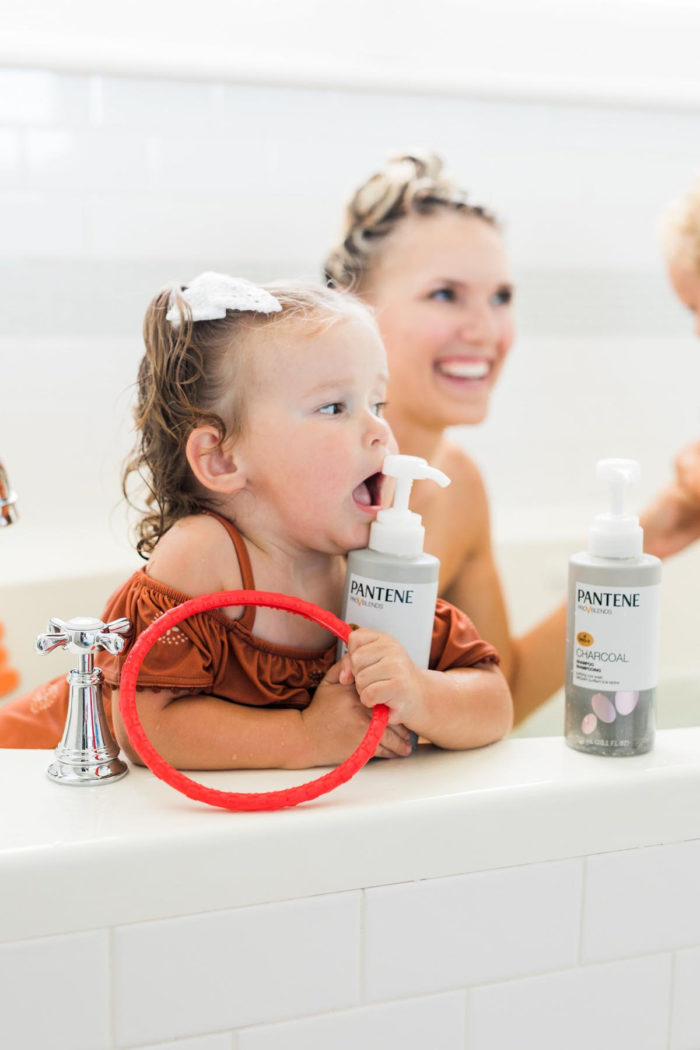 Harris and Goldie always think it is such a treat when we get in my big bathtub and play. You should have seen their little eyes light up when they found out what we were doing! I love being their mom.
I recently got my first bottles of Pantene's new Charcoal Collection and I wanted to try the product on my hair first before I even read a lot about it. That way my opinion wasn't swayed at all by what it was supposed to do for my hair versus what it actually did for my hair. I noticed that my hair felt lighter and less weighed down which was nice. This girl loves that body and volume!! I'm laughing right now as I type this because one of the benefits that this shampoo and conditioner states is that it will make your hair feel less weighed down (it really does what it says!), and here's why:
Pantene's shampoos and conditioners contain Pro-V nutrient blends to improve hair's health from the inside out. Unlike skin, hair does not have a built-in purification system. For those women going three or more days without washing (ME!!! I don't have time for a daily hair wash, people!) – scalp oils, styling products, dry shampoo and dirt build up. Sometimes this build up can result in hair gaining 4 percent of its own weight. Um…what?! Their latest collection addresses this challenge by using activated charcoal, a purifying ingredient – regularly used in health and beauty products – to detox hair by attracting impurities like a magnet, while releasing antioxidants helping it look refreshed and clean with renewed body and shine. No wonder my hair feels lighter when I use this!
---
MORE ABOUT THE PANTENE CHARCOAL SHAMPOO
---
Pantene's Charcoal Collection Shampoo is a purifying, nutrient-infused shampoo with a Pro-V blend of activated charcoal, pro-vitamin B5 and antioxidants. Free of silicone, parabens and dyes, the activated charcoal cleanses hair and the scalp to help remove dirt and impurities. For those women with an oily scalp, this product helps to reset the balance leaving the hair refreshed.
---
MORE ABOUT THE PANTENE CHARCOAL CONDITIONER
---
This is Pantene's first ever silicone-free conditioner that rinses out quickly leaving the ultimate clean-feel for renewed fullness and shine. The nutrient-rich, lightweight conditioner is free of parabens and dyes and contains pro-vitamin B5, white charcoal and antioxidants. Use the product after the Pantene charcoal shampoo!
The Pantene Charcoal Collection will be available to purchase at Target in mid-July. Not too much longer to wait!
Thank you to Pantene for sponsoring this post!
This is a sponsored conversation written by me on behalf of Pantene. The opinions and text are all mine.
PS: Loving this Pantene charcoal shampoo and conditioner feature? Click here now for more beauty essentials!!