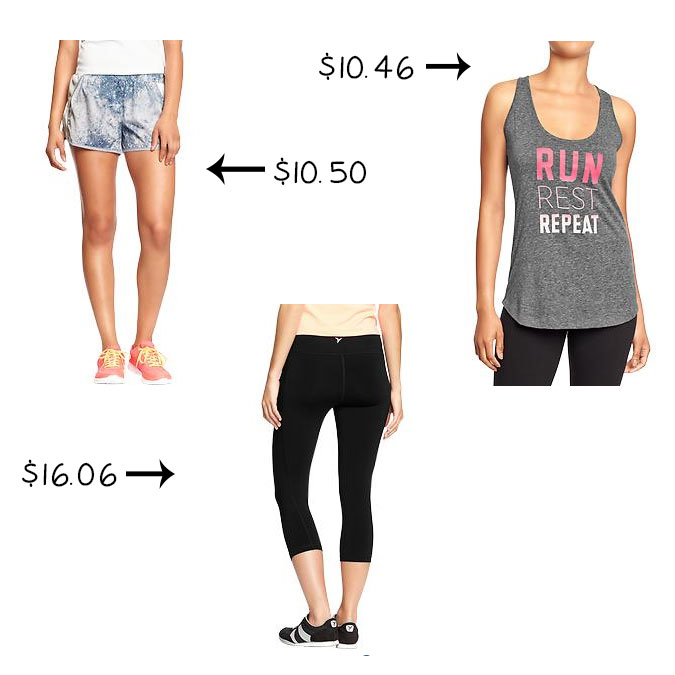 You can see in my post from earlier this morning that Banana Republic and GAP have an extra 40% off using code SURPRISE and Old Navy an extra 30% off. I thought this deserved a separate post because I'm obsessed with Old Navy's Active line. It is SO affordable and so high quality! I bought a pair of their active compression capris 3 years ago and still wear them to this day along with several other pairs that I have purchased. They are my daily workout staple. I can't believe how high quality they are for such an inexpensive purchase! You can get them today for $16.06 using code SURPRISE. This is a killer deal!! I promise you won't be disapointed.
I also love their side-mesh running shorts. I have had a couple pairs of these for years and they have remained in perfect condition. They are perfect for a run outside or the gym. I can't see enough good things about them! This link isn't working so just search "Women's Old Navy Active Side-Mesh Running Shorts (3″)" here. Sorry!
And last but not least, they have the best graphic running tanks! Some are $10.46 but there are also some on extra sale for $6 and $8.47. They are so cute!
Not pictured is my favorite
GapFit Breathe V-neck T that I LOVE. It's so soft, comfortable and breathable. Like REALLY soft. Today all colors are on sale for $14.97!! Remember to use code SURPRISE at checkout.