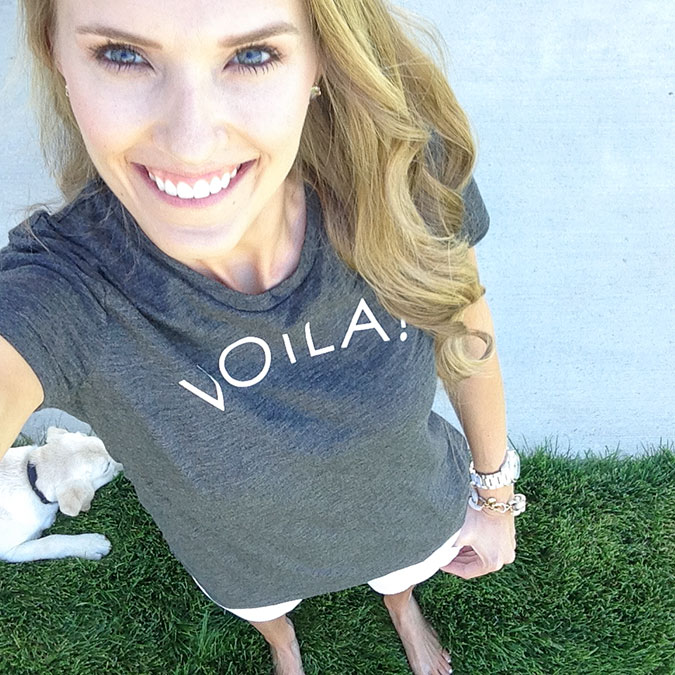 Oh, hello there! This is an up close and personal picture of my face and it kind of just made me laugh a little bit. I'm all up in your grill today!
I am a big Old Navy fan. When I was in probably 2nd grade, I discovered Old Navy and I thought it was the coolest store ever. I thought it was where all the cool people shopped. Like you know how you probably think of some designer like Valentino or Louboutin? That's the status I thought Old Navy was when I little. And you know what? I still love it!
Today only, this Voila! t-shirt is on sale for $9.60 and they just restocked the sizes. The shirt I'm wearing is an XS so they run a little large. And these shorts? (the link is having issues…search "rockstar shorts") They are my answer to longer but still cute shorts. One of my BFF's Ashley had them on and I had to know where they were from. Her long, skinny legs didn't make them look bad either 🙂 I'm not a huge fan of long shorts but when I wear these I don't feel like I look frumpy like I feel in some other longer shorts. And if you think I look frumpy, please don't tell me because I am in my own bubble of non-frumpiness and you wouldn't want to burst that would you?
Get 20% off your purchase today using code SAVE.
Oh, and are you wondering where the dog is from? We dogsat (is that a word?) for Rachel and Drew this weekend while they were out of town. He's the cutest little guy on the planet. I totally haven't been a dog person (I'm not an animal person really, I didn't grow up with them), and my views have changed. If all dogs were this sweet, mellow and well behaved I think I might have 3.