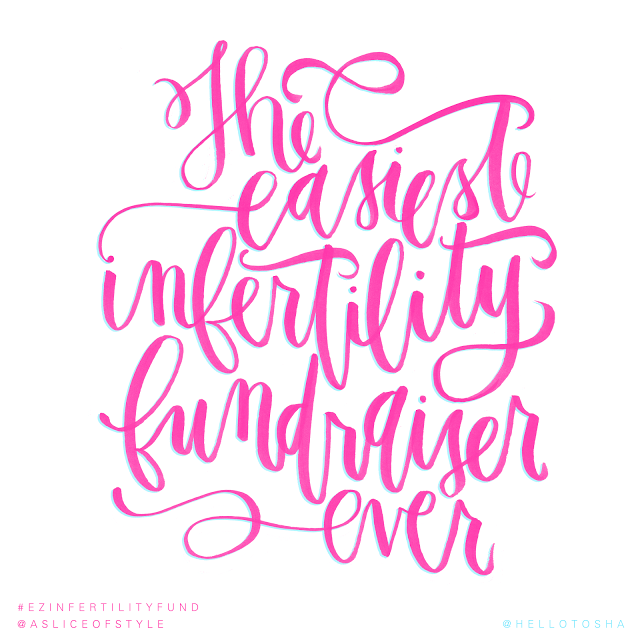 This is the month! I am SO excited to announce that I will be donating 100% of the proceeds from A Slice of Style through the month of August to Jared and VoNique Myers to help them raise money for their infertility treatments. They are really wonderful people that I got to know in my old neighborhood. I'm really excited to wake up every morning to find great deals to share with you all, while also benefiting them. This is a cause that is dear to my heart since my husband and I have been trying to start our family as well.
How can you help? Simply go through A Slice of Style when you are purchasing ANYTHING online. I have links for most retailers on the right hand side of my blog, and anything you purchase through those links will give me a commission. 100% of the commission will go to them! Just shop as you normally would and you will be doing some good!! PLEASE share with your friends and family any great deal that I post as well if you think they may be interested in it. I will be posting every day. If you are shopping at an online retailer and don't see the link here, please email me and I'll send it to you. This fundraiser makes me nervous because I can't do it on my own…and I don't think I have to 🙂 THANK YOU from the bottom of my heart for helping me to share it as far as we can.
If you don't want to shop and just want to donate a few dollars, you can do that as well. I have set up a Go Fund Me account here. Anything helps, no matter how big or small!
Here is their story, written by VoNique: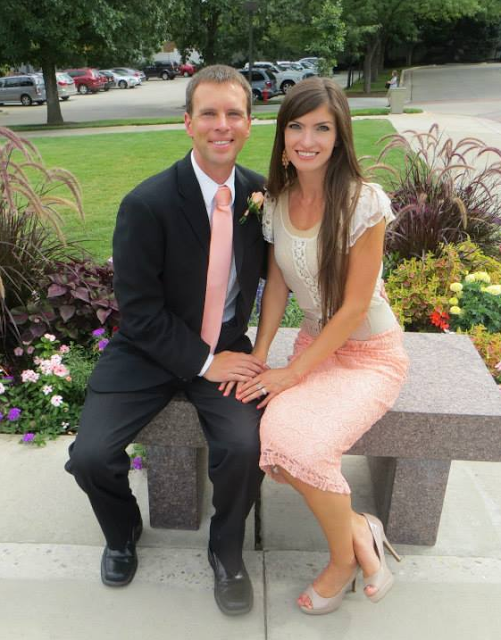 Jared and I got married in April of
2002. We had been married for about a
year when we decided we wanted to start trying to have children. The following few years we didn't have any
luck, but we weren't overly concerned by the fact that it hadn't happened for
us yet.
As time went on, we started doing
more research on the most optimal conditions for conceiving a child.

However, it wasn't until we'd been married
about 5 years that a sense of urgency ignited within me. My mother passed away
unexpectedly in January of 2007.

I was
hit with the reality of mortality. Over
time I came to terms with the fact that my mom wouldn't be there to share in
the excitement of my future pregnancy, to hold my baby, to help take care of me
as I recovered, to proudly put her arm around me during my baby's blessing, to
help babysit, or to spoil my children rotten like I know she would have.

I had no choice but to become okay with
giving up those expectations, and I settled for the goal of having at least one
picture of one of my children with one of my parents.

My mom was only 65 when she passed away and
my father was already 71.

A timer had
started and I didn't know how long it was set for.
We started seeing fertility doctors
and running all sorts of uncomfortable tests and procedures.
They never have been able to find anything
wrong with either of us.
I had been
given a lot of unsolicited advice over the years, but now I started really paying
attention to it.
I wrote it all down,
both traditional and non-traditional medical approaches, and we just started
going down the list.
It took us years to
go through it all.
There were so many
medications, miracle creams, vitamin supplements, acupuncture techniques,
doctor recommendations, and unusual techniques of all kinds that people swore
by for conceiving a child.
I woke up in
the middle of the night for three years to take my temperature. In addition to our regular consistent prayers
and scripture study, I fasted and attended the temple weekly for over 8 months
and Jared even longer than that, I'm sure. (The temple is a place of worship and peace
in our church
). We counseled with our bishop (local church leader) and received multiple blessings. We completed 4 rounds of artificial
insemination and attempted several others unsuccessfully.
One of the most common pieces of
advice you get when trying so hard to accomplish a goal that's largely outside
of your control is to just stop trying.
So, we did that, too—for many years.
We attended an adoption orientation
with the intent to sign up, but I have never received a more clear "no" answer
to a prayer before in my life.
I don't
know if it was a "not ever" or just "not now."
I guess time will tell.
We also
attended two different infertility seminars; and, although we are not opposed
to doing in vitro, we just hoped it wouldn't have to come to that.
I know multiple people that have done in
vitro multiple times and had it not work for them.
The idea of putting $15,000 to $20,000 or
more into something, along with giving myself shots every day and the physical
pain associated with the procedure—and especially making such a major emotional
investment into something, and then to have it not work—brings me to tears just
thinking about it.
But we haven't ruled
it out, and have been saving towards it, nonetheless.
And, despite our reluctance to continue the
scavenger hunt to track down all of our medical records from all of the
different doctors over the past 12-13 years in order to schedule an official in
vitro consultation, it's looking more and more like this will be the next step
for us.
In the midst of our above attempts,
I had to trade in my goal of ever having a picture of one of my parents holding
one of my children in this lifetime, and settle for the knowledge that my
parents are holding my children for me now, and helping them get ready to come
to this earth when the time is best for everyone involved.
I wish I knew the reason for the delay.
But I know that Heavenly Father knows, and
that's enough for me.
I know they'll
come.
Of this I do not doubt.
I have received divine promises confirming
such.
I don't know exactly when or how,
but I know the Lord keeps His promises if I'll do my part.
I have received answers to so many eternally
insignificant prayers over the years, and if Heavenly Father is mindful of
those, of course He is mindful of the weightier matters of my heart.
I served with Jenica Parcell in our
church for a couple of years.
Although
we've spent very little time together outside of church, I got to know her well
enough to know that she is an amazing woman, doing her best to live a
faith-filled life despite her own struggle with infertility.
She moved away a while ago, but recently
contacted me with her idea of wanting to host a fund raiser for someone who
also struggles with infertility, but does not have the same insurance benefits
that she's been blessed with.
I was so
incredibly touched by her offer; but my initial inclination was to decline,
since it's not like I've been thrilled at the idea of in vitro and just too
poor to afford it.
But I felt instead
like I should just explain to her our circumstances and then leave the decision
up to her.
And she said she's sure about
her decision to host this for us!
So
here we are!
She has offered to donate
the proceeds of her blog commission from the month of August to help fund our
efforts to grow our family.
And, no
matter how much or little this project brings in, I'll be forever and deeply
touched by her thoughtfulness, and willingness to do what's within her power to
help ease the burden of another.
The
world needs more people like that.
God
works miracles through people like that.
________________
I am completely humbled that God has given me this opportunity to help raise money for this couple. Please email me ([email protected]) if you have any questions, and again, thank you for helping me with this fundraiser for these two people who will be wonderful parents one day.
SPECIAL THANKS to Tosha Seeholzer of Hello Tosha for the graphic that you can help share at the top of this page! She is an extremely talented woman. Visit her Web site here 🙂