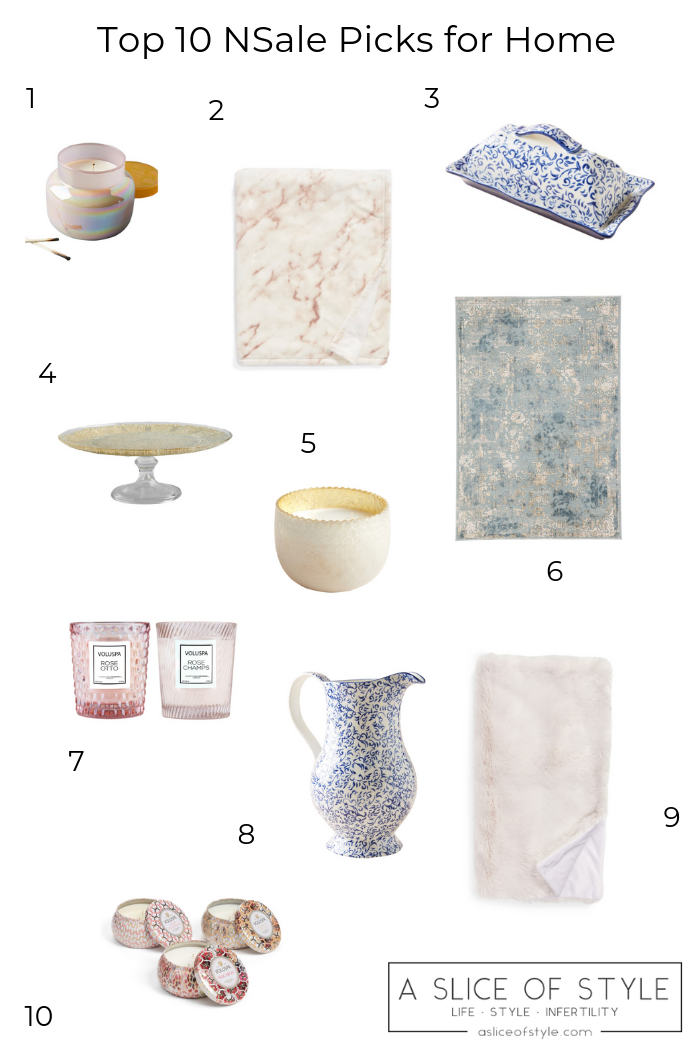 Nordstrom Anniversary Sale: Top 10 HOME ESSENTIALS
This candle is SO PRETTY and something I would definitely recommend stocking up on for gifts!! Think birthdays, Christmas, ANY event you have!! I always stock up on candles during the Nordstrom Anniversary Sale!
I love putting gorgeous throws throughout my home. They add pretty texture and they are also a good source of cuddles with my kids! They love blankets and wrapping ourselves up.
This the prettiest set!! I love pretty dishware, and blue is so classic and timeless.
This is GORGEOUS! I love displaying any desserts on pretty cake stands like this.
This is another gorgeous candle that would look pretty in a bathroom, kitchen, bookshelf…anywhere!
I LOVE this gorgeous rug! It's timeless and pretty.
Can you tell I love candles? This would look pretty anywhere in your home, and is also really great as a gift!
UM ARE YOU KIDDING ME?! This pitcher is so pretty and timeless. This whole collection by Anthropologie is incredible!
I have this throw in my bedroom and LOVE IT. It's SO SO soft and looks so pretty on my chair, and it's also super functional because it's heavenly soft!
I buy two of these sets every single year to have on hand as great gifts for friends and family. I always like being able to easily grab a gift that I know anyone will love!
See all of the items from the Nordstrom Anniversary Sale I bought HERE in my dressing room diary with all the sizing information!!