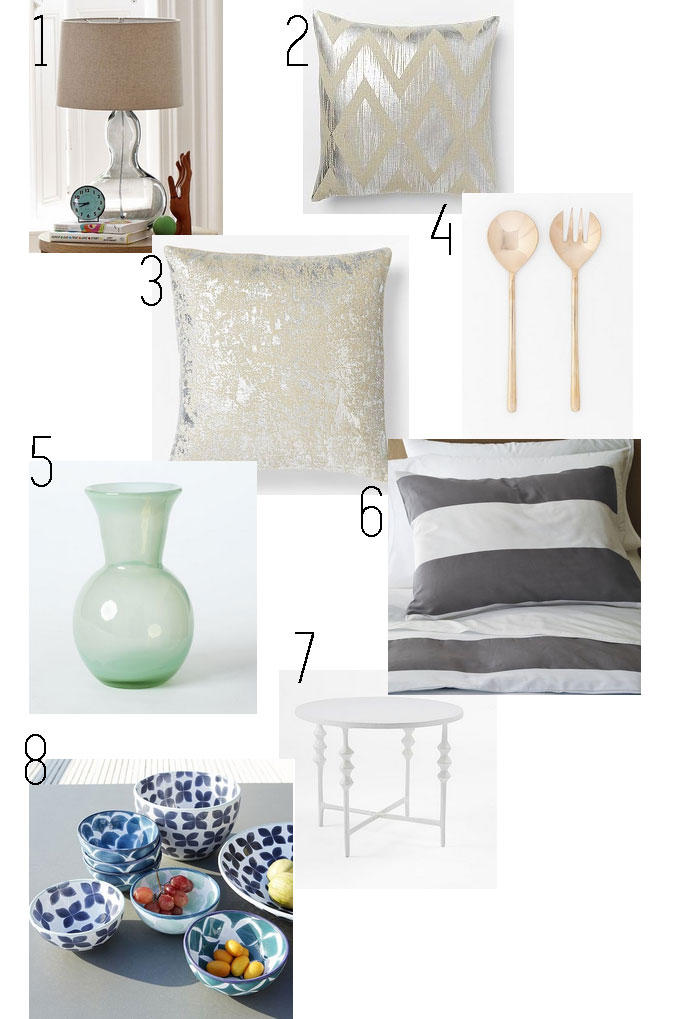 1 | Gourd Table Lamp, $71.99, normally $149 (Use code EXTRA20)
2 | Metallic Chevron Pillow Cover, $23.99, normally $39 (Use code EXTRA20)
3 | Metallic Texture Pillow Cover, $19.99, normally $39 (Use code EXTRA20)
4 | Rose Gold Salad Set, $23.99, normally $49 (Use code EXTRA20)
5 | Round Flared Top Vase, $10.39, normally $24 (Use code EXTRA20)
6 | Strip Duvet Cover + Shams, Twin, Queen and King $31.99 to $47.99, normally $59 to $89
7 | Steven Alan Papier-Mâché Side Table, $159.99, normally $299 (Use code EXTRA20)
8 | Tile Print Bowls, $5.59, normally $10 (Use code EXTRA20)
I went to see X-Men with my mom last night and I loved it! Tyler had already seen it on his work retreat so it was a girl's night. I must admit that only eating popcorn for dinner may not have been the best idea because I didn't feel like a million bucks after. Not going to lie. Am I the only one that kind of gets into these sci-fi movies? Anyway, I have always loved West Elm and you KNOW I love a good sale. When the two come together it's magic! West Elm is giving us an extra 20% off all markdowns with code EXTRA20. I picked some of my favorites above but there is a lot more to choose from.
They are also giving up to 30% off rugs, and 15% off mirrors and wall art. This is going to be a hard sale for me to resist!
What is your favorite store to buy home decor??