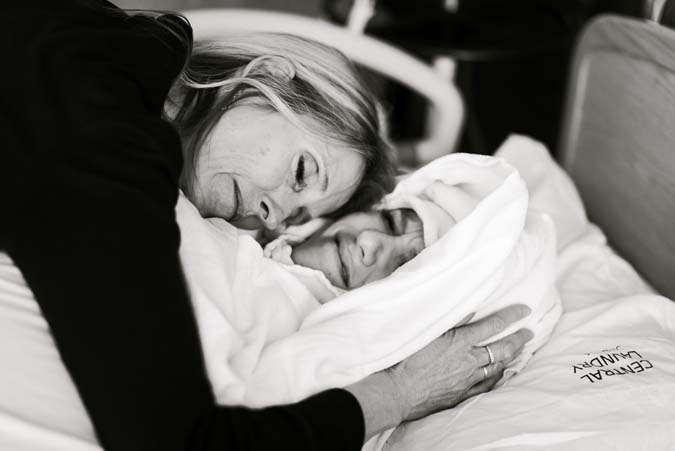 To my beautiful Goldie,

Last night I slept in our guest bedroom because I was so exhausted that I asked your dad to take over for the night. You're lucky to have such an incredible daddy that loves us so much. At about 3:30 am, I heard you crying. I came into the room and your dad was finishing feeding Harris so he couldn't get to you. He had already fed you and held you while you fell back to sleep, but you had woken up again while daddy was feeding Harris. Your dad told me that he didn't think I should pick you up, but just try to soothe you in your bed because he thought you might go to sleep more quickly that way. You were really sad, so I sat down next to your little bassinet. I sat there and said "shhh" and stroked your sweet little head with my head. You were almost immediately soothed. It was such a sweet experience for me. You know your mama and my presence brings you so much peace. It has been really incredible to see the way that you react to me from the very start. I would walk up to your little crib in the NICU, and even at 2 days old, you would try to turn your head in the direction of my voice. You wouldn't even have your eyes open, or they would be covered, but you knew my voice. You would always wake up when I was there as well, when oftentimes you would sleep through the nurses taking care of you.

My mom brings me so much peace. She somehow always knows how to relieve my mind when it's troubled. I talk to her almost every single day, and when I don't, it just doesn't feel right. I'll always be here for you too, my girl. After I gave birth to you and your brother, my body went into shock and started convulsing and shaking really, really badly. I couldn't stop. My jaw was hurting so badly, and eventually the nurse gave me morphine to relax my muscles and stop the spasms. My mom laid on me to help bring me comfort…her body pressure helped me to not shake so hard and uncontrollably. She brought me so much comfort then just as I brought you comfort last night when you were crying.

We always need our mama, no matter how old we get, and I hope you always remember how much I love you and I will always be the one that wants to bring peace to you. I might not always have the answers or the right things to say, but I want you to know that my arms are always a safe place for you. My arms will always be home for you, my sweet girl.

The circle of life and love continues and it's so beautiful to see it unfold. God knew what he was doing when he created families.

You're my sweetest girl.

xo


Mama