The perfect 4 day London Itinerary!
Tyler and I just got back from 7 days in London and I'm sharing our 4 day London itinerary with you that we absolutely loved! We left on a Saturday and came back on a Friday so I'll share what we did on those days, too, but I wanted to give you a full 4 day itinerary. There may be things that you don't want to do on your trip, and there are SO many incredible things to do there, so you can ask your friends (or the internet!) what they recommend and get a good idea of what would be a good fit for you and your family. I got some great suggestions from asking you all on Instagram! Click HERE and HERE to access those posts as well.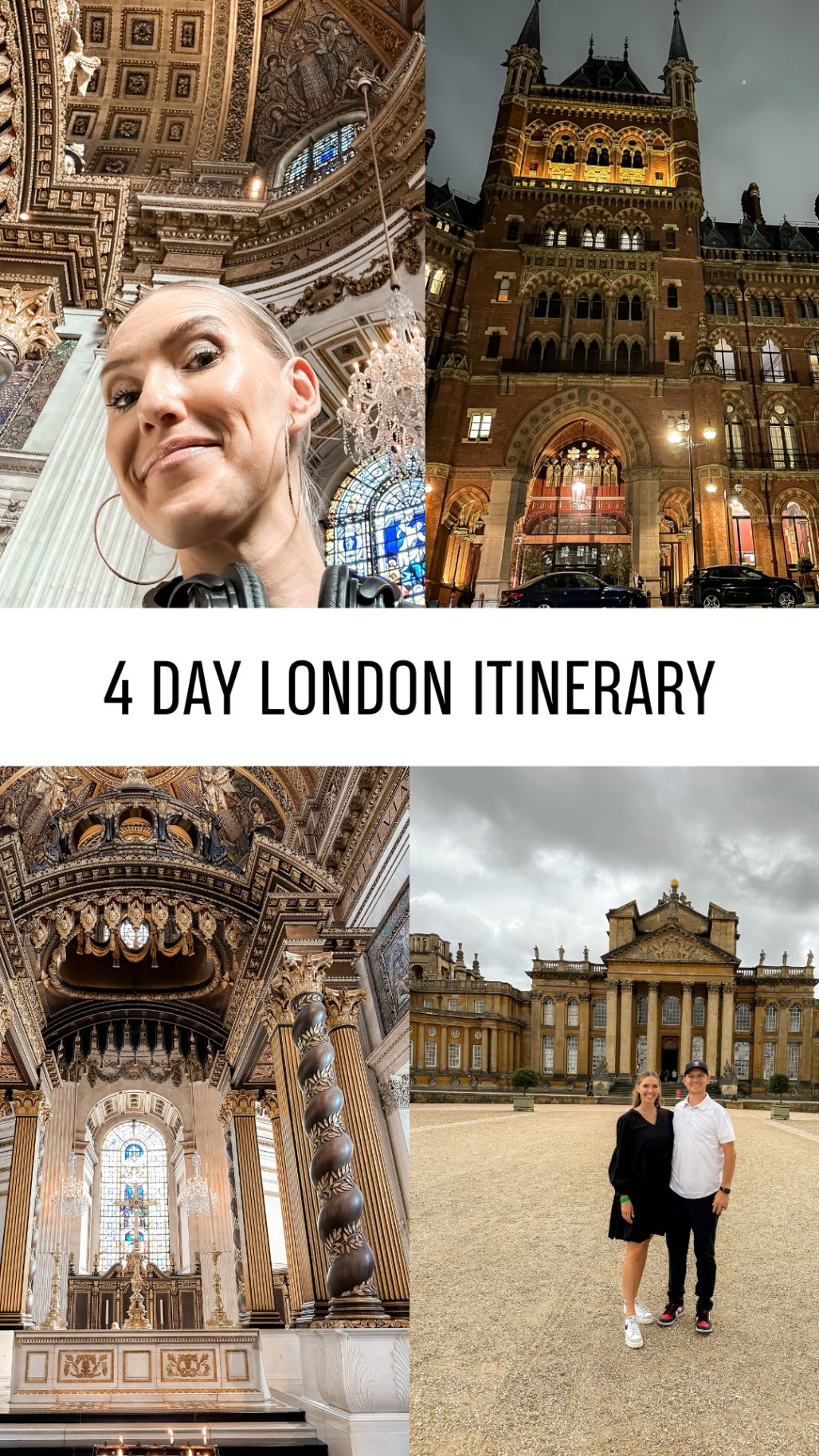 4 day London itinerary
Before Day 1 (Traveling there and first half day):
Our flight left SLC at 9:40 pm and we got to London Heathrow the next afternoon (Sunday) – our flight was about 8.5 hours. We gathered our luggage, and traveled to our hotel near King's Cross by bus (the group we were with booked a bus). We stayed at the Crown Plaza at King's Cross and it was fine but I wouldn't necessarily recommend it. Some of our group's bedroom AC units didn't work and our carpets were a little dirty. The gym wasn't super clean and a little run down. It was a great location but I wouldn't highly recommend staying there. We checked into the hotel and knew if we didn't leave quickly we would fall asleep for a few hours and then be up all night! We looked on Google Maps for a good restaurant and at Honest Burgers which was good. The rosemary fries were amazing! I would ask for my hamburger well done next time. We walked for a few miles because the city is just so fun to explore, and ended up at St. Paul's Cathedral which is where Charles and Diana were married. We would tour it the next day. We then went back to take showers and fall asleep. We both woke up at midnight, took some melatonin, and fell back asleep until the morning.
Day 1:
We woke up and worked out in the hotel gym, then got dressed and ready, and headed back to St. Paul's Cathedral. We both loved it and would highly recommend going! It was absolutely stunning. I've traveled quite a bit and the beauty and craftsmanship inside the cathedral is unbelievably beautiful. You get a head set and go explore the whole cathedral – and it's massive. It's cool to be a in a place that has so much history, including in the royal family. I was always so intrigued by Princess Diana while I was growing up – I even did a book report on her in elementary school – so it was neat to be there and learn more about the vast history. After that, we headed over to Buckingham Palace to see the changing of the guard. We just missed it, but I think it's worth seeing. We saw a few guards marching, but we had friends see the whole thing and they thought it was cool. The royal family was in Scotland, so we were able to book a tour. Since we went in September, it wasn't super busy so were lucky to get in. If you go, I would recommend booking it in advance. We had lunch at Nando's which was okay but nothing to write home about (they have chicken and sides, so if you want something predictable, it could be a good choice for picky eaters), then meandered the streets heading back to Buckingham Palace for our tour. It is definitely worth going in and taking a tour. It was fascinating learning about how the royal family uses the palace, and going into such historical rooms. We all loved it. There is a cafe outside of the palace as you exit if you're hungry, and we got some ice cream as we sat on a bench and enjoyed the grounds. After the tour, Tyler and I walked to Harrod's. I loved the food area! It's so fascinating and there are so many delicious things to try. They have a whole section of the most beautiful chocolates you've ever seen, pastries, meats, breads, teas…you name it. It is worth visiting for the food! We walked around a lot this trip and loved going around on foot as much as possible so we could see the little shops and all of the beautiful architecture. We stopped at Ted Baker and I decided I could solely dress in Ted Baker and be set for the rest of my life. So classy! We then walked to Fortum & Mason and it was so cool! Many people recommend going to afternoon tea here as well. They have the most beautiful sweets and fun things to buy. At this point it was getting late and we didn't know where to eat so we looked up the best places locally via reviews on Google Maps and found Prezzo. It was a beautiful area! We shared a pizza and Caesar salad and it was delicious. We then took an Uber back to our hotel.
Day 2:
We woke up early on our full day 2 and hopped on our bus to go to Blenheim Palace. Among a lot of other history, this is the birthplace of Winston Churchill. When you arrive, they give you a headset so you can walk through and explore the castle and learn about the history. It is fascinating and definitely worth visiting. The Whomping Willow tree from Harry Potter is located on these grounds. One of the Mission Impossible movies had a ball filmed here. There is so much history and it's incredibly fascinating to hear about what the palace has been used for over the years. Afterward, we traveled to Oxford. We took a tour of Christ Church at Oxford University which I highly recommend. It is the largest college at Oxford University and was used in some of the Harry Potter filming. The dining hall, which is used by students to eat daily, is absolutely worth seeing as it was the inspiration behind the dining hall of Hogwarts and you feel like you are in the film! You get a headset and headphones to learn about the history. We then walked around Oxford with a tour guide (which honestly wasn't that great so you can do it on your own or find a good tour guide online if you want)!) That night, we took a bus some of the way (you can easily scan your credit card when you hop on so it's hassle free) and walked some of the way to GA by King's Cross. It was delicious – Tyler got the filet and I got the salmon. The decor was really cute. After dinner, we walked over to King's Cross Station and saw Platform 9 3/4 from Harry Potter. We didn't wait in the line that takes over an hour – we just walked to the side and took a quick pic! There is a fun Harry Potter store right next to it. We then went to Creams and got gelato and their cookie dough. It's a big, warm cookie with chocolate shavings and chocolate sauce. Very good! We then walked back to the hotel and went to sleep.
Day 3:
On day 3 of our London 5 day itinerary, we went on a walking tour. The group we were with (Tyler's insurance company) booked a food tour which I also heard from many of you that you loved on my Instagram.I don't know which tour they booked, but I'm sure if you look online, you can find some that take you through the famous Borough Market. We took the London tube to get there. It was fantastic! He also took us to Flour and Grape where we had the best pasta I've ever had in my entire life. It was unreal. We tried several things in Borough Market, including some chocolate and empanadas. I would recommend getting food wherever you go through the market and sharing so you can taste a lot! We walked across the Tower Bridge and then went to the Tower of London where we got to see the Crown Jewels, including the biggest diamond on the entire world. It's definitely worth going to! You also get to tour around inside the castle and learn about the history. Afterward, we took an Uber to dinner (I can't remember what the place was called!) and then we saw Lion King. Honestly, none of us loved it. We expected a lot more out of a show so I would recommend choosing another show. After the show, we took an Uber back to the hotel.
Day 4:
Tyler went for a run and I went on a walk in the morning for exercise. Google Maps allows you to explore easily without getting lost and knowing where you want to visit and what to expect. We love Google Maps and use it frequently when traveling! Tyler put his in his AirPods with the instructions on so it would tell him where to turn in his ears. After getting ready, we took the tube to see the London Eye and the Big Ben. Our friends paid to go on the London Eye and almost got pickpocketed on the ride. The parents were distracting them while the little boy started taking out their wallet from their backpack. How crazy is that?! It's a good idea to go in the day time to get an aerial view, and we didn't do it, but they said it wasn't worth the money. It just depends on what you value. Maybe it would be nice to sit down and relax for a bit in the middle of a busy walking day. I think Westminster Abbey would be cool to see as well as they have coronations there, so that may be something you'll want to add to your itinerary. We would highly recommend the Winston Churchill War Rooms. Both Tyler and I found it absolutely fascinating to see how Churchill directed the war from these rooms and underground system, and inside of the War Rooms is a Churchill museum. He was incredible and I loved learning about the person he was and how he thought. I would recommend setting aside at least 3 hours for this. After we were done, we walked over to see Les Miserables. It was UNREAL and INCREDIBLE. If you go to London, I would not leave until you see it!! I cannot emphasize enough how absolutely beautiful this play was; their voices were phenomenal and the best I've heard in my entire life. My mother-in-law said she's seen it in NYC and LA and she said this surpassed those paces by far. I still am not over this! I would fly to London just to see it again. These are people who have clearly dedicated their lives to their art. Beautiful in every way! After the play, we got fish and chips at Hobson's Fish and Chips which we all loved. The apple cobbler was great, too! I also got a raspberry macaron at EL&N London; they have the most beautiful desserts and the cutest decor!
Day 5 (Traveling home):
We flew out this day so we both woke up and worked out (Tyler went on another run and I did a body weight workout in the hotel room with a towel spread out on the floor – ha!), and we packed up. We then went to a cafe in a local park. Google Maps is your friend all you'll find the most charming places through it as you walk through the city! Afterward, we took a bus back to London Heathrow and hopped on a direct flight back to SLC that lasted 9 hours. I had a lot of work I wanted to get done on my speciality workbook for my coaching practice so I spent hours on that and it was wonderful!
I hope you enjoyed this 4 day London itinerary! I also put together a blog post on WHAT I WORE I LONDON HERE!
if you liked this 4 day london itinerary post, you will PROBABLY like these posts:
What to Do in Costa Rica: a Complete Travel Guide
Our Cancun Vacation + Tips on Traveling with Babies!