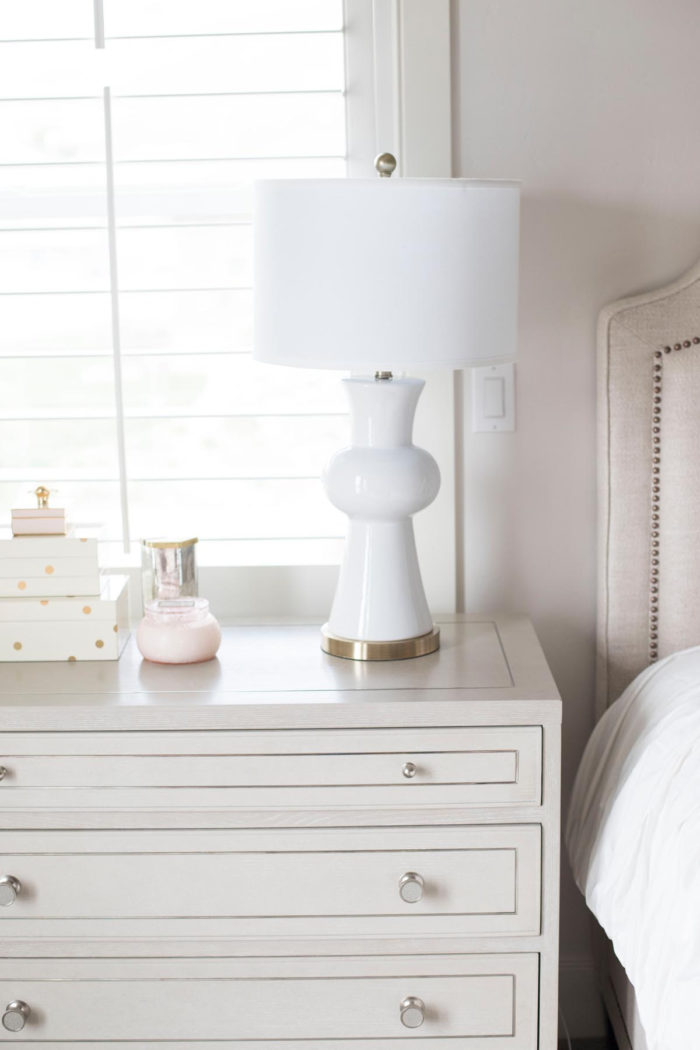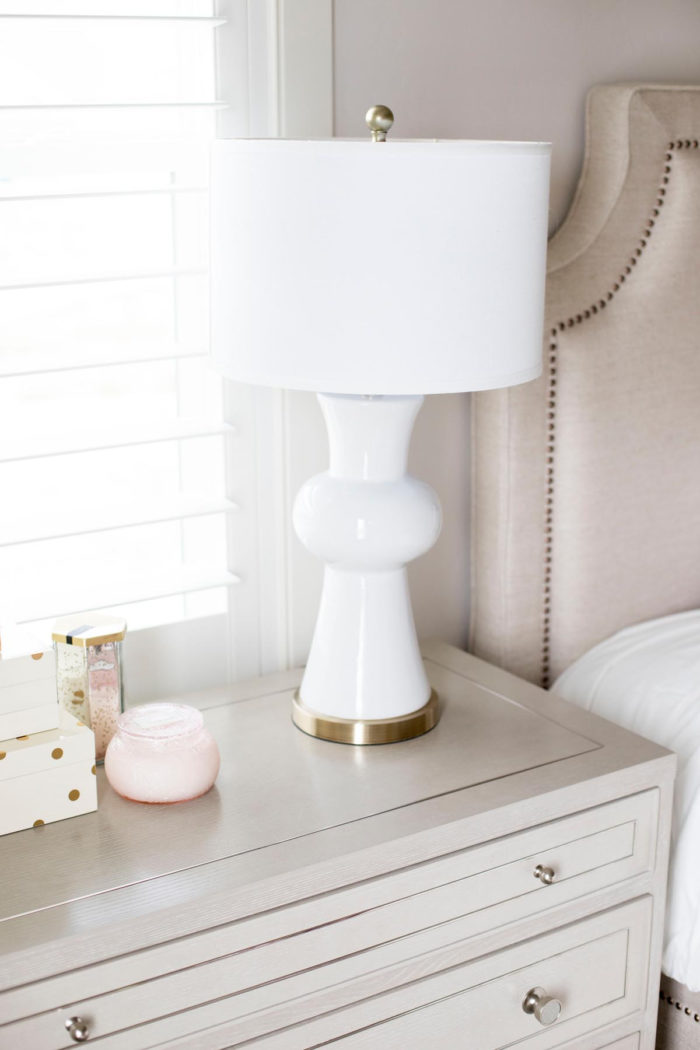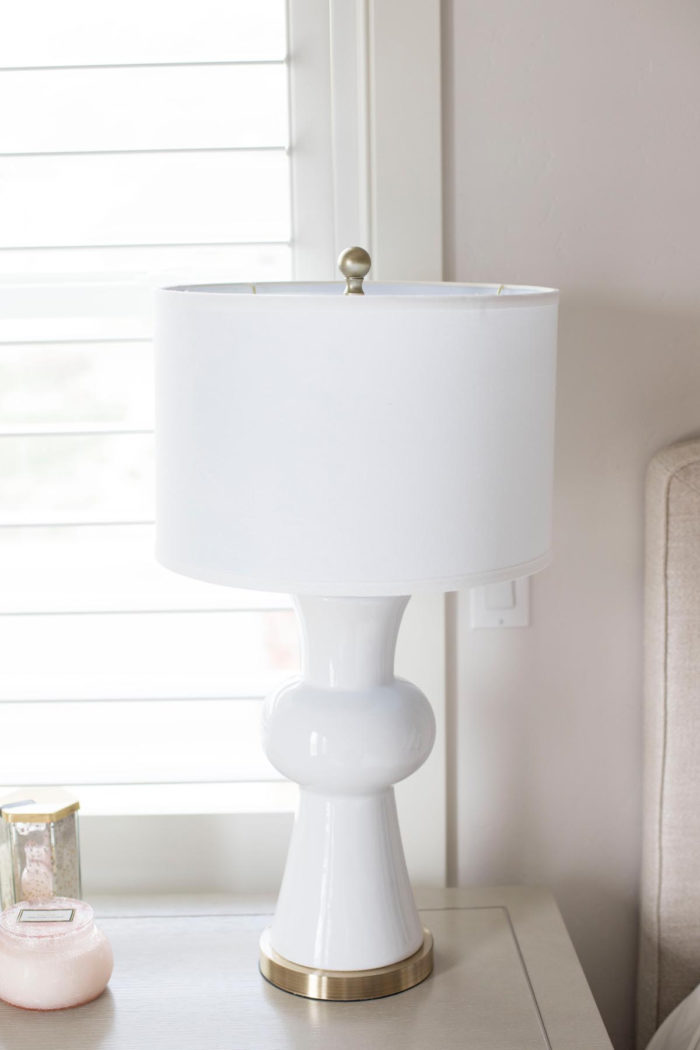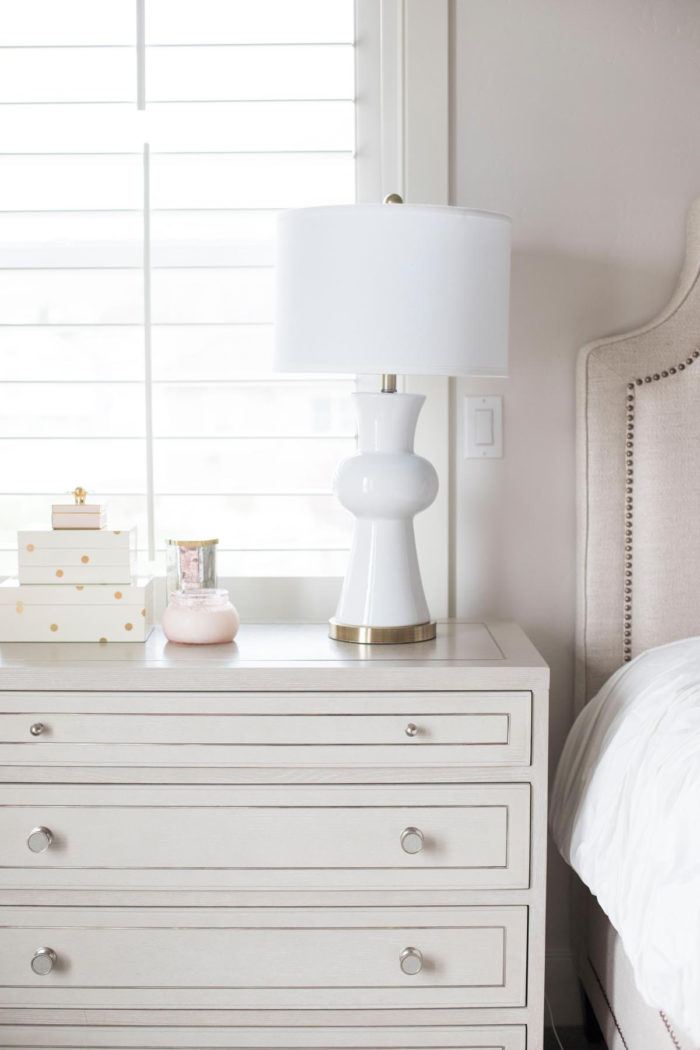 White lamp | Dresser | Large polka dot box | Medium polka dot box | Jewelry box | Voluspa candle
I am almost finished with a HUGE master bedroom makeover that I'll share soon. I've spent HOURS searching online and in my local stores for great items that make my room feel like a retreat from the day. I want to walk in my bedroom at night and breath a sigh of relief. Wash off the cares of the day. Snuggle up in my bed and read a good book. Your bedroom should be your relaxation zone. I even plug in my phone to charge in another room so that I'm not tempted look at it because I know that it wakes up my brain too much which makes it hard to have a restful sleep. 
I like my home decor to be light and airy, and that especially applies to my bedroom. I literally walk in and smile now because it feels so fresh, clean and relaxing in there. I can't wait to share the whole master bedroom makeover soon! I just need to hang a few things on the walls and put a few pictures in some frames and we should be golden. 
For several days, I searched for HOURS looking for the perfect white lamps for my master bedroom. I thought I had found some at Pottery Barn that I loved, but I was waiting for a sale because they were expensive. Luckily, it worked out well because since I was waiting for a sale, I kept searching. I found these white lamps that I love even more than the other white lamps that I was waiting for, and even better…TWO of these lamps are less expensive than ONE of the other lamps. Score. They look WAY more expensive than they are.
If you're looking for a bedroom, living room, or any other room refresh, I did a ton of research. Seriously, save yourself some time (like I said, I literally browsed the Web for hours), and check out my compilation the best white lamps below. They're so pretty! 
---
BEST WHITE LAMPS
---

---
MASTER BEDROOM MAKEOVER SNEAK PEAK
---

I'm at the RewardStyle blog conference this weekend. You can follow along on Instagram here; I brought some super cute clothes that I can't wait to show you and you KNOW that I was consiecnetes of the price points. You don't have to spend a million bucks to look like a million bucks, sister.