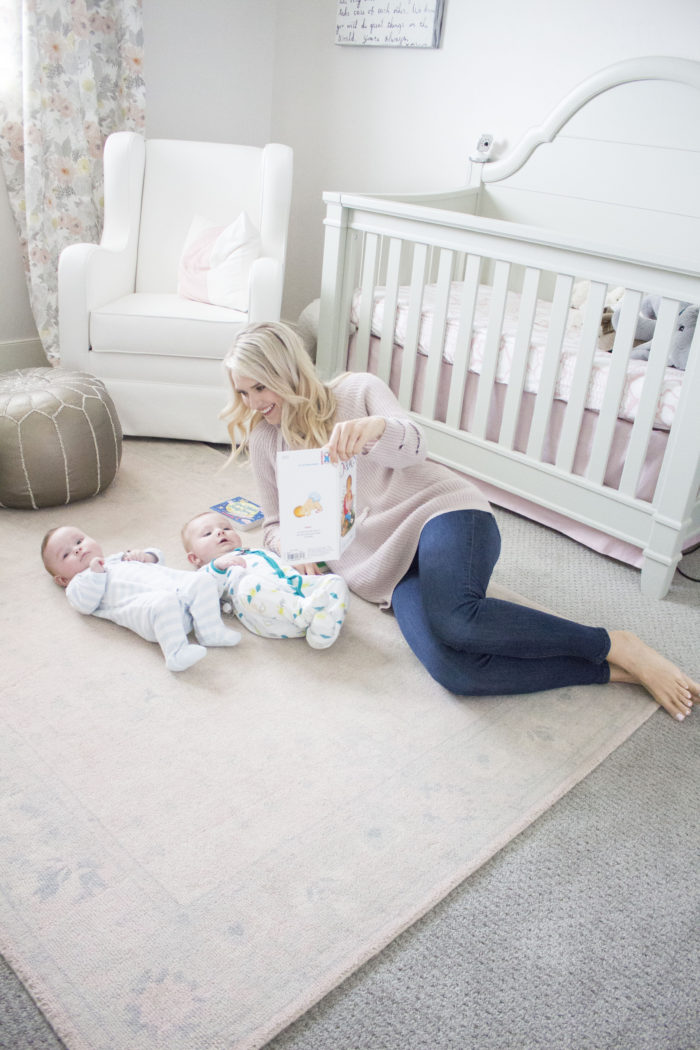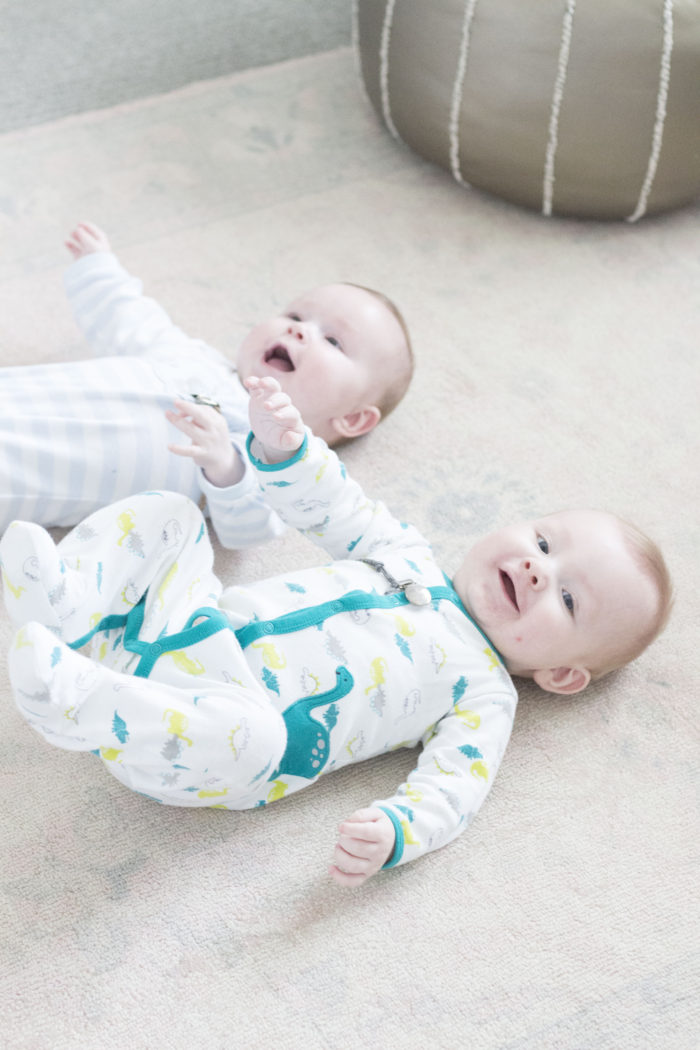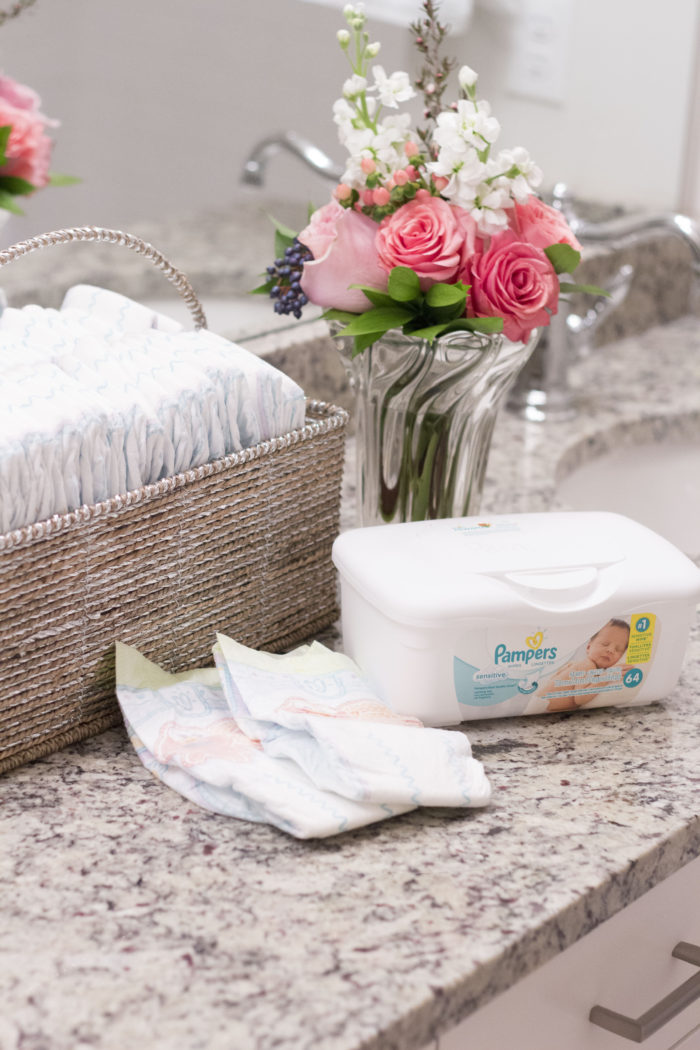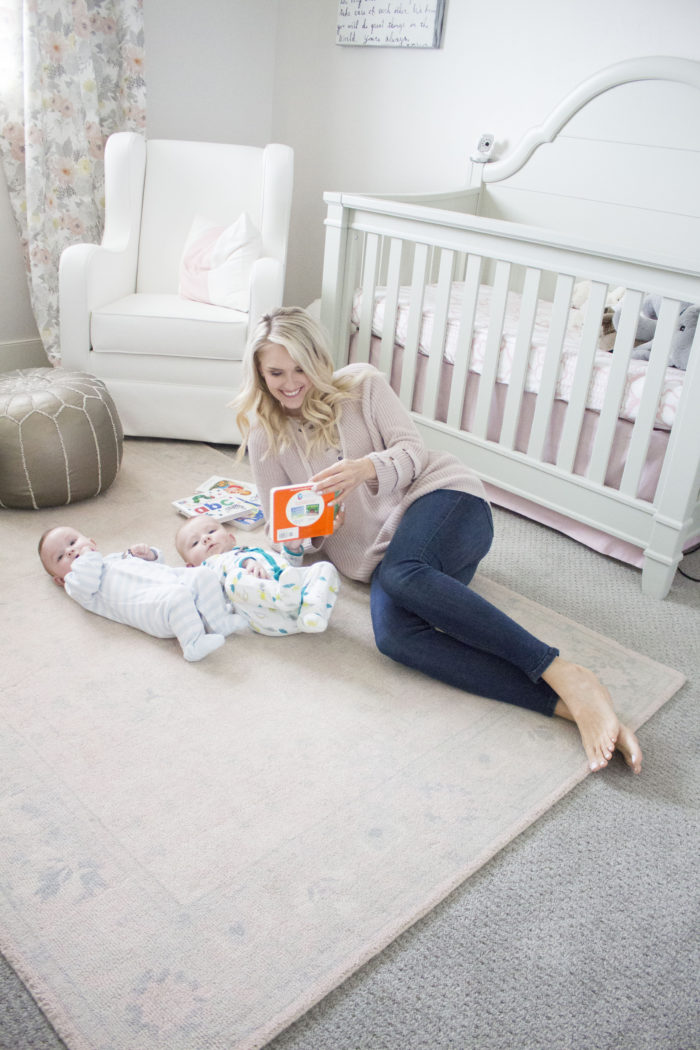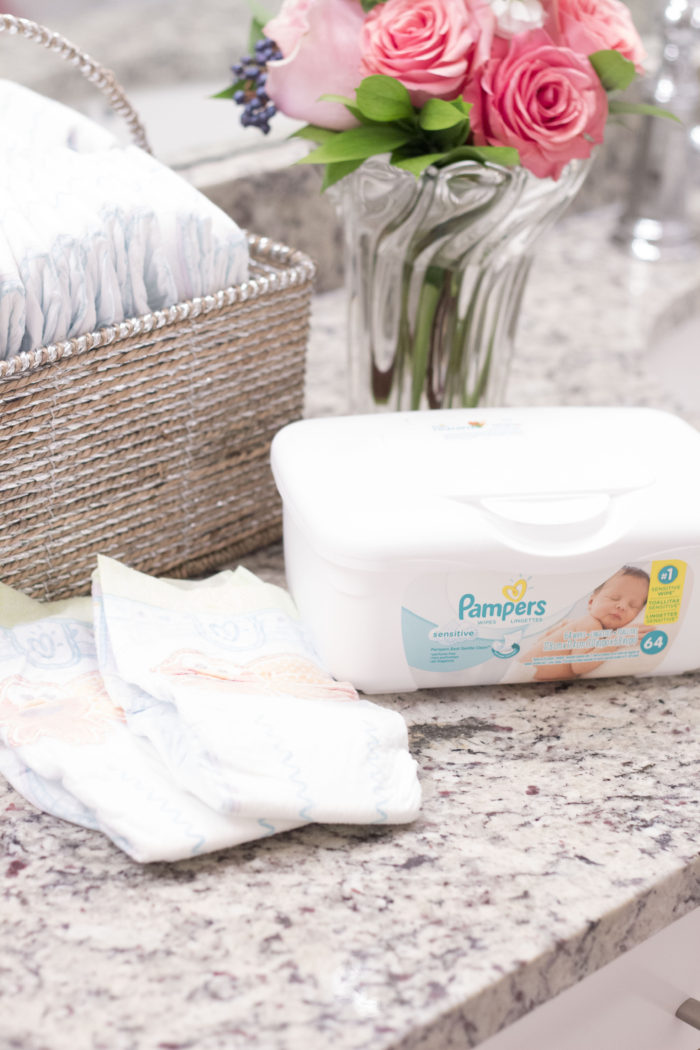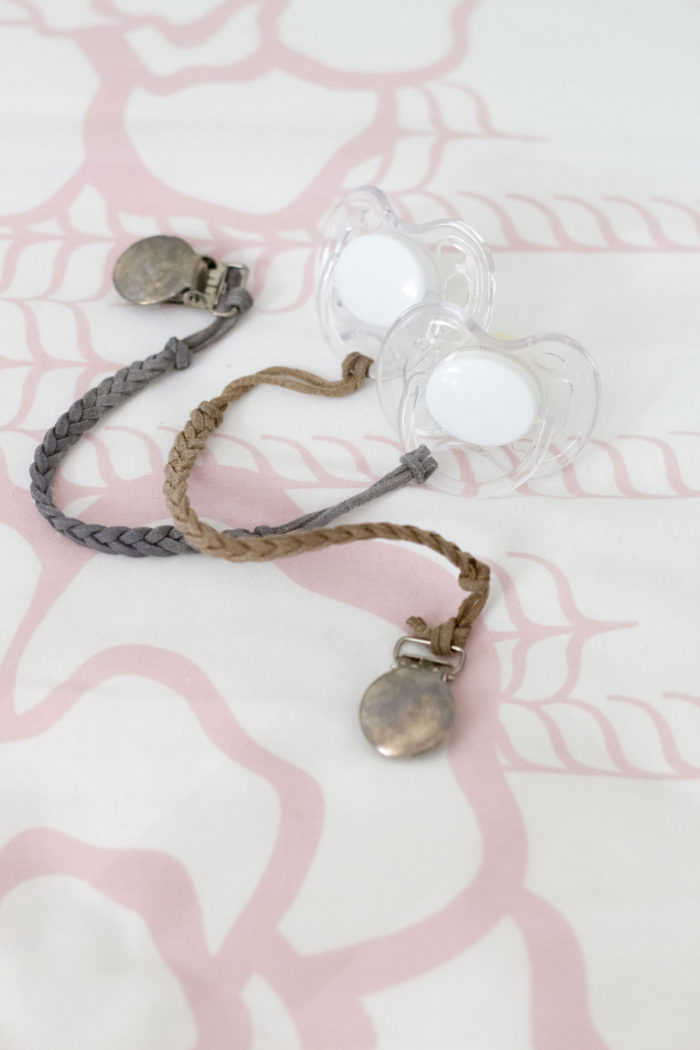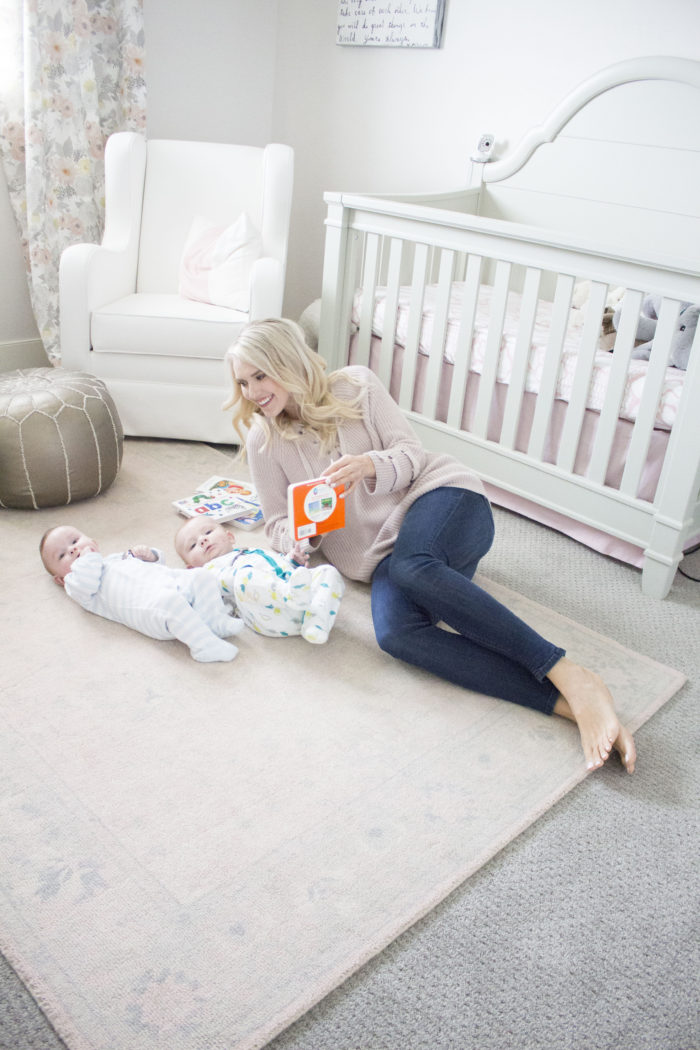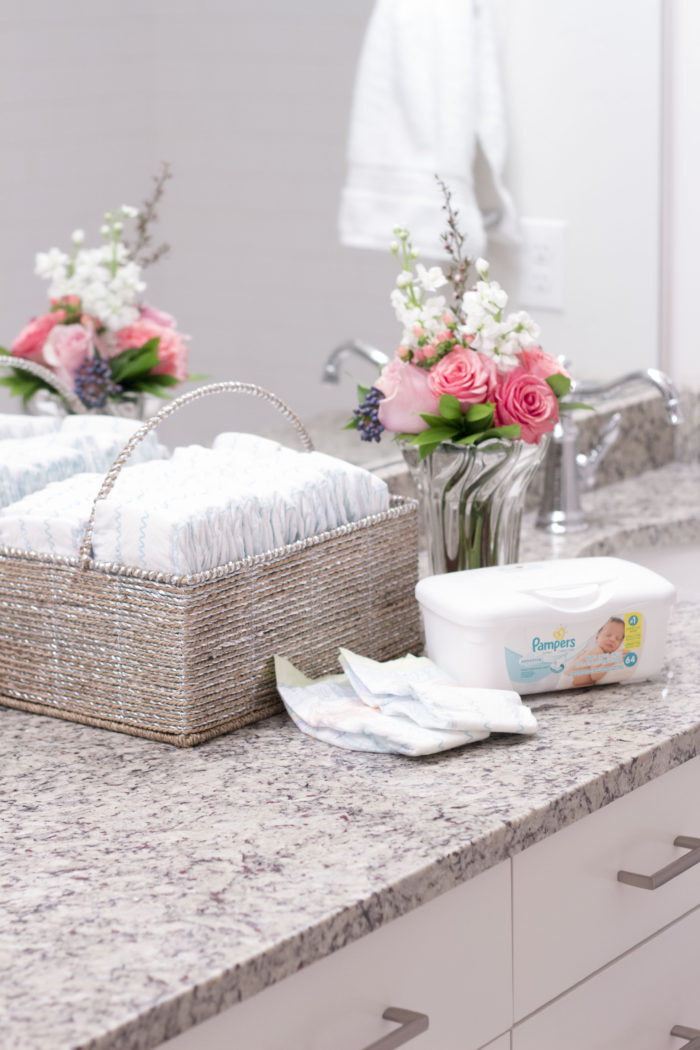 Harris and Goldie are on a really good schedule and they love it because they can expect what's going to happen next. With twins, I think a good routine is KEY to everyone's happiness and they really are such happy babies! Sleep vital for your baby's health and development. In studies, sound sleep in babies has been associated with a positive mood, sociability and better physical and cognitive development.
I have always said that you can handle anything during the day if you're well rested, and when we all get enough sleep, we're all happy and excited to play and have fun during the day.
I make sure to keep their routines the same each day, and especially before bed at night, and they have come to expect doing these things before bed:
Play time – tummy time, reading books, singing…something that will get their energy out and make them happy and excited.
Bath time – this is their favorite! If they get fussy at night because they're getting a little tired, I'll take them into the bathroom for their bath and as soon as they hear the water running, they get SO happy! It's so sweet.
Baby massage – okay, just lotion all over their little bodies, but they both like it when we spend a little extra time on their legs and feet! I mean, it's got to be exhausted walking around all day. Oh, wait… 😉
Put on their Pampers diapers – they have 12-hours of overnight dryness protection and are designed with blanket-like softness so that Harris and Goldie's little bums stay nice and dry without diaper rash as they get a comfortable, full night's sleep. Pampers diapers feature 3 Absorbing Channels that include:− Absorption Layer – Sit above the top sheet of the diaper, attracts wetness and pulls liquid away.− Distribution Layer – Locks in and distributes the wetness into the super absorbent core, which tightly stores the liquid.− Super Absorbent Core – Made of super absorbent polymers (SAPs), often called absorbent gelling material, the absorbent core absorbs and locks away liquid to help prevent rewetting. SAPs also help prevent redness and irritation by reducing skin wetness.
Putting on their pajamas – I make sure to buy really cozy, soft pajamas so they're comfortable all night.
Last feeding of the day – if I'm home by myself, I'll feed Harris first and then Goldie (he gets more demanding about his food…must take after me…), or if Tyler is home, we'll feed them both at about 8 pm.
Bed time – we swaddle them up and put them to bed with their binkies! They fall asleep on their own.
Daylight Saving Time (DST) with babies has been a topic of discussion among my mama friends because changing things up a full hour can put a dent in that nice schedule. It can cause a sleep disruption that can take up to a week to adjust to. Pampers has partnered with licensed clinical social worker and sleep specialist, Kim West "The Sleep Lady", to provide insights regarding the effects of DST on baby, and how keeping a consistent sleep routine, including an absorbent diaper, can help babies navigate the change with minimal effect. For 20 years, Kim she has counseled thousands of families looking to establish sound sleep schedules. She has great experience to share and I'm all ears!
What to do for your baby's first DST:
− Slowly Shift Bedtime: Prior to DST, gradually begin shifting baby's bedtime to an earlier time in 10 to 15 minute increments. This tactic helps baby adjust in advance to the time change for an easier transition.
− Later Sunrise, Means More Sunshine: If prior to DST, your baby was an early riser, then you're in good luck! DST in the spring means your baby's new wake up time will be an hour later, giving you and the family more time to sleep. However, exposing baby to a minimum of 30 minutes of sunshine (ex. opening of blinds, a morning walk) will help their body's adjust to the time change. If your child was not an early riser prior to DST, continue to wake them up at their previous time to keep their schedule consistent.
− Adjust Your Baby's Nap Schedule: So your baby isn't exhausted before bedtime, begin re-scheduling naps according to the new time. Making naps a priority will help your baby reach their bedtime without being overly tired.
Here's a summary on how to best transition:

Alright, my friends. I've created a Pinterest board to help us all with great facts on baby sleeping and transitioning during DST!  To help spread the news and help new mamas, I'm running a fun giveaway. To enter, repin one of the images from the board onto your Pinterest board, and leave a comment letting me know that you did. The first 10 people to do so will get a coupon for $5 off a Pampers diaper purchase! Yay!! So easy.
For over 50 years, parents have trusted Pampers to care for their babies and is the #1-selling diaper worldwide. For more information about Pampers complete range of diapers, wipes and training pants, please visit www.Pampers.com or follow @Pampers on Twitter and Facebook or @PampersUS on Instagram.
This post is post is sponsored by Pampers, a brand that I love and use. All opinions are my own.