Fall style guide so you feel incredible with less time and money invested!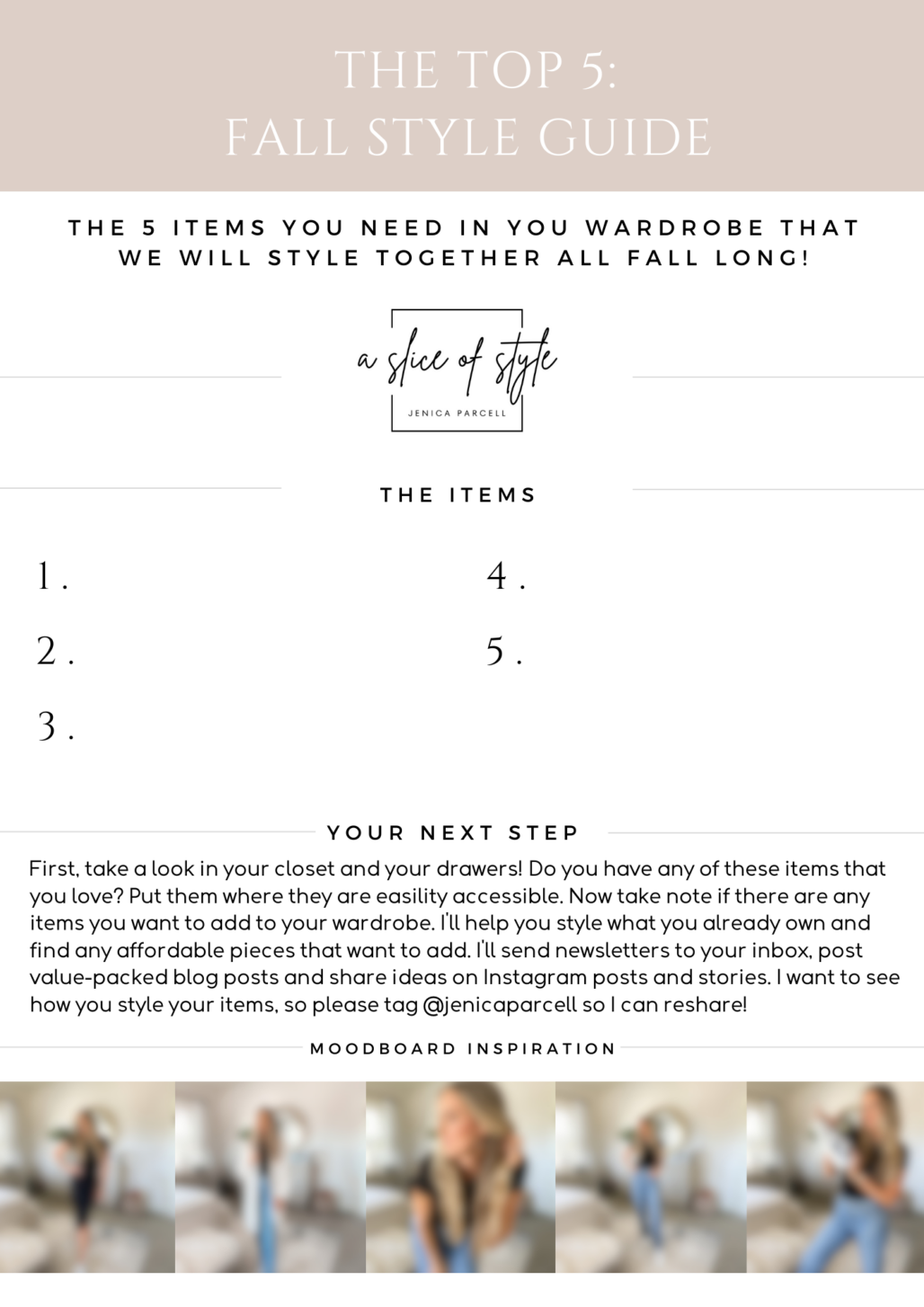 If you haven't downloaded the FREE fall style guide yet, click here and check your email!
what's the point of the fall style guide?
Welcome to my Fall Style Guide! You should have been able to download it when you signed up IN YOUR EMAIL (confirm in your inbox then I emailed it to you!) I am creating a style guide for each season so that I can answer my most asked question – how can I get dressed every day and feel my best? I also think it's important to know that you're probably not doing it as often as you would like because you think it's too expensive and takes too much time. I believe in feeling my best every single day for me, and I also don't think you have to spend a lot of money or waste a lot of time because we each have other things we actually want to be spending our time on. This is my blog, A Slice of Style, and this will be our home base.
what DOES the fall style guide includes
Check your inbox each week – I'll email you a newsletter as we style our pieces together. You will mix and match and build a simple wardrobe that feels incredible. Make sure to tag me on Instagram @jenicaparcell so I can reshare! I'll help you style pieces you already have and find affordable pieces you want to add. Getting dressed is going to feel fun each day as you feel pulled together and save time and money. I'll take the guesswork out of wanting to look and feel your best and we'll have fun together in the process!
can i invite my friends?
More is always better when it comes to friends. Life can feel lonely sometimes, so the vision I have for our community is that it's fun and inclusive, where we get to laugh together and share the fun things in our life.
if you liked this fall style guidE post, you'll probably like:
Simple and Neutral Fall Home Decor!
Fall Bucket List: Activities the Whole Family will Enjoy!