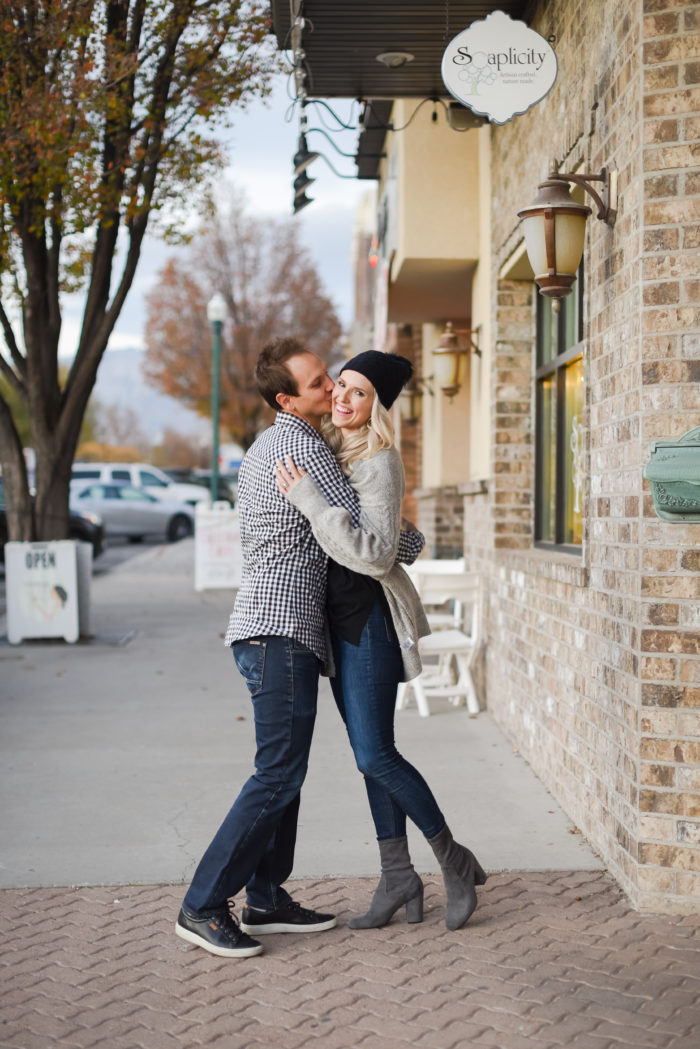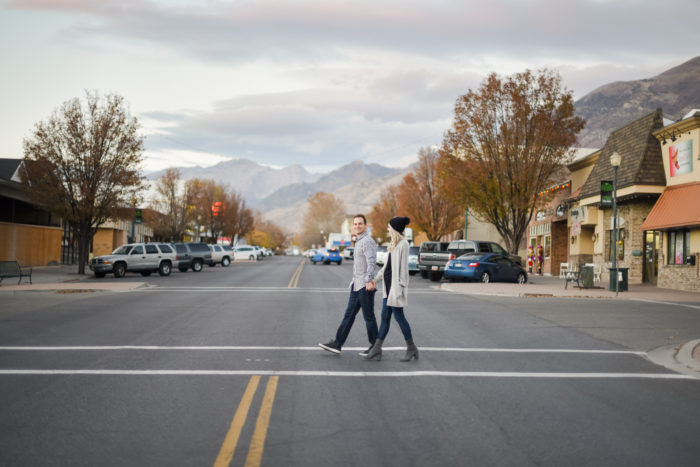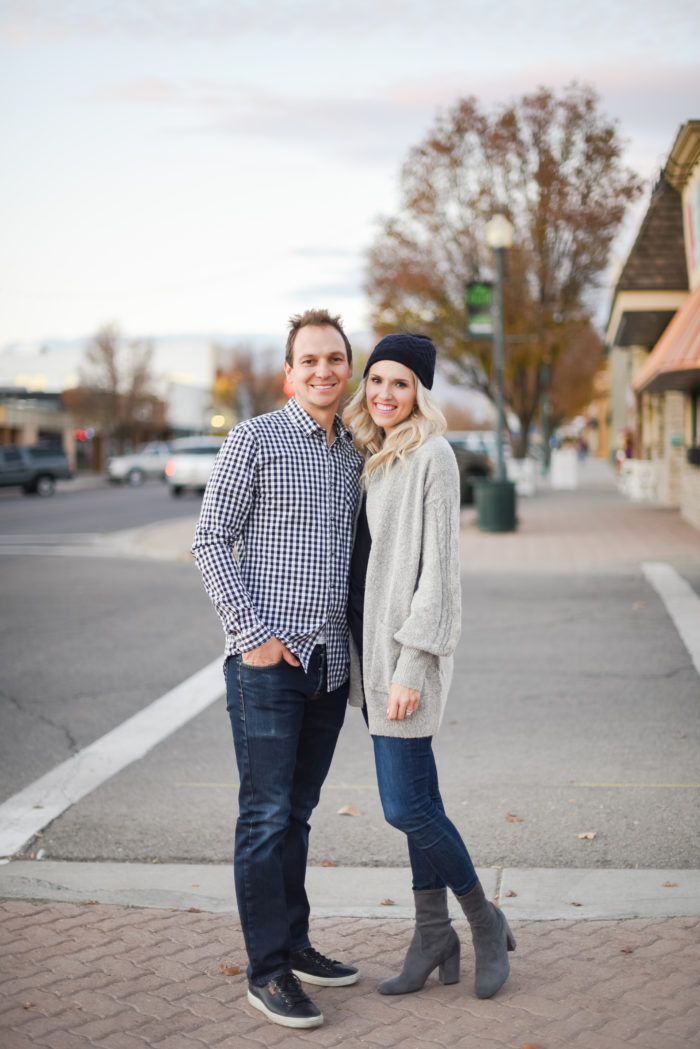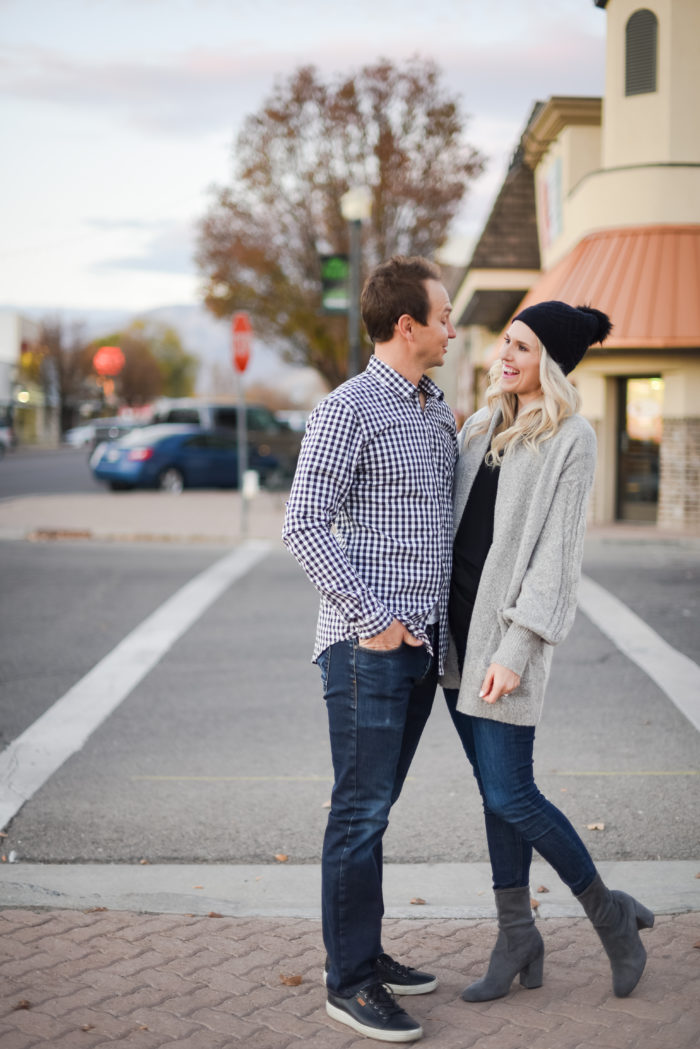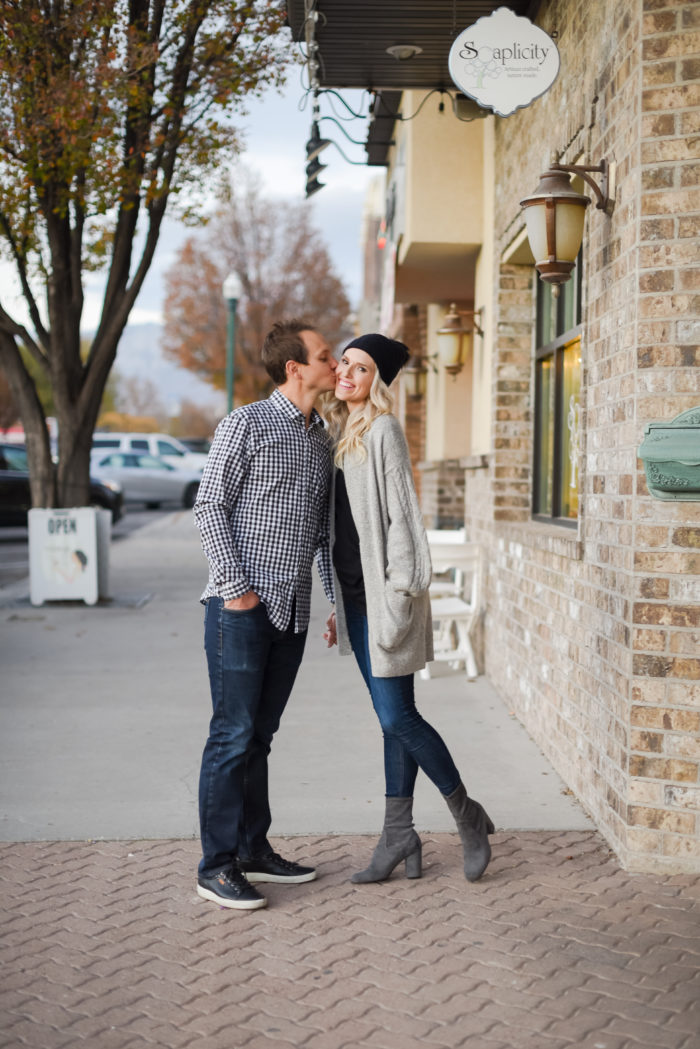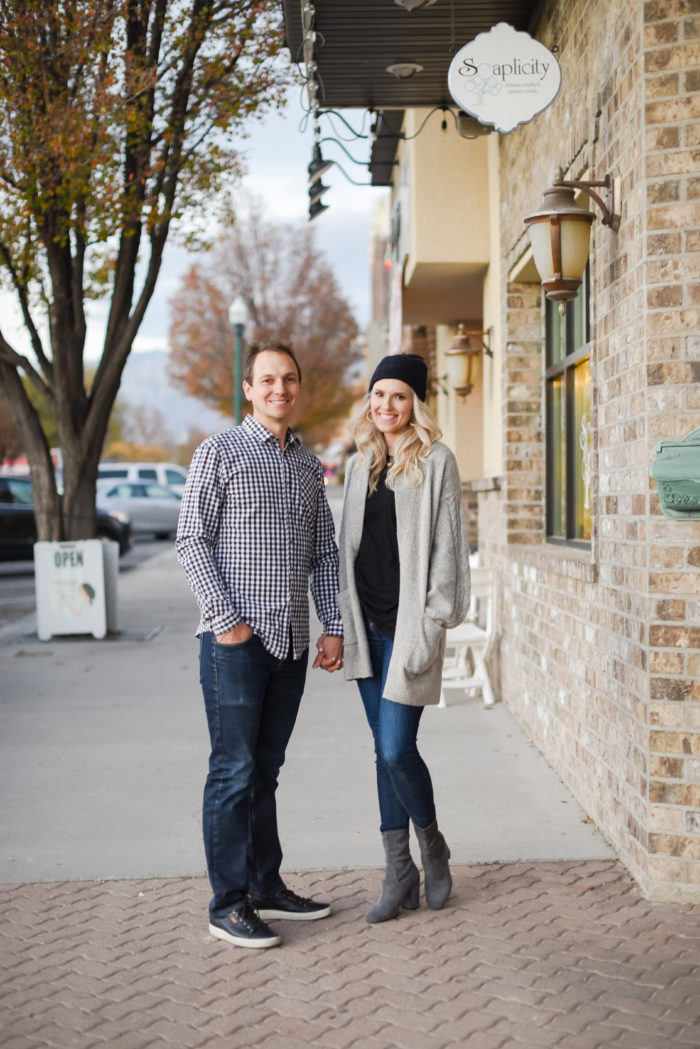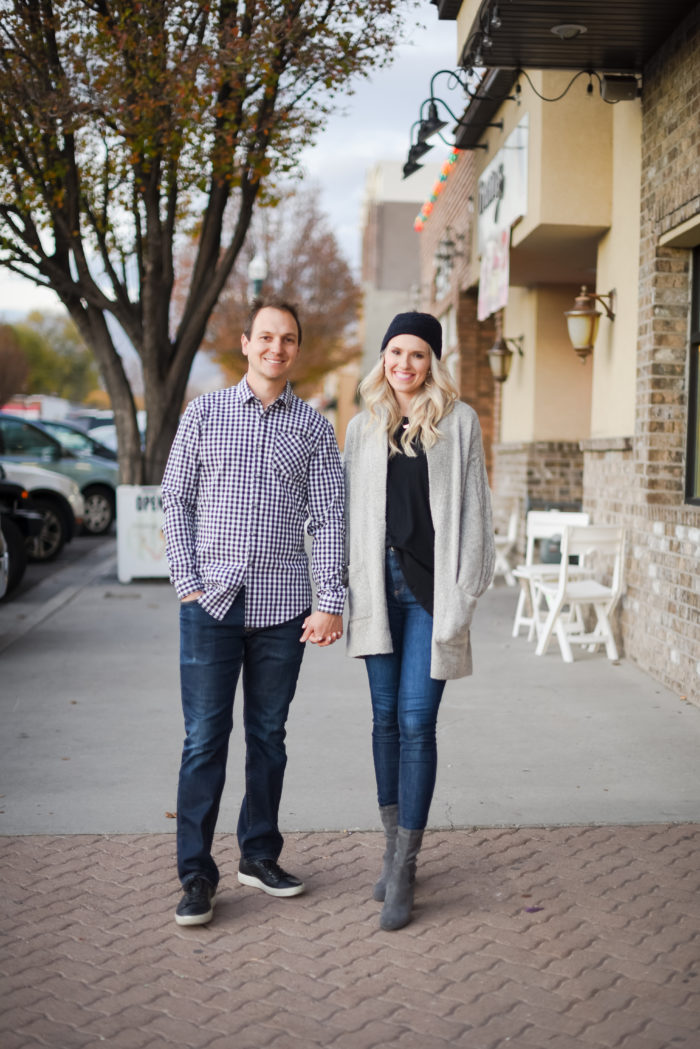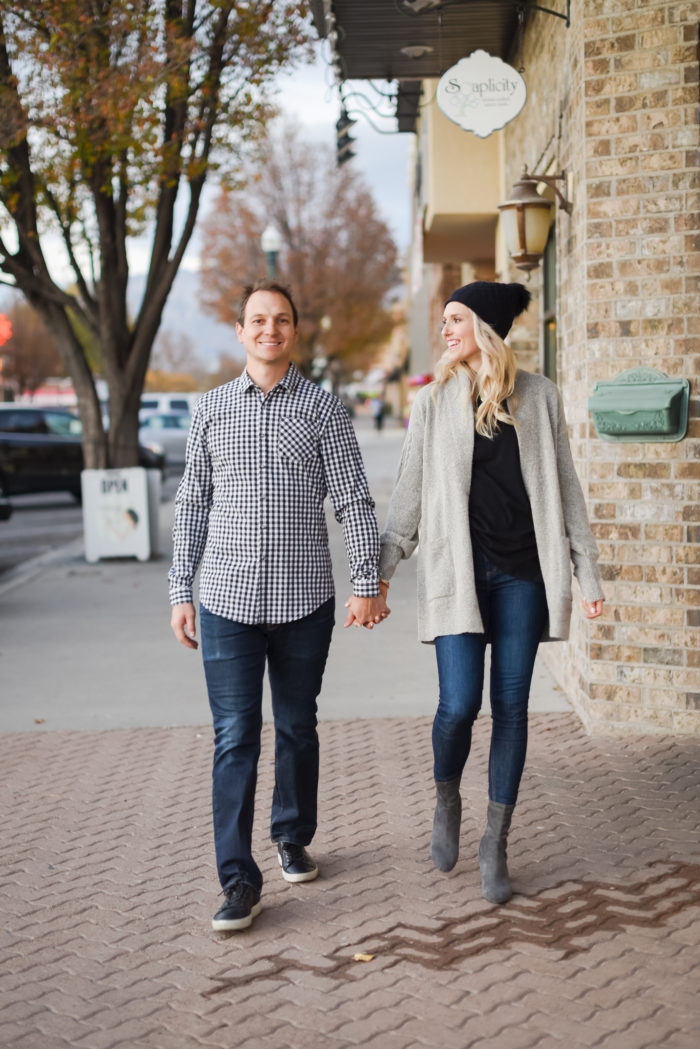 Tyler's shirt: Nordstrom | Tyler's jeans: Nordstrom | Tyler's shoes: Nordstrom | My cardigan: Nordstrom (wearing a S) | My jeans: Nordstrom (order 1 size down) | My shirt: Nordstrom (only $19! Wearing an XS) | My booties: Nordstrom (order 1/2 size up) | My beanie: Nordstrom
Tyler and I love going out on a date night once a week without the babies. We love going out with our family as well on separate days and think that's important too, but we think it's really important to spend one on one time together as well. When we are with each other on a date night without our kids, we can focus on each other and not be distracted. It's our time to reconnect, laugh, plan and have fun. Our kids won't always be in the house with us as their time comes to leave the nest and live their own bold and full lives. Tyler and I are buddies now and want to remain buddies because we will always be together! A flower won't continue to grow without water, and that's the exact same way that I view our relationship. I don't think relationships are ever secure enough to neglect and not continue to nourish every day. He is where I find a lot of my strength, he is a sounding board when I need to talk through something to get his advice (he's much less emotional about decisions than I am so I really value his opinion), and we just have fun together.
When I'm shopping for Tyler for his clothes for date night, work or play, I turn to Nordstrom because it's so easy to shop online, I can always find what I'm looking for and I love that Nordstrom has free shipping both ways! I talked about how I search for his clothes to find exactly what I want for the best price in this post. I love when Tyler wears a long sleeve button-up shirt this time of year because it's comfortable for him but also looks really nice and pulled together. I love this gingham checked shirt that he is wearing in these photos because he looks goooood. It runs true to size and Tyler is wearing a size large for reference.
Tyler also has these shoes in both mahogany and black leather because they fit both of our main standards for shoes for him; 1) They look classy and, 2) they are comfortable. He literally will not wear shoes that aren't comfortable, so no matter how good they look, I won't buy shoes that are any less than really, really comfortable for him. If I buy shoes that look good but aren't comfortable, they end up sitting in his closet. I think that investing more on comfortable shoes for him that meet both of these standards ends up saving me money in the long run because he'll actually wear them and I won't have to buy another pair!
So, what are are favorite date night ideas that he can wear his Nordstrom duds to? These are our most common date nights right now:
Go to a new place that we have never been to for dinner. We love trying new restaurants because it feels fresh and exciting. You can search the Web for options in your area and go out on a limb.
We love going to movies! I know this is a classic, non-original date night but we honestly love it. Sometimes I bring a little blanket to put over me because I get cold so easily and we go to a theater with the nice reclining seats and fill up our popcorn bucket with half kettle corn, half regular popcorn.  This may or may not be good advice depending on how you look at it; you end up eating a lot more popcorn because as soon as you get tired of the savory popcorn, you can move on to the sweet…and then you go back and forth. It's close to the best thing that has ever happened to me. We ask the person working there to separate it down the middle with the tin foil that they use to wrap up hot dogs. I mean, I'm a pretty humble person, but I've labeled myself a genius for this idea. It's undeniable.
BYU basketball games! We love cheering on our Cougars, and it's fun because it's already scheduled out for us so we have it on our calendars. You may have seen me post a story or two while at the games on my Instagram. We make sure to schedule our babysitters well in advance since the Cougs won't change their games for us if we can't find a sitter. If you have a college or professional team that you live near, buy some season tickets and call that babysitter, mama!

Thank you to Nordstrom for sponsoring this post!