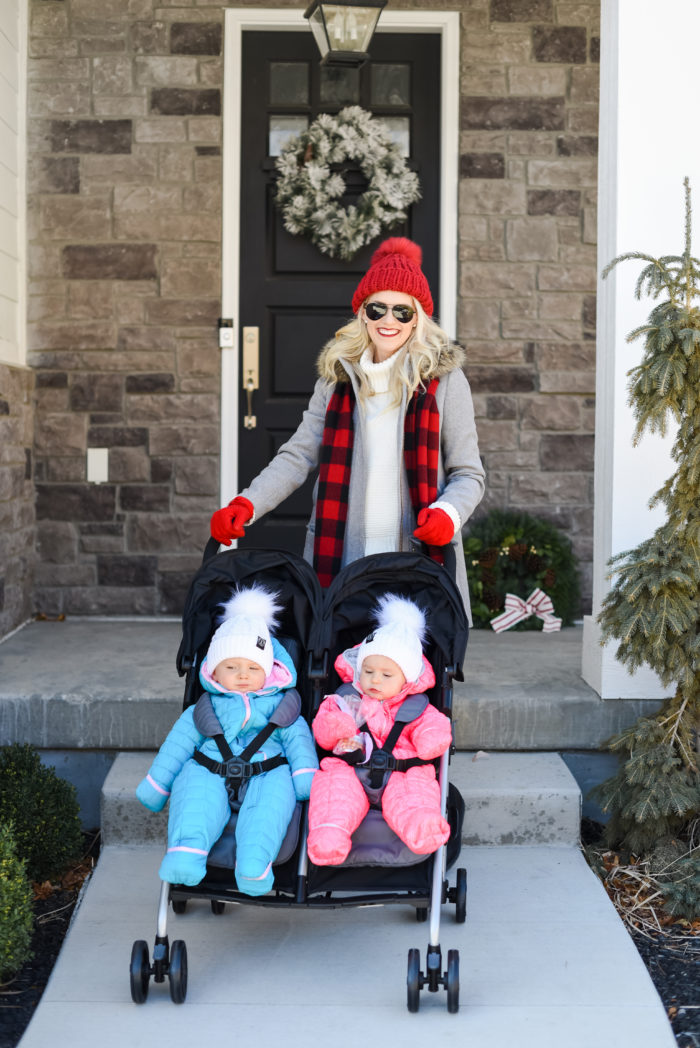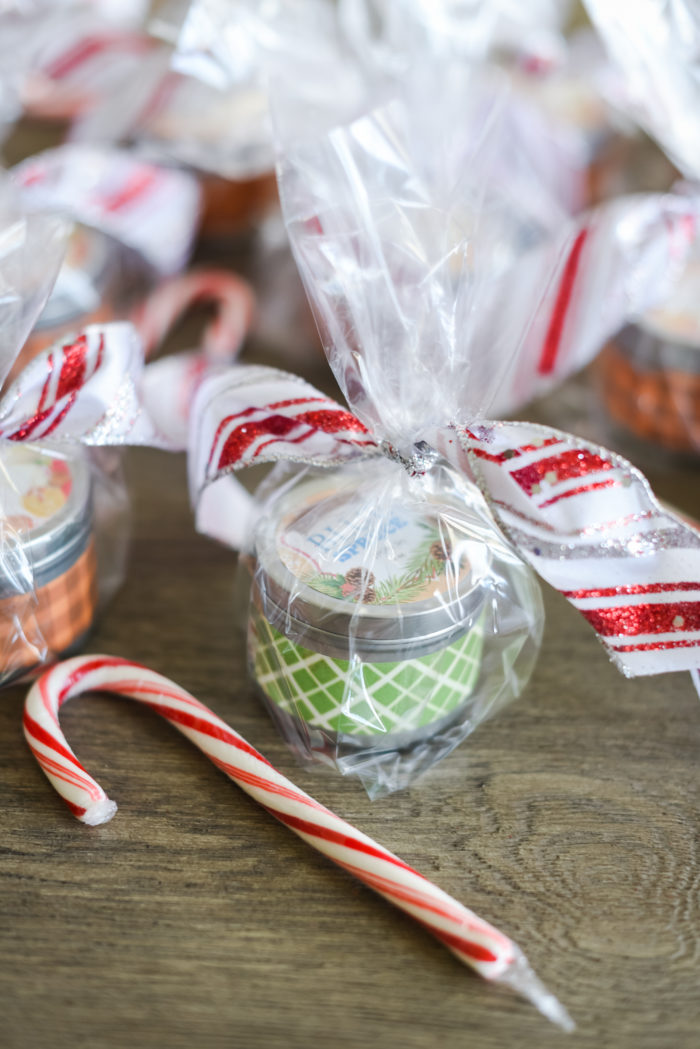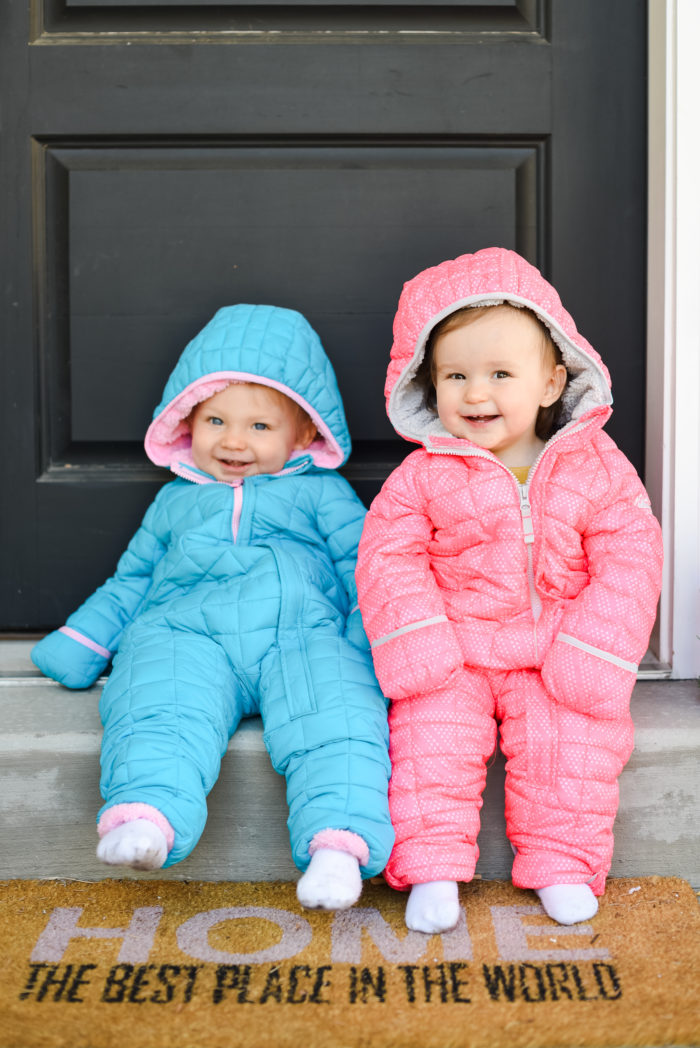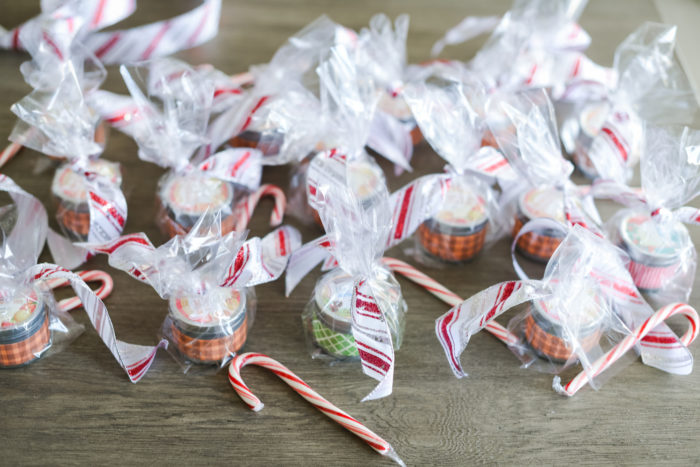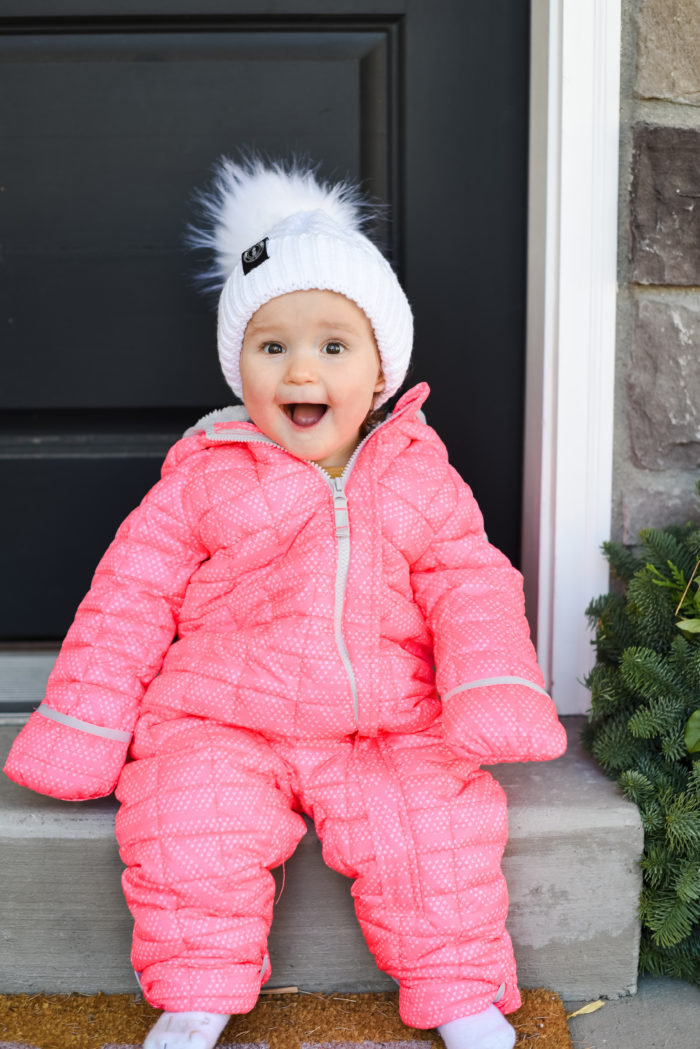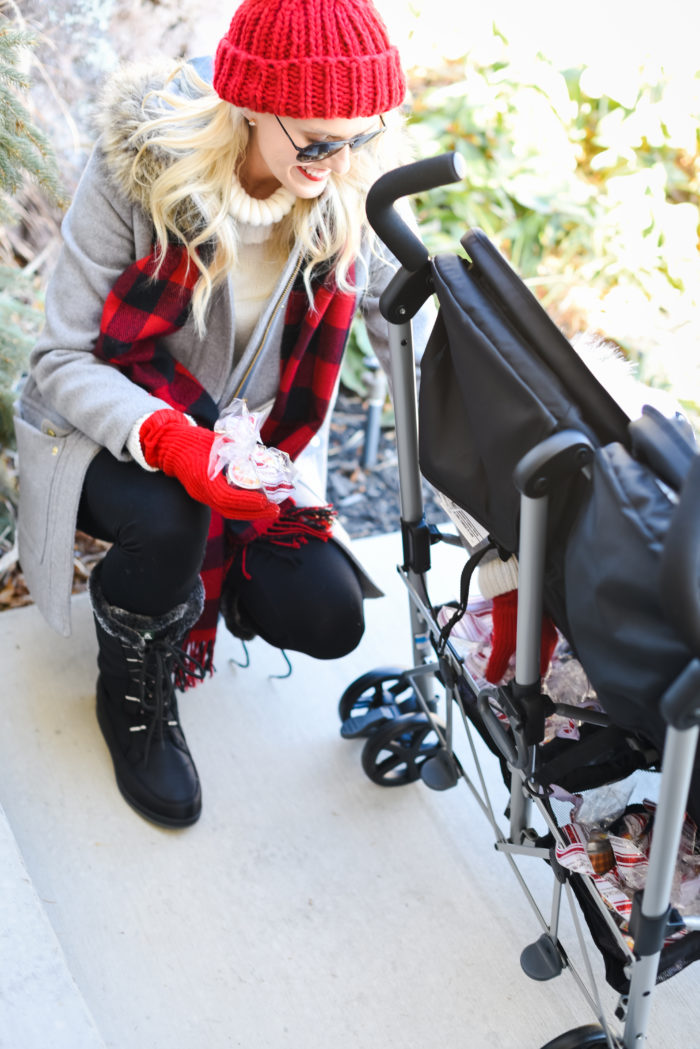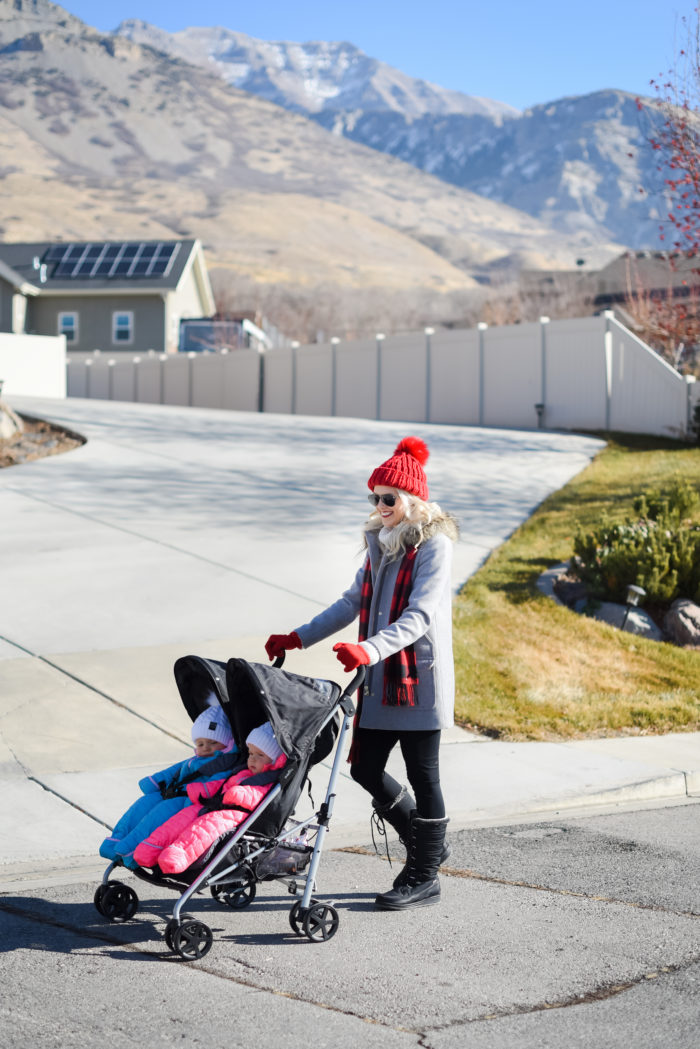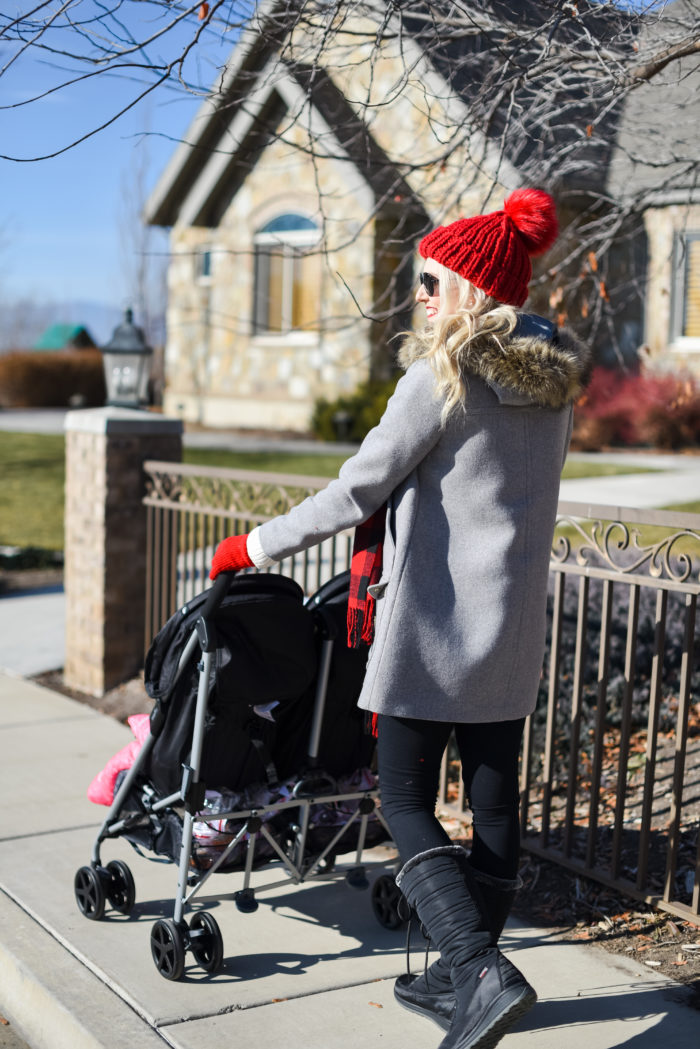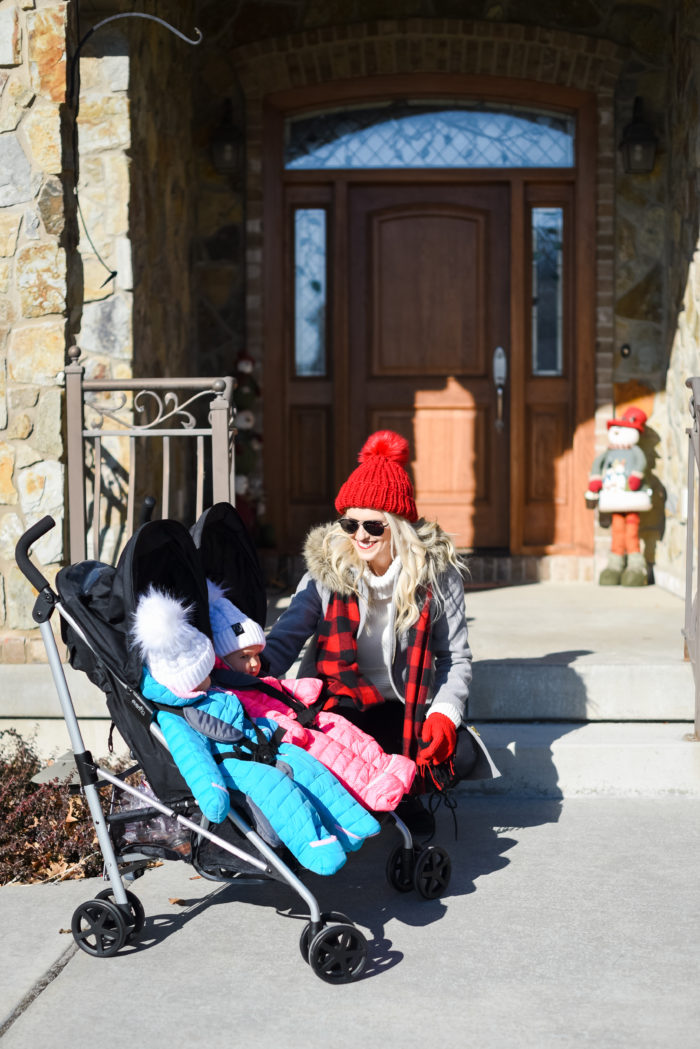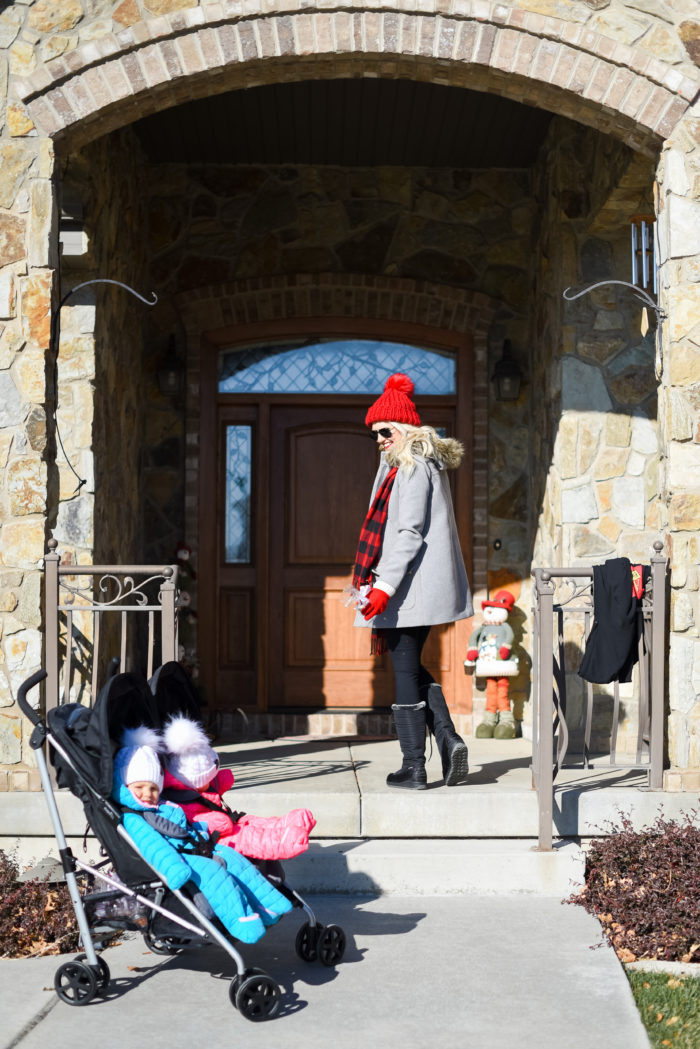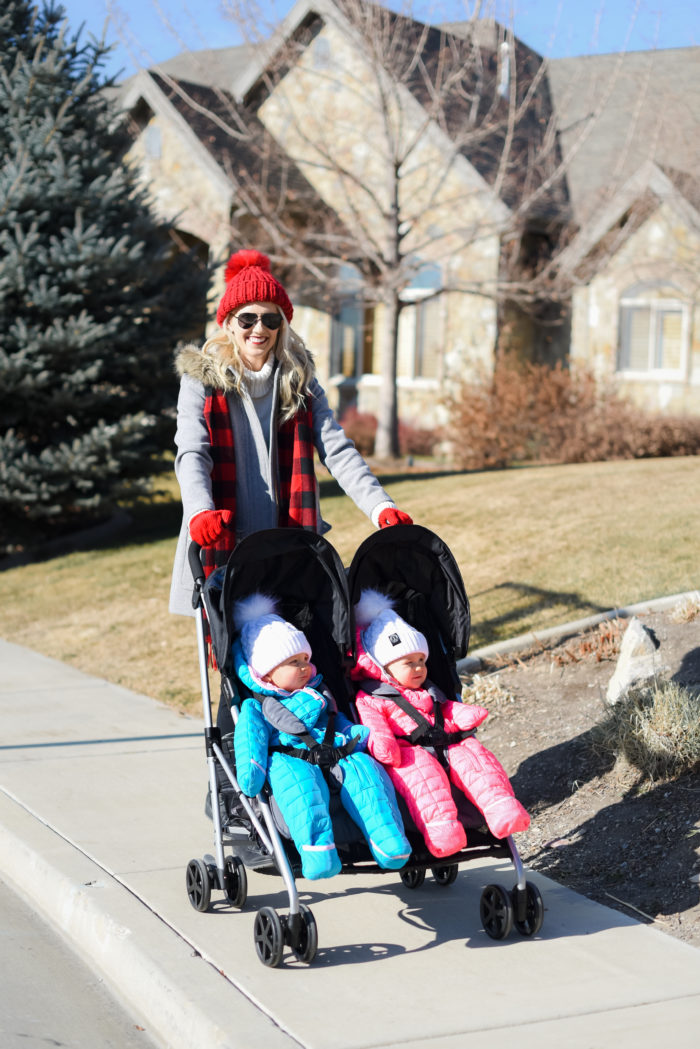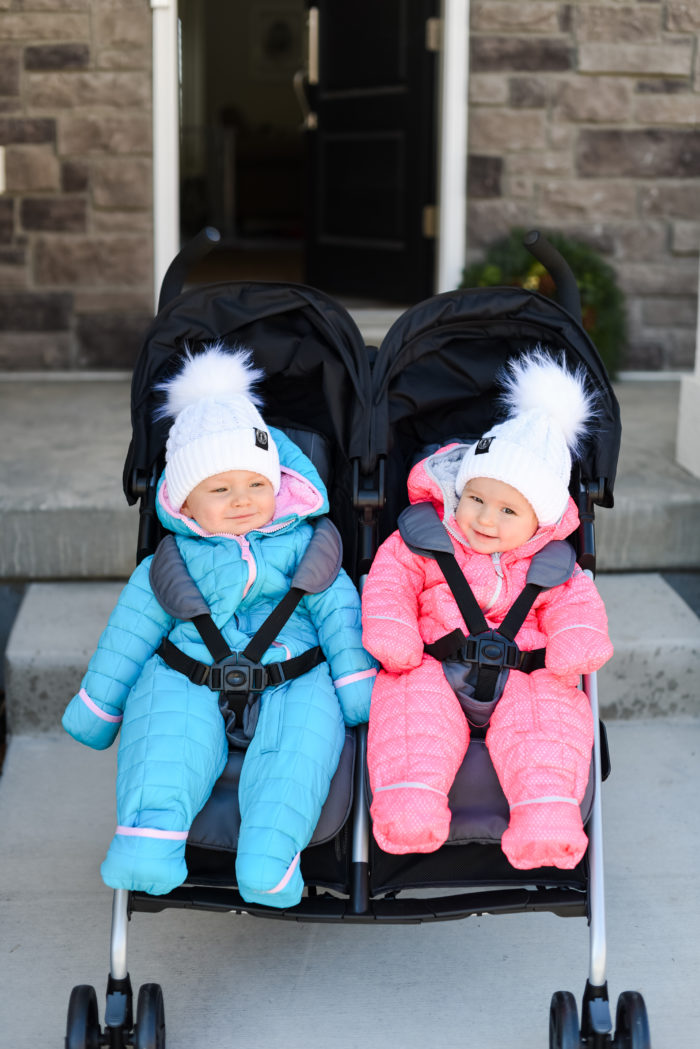 Double stroller: Evenflo Minno Twin Double Stroller (LOVE it!) | My beanie: Free People | My sunglasses: Polaroid | My coat: J. Crew Factory |  My scarf: Nordstrom | My sweater: GAP, old, similar here | My leggings: Nordstrom | My mittens: J Crew Factory, old, similar here | My earrings: Nordstrom | Babies' beanies: Binky Bro | Babies' snow suits: Coscto
We haven't done neighbor gifts for Christmas for the past few years because life just got crazy, but the stars aligned this year and I was on top of it! I mean, I know it's not a good thing to be boastful, but I'm even shocked that it all came together, so I'm going to go ahead give myself a small round of applause. It was a sheer stroke of Christmas magic. I ordered some small candles in November (I KNOW! Who even am I?!) and when they came in the mail I tucked them away in a "safe spot." I looked for them and almost lost them because they were nowhere to be found in my usual spots. Luckily I was cleaning out my guest bedroom and they suddenly appeared. Again, I can't deny this Christmas magic.
I went to Hobby Lobby and picked up some cellophane bags like these and put the little candles into each bag, then tied them with some ribbon that I had picked up at Costco…in November. Like what?! I'm glad it didn't get lost. I decided to go with the simple tie instead of a bow because ain't nobody got time for that. I mean, I'll tie a nice bow on like one or two packages this year, but let's not get too ambitious. It was easy! Now to deliver.
The twins and I set out for a cheery holiday delivery in our double stroller around the neighborhood and I absolutely LOVED my new Evenflo Minno Twin Double Stroller. You guys know by now that I don't suggest that anyone else buy a product that I don't personally use and personally love. If I'm going to recommend a product, I am going to stand here proud to recommend it and I'll get really, really excited when you buy it too simply because I think it will make your life easier. This double stroller is one of those items. There are a few things that are really important to me when it comes to a double stroller: 1) It needs to be light enough for me to get in and out of my car or garage shelves and not break my back. My kids need a mother with a fully functioning back. I also need that. Win/win. 2) It needs to not break the bank. I was shocked when I saw the price of this double stroller after seeing and feeling how high quality it is. 3) It needs to go over bumps in the road of sidewalk and not get stuck. This has happened to me with another stroller that shall not be named. This did not happen with my Evenflo Minno Twin Double Stroller!
Another thing that I absolutely love about this stroller is that the seats recline really far and the part where the babies rest their legs raises up in case they need to take a nap. Do you know what this means, my friends? Zoo, traveling in the airport, traveling anywhere, grocery store…sometimes you're out and about and your babies need to catch some zzz's. I love that this stroller allows them to be very comfortable. Okay, and since you got me going, I'll tell you another thing that I love about it. I was able to store all of my neighbor Christmas gifts in the baskets underneath the seats with plenty of space. Christmas magic.
I love you all and I hope you have a wonderful Christmas weekend with your families and friends! I am so blessed by each of you and I really appreciate your positive presence in this space.
This post is sponsored by Evenflo, a brand that I personally use and love!