To my beautiful child,
The night before the frozen embryo transfer was a bit stressful.
I kept having dumb things happen (almost hitting a deer on the way to my work party, etc) so by the end of the night I was almost in tears. I called your dad (we had met at the party so we were driving home separately) and asked him to go to the grocery store because I was hungry. He said, "do you want me to get you the family-size strawberry mini-wheats?" in a baby-voice which made me laugh because I was starting to cry. He's cute. I knew I would want some other things to eat but couldn't think of anything else for him to get me. As I was driving up my street, my friend texted me and said, "are you awake?' When I parked I texted her that I was and she came over with a big basket of goodies! Naturally, I started crying when I saw her at my door. It was a surprise for her! She came over at the perfect time and it was so nice ha ha. Then later on after she had left, I noticed that there were ribbons on the basket that said "baby boy" and "baby girl" and I started crying again in a high-pitched crying voice and said, "that's so nice! I'm a crazy person right now!" as your dad hugged me and we laughed. So many HORMONES!! 🙂 Another friend texted me the sweetest text at the perfect moment. It reminded when President Spencer W. Kimball said, "God does
notice us, and he watches over us. But it is usually through another
person that he meets our needs. Therefore, it is vital that we serve
each other."
That night I woke up and couldn't stop thinking about something stressful that had happened earlier that day. I told your dad that I couldn't sleep and he grabbed my hand and told me to think about babies. We laid in bed (it was probably about 3 am) talking about how our baby would be, what color of hair they would have, their eyes, how they would smile at us when they saw us. We just made things up. Eventually we fell back asleep.
When I woke up the next morning, I had a sweet "daily prayer" waiting for me in my inbox as I always do from my friend Susan who found my blog as I started sharing our infertility journey. She said, "Happy, happy, happy day!…today is going to be a GOOD DAY…LET's get it STARTED!!
Morning Motivation:  Open your heart and invite God into every circumstance because when God enters the scene miracles happen.
Morning Faith:  Do not be afraid.  Just believe.  Mark 5:36
Let's PRAY:  Heavenly Father:  We ask you to come with Jenica and Tyler
today and be with them as their embryos are transferred…bless all the
hands who will take part in this process…strengthen Jenica's physical
body to easily accept these embryos…increase Jenica's spirit to feel
your presence…and bless Jenica's mind with the gift of your peace so
that she can feel your LOVE…we ask all of this in the name of Christ
Jesus, Amen.
Jenica…today I want you to remember that YOU ARE A CHILD OF GOD…as
much as you love Tyler, God's love for you is magnified by the
thousands…before anything else…YOU ARE A CHILD OF GOD…so, today is
all about LOVE…just BELIEVE and LOVE…Blessings my friend, Susan:)
THE LORD IS MY LIGHT AND MY SALVATION…I SHALL NOT BE AFRAID.  Mark 27:1″
As I got ready for the day, I was trying to stop being so anxious. I was feeling a lot of anxiety. On my way to work, I heard a new song by Rob Thomas that I absolutely loved and it made me think of your sweet dad who was there with me in the middle of the night when I was awake. The chorus goes like this:
First thing: we make you feel better
Next stop: we pull it all together
I'll keep you warm like a sweater
Take my hand, hold on forever
Just fall apart if you need to
I'm here and I won't leave you now
Don't look down
Hold on forever
It is the cutest song!
As I sat at work on transfer day, I got a text from step-sister Tatum that said her daughter Sloane who is 3 was singing a Christmas song and stopped abruptly and exclaimed, "did you know that Jenica is going to have a baby?!" Tatum hadn't even been talking about this with her. She was like, "Oh yeah, that's today!" I was so amazed that she said this!! I know our sweet little Sloane is closer to heaven than we are so this brought me to tears too. I hope she meant that I was going to have a baby soon and had a little intuition there.
I went to my chiropractor and got acupuncture two days before retrieval. My acupuncturist said that he would like me to do acupuncture the day of right before and right after retrieval. I walked out of work on transfer day and said, "Bye, guys! I'm going to get pregnant!" I mean, when else can you say that? I have to capitalize on the those opportunities. I went to get acupuncture at noon. My doctor pulled up an IVF study and followed the exact protocol for it. He also came to the fertility center and did IVF right after transfer as well.
I met your dad at the fertility center and the front desk nurse told me to take my valium right then. Your dad and I waited and I could definitely tell when it kicked in! My acupuncturist met us there, and then Ashley (my favorite ultrasound tech) came to get us. I changed and laid on the table. As we were waiting for Dr. Foulk, we were listening to Christmas music in the room. "It's Beginning to look a Lot Like Christmas" started playing and your dad started singing, "It's Beginning to Look a lot Like a Family!"
Dr. Foulk came in, and then the magic happened. And by magic, I mean Ashley started using the ultrasound so he could see inside and Ammon, the embryologist brought in our two embryos in a catheter. Our two embryos looked just as perfect after they defrosted as they had before they were frozen. Dr. Foulk explained everything then told me to stop talking for a minute because he wanted my muscles completely relaxed. He finished, they scooted me up on the table, and we were done! My acupuncturist came in and put in the needles. Ashley came back and your dad told her that if we have twins, we are going to name then "Silver and Gold" because that song came on too ha ha ha. I love that guy!
Your dad stopped by at Costa Vida to get us lunch, we ate at home then I took a nap. Your grandma (my mom) and Aunt Jocelyn came over to hang out with me while your dad went to the BYU basketball game with Grandpa Steve. Your great-grandpa Dex came over too! Aunt Katelyn was a on date. Jocelyn gave me a present for you…your very first present! It's a little bunny and it's the coziest thing in the whole world. I have a deal for you. How about we share it?! 😉
I've been relaxing ever since. Lots of movies…and I'm starting to get cabin fever. I'm excited to get back to my normal schedule tomorrow. Life seems strange right now. The next few days are going to be hard. We find out on the 28th whether or not it worked!
In my opinion, the drugs that they use for the frozen embryo transfer are much harder on my emotions than the drugs that are used for the egg retrieval. I'm feeling a bit anxious and slightly depressed, but I also think that has a lot to do with the fact that I haven't left my house for two days. I'm so grateful for my friends and family who keep texting me to make sure I'm doing well! I still have to give myself progesterone shots every morning, take baby aspirin to keep my blood from clotting, estradiol valerate shots on Tuesday and Friday nights, and pre-natal vitamins (as usual).
Here's to hoping that I stop wanting weird things like crumbling potato chips over my salad. Yes, that actually happened.
You're worth it!
xo
Mom
 And….looking half asleep.
 Tyler started pulling out gloves, a mask and a hat to wear 🙂
 These are the two embryos we transferred!
 Some of the acupuncture afterward: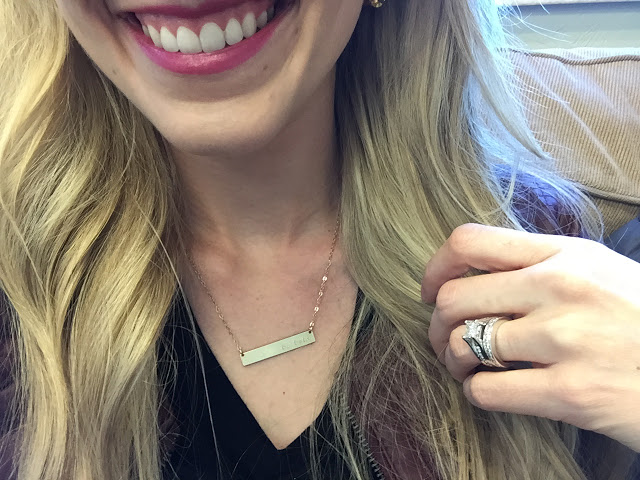 Tyler walked out of Costa Vida and yelled, "wooo!!!"
Baby's first gift!! Aunt Jocelyn is the sweetest.
Snuggled up on the couch after everyone left later that night
Tyler holding baby's first gift
My grandpa Dex! Baby's great-grandpa
Aunt Jocelyn making me laugh. She said instead of Elf of the Shelf, we need to do, "Mallow on the shelf." Mallow is the bunny's name 🙂
 Tyler tried to kick me out of our Parcell Sunday Selfie today 😉
You guys are going to think I'm crazy but my sweet grandma made me a blanket when I was a baby and it was always my thing of comfort when I was sad and I slept with it every night close to my face. A few years ago, I lost it in a move and I've been so sad about it ever since. My mom recently gave me a box of pictures, memories, etc and I found the other half of my blanket that had torn off in the box!!! Luckily she had kept it. I got it back at the perfect time and I feel like my grandma is here with me when I need her!
Video right before transfer:
During transfer!!
And after transfer: