Thank you to Walmart for sponsoring this blog post!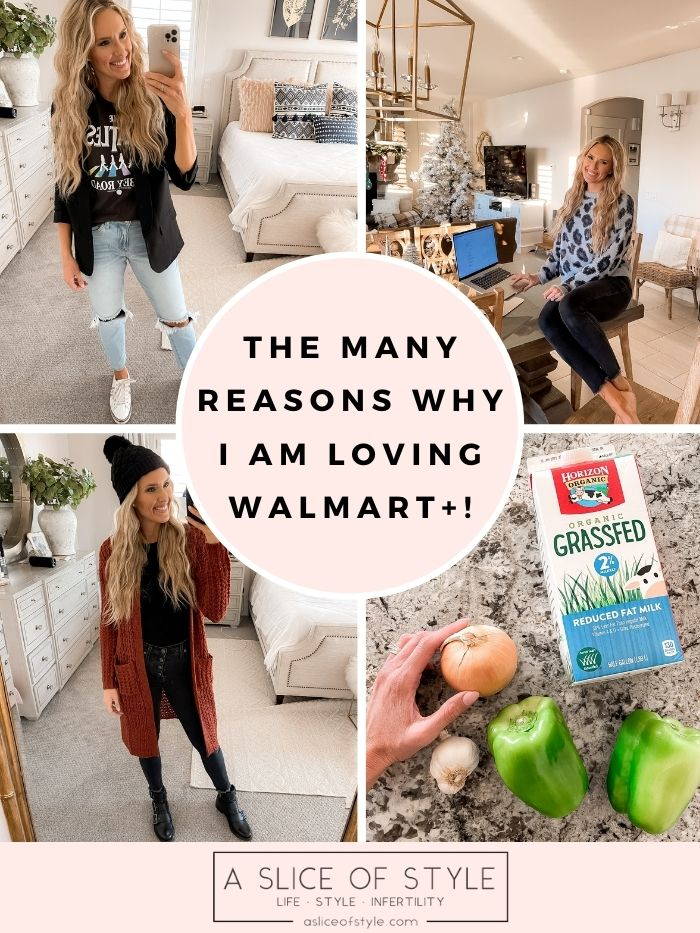 There are seriously SO many reasons to love Walmart+. There have been so many benefits for me that make it totally worth it, and I want to share all of those reasons with you so you know what a difference this membership will make in your life. It will make your life so much easier, while also saving you time and money. It's that good, and you know I never recommend anything to you that I don't personally use, LOVE, and know would benefit you as well. The benefits to the Walmart+ membership that I love are listed below in detail, dependent upon your location.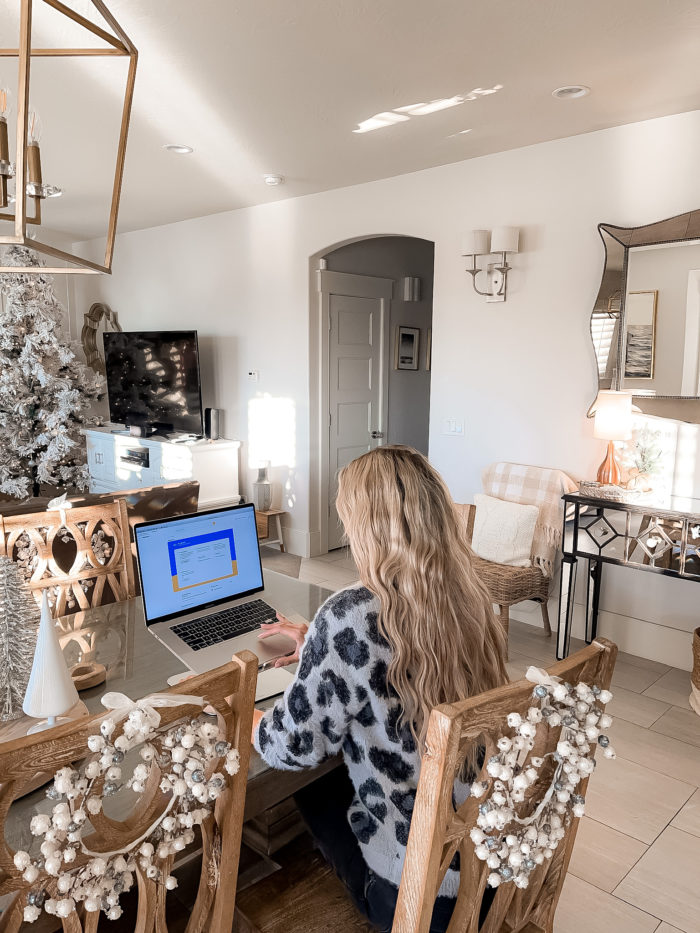 Walmart+ free shipping, no order minimum
What I personally love about Walmart+ is that they have a NEW benefit where, when you are ordering online from Walmart.com, there is no minimum requirement to get free shipping (excludes oversized/freight & Marketplace items)! I love that you don't have to add additional items to your cart just to get free shipping. For example, if you find a sweater that you love for $13, you can just order the sweater with free shipping using your membership, and you don't have to worry about adding additional items. That in and of itself makes it worth getting Walmart+, but there are so many other benefits too! In the past I would sometimes find myself searching for items that I didn't necessarily need at the time, but I wanted to get the free shipping so I would find them and add them. Now, I can order what I need quickly in the moment and not have to meet a minimum requirement to get the free shipping that I love! I shop online at Walmart weekly, so this saves me a lot of money.
member prices on fuel
Walmart+ also makes it possible to save 5 cents per gallon on fuel! There are over 2,000 convenient locations. You can click HERE to find a list of participating fuel stations!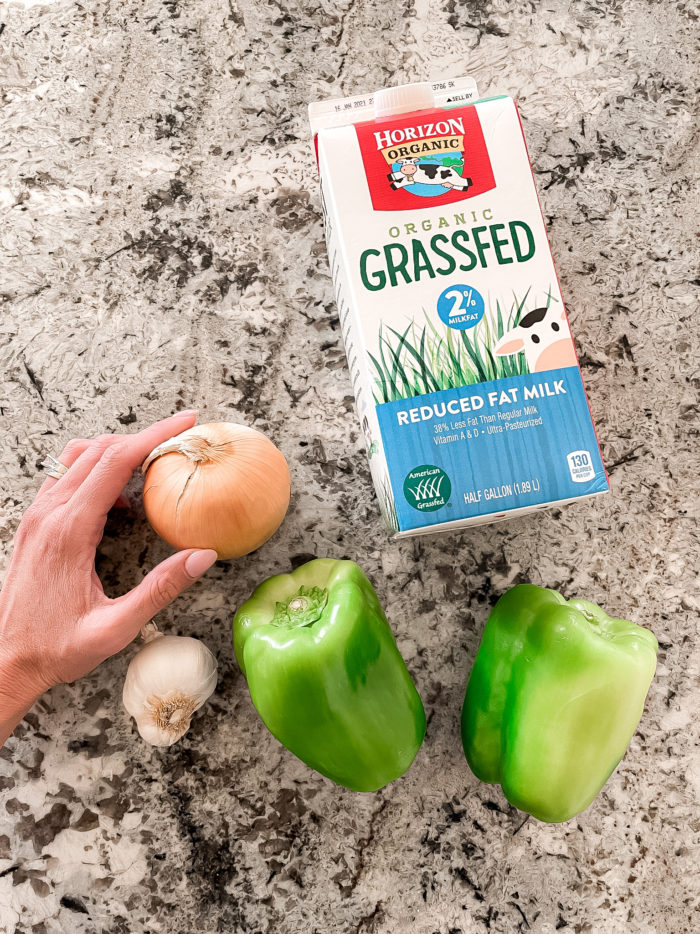 Free delivery from your store
I also love that you get free delivery from your store on orders $35+ (restrictions apply). I can decide what I need for a meal (or whatever else I need), and they will deliver it quickly to my house. I'm in such a busy time of life right now with my twins that I don't always love to go into the grocery store, especially when they are with me. All you moms can relate! There have been many times I've been able to get my groceries delivered the exact same day so I can decide what I'm having for dinner last minute and have the ingredients I need easily delivered right to my front door. That saves me at least an hour of time I would have spent walking around the grocery store! Just that time saved is also worth the membership for me.
mobile scan & go
When you do go and shop in store at Walmart, you can open the app and use the mobile scan & go feature You can scan your items with the Walmart app as you put them in your cart! That way when you get to the checkout, all you have to do is scan a single bar code. After that, you're good to go. It saves you a ton of time checking out! Do you see a theme here? This busy mom wants to spend time on my businesses, my husband and my kids, so the Walmart+ membership is a no brainer for me because it saves me hours and hours of time each month.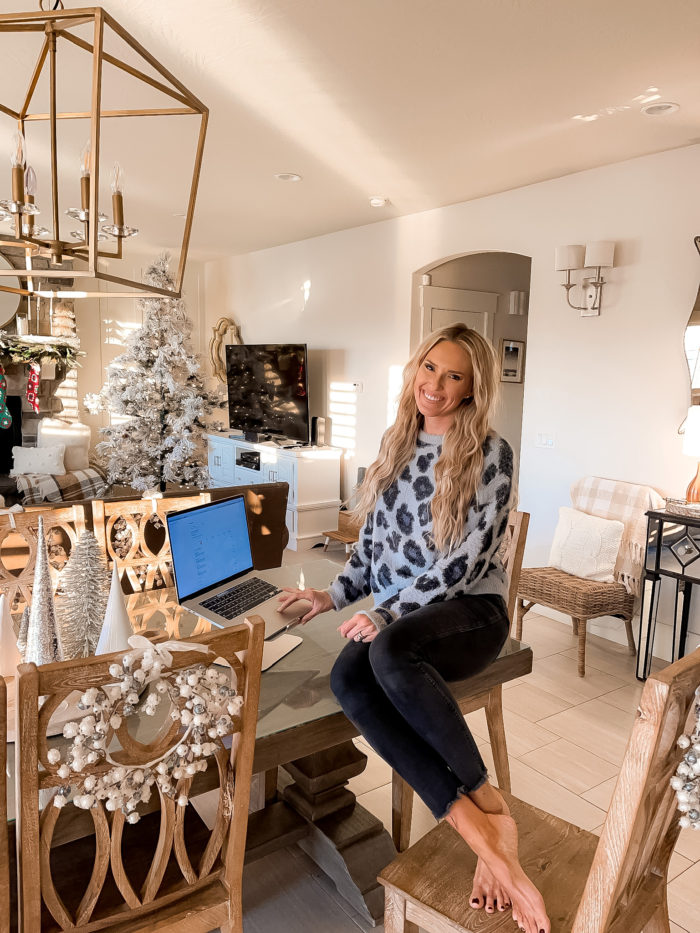 A Walmart+ annual membership is $98 which breaks down to just $2 a week (based on 52 weeks). The membership pays for itself in just two deliveries a month (based on the $7.95 delivery fee). You can also pay monthly if that option works better for $12.95 per month. You will save so much time that you can then use on other things that you love doing in your life. It is seriously so worth it, you guys! You can click HERE to learn more about which benefits are available to you based on your location and get signed up for your own Walmart+ account! You can also sign up for a free 15-day trial.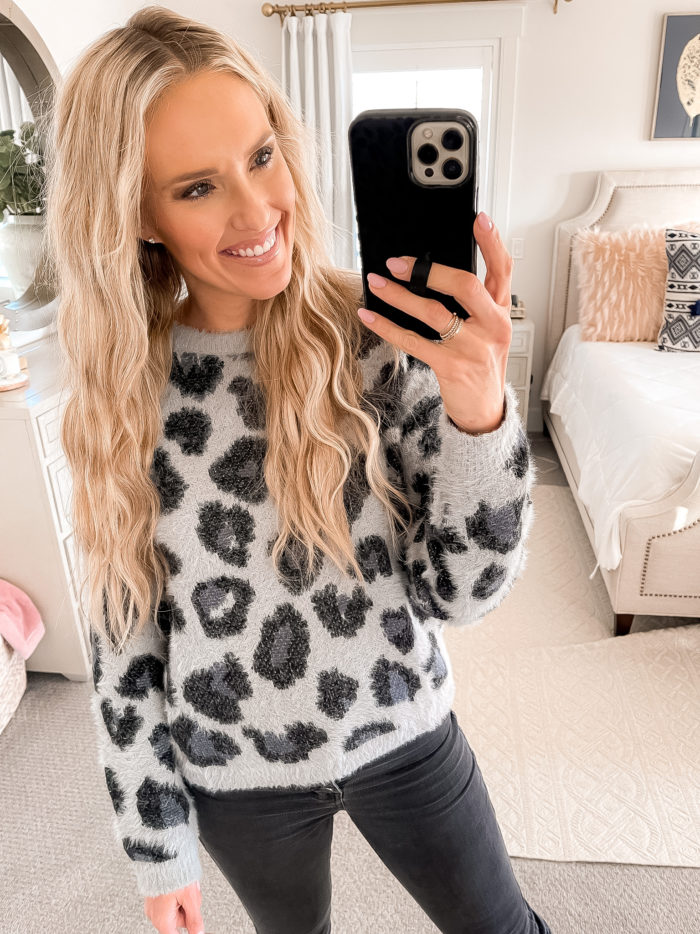 You already know how much I love Walmart fashion items. Here are some pieces I'm loving lately that you can get through Walmart+! This leopard sweater runs true to size! I'm wearing a small. It is so soft and cozy!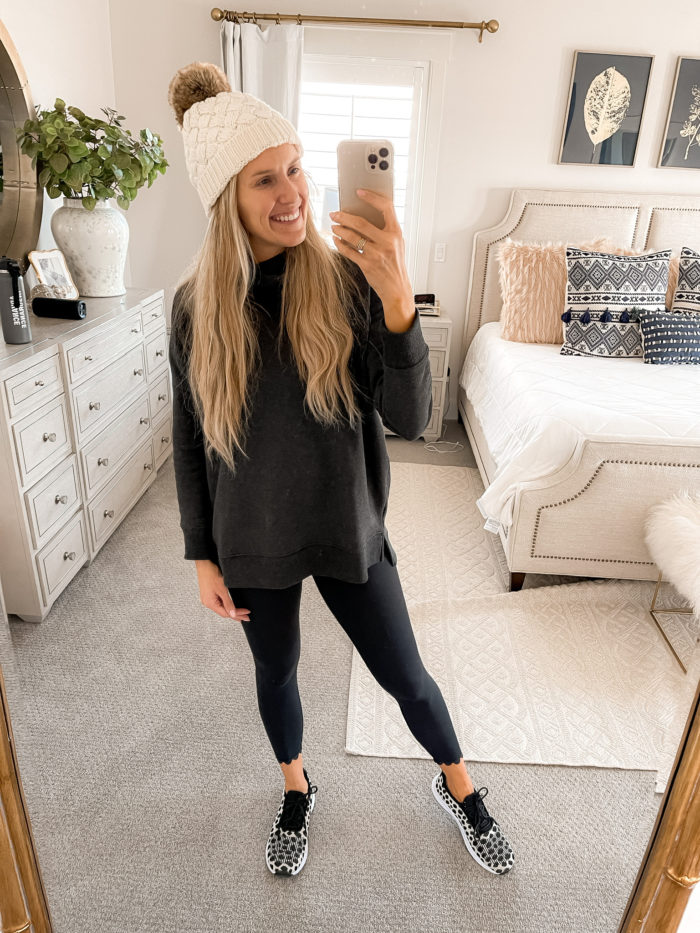 I love wearing this pullover with the high neck to work out because it keeps the cold from going down my neck, and I can just wear it with a coat over it if I need even more layers! This is something that I wear over and over again. It's really long so it's great to wear with leggings, too! These cute leopard shoes run true to size, and they're really great to pair with jeans or leggings. They're only $16!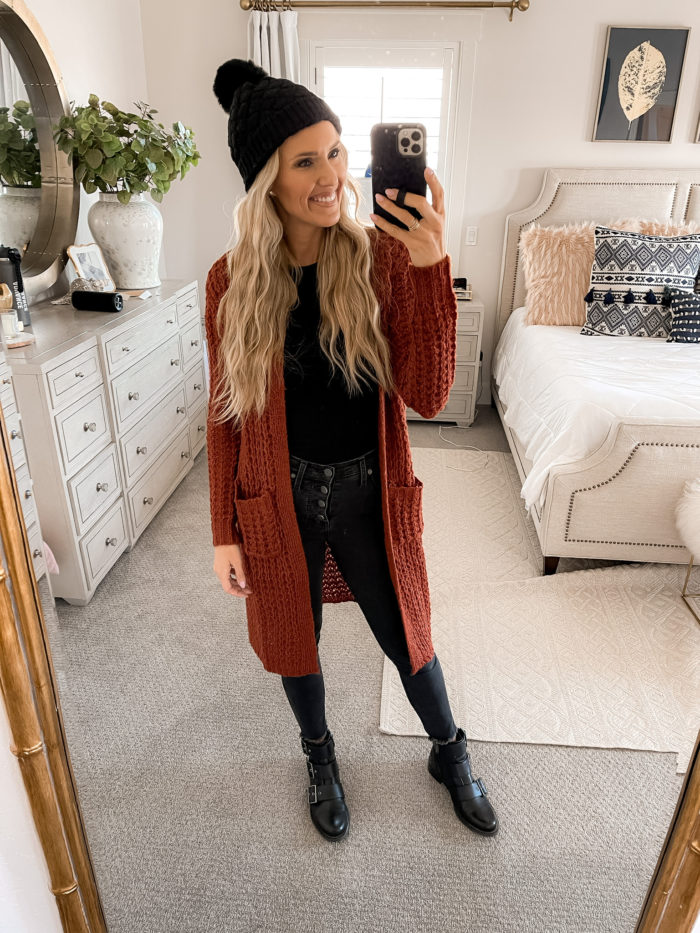 This cute cardigan comes in 4 really great colors and I love the length. I would order 1 size up; I'm wearing a medium and I really like the fit of it.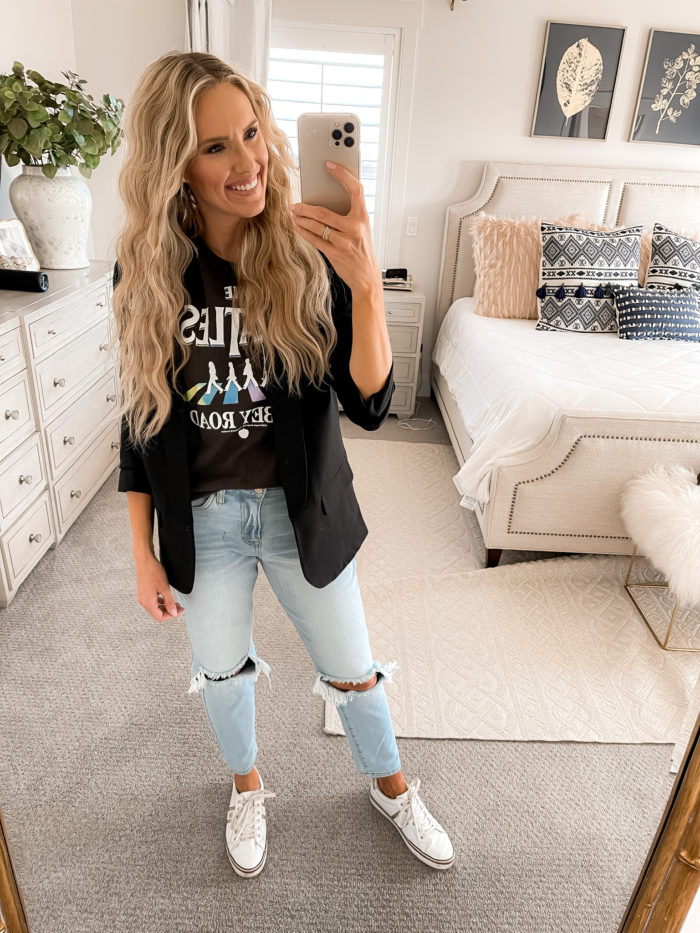 The blazer I'm wearing is a small, so I'd say it runs true to size. The Beatles tee is also true to size. It's a great graphic tee to have in your closet! The jeans are $17!! Such a great deal. Make sure to check the size chart in the description! I am wearing a size 9 for reference, and I'm normally a size 4 or 27 in jeans.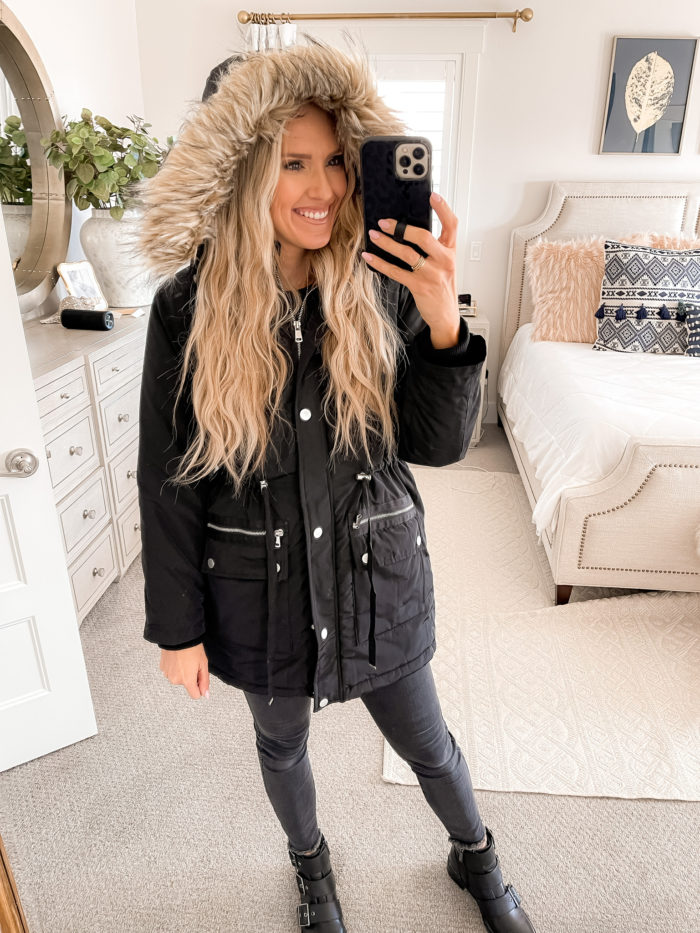 This cute coat is a small and it fits great, so it is true to size. It also comes in a pretty olive green color! It's really warm and great for winter weather! I wore it on my exercise walk outside in our below freezing weather and I had to unzip it because I got too hot! That's a keeper for me.

To read more about my experience with Walmart+, Click HERE.