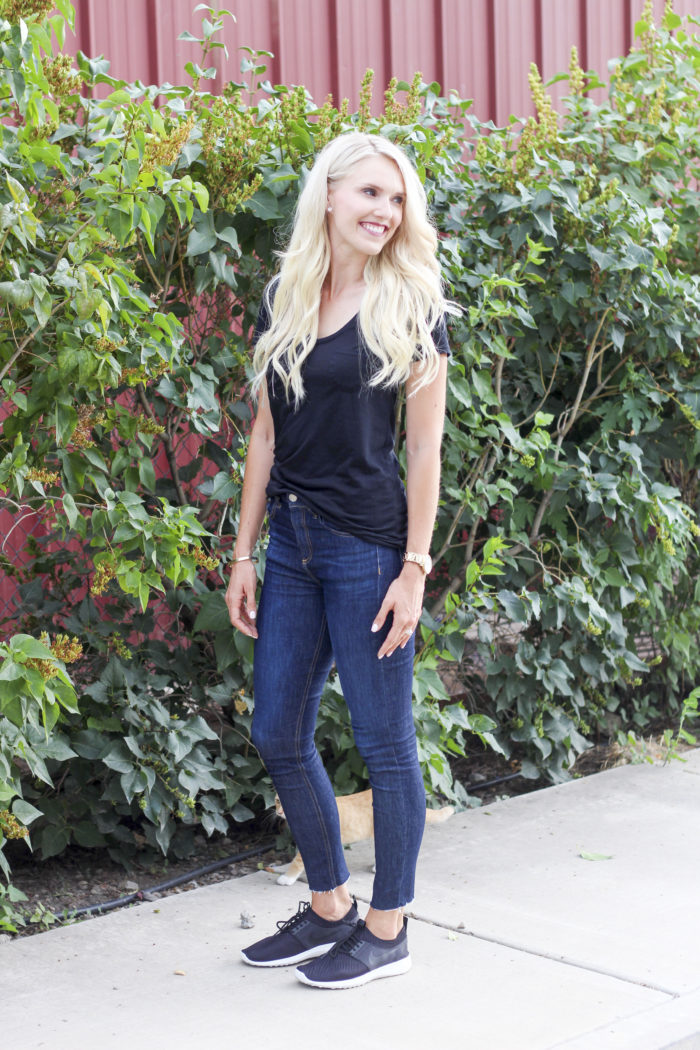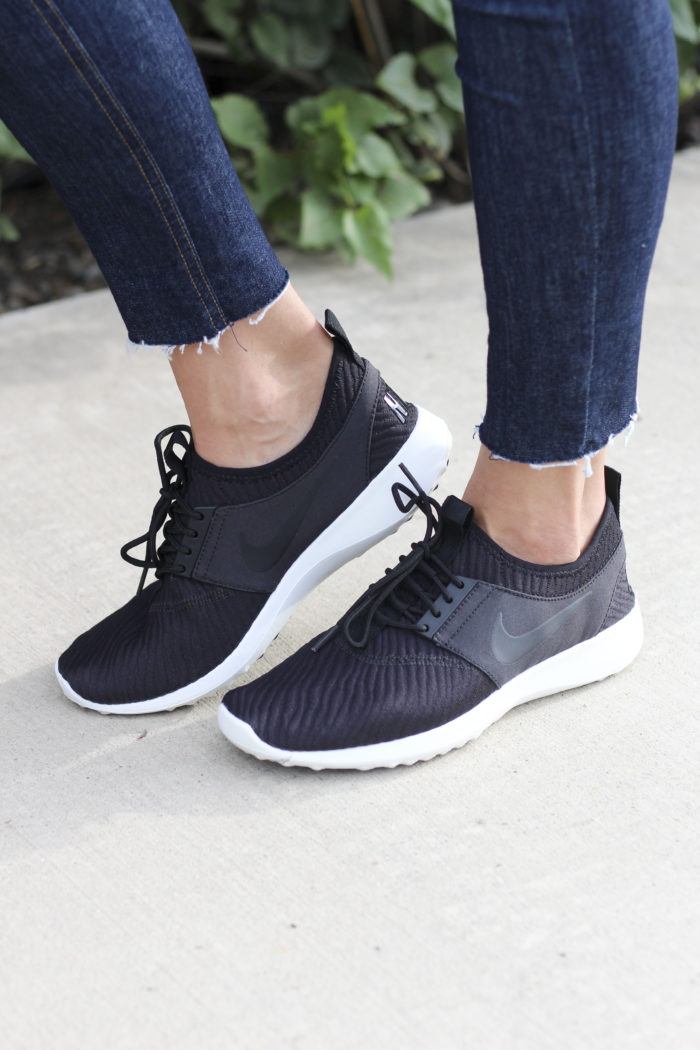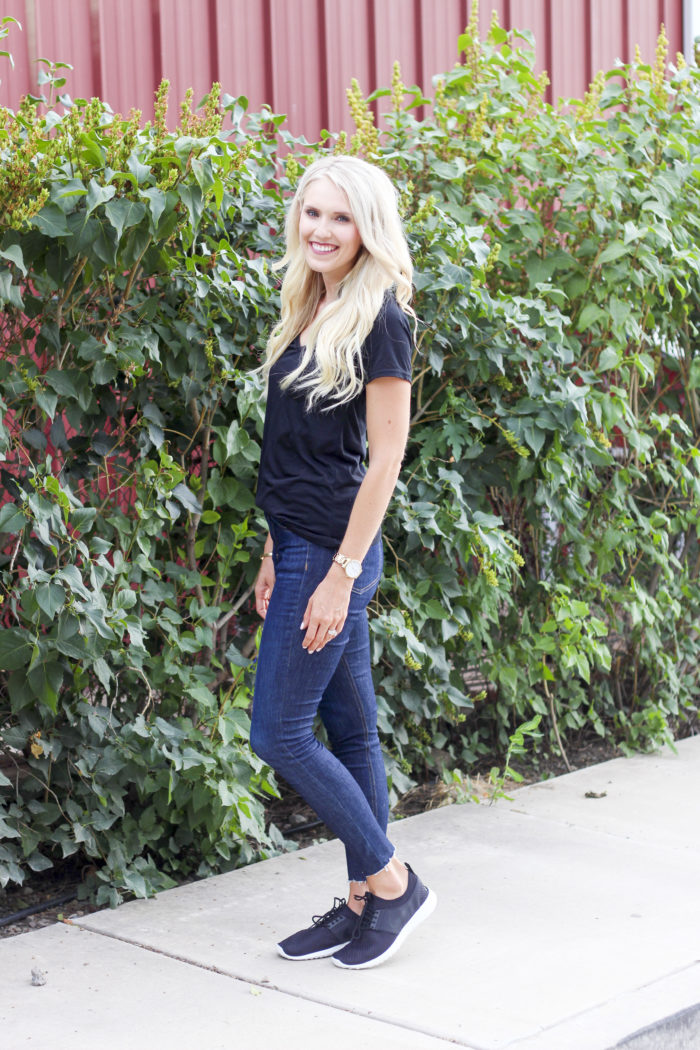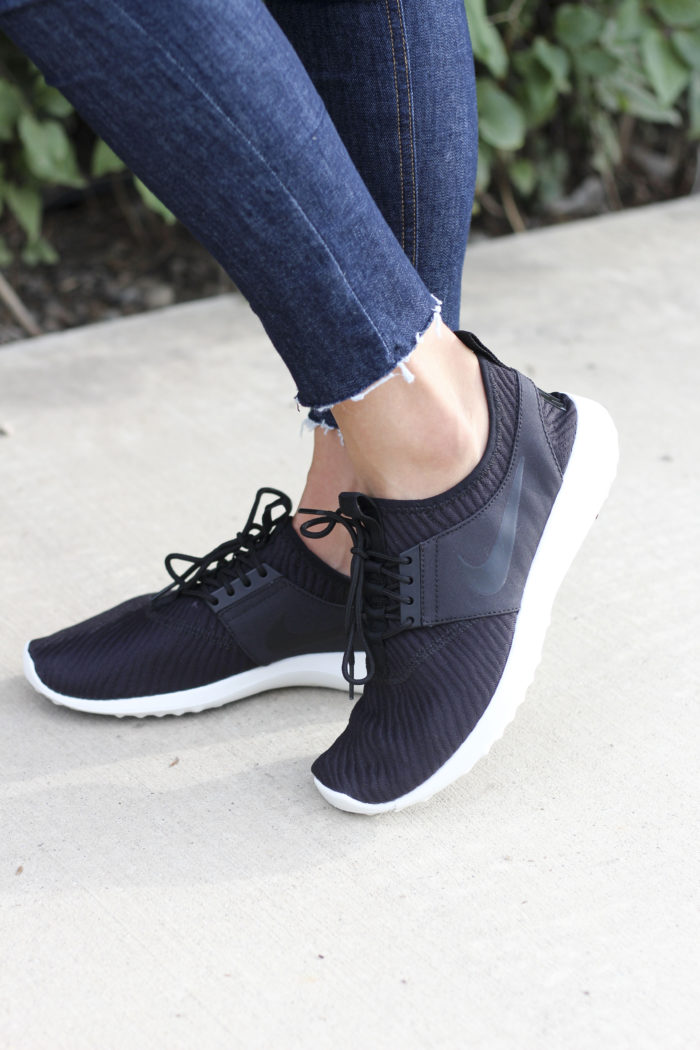 Jeans (order one size DOWN) | Sneakers (true to size) | Tee-shirt (Only $15.90! I'm wearing a size XS) | Earrings (I wear these every day!)
Literally everything I am wearing in this post is on sale!! Like I said in this post of the 4 things I ALWAYS buy during the sale, I buy new designer denim once a year right now. The Nordstrom Anniversary sale is literally the only time that I do it. These jeans are one of two pairs that I bought this year (I love this pair, too) and I think I've worn them at least 7 times since I got them…and I've only had them for 2 weeks. Make sure to wash all of your jeans inside out with cold water on gentle cycle to maintain them even longer. I have jeans that last for years and years, partially because they are high quality and partially because I take really good care of them.
Okay, ladies. Let's talk about these Nike sneakers!!! Traditionally, Nike sneakers haven't been my absolute favorites until I discovered the Nike Juvenate sneakers. Game changer. They make my size 9.5 feet feel small!! You know those sneakers that you put on that have a lot of extra bulk around the heel and sole (honestly, I returned these ones because they make my feet look HUGE). These sneakers are very trim around the base so they are slimming and they fit like gloves! Or like socks. Super, super comfy socks. I buy these socks at Walgreens because they don't slip on your heel and they are super low profile so you can't see them.
So, if you want a COMFY shoe with slimming-powers, these shoes are your unicorn!
I had a really hard time narrowing down my top picks of the sale, but here are my top 11 that are still in stock!! The best deals on the best items. I did all of the work for you, sister! Click here to shop the entire Nordstrom Anniversary Sale.