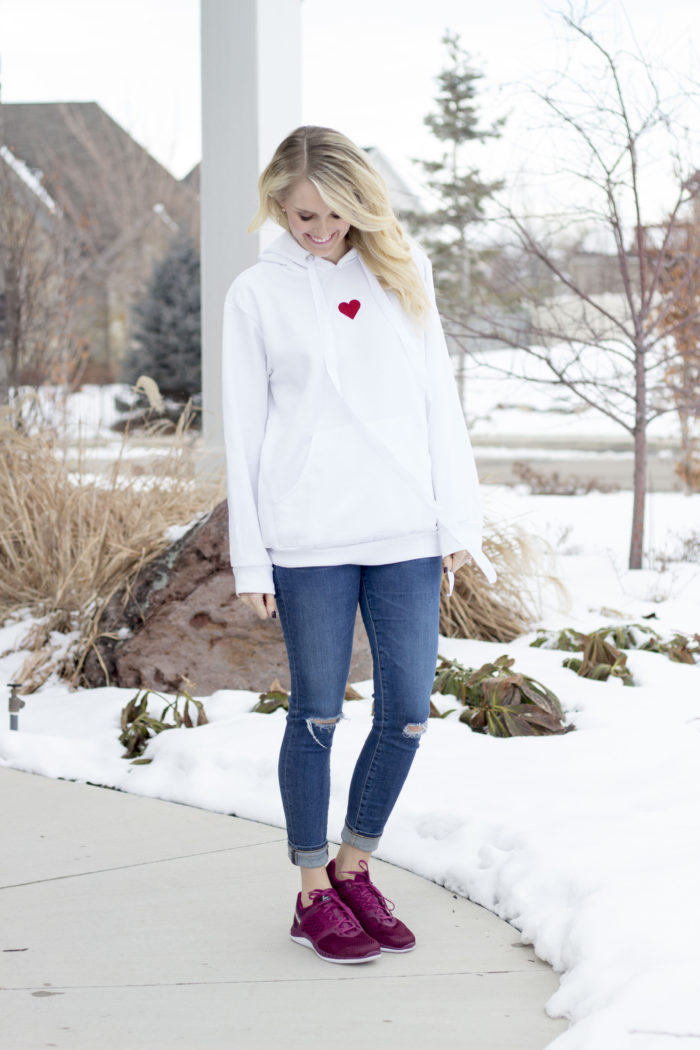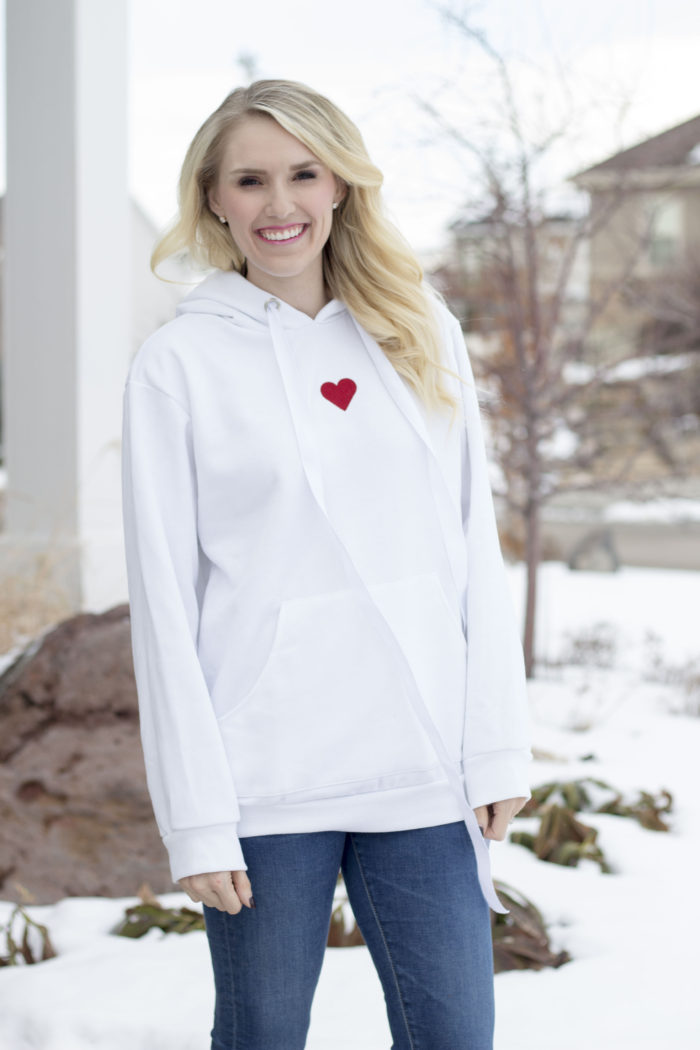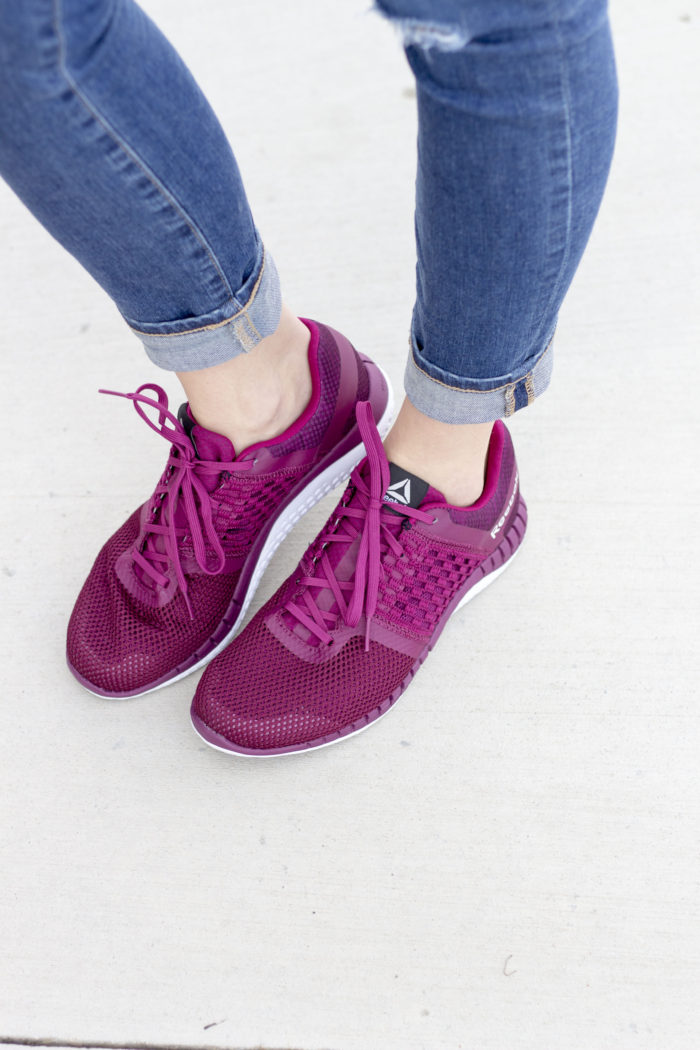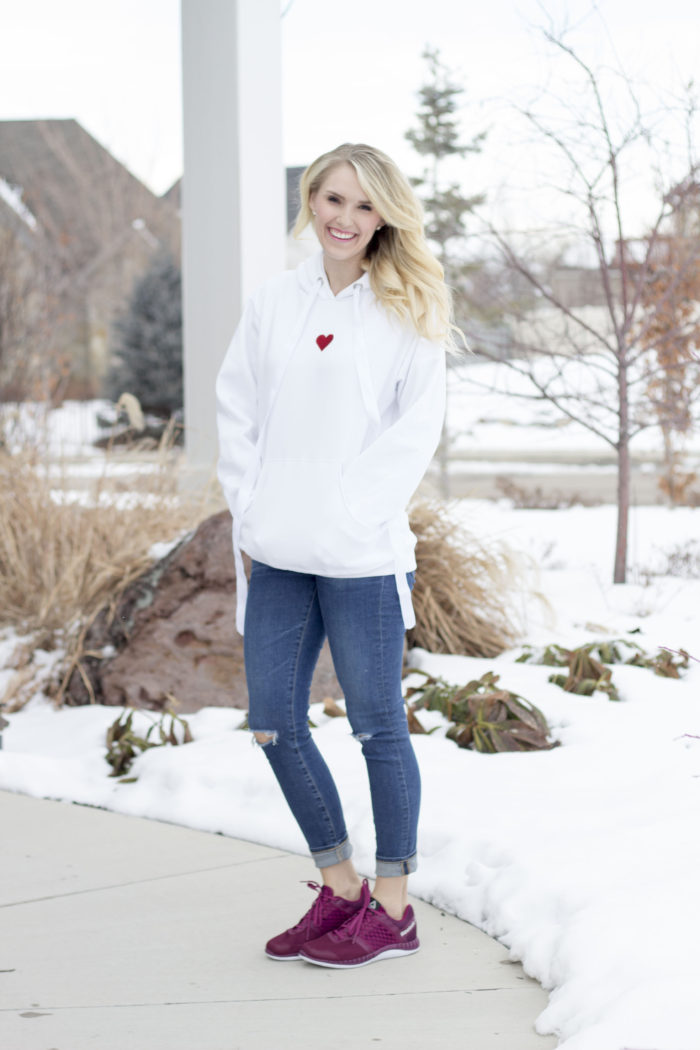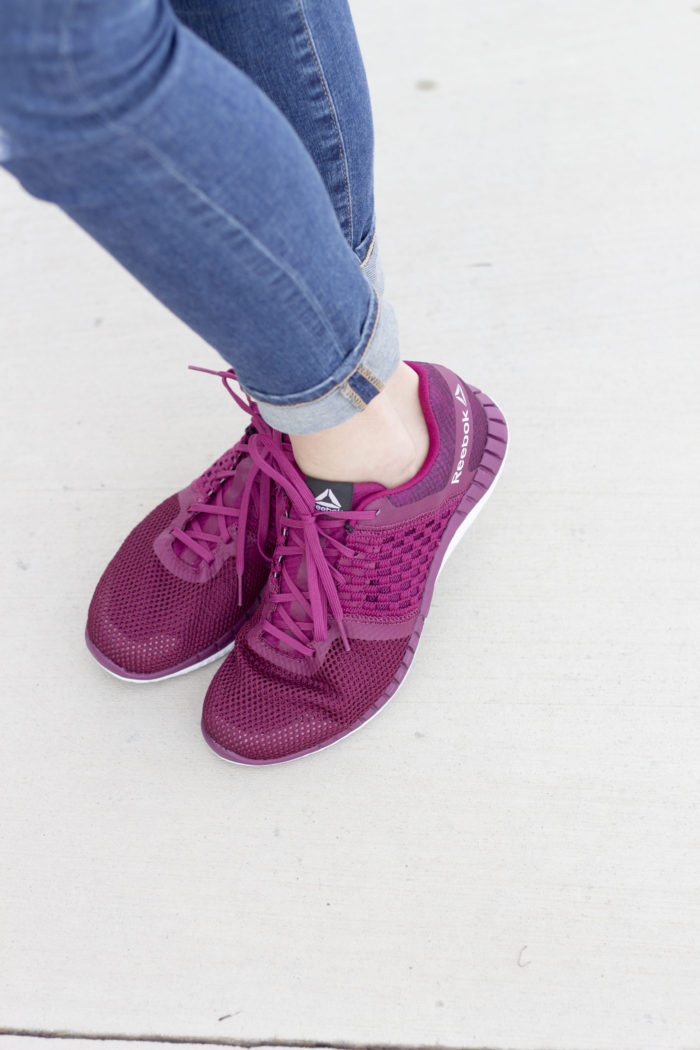 Athletic shoes: Amazon | Heart sweatshirt: ASOS (out of stock), similar here, here and here| Jeans: Nordstrom
Yo, yo, yo!! Happy Monday. Or not…but we can pretend. Truth be told, I actually like Mondays now that I don't have to leave the house to go to work any more. It's like a new, fresh start. In my PJ's. Except when it's not. So I hope it is for you today!
I'm loving the athletic shoe trend. I like finding comfortable shoes that are actually good for your feet. True story – I worked at Nordstrom for a summer while my husband was working in Texas about 7 years ago. I worked in a department where you had to dress up. It was a fun job, but my feet legit grew a half size from being on my feet all day in flats. So when I can wear comfortable shoes with good support, I will, because I'm creeping into the double digits (yes, almost size 10…Paris Hilton status) in some shoes and I want to stay just under that mark. Wearing shoes with good support helps your arches to not fall. Call me Big Foot. Wait…don't.
I have told you this before, but I'm going to repeat myself because you might have forgotten, you might not have read it, or you might have chosen to ignore my excellent advice. No more, my friend! I got you. I started shopping with Amazon Fashion about 2 months and I love it for two reasons:
If you sign up for Amazon Prime, you get 2 day shipping. Now, I may have a million a couple wonderful qualities, but patience just isn't my favorite virtue. (If you admit it, that's the first step to the road to recovery, right?) We are an instant gratification world, and as much as I hate to admit that I'm not perfect (I know I almost had you fooled), I like getting things quickly.
IT'S THE EASIEST THING THAT HAS EVER HAPPENED TO ME TO RETURN OR EXCHANGE SOMETHING!! Maybe not the easiest thing, because breakfast in bed is totally easier, but it's close. If you order the wrong size, for instance, you can log in to your account, find your order, click "return item," it asks you why, you choose your refund method, and then you can SCHEDULE A PICKUP TO YOUR HOUSE FOR FREE!! Amazon Fashion lets you return things for free whereas other products (say, a book) may not be returned for free. I packaged up my shoes that I needed to trade sizes, and the UPS guy showed up to my porch and got it for me. Then I ordered the right size. See? Almost as easy as breakfast in bed.
Here's the process:
(Except it will let you return Amazon Fashion items for free!!)
And here are my favorite athletic shoes right now! (Clickable images)