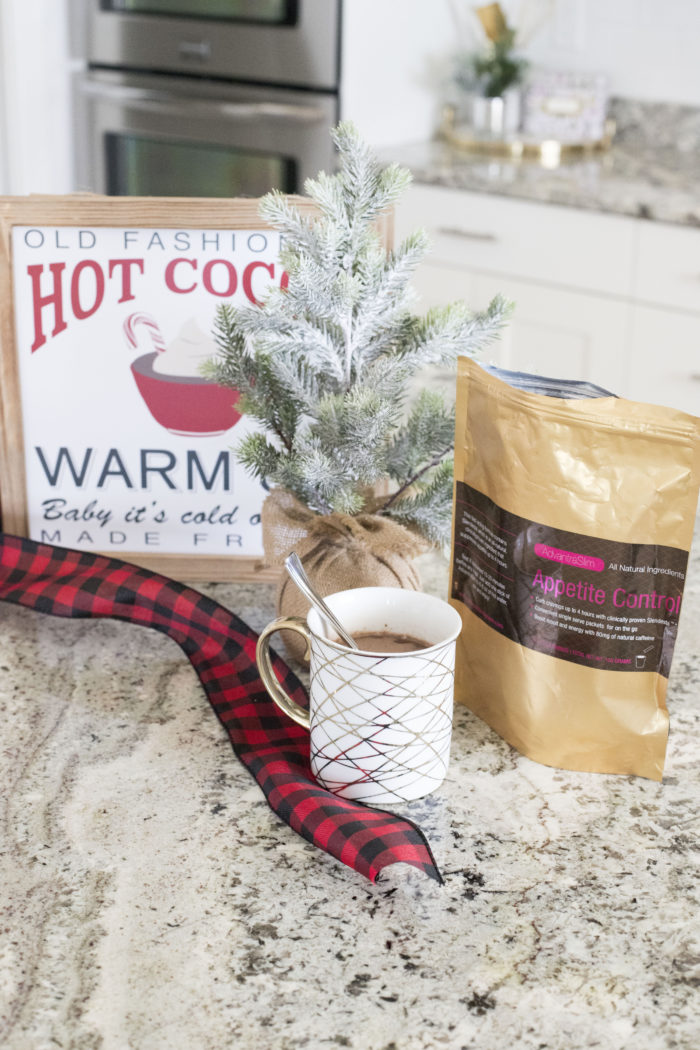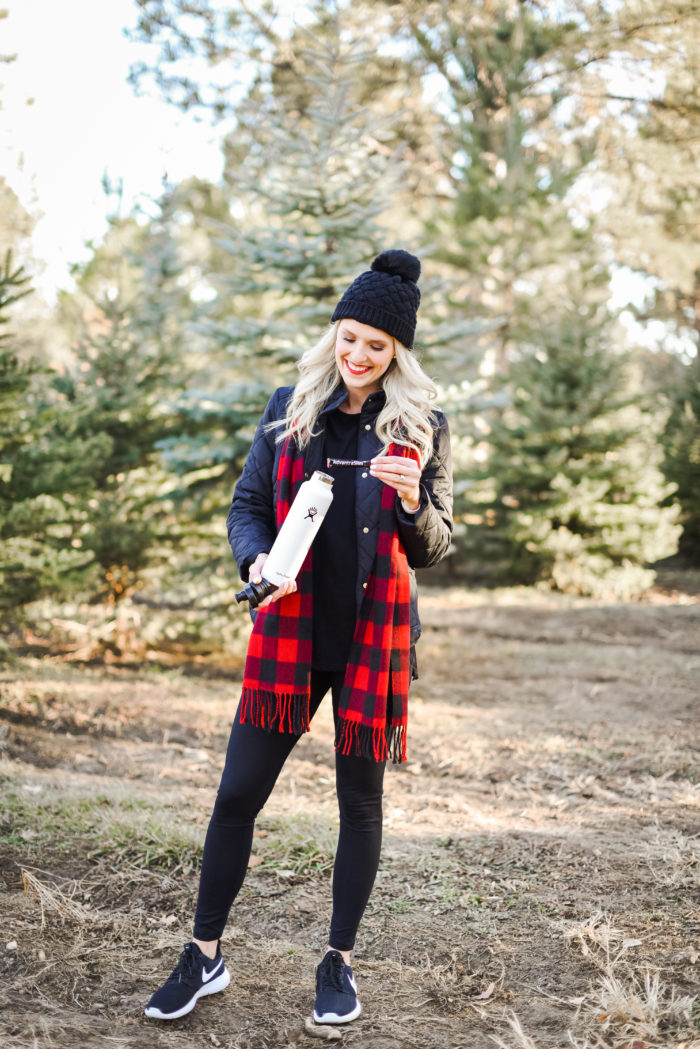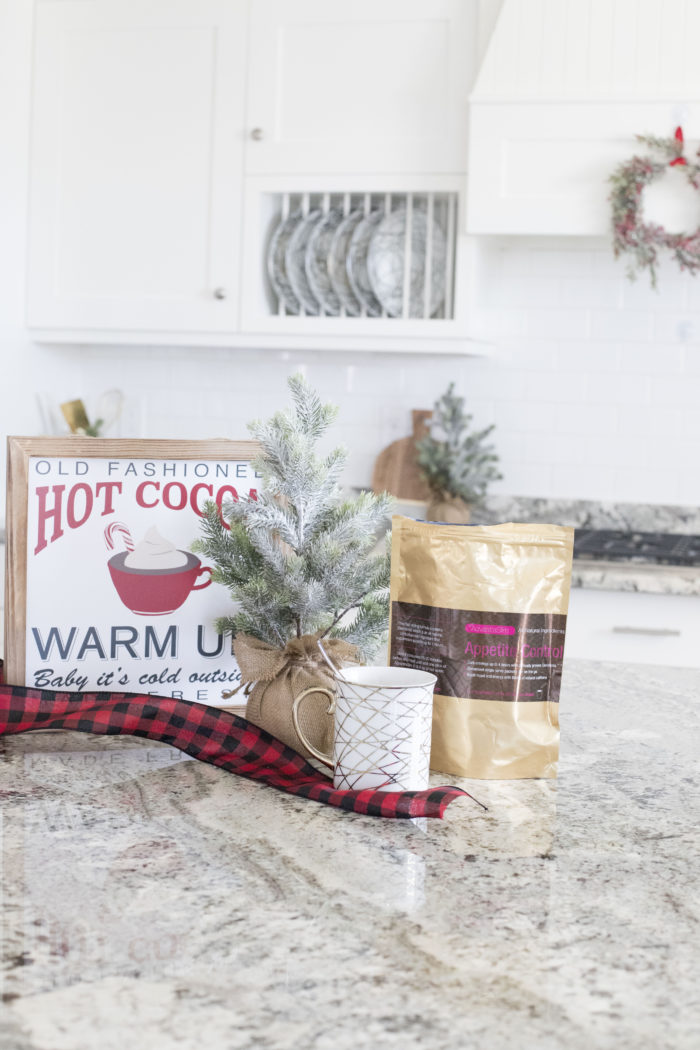 Beanie: J. Crew Factory | Leggings: Zella (the BEST leggings to wear with sweaters + boots too!) | Scarf: Old Navy, similar here and here) | Jacket: J. Crew Factory | Long sleeve tee: Nordstrom (only $19! I have 3 colors) | Sneakers: Nike (my FAVS + on sale!) | Bottle: Hydroflask | Earrings: Nordstrom

The title of this blog post is pretty bold, right? I feel good about it though. I stand by it. I think that when you feel good, you can look outside of yourself and do good. I know that our minds are the most powerful asset that we have, and we have more power of minds than we think I think that the best gift that I can give myself and to others is to take care of myself. An empty container can't give anything no matter how bad it wants to. That's how I feel about myself; if I'm depleted, how can I possibly give to my husband, to my children, to my family and my friends.
I think about exercise and eating healthy as a gift to my body and a gift to others. By taking care of myself, I'm able to give of myself. I think in our world, it's so easy to get down on our bodies and look at the changes that we want to see rather than focus on the amazing aspects of our body that are already there. That are there right now. I think that changing the way that we look at exercise will really change how successful we are in any workout routine that we want to stick to. Look at it as a gift to make your body healthy. Thank your body for allowing you to do these exercises. Do it because you LOVE your body, not because you hate it. Think about everything that your body does without you having to even think about it!! You breath! Your lungs fill with air. Your heart pumps blood to all of your limbs. It's a miracle.
---
---
HOW I'M STAYING FIT AND HOW YOU CAN, TOO
---
---
If you want an accountability partner to stick with a routine on, let's do it TOGETHER! I started Kayla Itsine's workout program BBG week 1 day 1 yesterday. I downloaded the app on my phone because it makes it so much easier to follow. You can get a 7 day free trial to see if you like it! Just make sure to cancel before it charges your card if you don't want it. I think it's such a great investment, though. I'm a list checker offer, and it feels so good when the app gives me a check mark that my workout is done for the day. Tyler had an early morning meeting this morning, so I couldn't go to the gym. I LOVE that I can do BBG at home! I got my workout in before the babies woke up and it felt so good. I used my babies' rocking horse as my medicine ball and the stairs to do my tricep dips. You might need to a get a little creative if you don't have all of the exact equipment that you need, but it's completely doable. Equipment to buy suggestions
Here are my tips to set yourself up for success:
Schedule it in your day. If you don't schedule it, other priorities come up and it doesn't happen! I like to work out first thing in the morning. Tyler goes to the gym bright and early while I get up and do things around the house. When he comes home to get ready, he watches the twins while I go to the gym. When I get home, he hops in his car and heads to work. If he has an early morning meeting, I'll get up and work out first thing in the morning (after scripture study, prayer and making my bed) at the house. If I wait until the twins are awake, it tends to just not happen because they require a lot of my attention 😉
Lay your workout clothes (top, bottoms, bra, jacket, socks, shoes…literally everything) and your water bottle, head phones and anything else you will need for your workout. This will save you a TON of time in the morning if you're like me because my brain is a little foggy right when I wake up. I link to move about without thinking much. It puts you in the mindset to wake up and work out which is the first step.
If you're looking to lose weight, try Advantraslim. I use this as a tool to help me make the best food choices. It uses a potato protein to help you feel satiated naturally, so that you can step back and not be hangry. When I'm hangry (hungry = angry), then I'm blinded and will eat whatever is in front me, then look back and think, "crap! I made a bad choice!" I LOVE the new hot chocolate Advantraslim because it tastes amazing. If you've tried Postum and like it, then you will like this. It's nice to drink a warm drink when I wake up and get a little caffeine boost if I'm feeling groggy. It also comes in a caffeine free version if you don't want any caffeine which I think is amazing. I like that I can drink it in the evenings to fight my hunger cravings at night. Use code STYLE47 for 47% off their ENTIRE site!
Fill yourself up with greens and protein after your workout! If you haven't tried the blueberry protein from WMNutrition, you are missing out. I'm not kidding, it's hands down the best protein I have ever had. I also love that it comes in smaller packets so it's easy to travel with and bring just the right amount. Use code STYLE47 for 47% off! I putting two huge handfuls of spinach, a packet of blueberry protein, half a frozen banana, a few ice cubes and some water in my Blendtec. It tastes SO good and it's even better for you.
Make a goal (like work out at least 4x a week for month, etc) and then treat yourself with some new workout clothes! It's amazing what a new pair of shoes or new pair of leggings will do for your motivation. It makes me so excited to wake up and put on my clothes or shoes! These black Nikes are hands down my most favorite workout shoes of all time and they are on sale for 20% off! I didn't even like Nike shoes before I found these! They are snug and cute and perfect. They run true to size and are cute to run around in as you do errands, too.

I hope these tips will help you and I hope you remember that you are perfect just the way that you are. Your body is a gift and we all need to treat our bodies like that! So much love to you, friends. Thank you for being here, and thank you for your positive influence in this world!