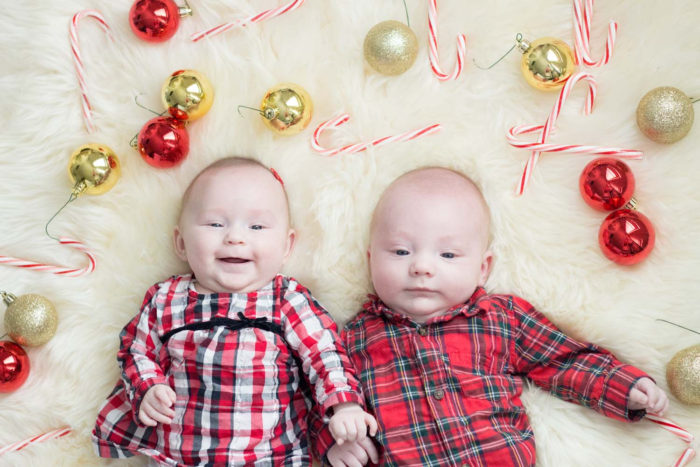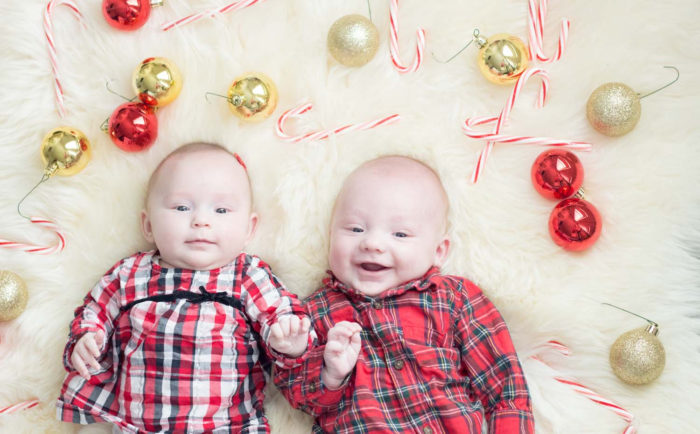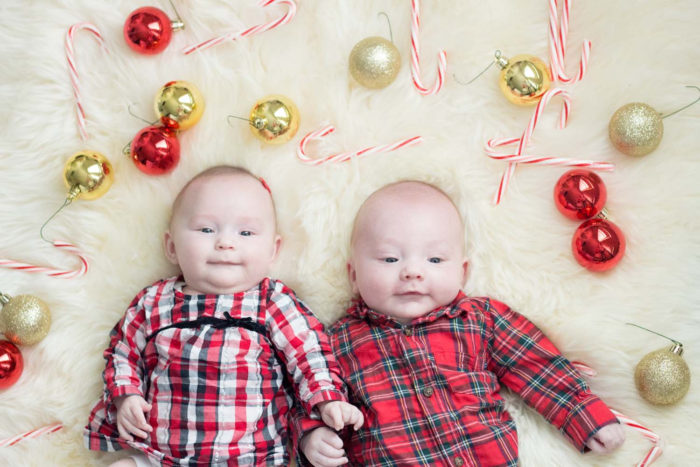 Having these babies has been the highlight of my LIFE so far!! Seriously, they bring so much joy and love to our home. Just when you think you can't possibly love them more, you do. It seriously kind of sounds cheesy, and of course we have our hard times and moments and we change multiple poopy diapers each day…but the JOY!!! Oh, the joy. Tyler and I are having so much fun watching their little personalities come out. Goldie is SUPER social and loves to laugh and chat with everyone she sees. She makes us laugh when she "complains" ha ha…her little voice! Harris is laid back and has the sweetest, most calm little spirit. Those big, blue, innocents little eyes make me want to be the best me.
Christmas is such a sweet time of year, and Tyler and I are now realizing that WE are the parents (we're not just playing house…crazy!)…we get to decide on what traditions we want to cultivate in our little families and it's basically the most exciting thing that has happened since the Cubs won the World Series. Times a million. It gets me giddy!
These are the Christmas traditions that we are going to start!
1. Opening new pajamas on Christmas eve to wear that night and in the following. I always thought this was such a fun tradition that other families did and something that we are going to start! This includes new pajamas for Tyler and I too and I already purchased Tyler's. He has no idea and I can't wait to surprise him.

2. Making gingerbread houses with my family. We have done this since I was a little girl. My grandma would spend HOURS in the kitchen making real gingerbread. When we got a little older, she would actually make them out of cardboard boxes! She would cut the pieces and hot glue them together. When it's covered with frosting, you can't tell! Plus, we didn't really ever eat the actual gingerbread houses anyway and it saved her a lot of time. I remember going over to house on Christmas eve and making the houses. My dad and I walked out into the cold night after we were done one year and looked up into the sky. He said, "do you see that? It's Santa and his reindeer out to deliver the gifts for all the kids!" And I said yes, because in my mind, I did see it. I made myself see it because I believed. I can't wait to do this with my babies each year! My grandma has since passed away and I love carrying on her tradition with my family. 

3. Buy a new ornament each year that represented our year. We are going to all shop for this ornament together, take a picture of it all together, and then write in a little book why we chose that ornament for that year. It will be a fun little photo album of all of our Christmases! I'm so excited about this. 

4. Buy a new Christmas book every year. I absolutely love reading and want to instill that love into my children as well. We will have a collection after a few years and we will be able to read them together all season long as a family before bedtime! 

Will you let me know what your favorite Christmas traditions are either here or on Instagram? I love hearing about family traditions and what makes the season special for you, and getting other good ideas!!