Thank you to Stanley for partnering with me on this blog post to share my health journey on healing from Epstein-Barr virus!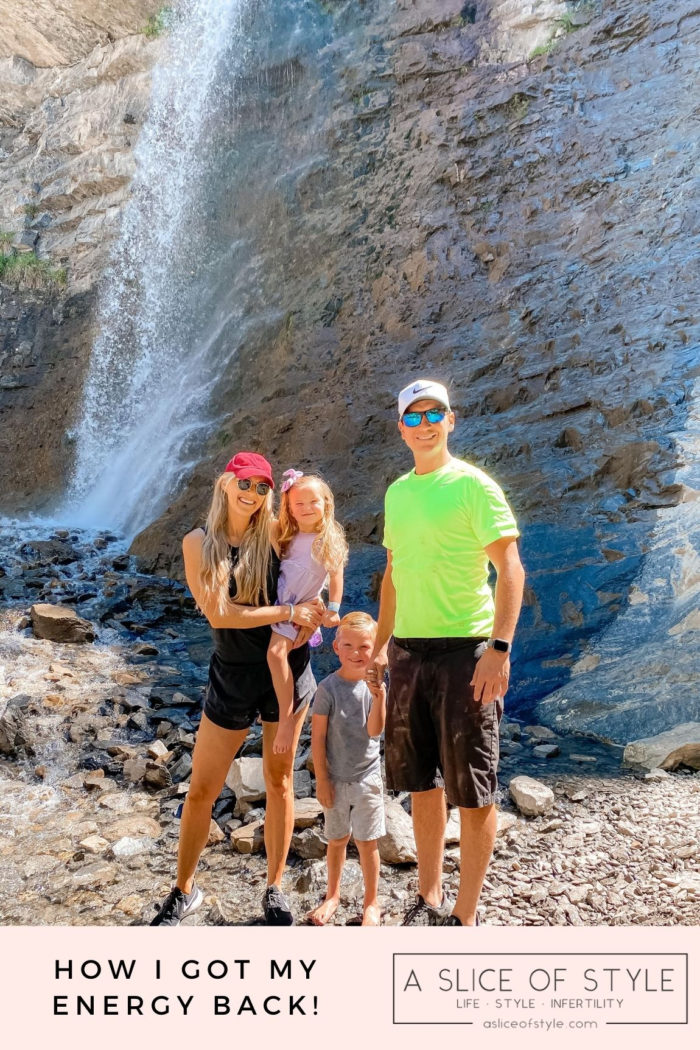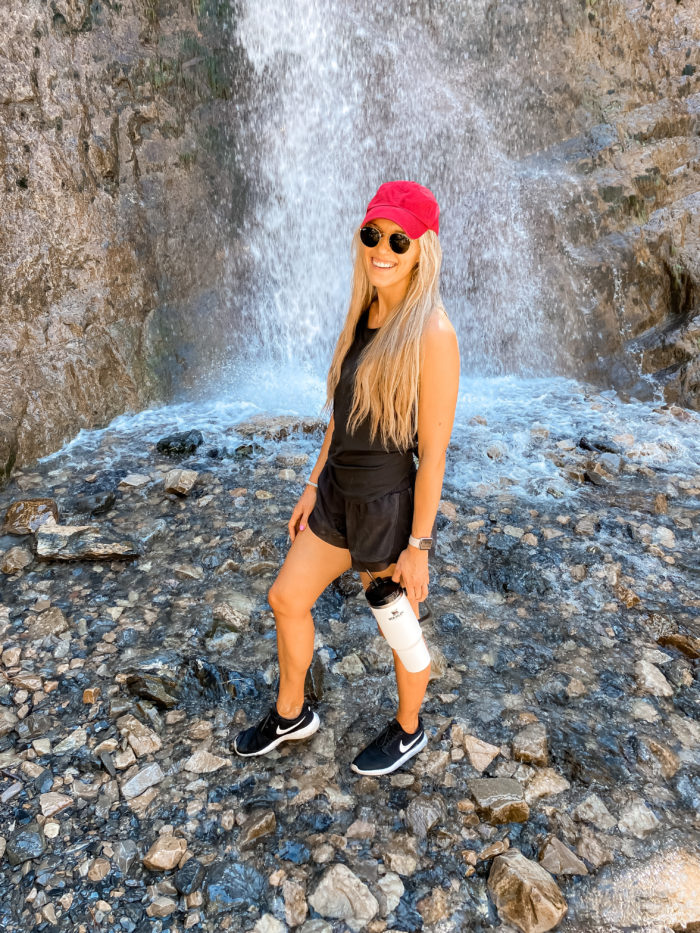 I have teamed up with Stanley for this post because I LOVE these cups and literally use multiple of them throughout the day to help me drink my smoothie (recipe below), my water (recipe below) and stay hydrated throughout the day. More on why I'm obsessed also below. Keep reading 😉
How I Recovered From Epstein-Barr Virus
Discovering i had epstein-barr virus and what my symptoms were
About three months ago, I would be so tired by 1 pm that my body felt like I had been hit by a truck. There isn't a better way to describe it. I would feel so incredibly fatigued that I felt like I could fall asleep for the night and sleep until the next morning. YES…it was 1 pm. When Tyler saw me gradually getting worse and worse, he told me that he thought something might be wrong with me. I was a little offended at first…I mean…does he not know how difficult it is to spend the entire day at home alone with twin toddlers?! After I swallowed that emotion, I realized he was right. My friends and family said they were tired but my tired was a next level kind of tired. I asked myself why and really started to examine it. I would emotionally eat at night a LOT. WHY was I doing THAT? It all came down to the fact that I was absolutely EXHAUSTED. But WHY?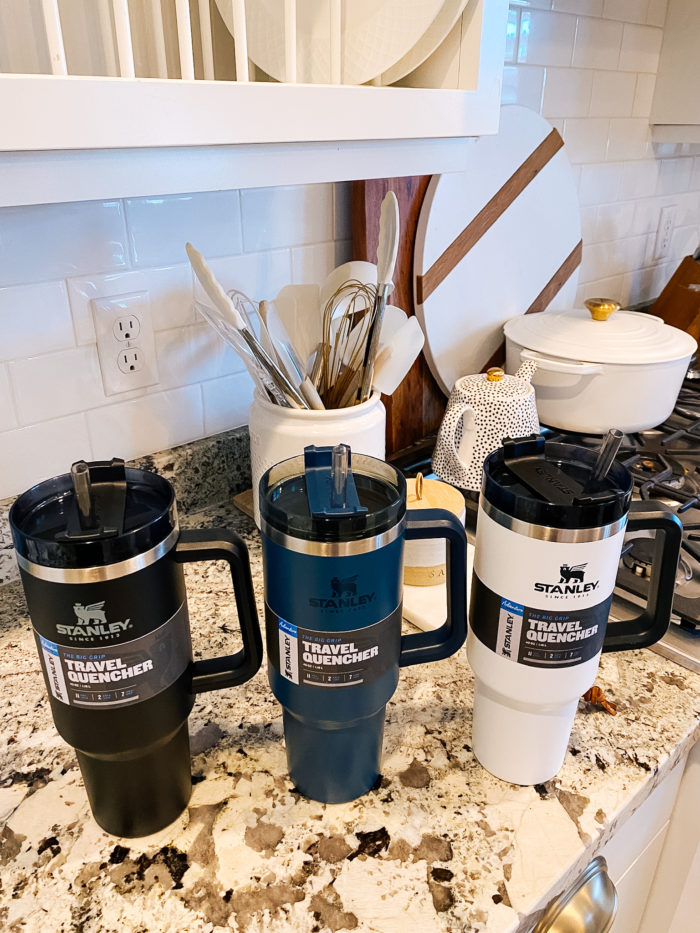 After the twins were born I had some blood work done. The doctor had told me at the time that I had a "raging case of mono." She said by the numbers she saw, it was a recurring issue and that I'd had it before but it was back. Hmmm, I thought. I'd never had it before. Life got busy and I forgot about it. 
Three years later, I was so exhausted that I couldn't just forget about it. It was getting to the point where it was controlling my life. I have big dreams and goals and my exhaustion was inhibiting me from the being the best mom and the best human I could be. I wanted to be HAPPIER!
I talked to my mother-in-law who had Epstein-Barr virus and everything she described sounded like me. I did lots of research online…and again…it all sounded like what I had.
I went to my new doctor and he told me that other doctors would look at my antibodies and tell me that I HAD the Epstein-Barr virus, but that it wasn't there any more. Normal levels are up to 18….mine were over 600. My body was fighting Epstein-Barr like CRAZY. 95% of us have the Epstein-Barr virus in our systems, but it's in hiding and not raging until something traumatic happens. This can be emotional like a divorce or something traumatic like giving birth to twins after having preeclampsia like I did. He told me to read Medical Medium and start drinking celery juice each morning. He said the dietary changes he and his wife have made have completely changed he and his wive's lives. His wife used to literally be bed ridden.
Since then, I have been researching and making some huge changes in my life to better my health and I can honestly say that I feel like a new person. I feel like MYSELF again since I have now have control over my Epstein-Barr virus. I feel like the goals I have CAN be achieved because I have enough energy to achieve them. I can't tell you how happy that makes me. I feel like I have some answers!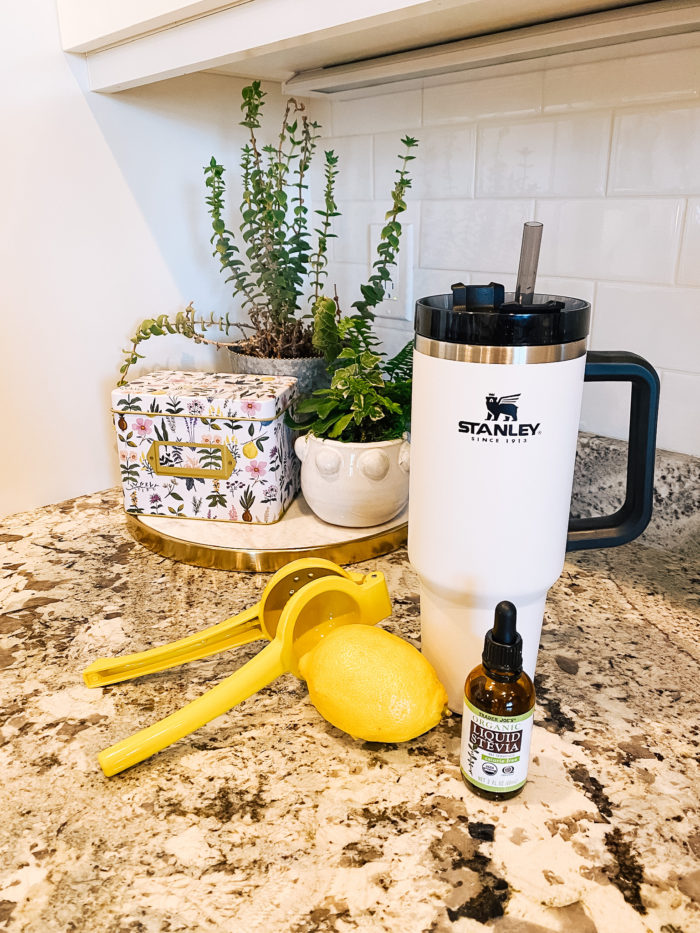 My Daily Routine That Healed me From Epstein-Barr and Gave me my Energy Back
First, I ordered the Medical Medium book. You can look up your specific issues like headaches, Epstein-Barr, thyroid issues, etc. and follow his protocol for supplements and what foods help. I am taking about 12 different vitamins and supplements right now. I did a 5 day raw fruit and veggie cleanse (literally I didn't cheat once) and then I eat all raw fruits and veggies (mostly in smoothie form) during the day and then a regular dinner at night. I have started to add in healthy fats like avocado during the day as well as high quality, grass fed meat. When I eat meat at home, I always buy and eat organic and 100% grass fed beef and chicken! I try to make smarter restaurant choices as well, but I when I'm out I won't always eat organic so I really focus on it at home.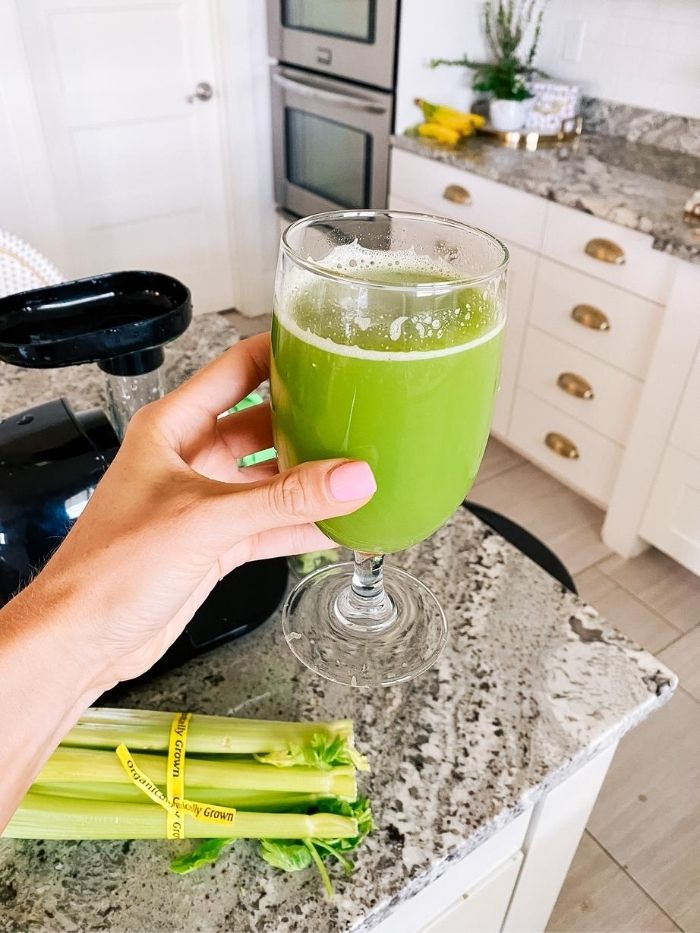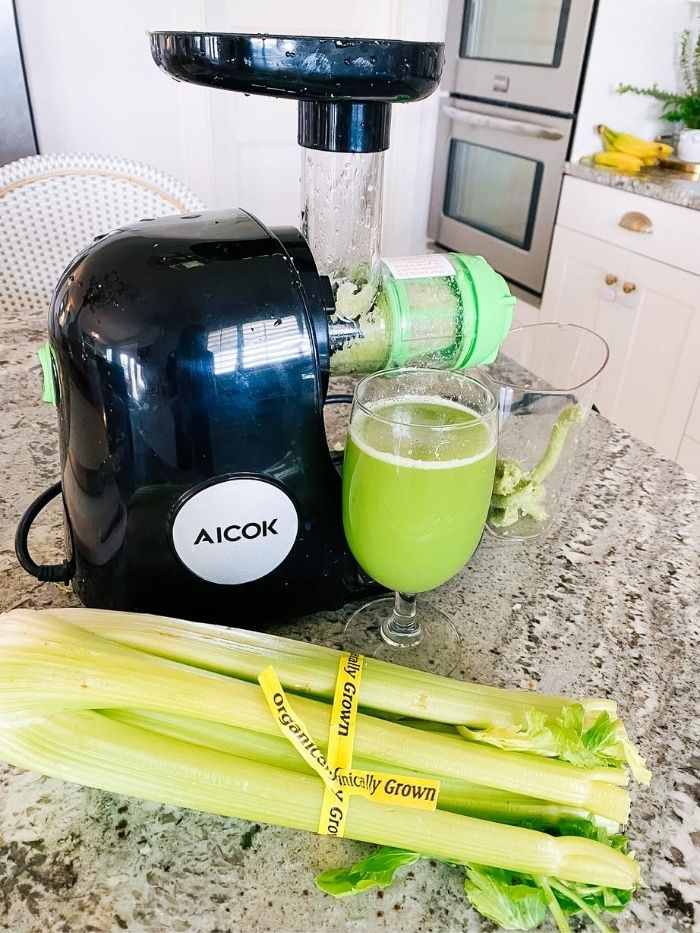 Every morning, I juice one bunch of celery juice and drink it 15 minutes before I eat anything else. I wrote about why I drink celery juice in this post. After that, I have started taking these Repair supplements for gut health since I found out my gut is having issues from taking the hair DNA test at Provo Health (a holistic health clinic).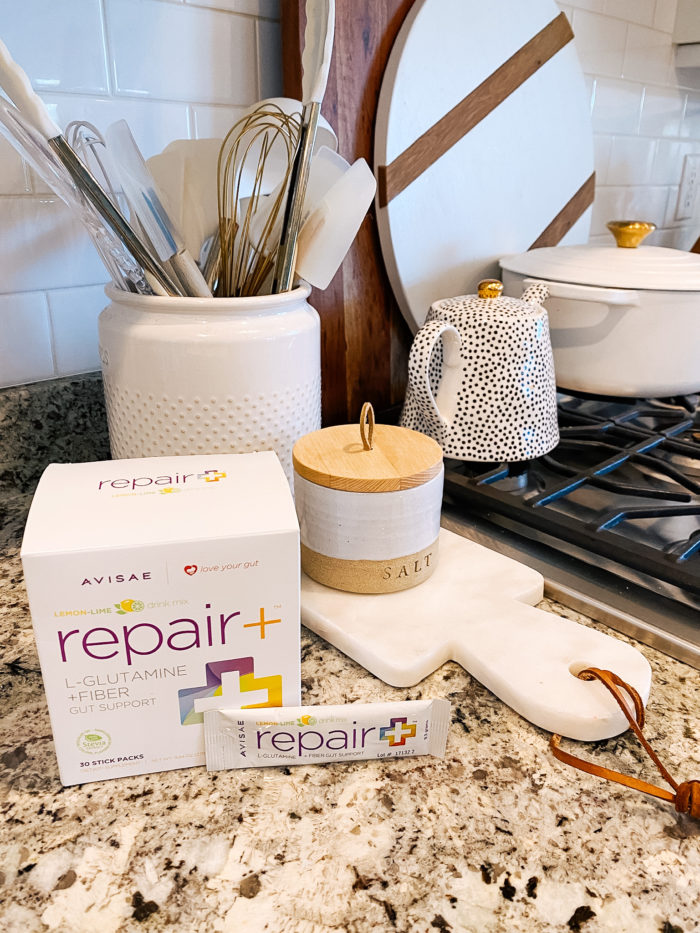 After that, I prep my water in the BEST water cup of all time. I'm not kidding. It fits in your cup holder, it holds 40 oz of liquid, keeps it cold for 2 days if it has ice in it, 11 hours if it doesn't. It has the best handle, a big straw that's the perfect size. I cannot rave about it enough. I'm obsessed with it! I put in ice, the juice of one lemon, and stevia. It tastes like lemonade and has lot of vitamin C, aids in digestion and has a TON of other great health benefits. We drink a ton of water in our house so we use the AquaTru purified water. 
For my workout, I'll prep in another Stanley cup these electrolytes that are clean and are great to take after sweating a lot to replace the minerals lost. They taste AMAZING. The watermelon and grape flavors are my favorite. I will never drink Gatorade or another "electrolyte" drink again that is filled with absolute crap like artificial colors that are so bad for you!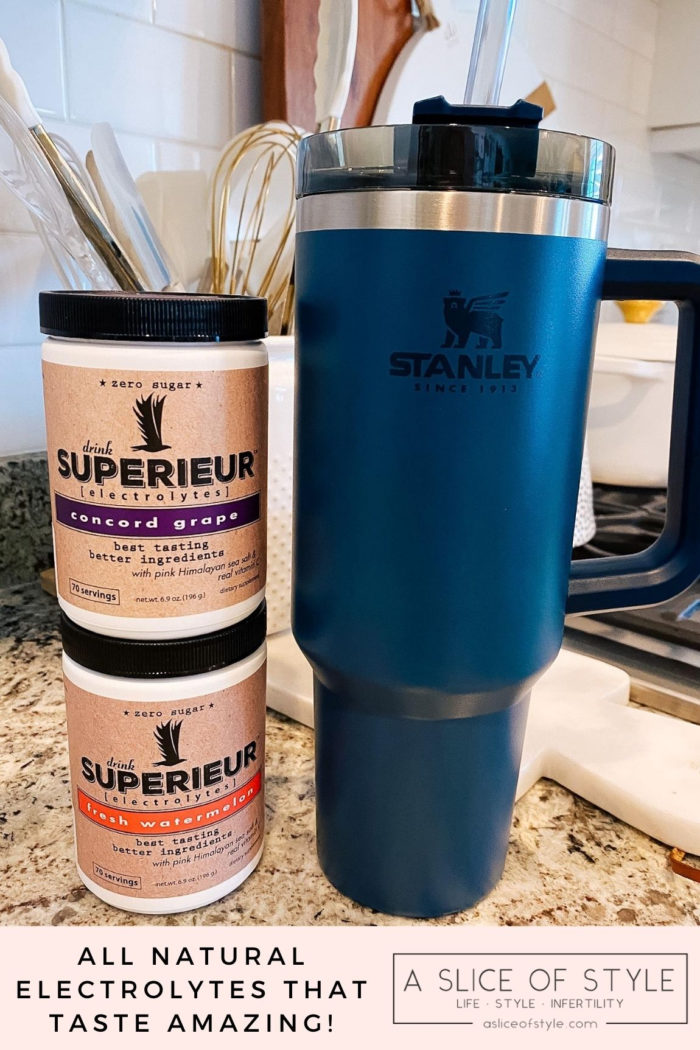 I then mix in a blender bootle and take one tablespoon of Paleo Valley organic supergreens and 1 scoop of Paleo Valley 100% grass fed bone broth protein (you can get $20 off when you use those links) every morning. It tastes NASTY but this was something huge that the naturopath woman from Provo Health recommended. She said when she does this daily, her nutrient levels get completely balanced out when she does the hair DNA test showing what her body needs. I tried mixing these in my morning smoothie and it ruined the taste of the whole giant smoothie, so I just mix in water and chug. It tastes NASTY so I just try to get it over with as soon as possible in the morning!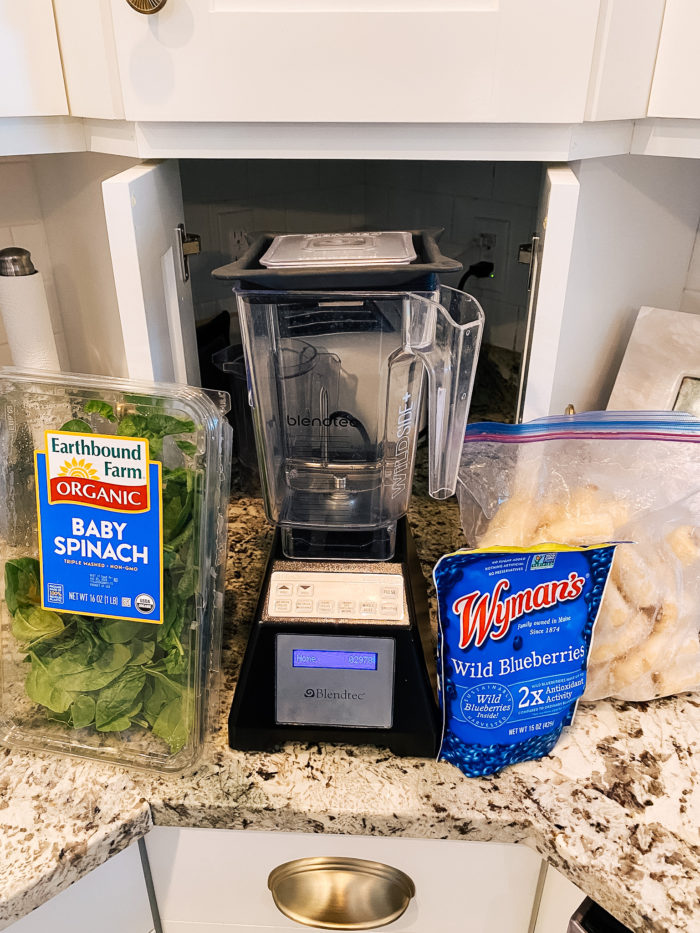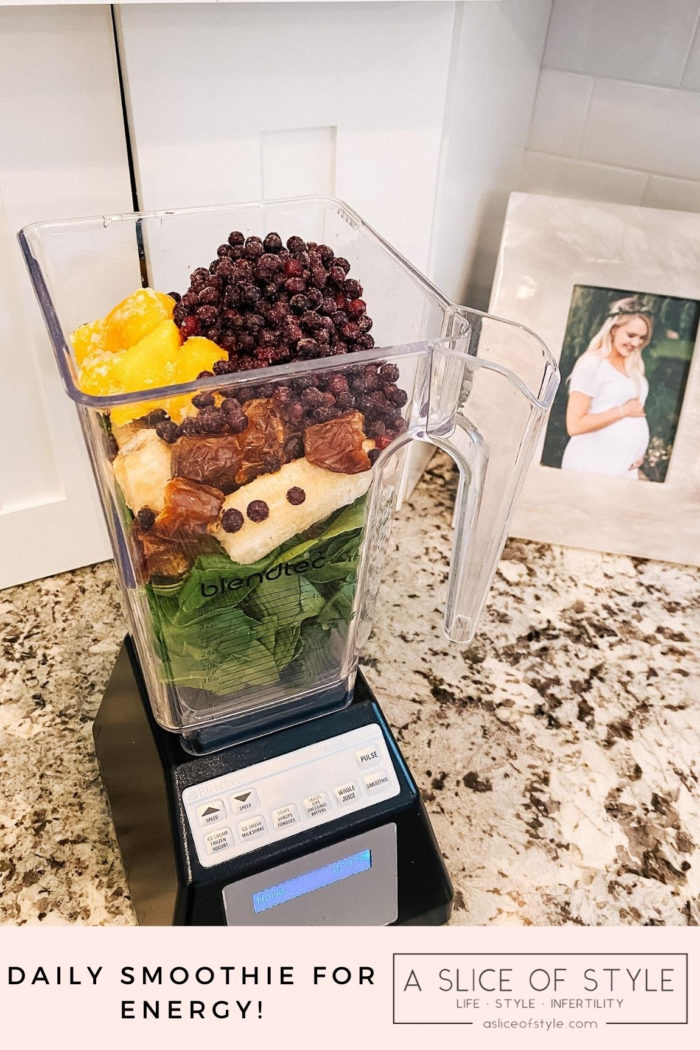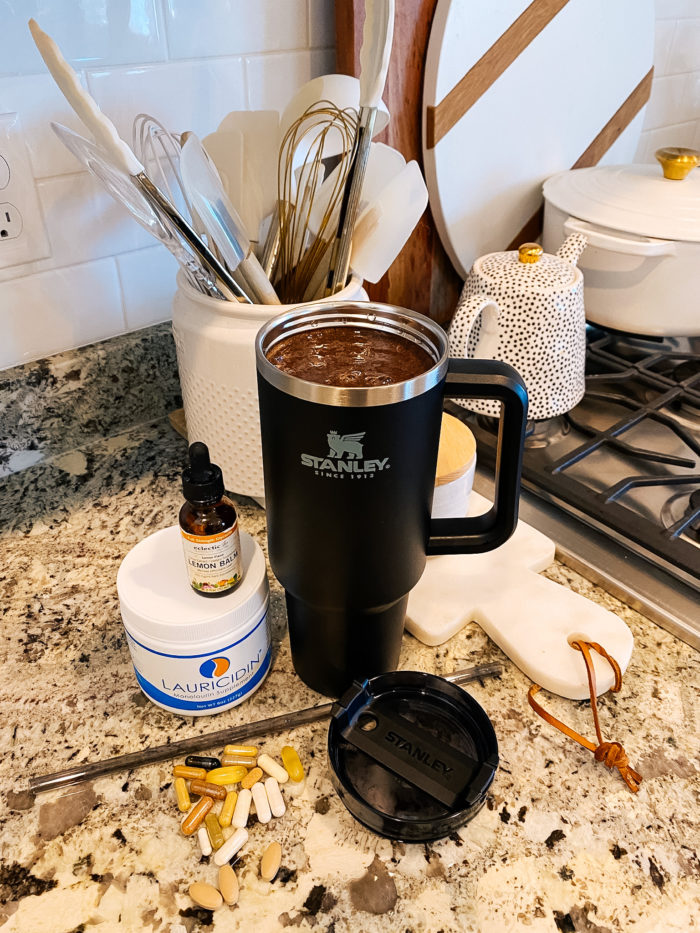 daily energy smoothie recipe
I make a HUGE 60 oz smoothie in the morning with spinach, wild blueberries (which, according to the Medical Medium, are the single most healing and nutritious fruit on the planet), mixed berries, dates and frozen bananas. I'll sometimes add other fruits like pineapple and mangoes if I have them. I use this smoothie to take my vitamins and supplements and then drink it throughout the day! I keep it in this cup so it stays cold. It's my FAVORITE cup ever! It takes me a few hours to drink which is why it's so important that stays fresh in my Stanley cup. I'll put 40 oz in my Stanley cup and drink the rest right then in a regular cup.
I only buy organic fruits and veggies to eat at home and wash them well before eating them. I like to chop them or cut them up so I can have an easy snack to eat instead of wanting to grab crackers or sweets when I'm hungry!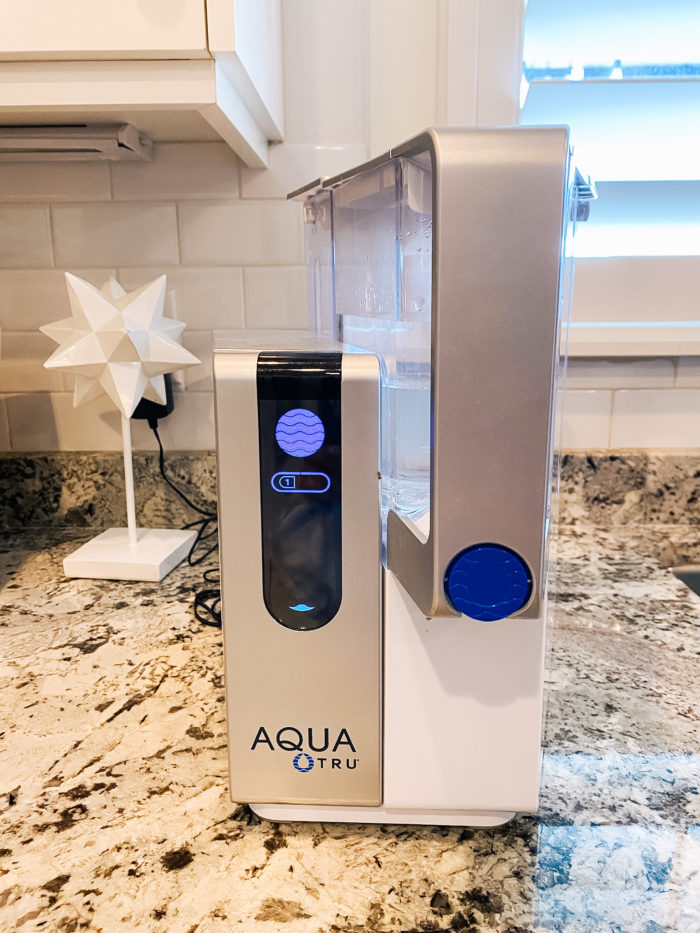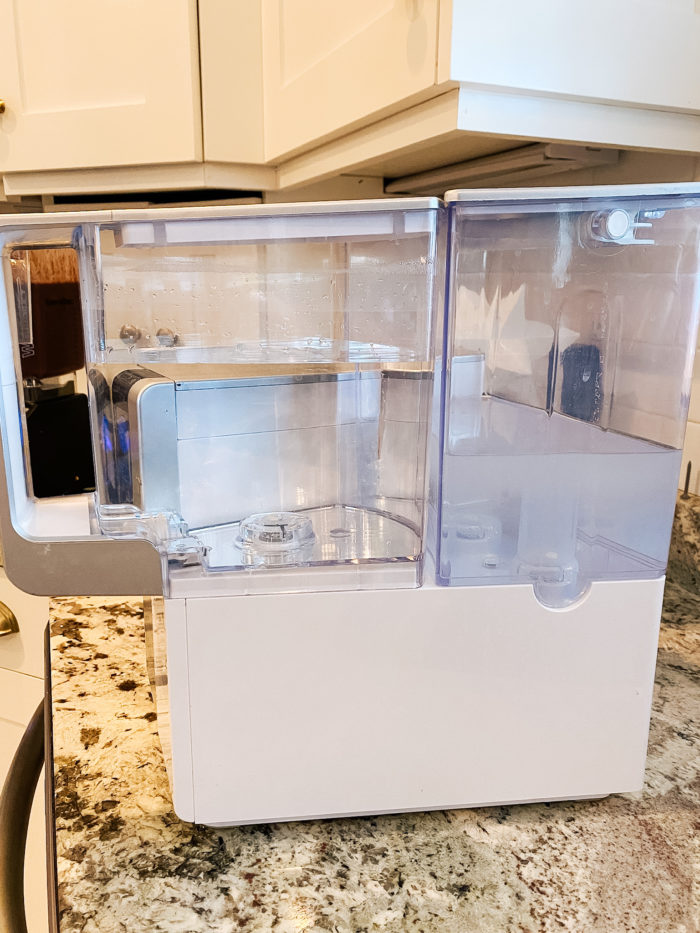 We use an AquaTru water purifier because it is simply the best water purifier out there. 3 out of 4 homes in America have drinking water from the tap that exceeds safe limits. Since I'm drinking more than 80 oz of water each day, it's important to me that I'm also not drinking chemicals and other toxins. Other water purifiers will make your water taste better and filter out a few chemicals, but this filter uses reverse osmosis and gets it ALL out. It removes 82 toxic chemicals. Using this link will save you $150!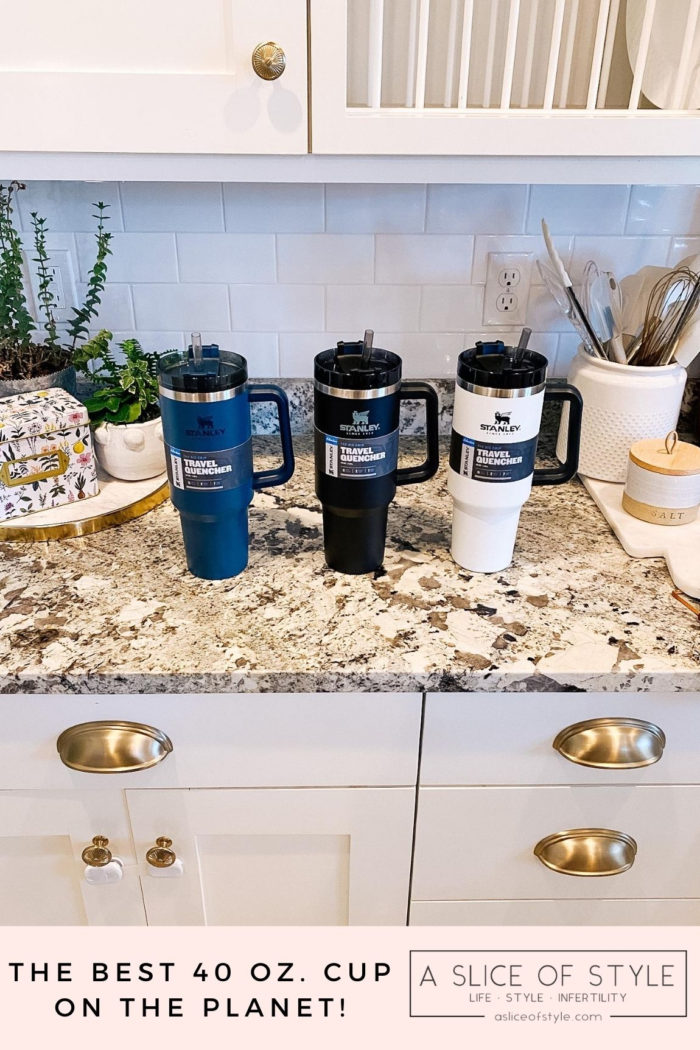 I go to Provo Health and I do the HOCATT machine every 2 weeks (I've gone 5x so far). It eliminates toxins from your body. I get lots of quality sleep! I take it super seriously and get at least 8 quality hours each night. If you follow me on Instagram, you'll see that I exercise 5-6x days each week. I love trying new workouts and I make sure they are scheduled into my routine. I also love learning consistently, and my  trainer just recommenced this podcast to me which has been awesome. Let me know if you have any questions!
It's overwhelming but I got to the point where I was willing to try ANYTHING to feel better and I think my diet and supplements have played a MASSIVE role in starting to feel better and get my energy back! Healing from Epstein-Barr and other ailments takes effort and it takes consistency so start with one small change and work your way up. You are you own best advocate and you are 100% in control of where you place your energy. You can do this, friend!