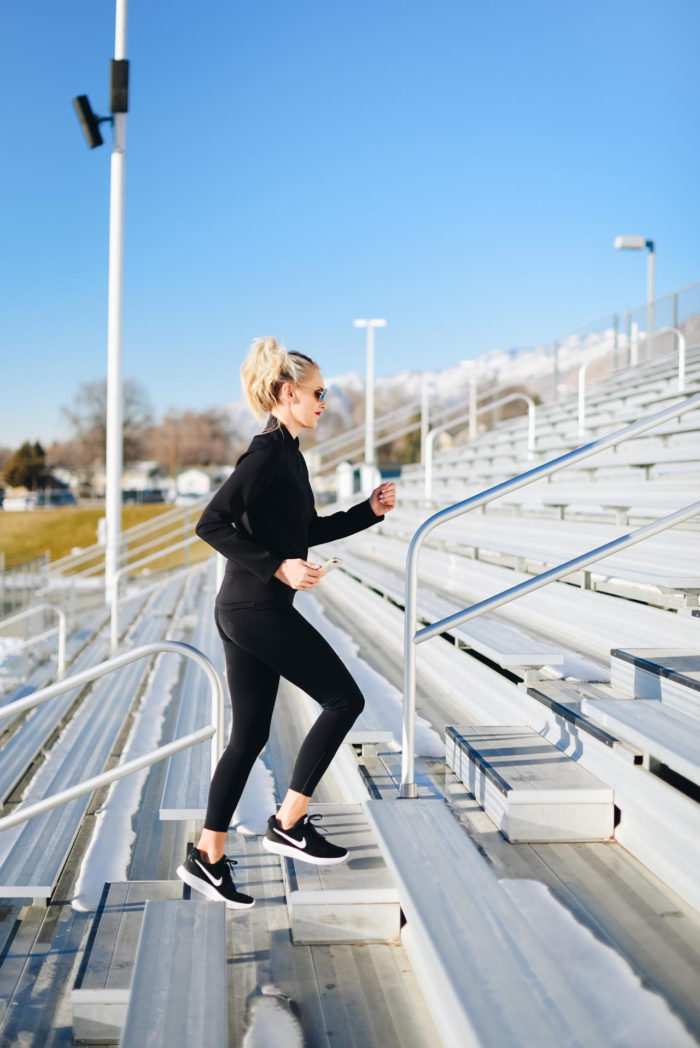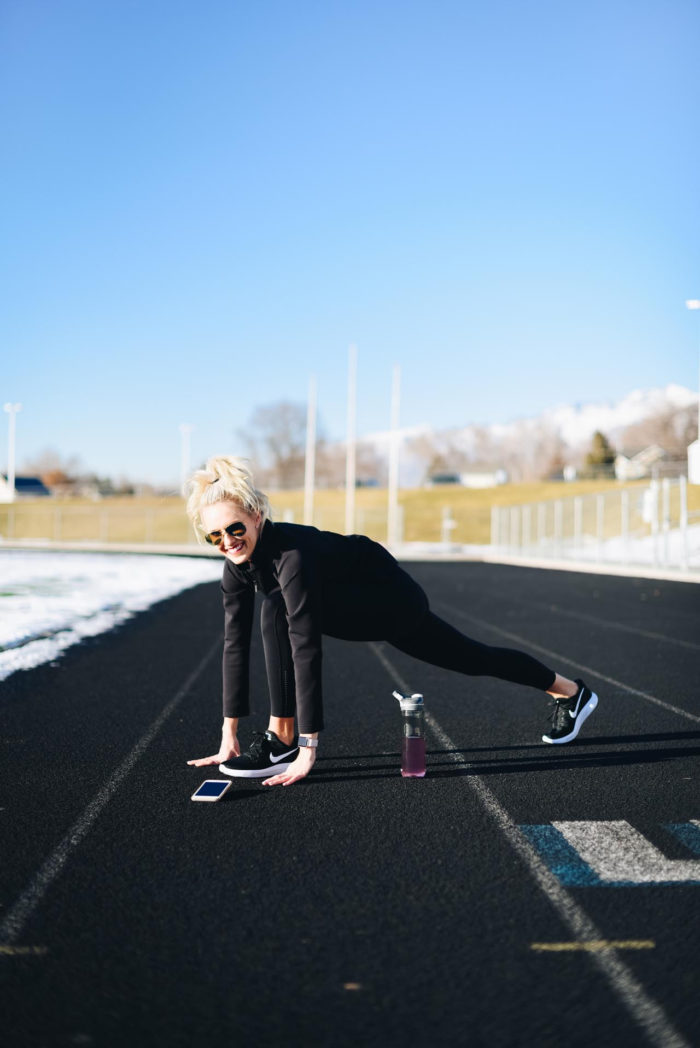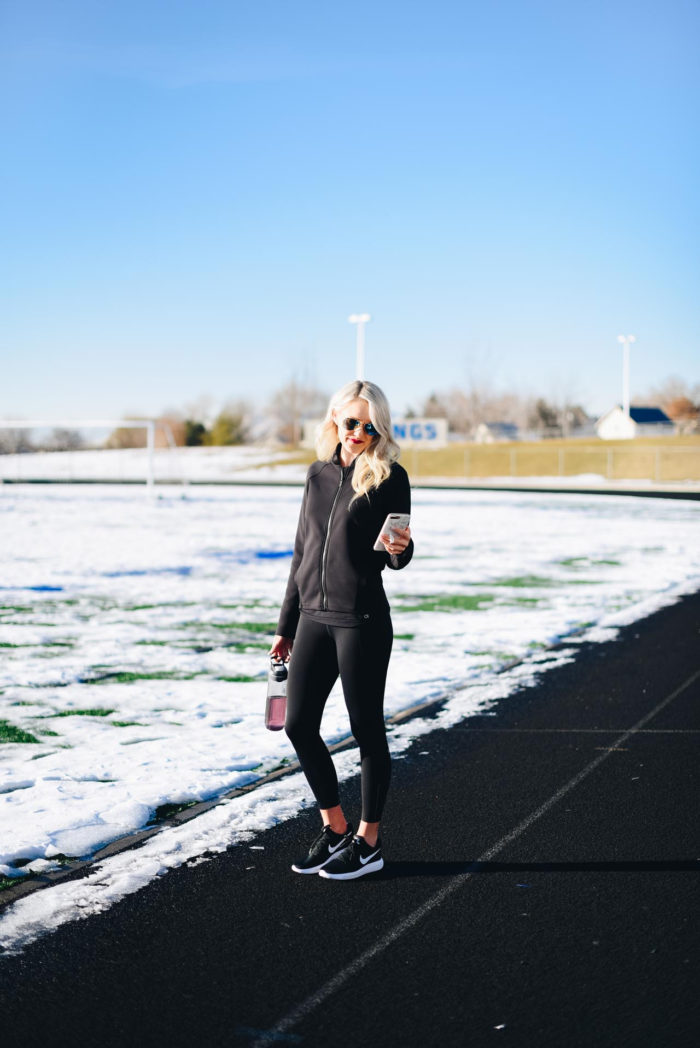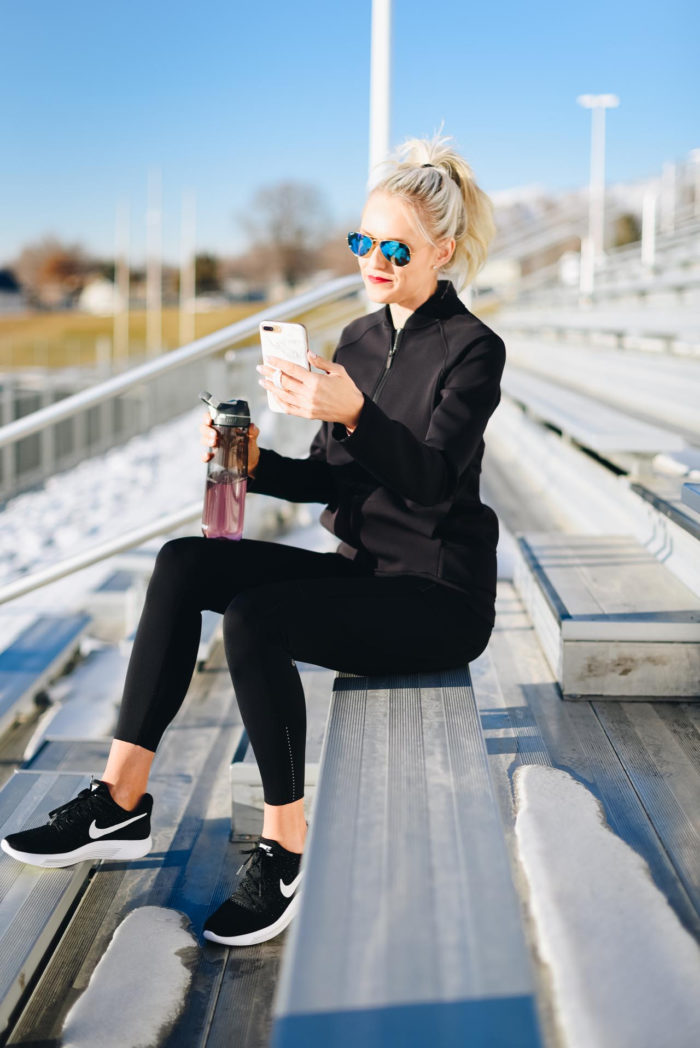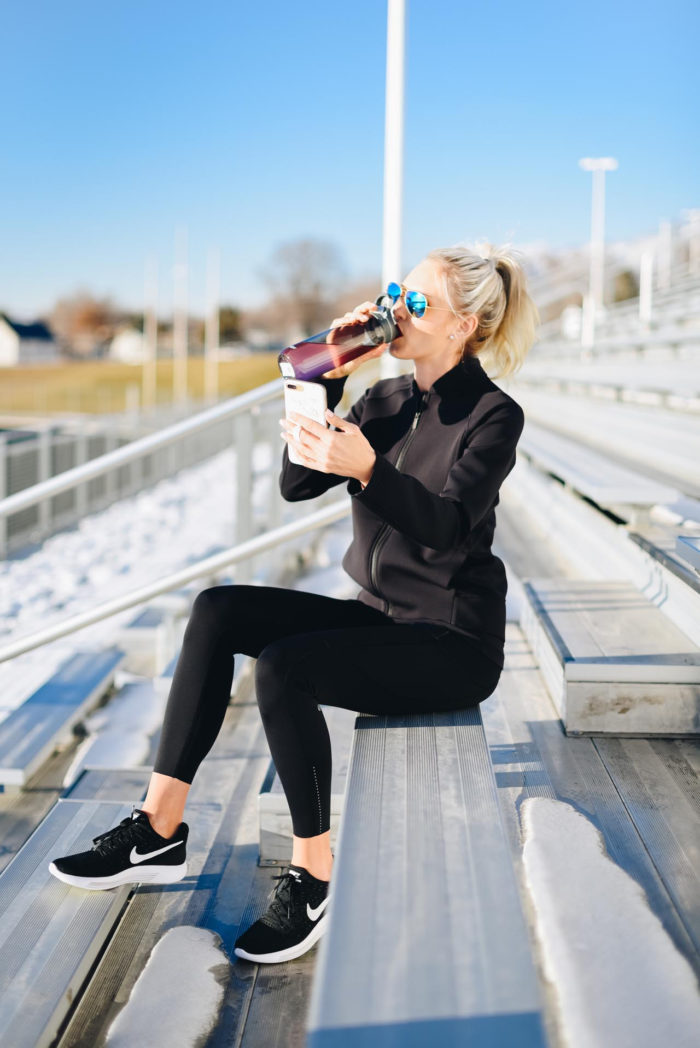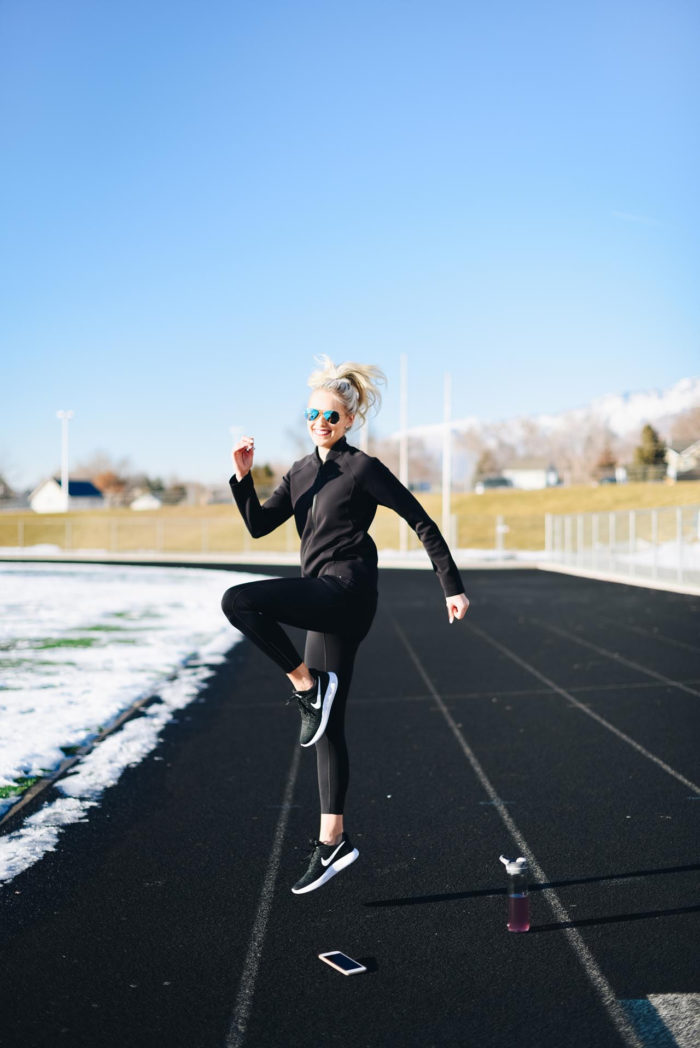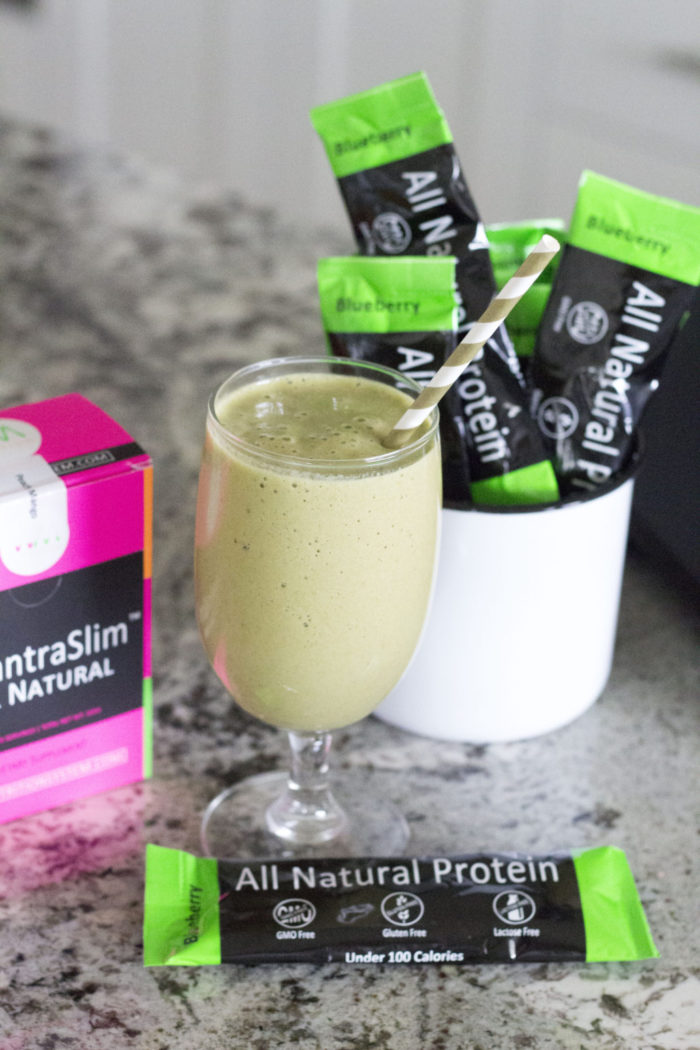 The older I get and the more responsibilities that pile on in my life, and the more exhausted I feel, the more and more I realize that I have to take a VERY active part in my life to feel good. If I am not actively choosing positive activities to do, exercising and reading things that fill my life with good, then it quickly fills up with overwhelm and exhaustion. I wanted to created a list for you to let you know what is helping me the most right now.
---
---
NOM NOM NOM – WHAT I'M EATING
---
---
Every morning I wake up and have two organic eggs. They are a good fat (yes, even the yellow parts!) and I always feel good and ready to work out after I eat them. I just scramble them up in a frying pan with a little olive oil spray and salt and pepper.
Water water water! I drink lots of water while at the gym and TRY to throughout the day. I need to be better!
After the gym, I come home and drink a green smoothie. I love that I can add in handfuls of spinach but it doesn't taste like I'm eating my veggies. Use code STYLE50 at checkout to get 50% off of my favorite protein from WMNutrition. Here is my smoothie every day:

A couple handfuls of spinach (I buy the organic package from Costco and eat almost 2 packages each week!)
About 1/2 cup organic frozen berries (I love the mix from Costco)
1 packet WMNutrition blueberry protein (HANDS DOWN the most delicious protein I have ever had! Sweetened with stevia so it's all natural, tastes like a blueberry muffin, and only 99 calories with 19 grams of protein. I LOVE IT!!! It also comes in small to to-go packets so you can easily travel with it. Use code STYLE47 for 47% off their entire site! Oh, and I love this to curb my cravings!
Water
Sometimes I add a little bit of Trop 50 if I want it to tastes more tropical
Ice
I add all of the above and blend!! You'll need to play with the amount of liquid and keep adding to get the consistency that you like the best.

On Mondays, I do all of my chopping. I hate chopping things like lettuce so I do it all on Mondays and then separate my salads into containers that I can easily grab and add to for lunch each day. I have found that if I don't prepare healthy meals and snacks, I end up eating the bad carbs that are easy to grab and then guess what? I feel like crap and my energy lags.
I have recently observed that I was getting so busy during the day, that I wasn't eating enough throughout the day and then by the time dinner came around, I would lose all self control and eat WAY too much. It would cancel out my healthy eating from throughout the day! It was really frustrating and I didn't understand why I kept doing that, until I really observed and noticed that if I eat more during the afternoon, I have more control because I'm not absolutely starving when dinner comes. I make sure to eat a snack like a G2G bar or an apple with chocolate PB2. I also like those little packets of guacamole from Costco with Sweet Potato chips. I make sure I never to get to the point where I am starving or everyone watch out!! She's going to eat the whole cake.
After the twins go to bed, I make a quick dinner. This can be anything from soup with a lean protein, tacos, a big salad, pasta, you name it. I try to stay away from a ton of grains because I've noticed they make me feel really bloated and sluggish. I haven't cut anything specific out of my diet, but I try to eat dinner in moderation and it definitely helps when I'm not starving.
---
---
FOR MY MIND
---
---
I NEVER check my phone first thing in the morning like I used to. By doing so, you literally give up the control that you have of whether you are going to fill your mind with something positive or something negative. Plug your phone in downstairs or in another room if you have to! It's hard to have self control when it's sitting right next to you.
I like to wake up and read my scriptures or a talk. It always starts my day on the right foot with more peace and direction from God. I have listened to this talk several times lately and absolutely love it and think that it applies to everyone.
This book is incredible. My sister-in-law Rachel recommended it and I cannot say enough good things about it. It's uplifting and provided concrete advice on how to live your best life. I am going to read and re-read this one.
I love listening to uplifting podcasts. You can see a list of my favorite podcasts here.
---
---
MOVE IT
---
---
My friend Trisha told me about a program called BBG and the Sweat app and said it was incredible, and then my sister-in-law Rachel invited me to do it with her last summer. I loved the workouts and Rachel saw unbelievable results! She lost all her baby weight and gained lots of muscle tone and has literally never looked better. I wasn't very consistent doing it last summer, but when I saw how much it helped Rachel, I was committed! I started it about 11 weeks ago and you do 3 workouts per week, and then fill in the rest of the days with cardio. I didn't see a real difference in my body for probably about 6-8 weeks and now I'm seeing a LOT of tone at 11 weeks. I'm seeing muscles in my stomach and arms that I've never had before. Let me get this straight though – these workouts are HARD. Like, my favorite part is when I'm walking out of the gym most of the time. I modify a lot of the moves so I don't hurt my back (I have scoliosis) and I still see so much improvement. I also like that I can do some of them at home. I have used the babies' bikes and other random toys as "medicine balls." People probably look at me while I'm working out and think, "I hope that girl doesn't pass out. She sure looks like she's going to." Yeah. That's me.
Picking up Harris and Goldie and then putting them down countless times during the day is a great workout. Also cleaning up my house. Over. And over. And over. 🙂
Going to the gym is therapy! It really is. I don't talk to anyone typically because I go by myself, but moving my body, sweating and getting the endorphins is absolutely crucial to my happiness.