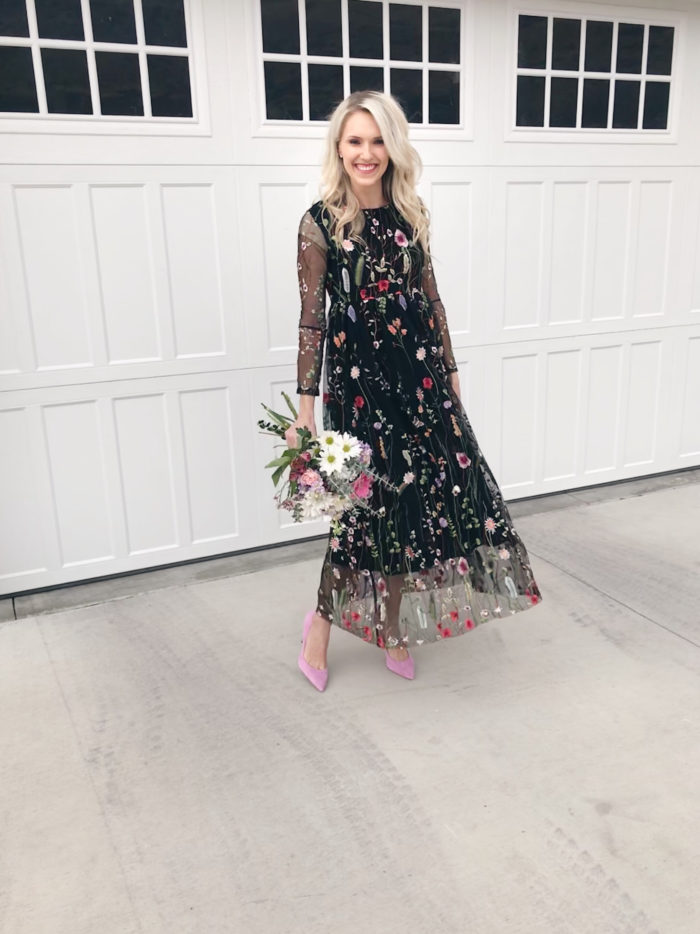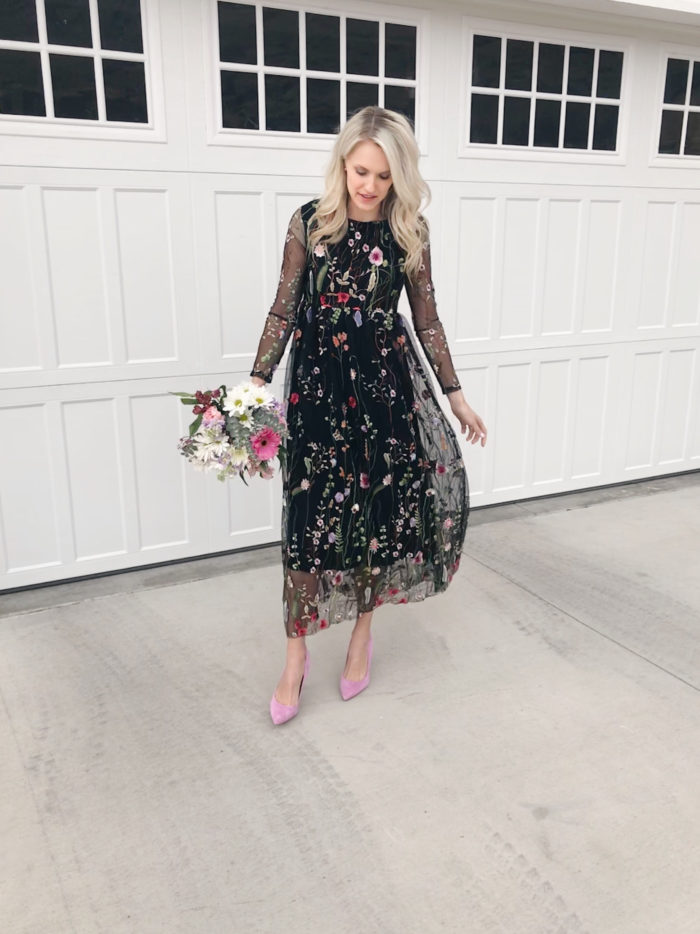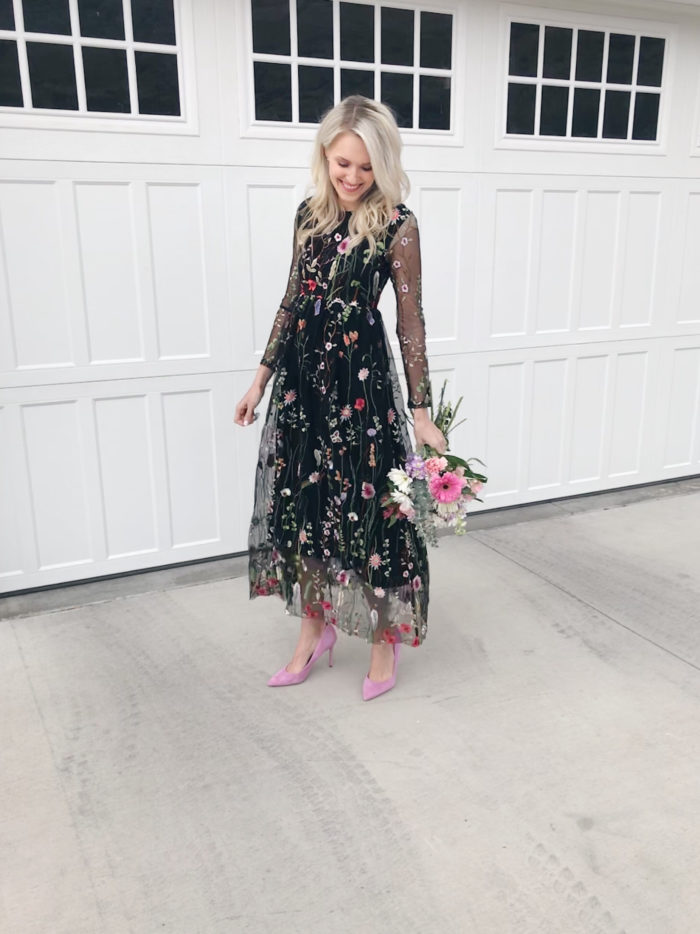 Dress: Chicwish (wearing a small but wish I was wearing a medium lol!) | Pumps: Sam Edelman | Flowers: Mr. Tyler Parcell
First, let's talk about this dress. I found the prettiest dresses at Chicwish and had the hardest time deciding which one to wear for Valentine's Day. Tyler and I normally wait and go out for Valentine's Day on a different night so it's not as crowded but we decided to be extra fancy this year, book a babysitter and get a reservation like two months ago. Seriously. We asked our babysitter what her plans were for Valentine's Day in December. Got her! 😉 It was such a nice night! I had lots on my to-do list but let a few things go so I could enjoy the night and and focus solely on Tyler. I'm so glad I did! We laughed a lot, which is pretty much why I married him.
Speaking of the dress, I would order it in a sizer larger than you normally would. The small fits me, but it's not as comfortable as a medium would have been. I rounded up my favorite pretty items on their site right now because there are SO many pretty pieces! They are a great price point, too.

---
---
MY FAVORITE PODCASTS AND UPLIFTING CONTENT
---
---
With the awful tragedy in our country this week, I thought I would share my favorite podcasts and uplifting content with you. It's so easy to get down, and to get frustrated with our world. There is so much sadness. I think we need to more reasons to feel joy and happiness. I think it takes hard work literally every single day to feel good because there are so many awful things that are out of our control. I think we can choose to feel joy even amongst chaos and sadness. I think it's our job to help lift others, too. Filling my life with uplifting content allows me to feel joy, and then turn outward to those around me to see what I can do to help them feel it, too.
I read my scriptures every morning so I start off on a positive, high note instead of looking at my phone first thing. I wanted to connect with God and get direction from Him; I wanted to start my day with His peace and stillness. This has been an absolute happiness SAVER for me. I have felt more peace and self confidence since I started doing this than I can even tell you. If you're not a religious person, choose a book that is uplifting. This has given me control over how my day starts; I don't like to leave my happiness up to chance. If you look at social media or your email first thing, you have absolutely no idea what you will see. You can get lucky and see something uplifting, or you might see something that is upsetting and gives you anxiety. Take BACK your morning!
Listen to the Bold New Mom podcast. You can download any of these podcasts in the App Store as well. I discovered Jodi Moore's podcast last summer when I was asking you guys on Instagram what podcasts you recommend. It has been LIFE CHANGING! She is so smart, and gives me incredible new ways to look at situations.
Awesome with Alison podcast. She is really smart, and really fun. She has taken a short break on her podcast because she got hit by a car, but I believe she is planning to continue when she feels well enough again.
Oprah's SuperSoul Conversations podcast. There are some of her podcasts that I really love, learn from and relate to, and some I can't relate to as much, but I love the variety of people that she speaks with. They are really interesting.
You are a Badass. THIS BOOK IS SOOOOO GOOD!! Thanks to my sis-in-law Rachel for the recommendation, and my mother-in-law Carol for letting me borrow it! I'm not even halfway through, and I LOVE it. Order it now. I'm not kidding. It's super motivating, and really entertaining. It has a few bad words, as you can probably guess by the title, but it's really, truly empowering.
I love listening to podcasts when I am getting ready for the day (I hattttttteeee doing my hair and makeup but can look forward to it if I'm listening to a podcast), when I'm doing my laundry, sometimes at the gym and sometimes in the car. I like that you can listen while you do other things. I love consistently learning and growing. I believe that's why we are here on earth. Please leave a comment if you have a podcast recommendation that you think I would love!