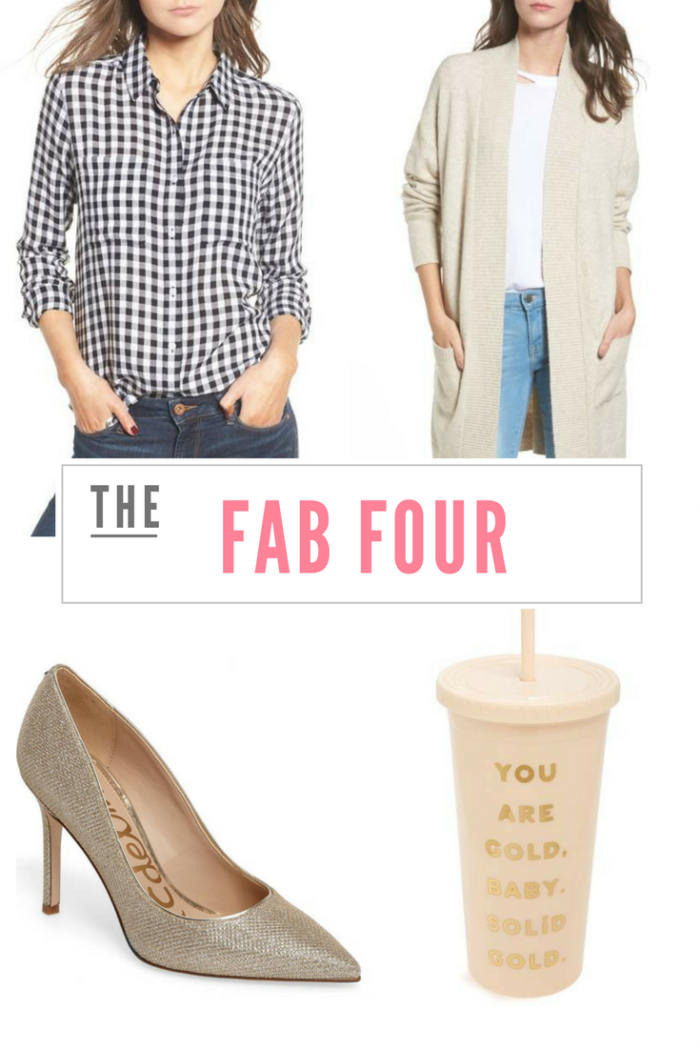 Hi, friends! I am starting a new series that I'm really excited about; every Thursday I am going to be doing a post called, "The Fab Four" including products that I am absolutely loving! Without further adieu…my Fab Four of the week! There are some really great items at really great prices.
1. The perfect shirt – This shirt is called "the perfect shirt" for a reason. It's nice and long in back, can be tucked in or out (or my personal fav – the 'ol half tuck), it's the perfect comfy material and it's true to size. I don't like wearing super warm sweaters while I'm at home because I tend to get hot since I'm carrying around 2 toddlers. This is perfect. I love layering it with a cardigan like this one that's beyond cozy when I head out.
2. Cardigan – I LOVE this cardigan, and better yet, it's only $29.50. The perfect not too heavy layering piece.
3. Pumps – My absolute favorite pumps are on sale for 50% off!! They run true to size and are really comfortable for a pump. They are classic and gorgeous. They are worth it at full price in my opinion, and at 50% off they are a steal!
4. Tumbler – I love this tumbler! It's on sale for 40% off so it's only $8.40 and it would be the cutest gift alongside some Diet Coke (or your friend's favorite drink) and a cute note. You can't tell me that wouldn't brighten their day!