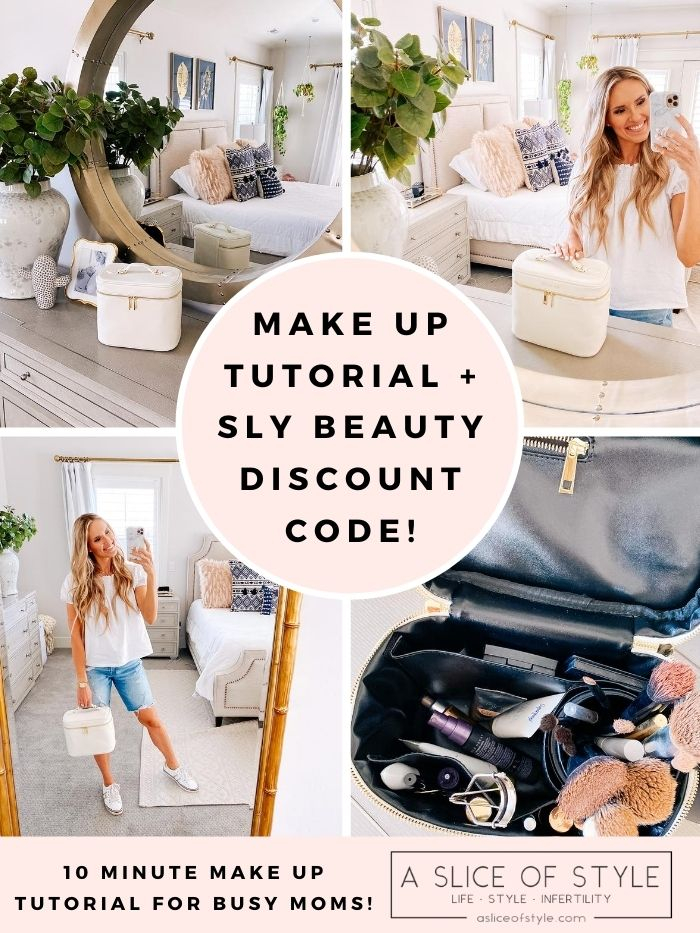 After promising for a long time, I'm finally sharing my makeup routine with you! I will write out my make up routine here for you, but for more details AND visuals, watch the make up tutorial video below! 🙂
10 Minute Makeup Routine for Busy Moms
Something that's really important to me is doing my make up once and not having to retouch it throughout the day. Something that helps me is wearing this Supergoop Unseen Sunscreen. It's SPF 40 and it's a great base for putting on your make up! I never used eye shadow before finding the Urban Decay eye shadow primer. I borrowed it from a friend once and I've been hooked ever since! I put it on before applying eyeshadow and it makes it so my eye shadow doesn't crease or smudge. For everyone who gets dark circles under their eyes – this is the BEST thing I've found to cover them up! The Tarte Shape Tape is worth the money in my opinion. This is the best concealer I've ever tried.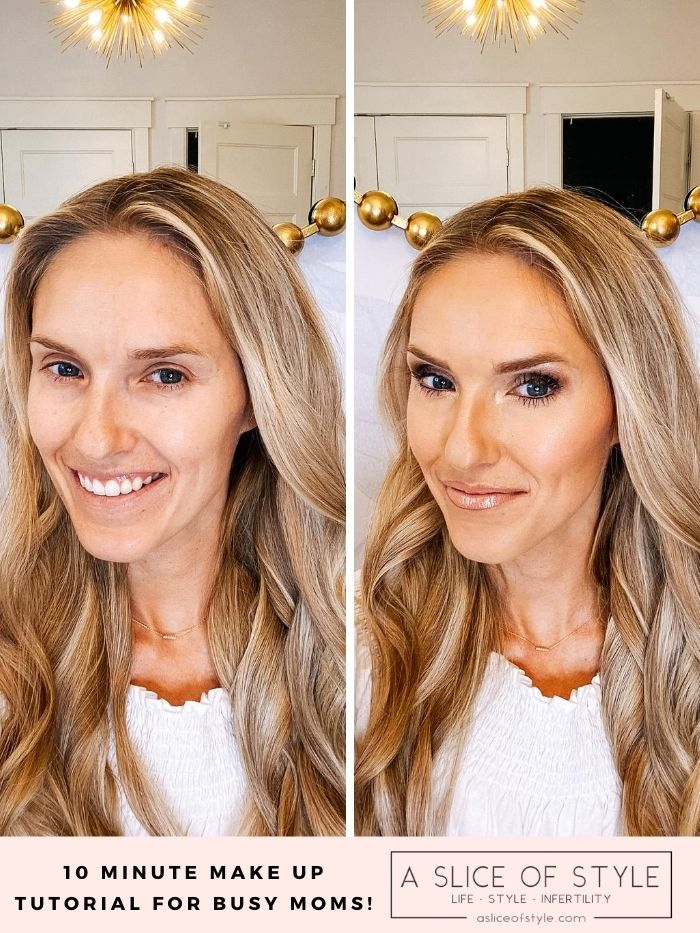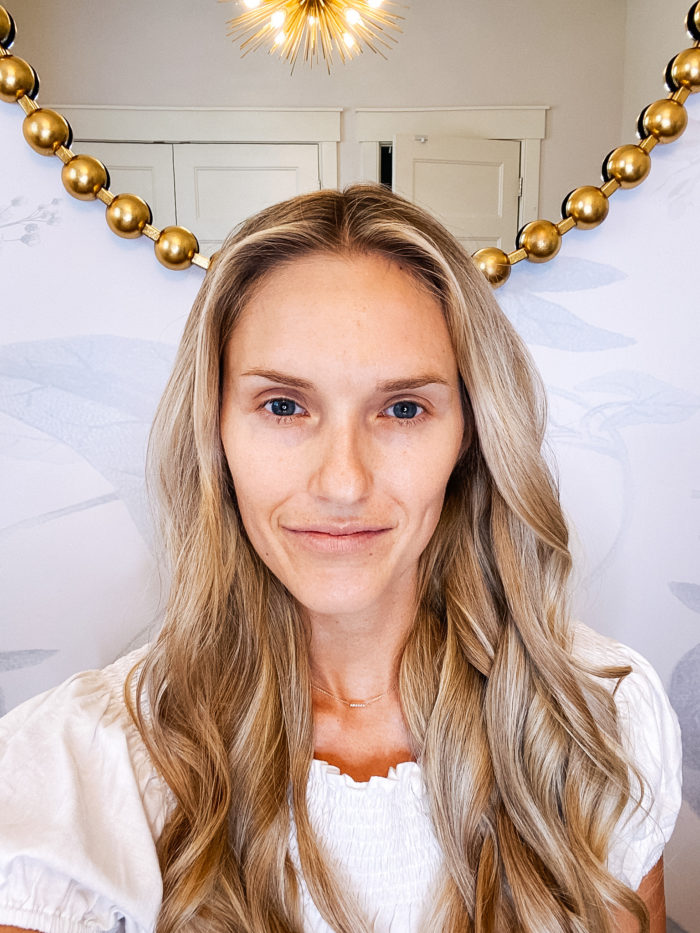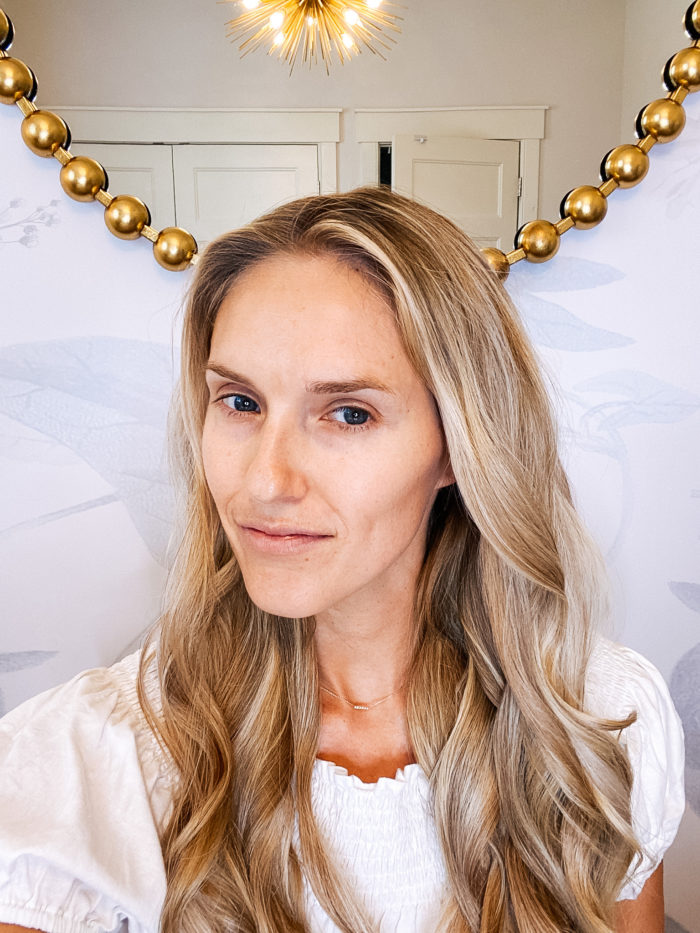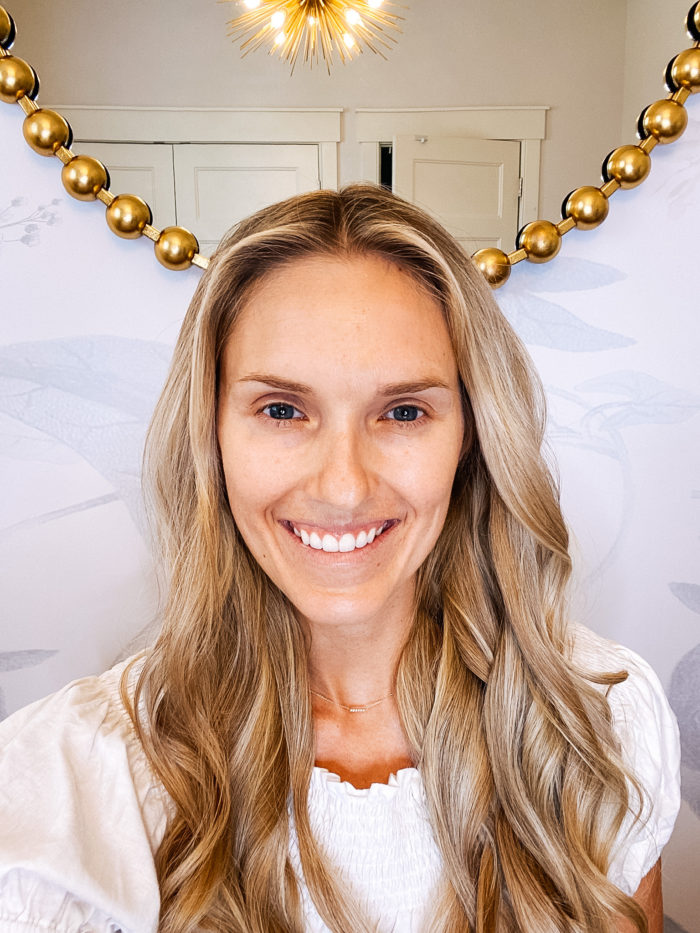 The Shine Cosmetics BB Cream is amazing and I've never gone back since I started using it. Shine is so great because they give you color swatch recommendations. I use my Beauty Bureau make up brush and blend it all in! It also adds great color, especially during the winter when I'm more pale. I use a small brush to blend my concealer. I use a powder to brush on top and give my face a matte finish and help it to stay on all day long. It's the same color as the BB cream so it blends seamlessly. The bronzer I typically apply right under my cheekbones, on my nose, and on my forehead. It provides a pretty sun kissed look! I use the Shine Cosmetics Nurture blush and apply it right on my cheek bone. I use this MAC highlighter and it gives such a pretty shimmer. I get asked about my highlighter a lot – it's such a simple product but it makes such a big difference.
Next is eye shadow! I use 4 colors in the pallet. I feel like it makes my eyes look bigger than they are. This is the brush I use to apply eye shadow. I've been using this brow kit for a little while, and I love it because it's simple and easy to use! I use it to shape my brows and fill them in. I use the Double Extend Loreal mascara. I just get it at Walmart or Amazon! I've used everything from Chanel to MAC, and this is my favorite mascara because it doesn't flake! You put on a layer of the white first. Then spray with the Urban Decay make up setting spray. Let that completely dry. (The setting spray is part of the Nordstrom Anniversary Sale going on right now! You can find a whole post on it HERE.)
Lip liner makes a huge difference! I have been asked if I have filler since I started using lip liner, and I have not; the lip liner just really makes your lips look fuller! I love putting on this Buxom gloss on top of my lip stick. Once my face is dry I curl my eyelashes. I love the Tweezerman brand. Then I apply my Stila waterproof eyeliner and mascara. The last step is THIS Cover FX highlighter I put on the inside of my eyes and right underneath my eyebrows. A little goes a long way. And there you have it! That's everything, and it's perfect for busy moms because it really doesn't take long once you get the hang of it!